The Best Places to Stargaze in Fall in the Southwest
By Codi Coghlan • October 12, 2023
The Best Places to Stargaze in Fall in the Southwest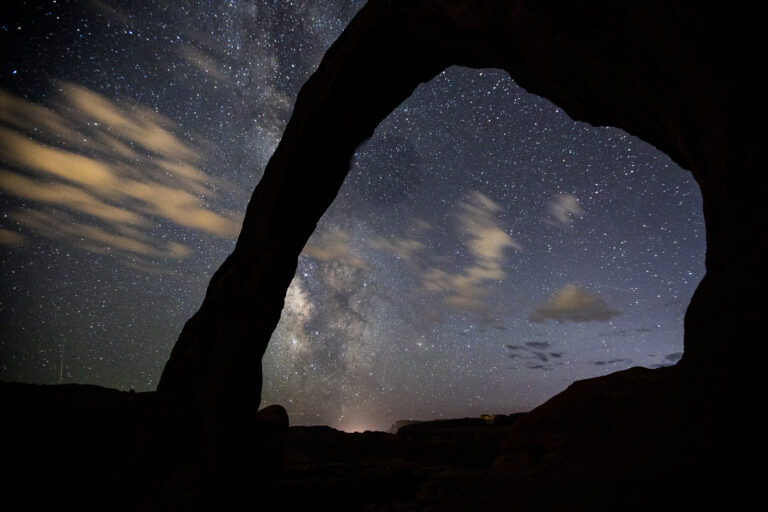 Autumn is an eclectic time of year for stargazing in Utah and southwest Colorado. The best places to stargaze in fall get darker earlier and the night temperatures are still mild compared to winter. As Earth turns away from the center of our galaxy during the autumnal eclipse, we arrive at a crossroad where both summer and winter constellations are visible. 
Toward the west, we salute summer's stars, namely, the Deneb, Vega, and Altair triangle, as Earth continues its cinematic rotation. To the southwest, we welcome winter's Sagittarius and the core of the Milky Way Galaxy. Northwest, the bright star Capella in Auriga and the scintillating Pleiades Cluster in Taurus glint in solidarity. Soon, Orion will make his intrepid appearance to the east (Space). 
Fall's pleasant weather and diverse constellations make it an extraordinary time of year to view the astral-realm, and even more so in the southwestern United States.
The Best Places to Stargaze in Fall near Moab, Utah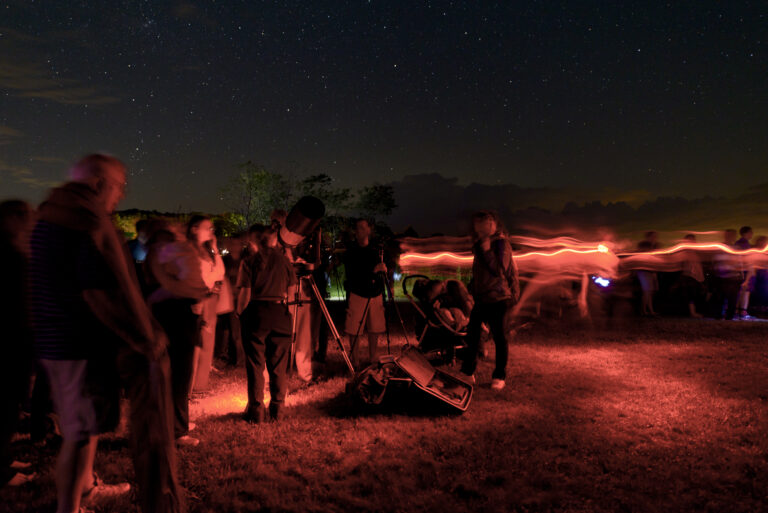 Moab is home to an abundance of International Dark Sky Zones, places earning this title by meeting certain specifications. According to NPS, this criteria include limiting sources of artificial light, which create a glow, lighten the sky, and reveal less stars.
Additionally, Moab is in the middle of the desert where there is little light pollution, high elevation, and thinner air. What this means for us is a sky dark enough to see space objects that, before, lived only in our imaginations.
Dead Horse Point State Park Adjacent to Canyonlands National Park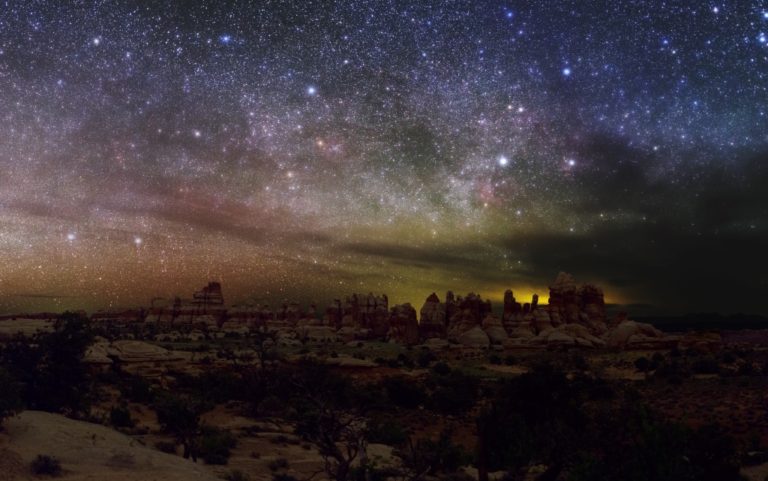 Dead Horse Point State Park and Canyonlands National Park are both vast wildernesses. Their high plateau views overlooking hoodoos, deep canyons, and spires sculpted by the Green and Colorado Rivers are considered the best areas in Moab to stargaze. Specifically, Mesa Arch, Upheaval Dome and Grand Viewpoint Overlook in Canyonlands, and Dead Horse Point Overlook are optimal portals to space. 
Arches National Park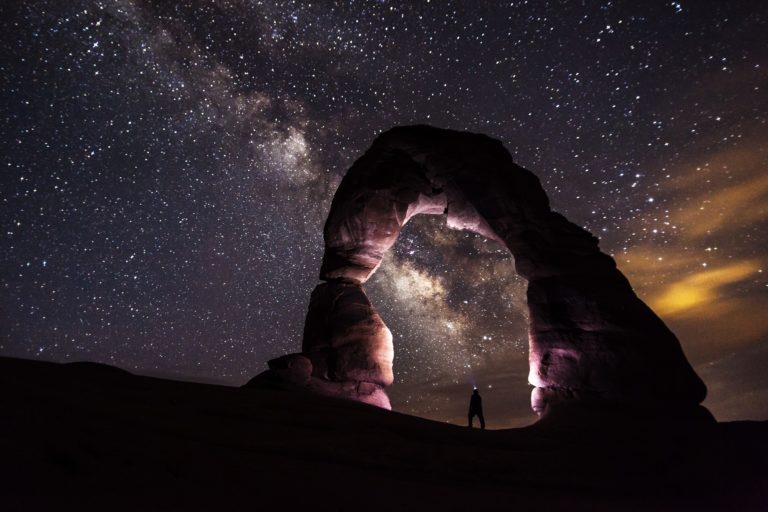 Arches National Park is an astrophotographer's dream due to its dark sky and otherworldly arched and balancing rock formations. In particular, Arches offers prime views of the Milky Way, which is visible in October in Moab. 
Level up at a Park Ranger star party, which usually features eight to nine telescopes zooming in on emission nebulae, double star clusters, six star systems, and other galaxies cutting through time (NPS). Top stargazing areas are Balanced Rock, The Windows, Delicate Arch, and Devils Garden Trail towards Landscape Arch. Day visits require a timed entry ticket, but at night, it's both open and empty. 
Goblin Valley State Park
Located one-hundred miles outside of Moab, an hour and forty minute drive is well worth it to visit this remote International Dark Sky Zone. It's home to mushroom-shaped hoodoos better known as goblins and is a phenomenal place to view the Milky Way. 
The Best Places to Stargaze in Fall in Southwest Colorado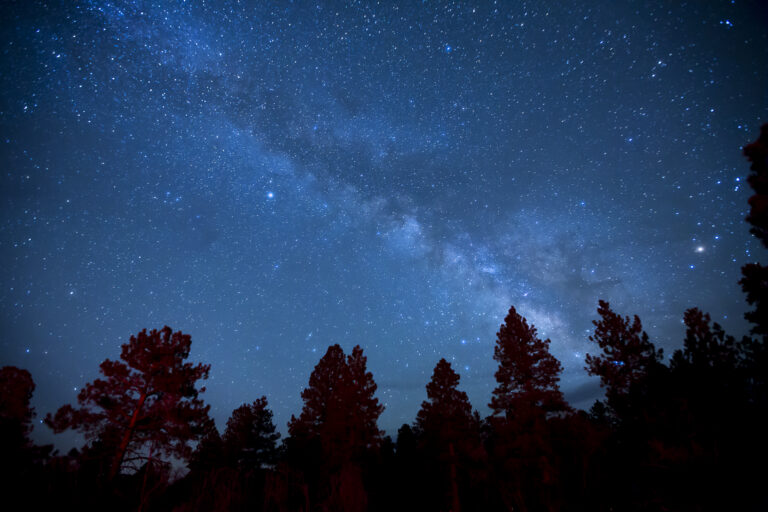 The higher you go, the clearer the stars are. Southwest Colorado, nestled in the San Juan Mountains, has ample elevation and resulting thin air. Paired with low light pollution, these conditions make for a multitude of stars in which we can happily lose ourselves — in high-definition.
Mesa Verde National Park 
This beloved national park is an archeological wonder by day and International Dark Sky Place by night. Spend the evening at Morefield Campground or Far View Lodge for stargazing. If you are lucky, Park Rangers will host an astro program facilitating staring up at space. 
If you choose to stare independently, stop at the numerous overlooks along the park road, such as the Geologic Overlook, Mancos Overlook, and the Montezuma Valley Overlook. All are open to public access throughout the night. 
Molas Pass Overlook Near Silverton and Durango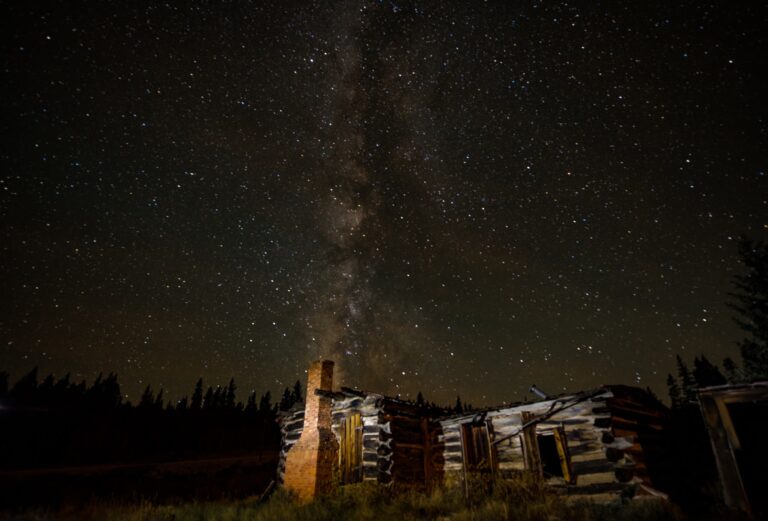 Driving on the Million Dollar Highway to Molas Pass between Silverton and Durango offers high mountain bliss. Parking and venturing to the banks of Molas Lake brings one to a hot Milky Way viewing spot, free of crowds. If you are in the area on the fall equinox, stay at Molas Pass Campground before it closes around September 30.
Top of the Pines in Ouray
Continue along the Million Dollar Highway to Ouray to visit Top of the Pines open space preserve. At 8,650 feet elevation, it will launch you into space. Plus, you'll get to visit Ouray, the little Switzerland of the United States, with a plethora of charm, hot springs, and gorgeous peaks.   
Tips For Better Stargazing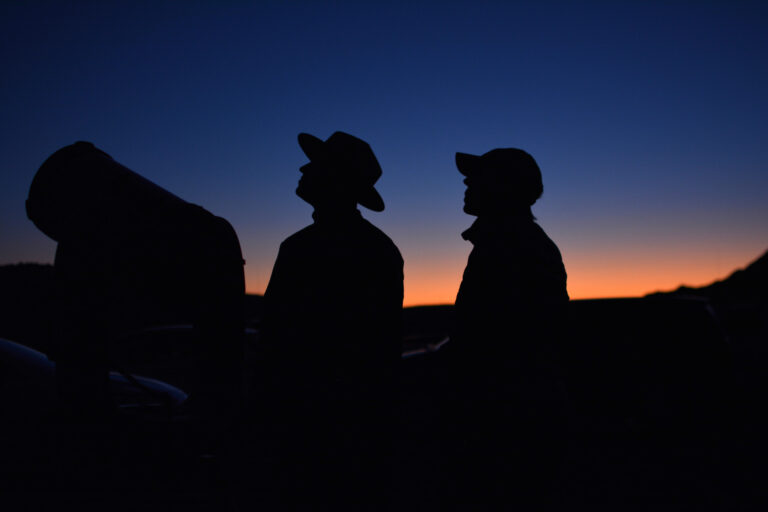 Incandescent stars remind us that change is constant. The night skies' infinite glistening objects, clusters, nebulae, galaxies, and planets pass by at different times of the year due to Earth's dependable movement. Optimize your marveling of autumn's celestial spectacle with the following tips to help you cozy up in front row seating at the best places to stargaze in fall in the Southwest.
Use a Red Lamp:

Illuminate the dark without affecting your night vision. Your eyes will adjust in short order and see everything. 

This tip extends beyond stargazing. Bio rhythms created from light and dark cycles mean white light, like the morning sun, help us wake up, and warmer colors, like red and orange that we experience when the sun sets help us relax and fall asleep

. 

For better health and to honor our circadian rhythm, it is always recommended to use red and warm lighting in the evening

(Crystal White,

Moab Sun News

).

Stargaze During or a Few Days after a New Moon:

The less light and more darkness, the better. While one may miss the moon's benevolence, this timeframe will permit gazing even farther into the sky's depths.

Bring Provisions:

The temperatures are dynamic in the Southwest, so one would not want the cold, hunger, nor any other basic need to get in the way of some of the world's best stargazing. Pack warm clothing layers, camping chairs, snacks, and drinks for a fall stargazing escapade.
More Reading
Get New Blog Posts in your Inbox