The Best Things to do in Moab this Fall for 2023
By Codi Coghlan • September 23, 2023
The Best Things to do in Moab this Fall for 2023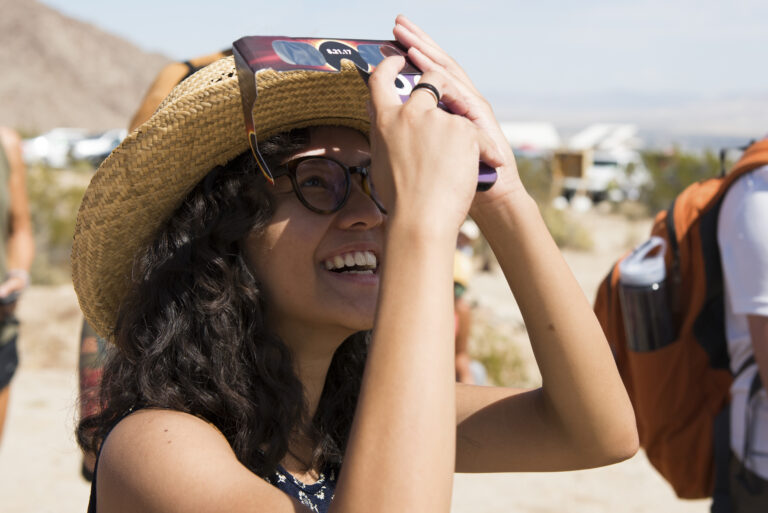 Fall is the best time to be in Moab, Utah. Locals change up their afternoon siesta and DIY ice-fan routine for more adventurous shenanigans. The air and water beckon with seventy to eighty degree temperatures. Rainfall averaging sixty-seven inches adds earthy-smells. Lightning strikes through contrasting cerulean and orange landscapes.
Furthermore, the fall colors, from changing leaves to the sun approaching the horizon, become more drastic. Fading foliage laments yellow. The Earth's tilt against the sun grants blue light more atmosphere to scatter across.
The fall of 2023 in Moab, in particular, promises to be truly exceptional, as it brings together a rare annular eclipse, customary local festivals, hiking trails with fall colors, and the opportunity to embark on rafting adventures amidst landscapes reminiscent of Mars. Explore, for yourself, the best things to do in Moab this fall for 2023.
Fall Festivals
There are reasons to be in Moab in fall beyond sightseeing national parks. Specifically, all the best local festivals take place when the temperatures cool down starting in September. What's more, this year, the Moon will do its annual dance between the Sun and the Earth, temporarily blocking out the Sun's light, above Moab. Why not, then, pack some solar eclipse glasses along with your outdoor gear for a fall Southwest trip?
2023 Annular Eclipse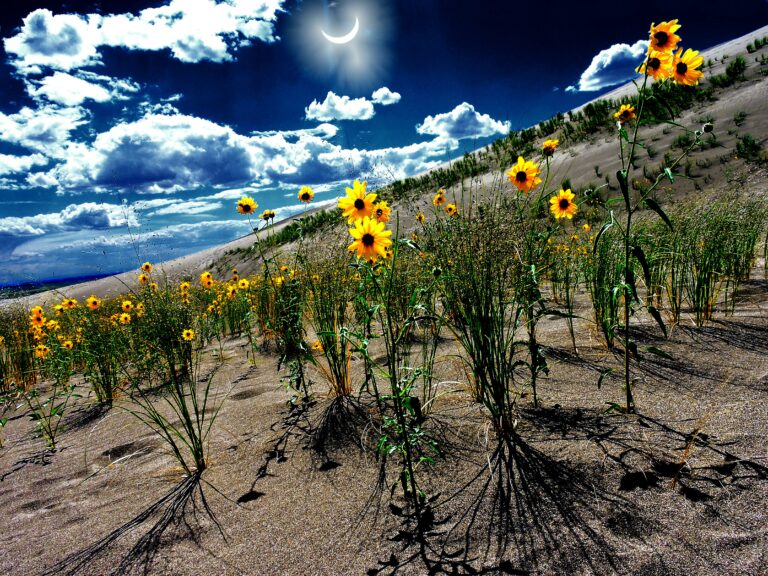 Space buffs will flock to Moab on October 14 for a rare and unforgettable occasion. The 2023 Annular Eclipse, obscuring slices of the sun for about three hours in the morning starting at 9:10 a.m., will be visible in Moab. One could choose to marvel at this special astronomical event from the national parks, Arches or Canyonlands, or even rafting through Castle Valley. If you go, bring proper solar eye protection and never look at the Sun without it.
Best Music, Art, and History Festivals
Whether you are into one or all three of these humanities subsets, they make for fabulous outings before and after practicing survivalism in the woods and bar hopping.    
The Red Canyon Powwow: Craving dazzling chorus chants, dancing, drumming and singing in a competition format? Celebrate this powwow ceremony with tribes from all over the United States and Canada. Brimming with culture, laughter and food, the event will take place on October 21 and 22, 2023.  
Folk Festival: Join this delightful collision of folk music, camping and cool desert weather for one of Moab's most cherished events. These free events will take place on November 3, 4, and 5.  
Moab Artwalk: If Moab's glistening slab, cactus, and shrubs below an azure sky do not manifest great art, then what do? The next Artwalks will occur during the eclipse on October 14 then on November 11, so get out those boots-made-for-walking. 
Trails with Fall Colors
Arched rocks and vast sagebrush, in short, make up a quintessential desert landscape. That is, until, meandering from point A to B, you catch sight of smoother, triangular mounds rising up above red plateaus. These extraterrestrial landforms are the La Sal Mountain Range. Farther northwest, vis a vis the Colorado River and nestled between Arches and Canyonlands National Parks, additionally, is Sevenmile Canyon. Both are apt locations for sightseeing fall colors.
Manti-La Sal National Forest Trail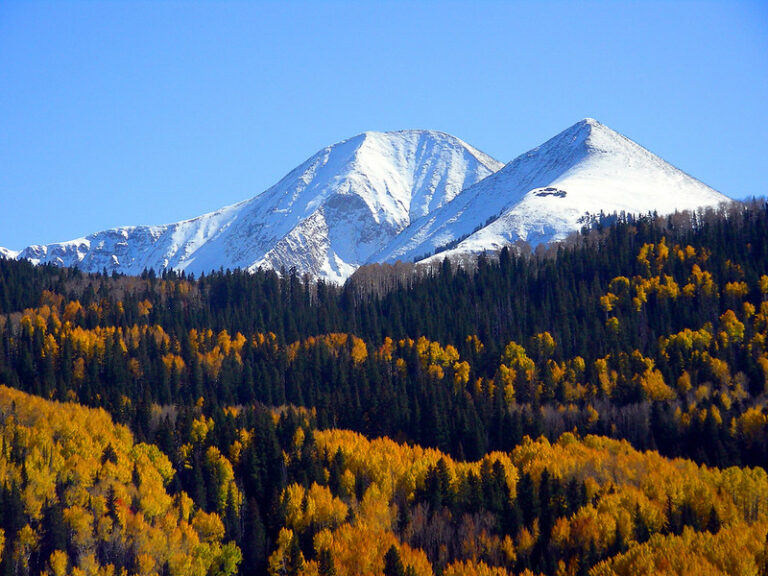 To immerse yourself in fall foliage, venture to the Manti-La Sal National Forest. Reached via a scenic drive on the La Sal Mountain Loop Road, this 63-mile journey flaunts stunning views and 13,000 feet elevation. It is the second-highest mountain range in Utah.
Along the way, you will encounter hairpin turns providing panoramic vistas of red rock canyons below. Completing the loop brings you back to Moab via US Highway 191, ensuring a full day of adventure.
For hikers, Grandstaff Canyon within the national forest offers palatial opportunities to witness transitioning flora. Pinyon and juniper trees then oak, pines, aspen, and later spruce and fir ascend the national forest beside you.
Sevenmile Canyon Trail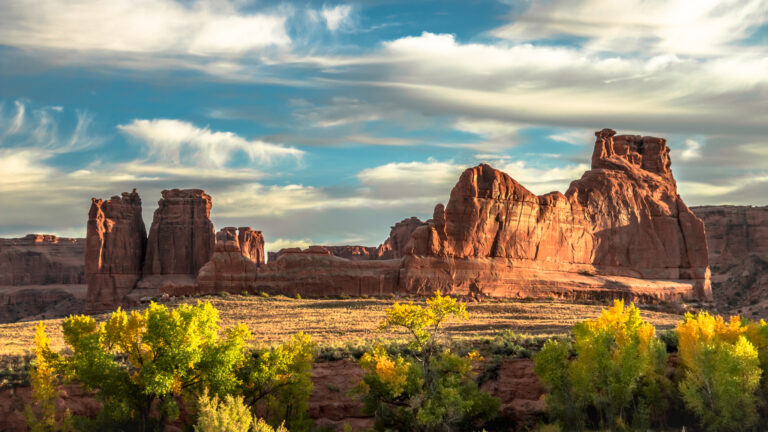 Sevenmile Canyon is an out-and-back trail covering approximately five miles round trip. It can, however, be easily shortened depending on one's motivation. The majority of the route takes you through a sandy wash until you reach the confluence with the northern section of Upper Courthouse Wash Canyon. Markedly, there is water present year-round — for now.
In the fall, Sevenmile Canyon's cottonwoods' wavy leaves ripen from green to lemon hues. As you wander along feasting on fall's colors, keep an eye out for petroglyphs sketched on rocks. They add an extra layer of historical significance to your hike. 
Fall Rafting: Best Multi-Day Trips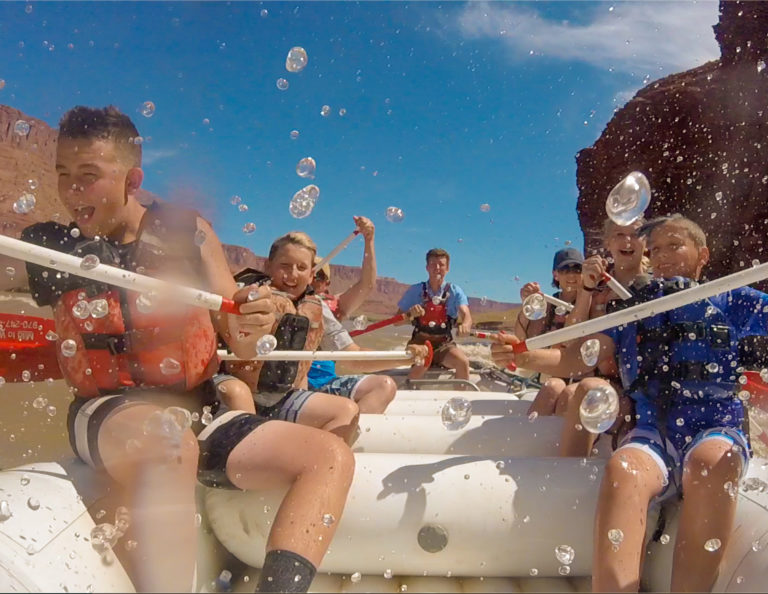 Lastly, fall offers stellar whitewater rafting conditions, especially for multi-day trips. The season's balmy weather brings a revitalizing change to the river experience, allowing for comfortable days on the water and cozy nights under the starry sky. It is not, however, merely the weather that makes autumn rafting unbeatable; the Colorado River itself undergoes a fascinating transformation.
Cataract Canyon Rafting
For example, take a Cataract Canyon multi-day trip, where you will find a unique blend of adventure and serenity. As you journey downriver aboard S-Rig Rafts with canvas coverings providing shade and coolers stocked with refreshments, you will encounter wide, flat stretches of river that make for leisurely cruising.
The excitement, nevertheless, builds as you approach rapids, allowing for use of good 'ol paddle rafts with oar assist during lower water. During high water seasons, when water levels rise upwards of 30,000 CFS, these rapids transform into roaring class V endeavors conquered in S-Rigs. Fall, to the contrary, balances class III and IV rapids and flat water along with temperatures dropping, culminating in a well-rounded paddling and motoring romp during a Cataract Canyon trip. 
Castle Valley Rafting
Fans of lower class rapids and scenic adventures might consider a Castle Valley multi-day trip. Play ring toss or bocce ball on sandy beaches and enjoy delicious meals prepared by guides. Additionally, if you raft with Mild to Wild on October 14, even just for a day, we will have solar eclipse glasses available for $1.50. 
Adorned with monsoons, rafting in fall presumes sunny weather, sandy beaches, solitude, tomato soup-like water, and blissful vacations. Feel free to lay out and gaze skyward.
More Reading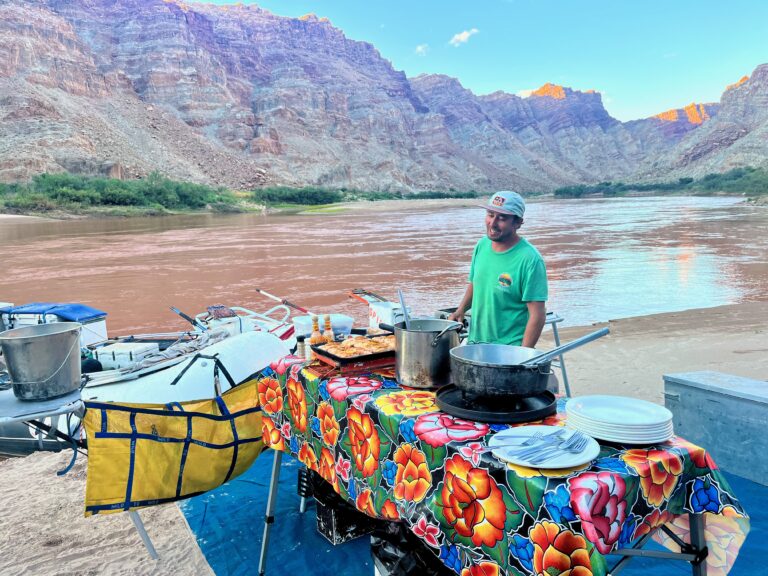 In sum, for more ideas about the best things to do in Moab this fall for 2023, dive into:
If you read this far, why not end on a musing note about why fall is the best time to be in Moab? River guide, Mike Gamboni, reflects, "You never know what is going to happen in fall. Monsoons can come through and disrupt camp activities. Sixty mile an hour winds might flip all your tables upside down, and if it rains hard enough in the canyons, waterfalls appear, dropping a couple hundred feet into the river. These mood swings, in any case, do not ruin the trip, they just become something to experience and talk about."
Get New Blog Posts in your Inbox