Southwest Colorado: The Scenic San Juan Highway
By Molly • July 21, 2015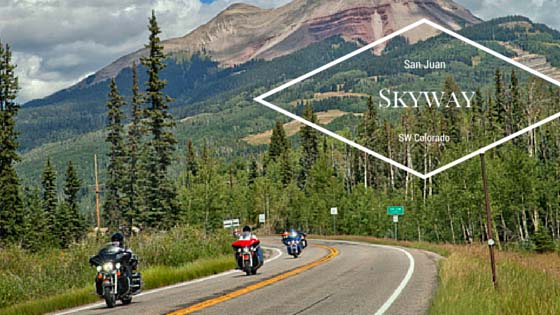 US-550 known as The San Juan Highway, is a breathtaking road that roams through the San Juan Mountains of Southwest Colorado.  We prefer to call it the San Juan SkyWay, as it is more beautiful than any highway you will ever drive.  The most notable section of the skyway is the section between Silverton and Ouray called the Million Dollar Highway. There are theories as to how this stretch of the San Juan Skyway got it's name, one of them being the price the road cost to build in 1924.
We have compiled the top reasons you need to take this scenic drive in Southwest Colorado.
1.  One of the Prettiest Drives in Southwest Colorado
Characterized by steep cliffs above and below, hairpin turns, towering peaks, and high elevation, this road is unlike anything you have driven before in Southwest Colorado.  You'll be torn between keeping your eyes on the narrow road and craning your neck to see the views above and below you. With pull-off areas for photos, this is a great opportunity to snap a family Christmas photo, especially if there is snow on the peaks.
2.  It Takes You Through Three of the Best Towns in Southwest Colorado
You will go through more than just three towns, but the most recognized are Durango, Ouray, and Telluride.  Drive this loop starting at any of these towns, and you will see the landscape change before your eyes.  Durango is located at the foot of the mountains in a high desert valley.  Journey up to nearly 9,000 feet to Silverton, then go over Red Mountain Pass (The Million Dollar Highway section) to Ouray, which sits just above 10,000 feet.  This little town has hot springs and a quaint downtown area with shops and restaurants.  Then, continue on to Telluride, known for its skiing and dramatic mountain views, surpassed by no other town in Southwest Colorado.  After hiking, biking, or golfing, continue on Lizard Head Pass through Rico and Dolores before getting back to Durango.

3.  Historic Ghost Towns on a Colorado Jeep Tour
Southwest Colorado is filled with old mining towns, but the Southwestern part of the state is especially saturated.  We will take you on bumpy, old, dirt roads through well-preserved mining areas where you can get out and explore the structures.  This is technically off the highway proper, but it's well worth the diversion when you see old mining equipment spanning a river or the old shafts filled with wild flowers.

4.  Go Back in Time in Silverton, Colorado
Silverton is a great little town to stop for a quick bite to eat.  With only about 900 year-round residents, this town becomes alive during the summer months.  Stop at The Bent Elbow, The Hungry Moose, The Pickle Barrel, or The Brown Bear Café for all of your favorites or for new twists on classic dishes.  After lunch, walk around the streets, visit the train station, or stop at the museum before continuing your drive.
5.  Breathtaking Red Mountain Pass
Some people will tell you they lost their breath from the beauty, while others will tell you it was from the act of white-knuckle driving.  Red Mountain Pass is a beautiful section of road with few guardrails to separate the road from dramatic drops.  Mountain peaks will envelop you as you drive along the cliff edge, with saplings and other plants growing precariously along the way.  There are pull-offs along the way where you might be able to catch a waterfall cascading down during the spring months.
6.  Visit "Little Switzerland of America" in Ouray, Colorado
Ouray is a little mountain town in Southwest Colorado nestled on the other side of Red Mountain Pass.  If you're looking for hot springs, this is a great place to find them.  There are many hot spring resorts, offering convenient access to mineral-rich water.  Other ones require a bit of a hike, but are more remote and private.  Let the water soak into your skin as 13,000ft peaks tower around you.  There are also a number of shops and restaurants to stop at, including the Ouray Brewery.
7. Ouray Hot Springs
There are several hot spring options in Ouray and surrounding areas. You could stay at the Wiesbaden and enjoy their magical vapor cave. You can enjoy the larger outdoor hot springs right in town or a short drive will bring you to the more natural feeling Orvis Hot Springs (a disclaimer: Orvis is a clothing optional facility).
8.  Box Canyon Waterfalls in Ouray
As if we haven't already plugged Ouray enough, here's another reason.  Box Canyon Waterfalls is a cool stop no matter what time of year you're visiting.  Thousands of gallons of water from Canyon Creek drops 285 feet per minute, creating a spectacular sight.  A trail will allow you access the falls, with a viewing area for photos.  During the winter, the falls freeze and there are ice-climbing competitions.  Regardless of what time of year you're coming, this is a hidden gem to include in your itinerary.
9. Colorado Whitewater Rafting: San Miguel River Near Telluride, CO
The San Miguel River in Southwest Colorado offers great intermediate rafting trips for all adventure seekers.  This fast paced, twisting waterway will bring rafters through Class III wet and fun rapids that will leave you soaked by the end of the day.  Red-rock walls dotted with green pine trees will surround you, providing great photo opportunities.  Considered a wilderness trip, this adventure will get you out in nature and away from the daily routine.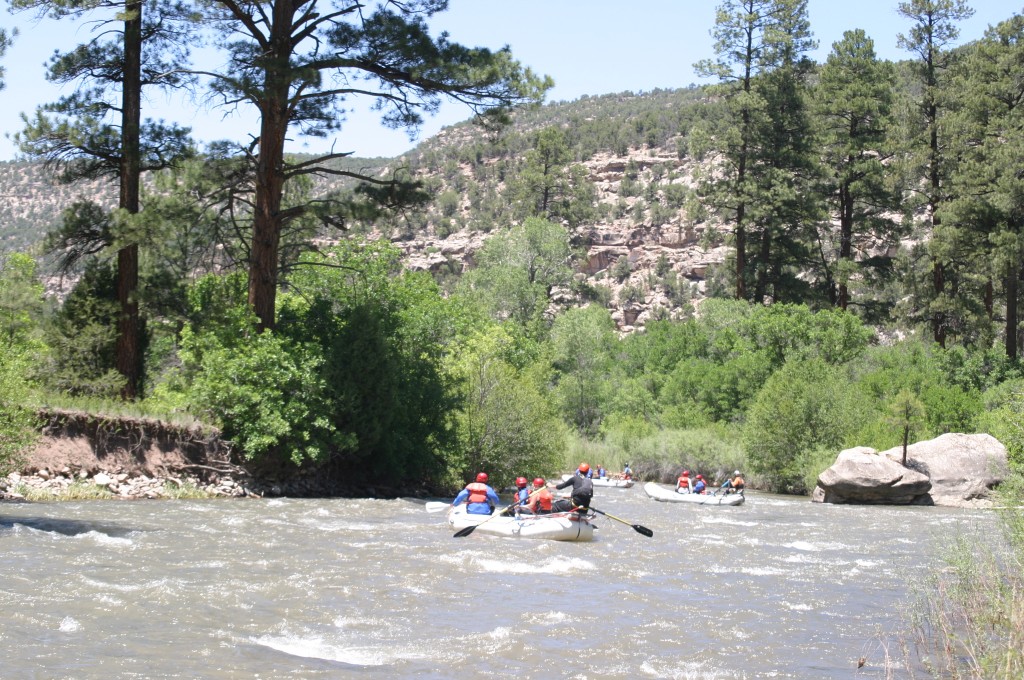 10. Bridal Falls: The Longest Free-Falling Waterfall in Southwest Colorado
Located just outside the town of Telluride, Bridal Falls drops 365 feet from the top.  This is a favorite place for people to run, hike, bike, or go four-wheeling.  You will not be able to drive your vehicle to the top of the falls, but a short 0.6 mile hike with get you there for spectacular views.  Be mindful of other people enjoying the area, though, especially when driving your car.
11.  Free Gondola Ride in Mountain Village, Telluride
At this rate, you should plan on staying in Telluride for a little while with all the great things you can do.  The gondola is a great resource for you to utilize while there.  Park in Mountain Village, where a parking garage will cost you about $7 for the whole day.  Take the gondola to Telluride Ski Resort before transferring to the one that brings you to downtown Telluride.  Breathe easy while on the gondola, as it is solar powered (thank 300 days of sunshine for letting us go green!). The midway loading station is a great spot to get out, as you will be able to see the La Sal Mountains in Utah on a clear day.  After taking photos and walking around, continue down into downtown Telluride and enjoy what the town has to offer.
If the idea of this scenic mountain road intrigues you, but your nervous about driving it, have no fear.  Let us show you how spectacular it is!  Take our bus, take the train one way, or do both.  However you choose to enjoy this road, there are many ways to explore it.
Get New Blog Posts in your Inbox