Mountain Biking In Durango
Guide to Popular Trail Options
Mountain Biking In Durango
It's no secret that Durango and it's surrounding terrain it's a shredder's paradise. Hundreds of miles of singletracks scribble throughout La Plata county for newbs and cyclopaths alike. This area is dedicated to outdoor adventure, so be prepared to make plenty of trail friends in between scenic serenity during your rides. Check out this list of five iconic mountain bike rides for all skill levels. 
For anyone taking to the trails, keep in mind that higher altitudes mean more inflammation. Hydrate constantly, bring salty snacks loaded with carbs, give yourself time to acclimate if you're from lower elevations, and go on an easier ride before starting the big ones. Also, the Rocky Mountains never make up their mind about the weather, so don't be surprised when it's snowing after an 80-degree afternoon— it's not weird, it's Colorado. Now that you know, go flow!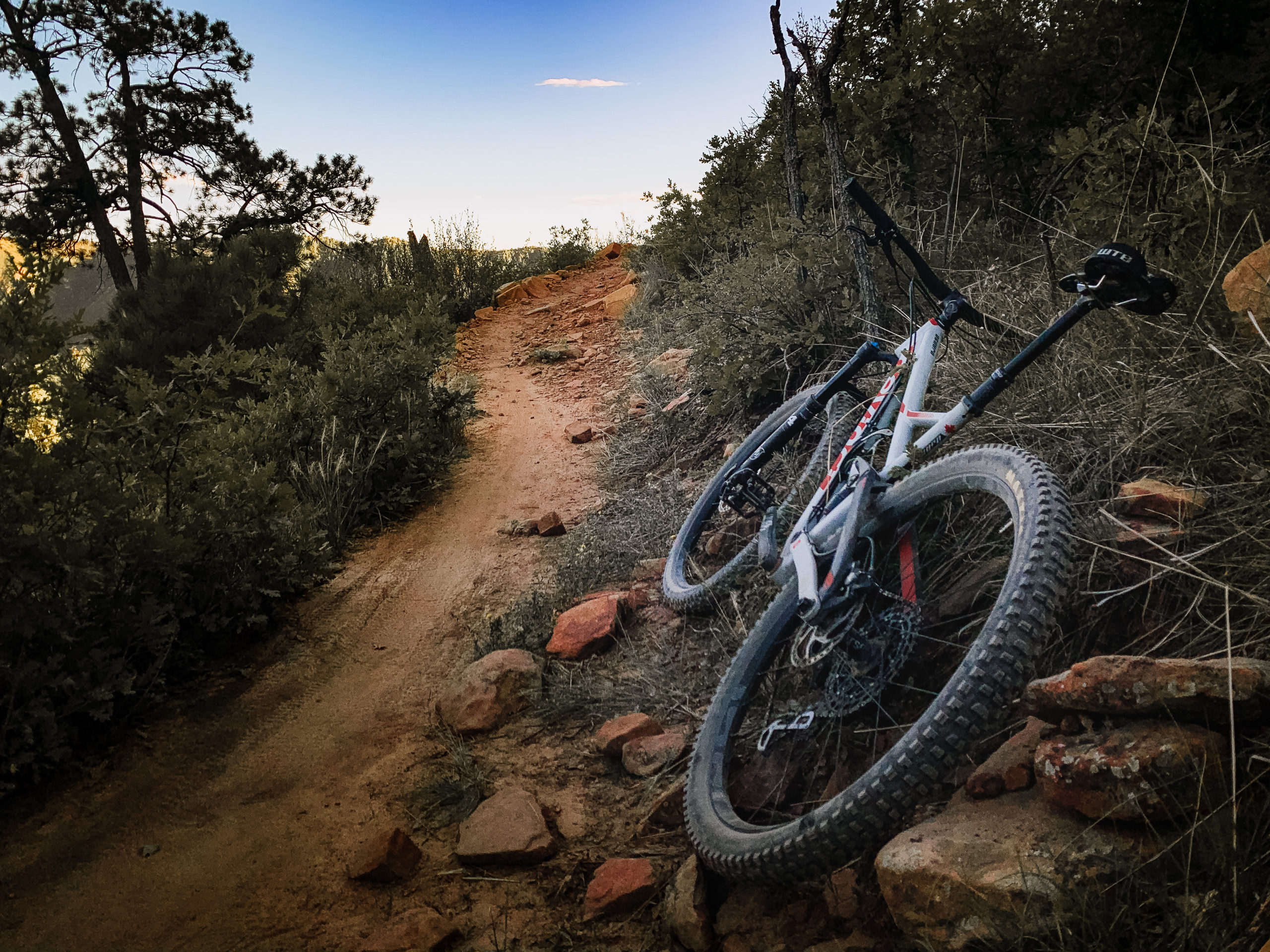 Dry Fork Trail
This single track comes with an easy ascent through shady woodlands up to the last segment of the Colorado Trail. Turn around for the ride down to complete this 3.9 mile in and out route. Off US-160 W, turn right onto Lightner Creek Road, stay right at the fork for county road 208, stay right at the next fork, look for the parking lot for Hoffheins connection on the left.
Distance: 3.9 miles
Elevation: 1330 feet
Time: 1 – 2 hours
Difficulty: Intermediate
Percent Singletrack: 100%
Test Tracks
Head over to Ned Overend Mountain Bike Park for flows with swooping corners. It's right in town and offers various loops you can connect together easily. The trails themselves have wide turns, packed dirt, and little technical riding. It's a great way to rip a little even during a busy schedule.
Distance: As long or short as you want
Elevation: Short climbs
Time: 1 – 4hrs
Difficulty: Easy/Intermediate
Percent Singletrack: 100%
Molas Pass to Engineer Mountain
A 21 mile in and out journey that offers mind-blowing views without entirely aggressive climbs. This epic singletrack traverses the remote Weminuche Wilderness above 12,000 ft, so be prepared for every type of weather! Park at Molas Pass overlook or the Little Molas Lake parking area.
Distance: 21 Miles
Elevation: 3,000 feet
Time: 5 – 6 hours
Difficulty: Advanced
Percent Singletrack: 100% Singletrack
Horse Gulch Trail System
Horse Gulch is track heaven, where these mostly-singletrack connections offer flowy rides with some technical descents on packed trails. From the Horse Gulch trailhead from E 3rd street, once Big Canyon spits you out near US-160, take the Animas Trail back for about a 12-mile round trip.
Distance: Multiple length loops
Elevation: Short to medium length climbs
Time: As long as you like
Difficulty: Intermediate
Percent Singletrack: The trail system is 100% singletrack
Hermosa Creek Trail
This 18.6 mile descent through a lushy forest is a known favorite among Durango locals. Following this shady creek comes with cruiseable mud puddles and a couple of steep climbs. Keep in mind it's a remote ride through the Hermosa Wilderness Area until the last couple of miles where you'll pass plenty of hikers. Leave one car at the parking lot of the Lower Hermosa Campground, then shuttle to the Upper Hermosa Creek trailhead.
Distance: 19.1 miles one way
Elevation: 2,330 feet
Time: 4 to 5 hours
Difficulty: Advanced
Percent Singletrack: Doubletrack and singletrack
More Durango Colorado Planning Resources
Activities
Plan Your Trip