Salt River Rafting
We are done running the Salt for this 2015 season but we can't wait to raft with you next spring! The 2016 season will begin early March and run through April or May! We look forward to seeing you next year!
Whitewater rafting in Arizona: Express, 1-Day, 2-Day, 3-Day, 4 & 5-Day Arizona River Trips.
Salt River Rafting
Location:
Central Arizona
Adventure Level:
Rafting: Intermediate Inflatable Kayaks: High Adventure Premium Boat: High Adventure
Class:
High Water:Class II, III & IV Rapids Low Water: Class II & III Rapids
Season:
Salt trips will begin again in 2016 Early March-April/May!
Restrictions:
Raft: Ages 8 and up (except at high water) Inflatable Kayak: Age 16 & must be 5′ 2" Tall Premium Boat:Age 16+ for more adventure8+ for a more private boat option
Current Water Levels
Salt River Canyon Description:
Experience spectacular
Salt River rafting
trips in the Upper Salt River Canyon! Paddle through an incredible 2000-foot deep canyon as you take on rapids such as "Maytag," "Overboard" and "Mescal Falls". The Salt River drops at over 20 feet per mile as it carves a canyon full of wilderness to discover. The high Sonoran Desert scenery and fun filled whitewater make this a special place best shared with friends and family. Mild to Wild Rafting provides a delicious, guide prepared, grilled steak lunch on our one day trips. Longer trips take you further into the wilderness section of the spectacular
Salt River Canyon
, which changes dramatically from day to day, and plunges you into bigger rapids! Indulge in the ultimate: catered multi-day trips with our deluxe river camp setup.
Boat Options
Regular Rafts:
These are generally 15 foot self-bailing rafts. Choose an oar boat where the guide navigates with oars from the back of the boat so you can help paddle or just sit back and relax. Or, choose a paddle boat where everyone, including the guide, paddles. Since the guide doesn't have the large oars, they do not have as much control and require YOUR assistance to navigate the river!
Premium Boats:
Smaller boats with smaller tubes so at higher water levels they increase the level of adventure. They can be set up as Paddle Boats or Oar Boats. In a Paddle Boat, the guide has a paddle like the customers so everyone has to help navigate and paddle through the rapids. If the guests want more adventure, the guide can also go for the riskier lines through the rapids. When rigged as an Oar Boat, the guide has more control so guests have the option to sit back and relax or assist in paddling through the rapids. Premium Boats can also be reserved as a more private boat option. We normally put 4 to 5 people (6 if there are 6 in the group) in a Premium Boat as opposed to 8 or 9 in the regular sized rafts. With this option, guests can request an Oar or Paddle Boat. If your group has younger kids and reserves a Premium Boat as a more private boat option, the guides will take more conservative lines as safety is our number one priority. At lower water levels, the Premium Boats only offer more of a private trip and there is no added adventure.
Inflatable Kayaks:
For those who want to increase the level of adventure further and control their own destiny, this is the perfect option! No experience necessary and an instructional guide will be provided. Each person will be in his/her own single person inflatable kayak. Interested? Go to
Salt River Kayaking
.
Salt River Rafting Trip Options
Salt River One Day Trip
Explore Arizona Whitewater Rafting in just a Day!
Savor a day in this spectacular canyon with 10-12 Class III rapids and a delicious grilled riverside lunch! Cost: $119* Adult; $103.50* Youth • Meets: 9:30
Book This Trip
Learn More
Salt River Express Trip
Tackle the same stretch as the 1 day trip in a fraction of the time.
Enjoy an exciting trip filled with 10-12 "wet and fun" class III rapids. Thunder through thrilling rapids (every 5 to 10 minutes) in this unique recreational treasure in a raft or premium boat. Cost: $99* Adult; $89* • Meets: 11:45
Book This Trip
Learn More
Salt Morning Half Day Trip
A taste of Arizona whitewater rafting!
A sampler trip for those short on time. Raft 6-8 Class III "wet and fun" rapids, discover breathtaking scenery and splash through spectacular rapids in a raft or premium boat. Cost: $79* Adult; $59* Youth • Meets: 9:30
Book This Trip
Learn More
Salt Camp Out Trip
Because everyone needs a night in the canyon!
You are going to want to stay in the Salt River Canyon after a day of rafting to relax, enjoy a delicious dinner, campfire, & night's rest in our comfortable camp. Cost: $159* Adult; $144* Youth • Meets: 9:30
Book This Trip
Learn More
Salt River Two Day Trip
Because you need more rapids, more wilderness & more get-away!
Indulge in two days of thrilling whitewater as you explore even deeper into the heart of the Salt River Canyon. Cost: $399* Adult; $337.50* Youth • Meets: 9:30
Book This Trip
Learn More
Salt Three Day Trip
Raft, relax, rejuvenate, refresh!
Enjoy two nights of camping and three days of rafting in the beautiful 2000 foot deep Salt River Canyon. Cost: $599* Adult; $472.50* Youth • Meets: 9:30
Book This Trip
Learn More
Salt Four Day Wilderness Trip
From Bridge to Bridge – Raft the Whole Whitewater Section!
Experience 3 serene nights under the stars while our guides provide 5-star service. Marvel at the canyon's unique natural beauty where you can experience dramatic changes in scenery every day! Cost: $745* Adult; $685* Youth • Meets: 9:30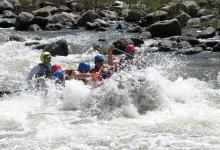 Book This Trip
Learn More
Salt River Rafting Trip Highlights:
2,000 foot deep canyon – Arizona's Other Grand Canyon
More rapids per mile than any other Arizona river
Numerous Class III "wet and fun" rapids on the 1 day section, Class IV on longer trips
Spectacular blooming cactus & desert flowers
Granite canyon walls
Earliest river season in the U.S.
Wilderness trip (no cell phones, no electricity, no running water!)
Special Ways We Care for You on the Salt River:
Going the extra mile (literally) upstream from the main put-in to provide 2 additional rapids (when water levels allow)
Multifaceted Satellite communication systems to coordinate the details of your adventure and increase safety
Specially designed 4-wheel drive vehicles to ensure your shuttle out on the rugged trails
Different boat options for various water levels and adventure desires
Free helmets, free wetsuits, free wetsuit boots and free splash jackets
Trips held to the higher safety standards of Colorado state
Quality trip leaders with an average of 2,000 river miles experience
Earning the highest possible ratings from the Forest Service and Apache Tribe, our governing agencies
Click Here for Salt River Directions
---

Hey, Private Boaters! Looking for a shuttle on the Salt? Check out the Salt Shuttle page for details!Or just download our Shuttle Contract here!