Gates of Lodore Rafting 3 Day Trip
Dinosaur National Monument
About This Trip
The Gates of Lodore 3 Day rafting trip is one of the most scenic river adventures in the country. It's known to boast a bit of everything— exhilarating whitewater, gorgeous hiking trails, abundant wildlife, fascinating archeology, and geologic masterpieces to name a few attributes!
With 45 river miles to explore, 3-day trips still offer plenty of time to unwind in camp each evening, with a hike up Jones Hole Trail as one of the top excursions. This trail reveals an entirely new ecosystem as you travel father into the side canyon, with waterfalls, wildflowers, and rare pictographs to explore.
As for the rapids, you won't have to wait long for the big splashes. Disaster Falls, Triplet Falls, and Hell's Half Mile all take place within the first 12 miles of the trip. After the Yampa River confluence in Echo Park, Whirlpool Canyon and Split Mountain churn up constant Class II rapid sections that guides and guests always love to run.
This dramatic section of the Green River is a favorite among the river runners who have experienced it. Once you pass through the gates of Lodore Canyon, another world of wilderness unravels bend after bend.
Gates of 3-day Lodore Raft trips start at $999.00.

Season

Class of Rapids

Meet Time

Return
Boat Options
Standard Boat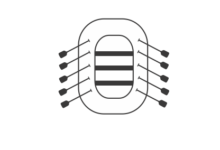 Our rafts will range from 18 – 33 feet depending on water flows during the time of the trip. Challenge rapids on optional inflatable kayaks if you desire.
Payment & Cancellations
Payment Options
1/2 down, 1/2 charged 60 days prior to trip.
1/3 down with remaining balance charged in thirds by 60 days prior.
Call for other arrangements!
Free Courtesy Hold
We don't want you to miss out on this trip so we'll hold your spots, payment-free, for 24hrs while you make your final arrangements & prepare for payment.
Fees
In addition to the listed trip cost, we collect an additional 9% for River and Land Access Fees (ie. Forest Service, BLM, NPS, City, Private Land Use).
Cancellation Policy
60+ days: Receive a refund less $200 per person unrecoverable fees.
45+ days: Reschedule for another trip/date, or receive Mild to Wild gift certificate less $200 per person.
Less than 45 days, unfortunately there will be no refund.
RoamRight Travel Insurance is recommended to help cover unforeseen circumstances, such as cancelled flights, sickness or medical evacuations.
Guests needing to be evacuated from the canyon will be charged a minimum of $1,000 per person.
Map + Facts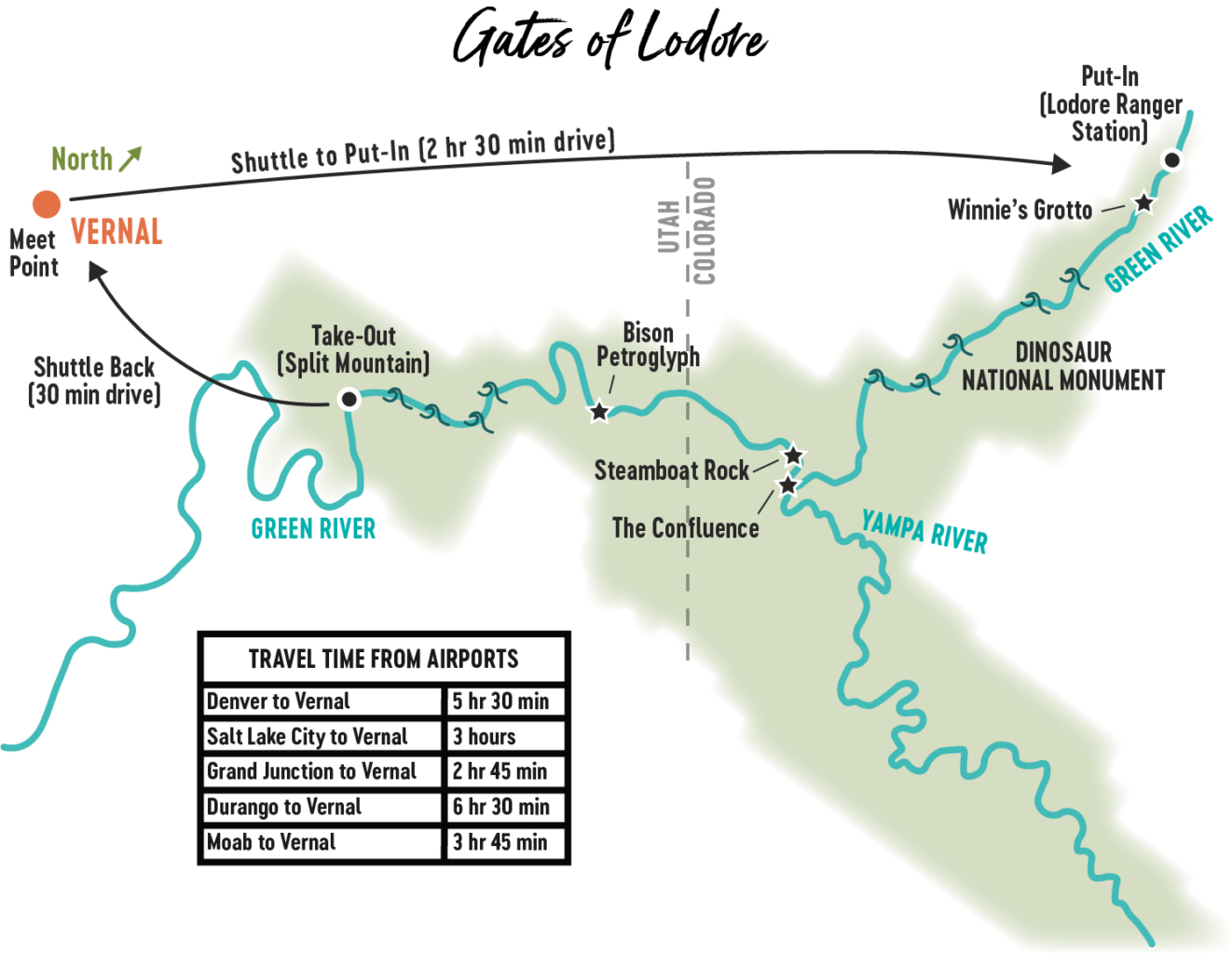 Top 10 Things to Know about Lodore Canyon:
Lodore Canyon length: 45 miles 
Lodore Canyon put-in: Lodore Ranger Station   
Lodore Canyon take-out: Split Mountain Campground   
Lodore Canyon rapid class: Class III and IV 
Lodore Canyon's top rapids: Disaster Falls, Triplet Falls, Hell's Half Mile 
Best for Ages: 7+ at low water, 12+ at high water  
Location: Dinosaur National Monument 
Notable Scenery: 2,000 foot quartzite cliffs, lush forests, Yampa River confluence in Echo Park
Notable Sites: Winnie's Grotto, Early explorer inscriptions, Hanging Garden overlook
Average CFS Range: 1,500 – 35,000
Authorized Concessioner
Mild to Wild Rafting is proud to be an authorized concessioner of Dinosaur National Monument.