National Parks
Moab, Utah
National and State Parks Near Moab, Utah
Moab Utah National Parks and Public Lands. Moab is the welcome mat to the West's most iconic deserts. Any direction that's given a good mosey promises eclectic terrain, inspiring scenery, and cliffs that would make a skyscraper self-conscious. Arches National Park sits right in Moab's front yard, while the Sands Flats Recreation Area is pretty much apart of the community. If you're up for a quick and super scenic cruise, Canyonlands National Park and Dead Horse Point are just west of town or head east for the lush goodness of Manti-La Sal National Forest. Hike it, ride it, climb it, raft it, or just sit there and stare at it, you can't go wrong. Here's the scoop on each of these natural wonders loitering around Moab.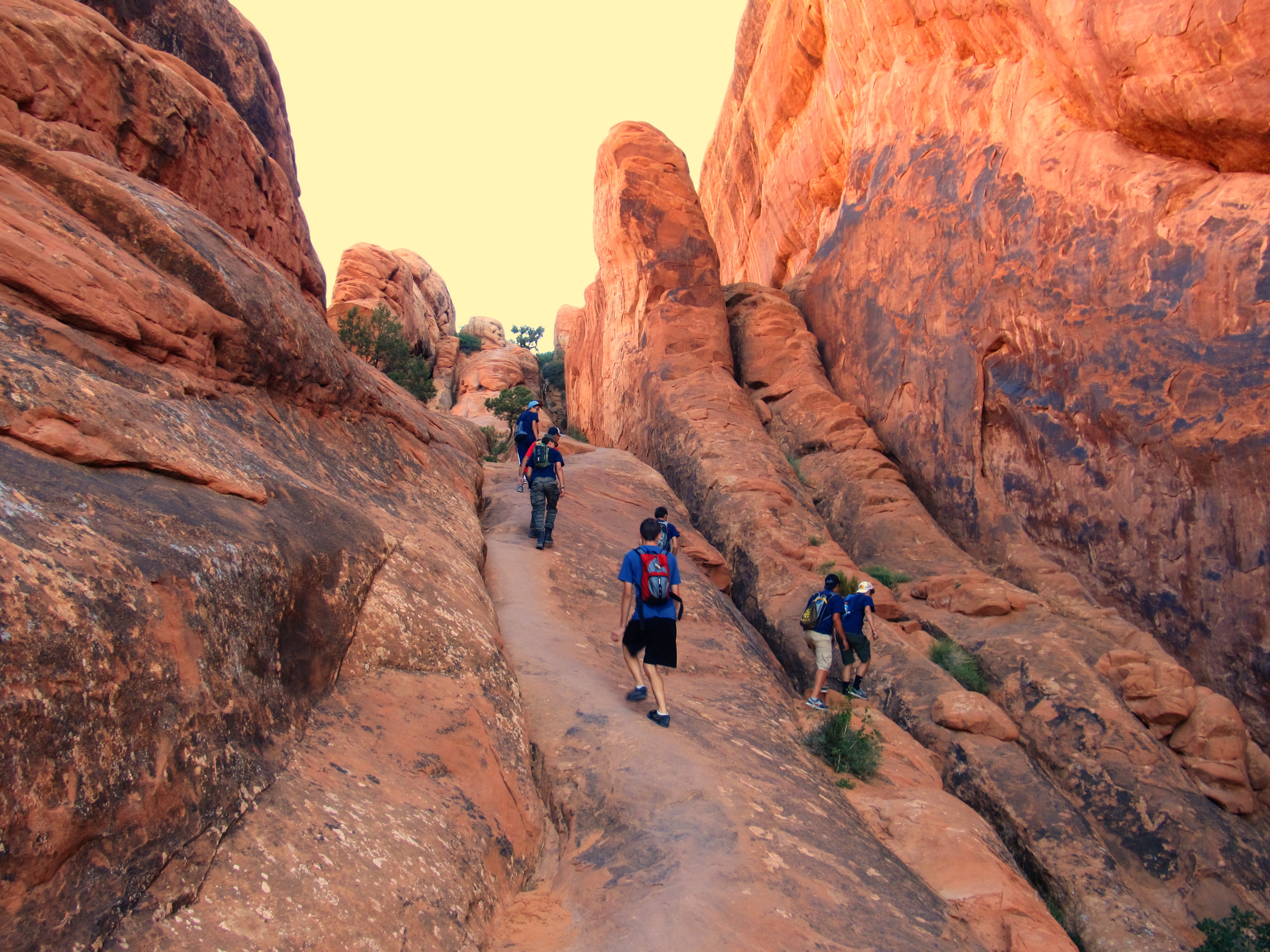 State Parks & Public Lands Near Moab, UT
Dead Horse Point State Park 
A multilayered masterpiece of geologic beauty soars above a Colorado River bend, opening the views wide to Canyonlands National Park. Hiking and mountain biking atop this colossal staircase offers an easy and intermediate experience for daytrippers. Every trail dotes scenic overlooks, where cathedrals, buttes, and crazy eroded sculptures hang in a delicate display. This is the perfect place to stop and soak in the scenery sweeping across Utah, day or night.
Manti-La Sal National Forest
You can't miss the Manti-La Sal Mountains— the ones busting out of Utah's desert like they own the place. Just an hour from Moab, these 12,000-foot peaks keep their snowcaps on while arches mingle with spruces. While you're here, cruise through sandstone tunnels on the Energy Loop, blaze the Arapeen OHV Trail System or snag a trout in Blue Lake. It's an oasis year-round, so grab some powder this winter! 
Sand Flats Recreation Area
Heads up, it's not flat. This undulating sandstone is home to the world-famous Slickrock Mountain Bike Trail and is the ultimate playground for Side-by-Side galore. If you want to camp close to Moab, this place is prime with 120 first-come-first-serve campsites. Snag your camp first thing in the morning, nearly every spot comes with 360 degrees of exquisite views that roll beyond the horizon.
Canyons and mountains like these will leave your mug agape and suck the air right out of lungs; it's jaw-dropping, breathtaking wilderness out here folks. Every turn warrants a double-take in this incredibly rare landscape, no matter where you decide to take your journey. With the amount of terrain to explore and things to try while you admire it, you'll be checking off boxes you didn't even have on your original bucket list. 
More Moab Utah Planning Resources
Activities
Plan Your Trip