Scouting Groups
Scouting & Venture Crew Adventures
About Group Rafting Trips For Scouting Groups & Venture Crews
Just like the early explorers of the West's most wild rivers, scouting groups can benefit in profound ways from a trip into the wilderness. Rafting a remote canyon provides a chance to explore the natural world and shape the spirit of those who venture forth into these rarely visited places.
We are strong believers in the value of outdoor recreation and thoroughly enjoy sharing our love for the outdoors with young people. We focus on keeping groups busy, happy, challenged and enriched in a drug and alcohol-free environment. Safety is our #1 priority; our trip leaders exceed state requirements with an average of 2,000 river miles (Colorado state requires 750 miles). Decisions will be based on the time of year and the water level at that time. Training will take place in paddle boats, oar boats, and inflatable kayaks (when water levels permit). Depending on water levels, our one-day trips may or may not meet all the items covered in the merit badge requirements.
For scouting groups looking for memorable rafting & wilderness trips to build character, provide chances for personal growth, create memories, and integrate with scouting ideals and merit badge programs, Mild to Wild has a number of trip options that are perfect. These trips are the perfect opportunity to disconnect from the outside world and the opportunity to develop a lifelong devotion to the outdoors.
Mild to Wild understands that the logistics and planning required for taking your group out into the backcountry can be daunting! With Safety as out number 1 priority, we've spent 25 years planning and setting up great adventures for all ages and abilities. Let us handle the planning so that your crew can sit back and fully soak in the unique and life-changing experience.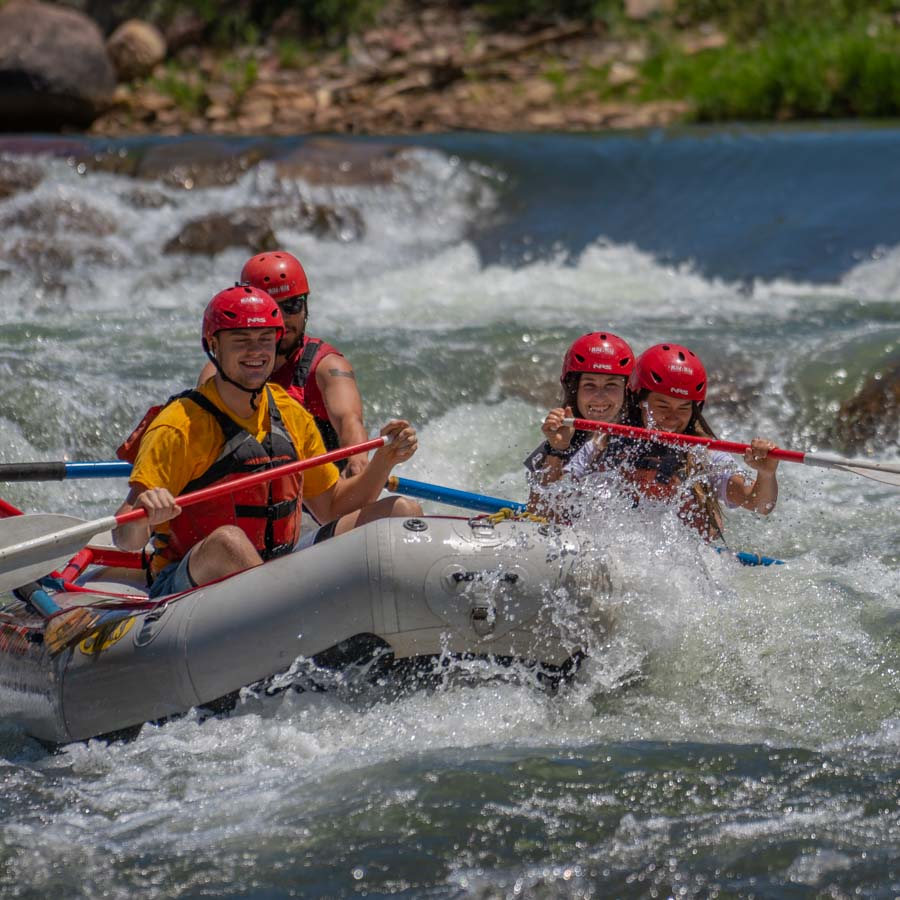 What's Included On A Scout Trip With Mild to Wild
Professional guides trained to the highest standards
State of the art rafts and inflatable kayaks
Delicious  and healthy meals
Comfortable camping equipment available to rent
Drybags for gear
personal safety equipment
Wetsuits and splash jackets for the cold water trips
Shuttle to and from the river
Merit Badges
We are happy to help your group complete the necessary requirements for a merit badge. Send over the requirements ahead of time, and we will let you know which requirements we can help you cover.
Boy Scout Group Pricing & Discounts
Mild to Wild has extensive experience serving scouting groups. With multiple eagle scout staff members, we know what it is like to instill a passion for the outdoors at an early age.
Scouting Groups are eligible to receive 1 free leader on each trip for every 12 guests booked.
We also have options to adjust our menu in order to stay within a certain price range. Give our office a call to learn more: 970.247.4789
Single Day Trips in Colorado & Utah   
10-24 Guests: 10% off Rate
25-49 Guests: 15% off Rate
50+ Guests: 20% off Rate
Single Day Trips in Arizona
12-24 Guests: 10% off Rate
25-32 Guests: 15% off Rate
33+ Guests: 20% off Rate
Multi-Day Trips in Arizona, Utah, & Colorado
8-16 Guests: 10% off Rate
17-24 Guests: 15% off Rate
25+ Guests: 20% off Rate
Group rates are given with the following conditions:
Payments must be made by the group leader (not by individual members making individual payments).
Establish a waiting list for seats in case members of your group cannot make it. This will avoid cancellation charges.
Waivers may be sent in advance. Make copies, have each participant complete the form, then collect forms and bring them to the check-in area the day of the trip. Children under 18 must have signed liability release forms from their parents.
Kids' prices are based on kids pricing specific to each trip.
Popular Multi-Day Scouting Trip Options
Popular Single-Day Scouting Trip Options