Group Rafting Trips & Tours
Corporate, School, Church, & Scout Group Trips
Group Rafting  and Other Adventures with Mild to Wild Rafting:
Welcome to our Group Adventure headquarters at Mild to Wild! We specialize in adventure in nature. This is all we do so we are good at it and with more than 25 years of experience, we have entertained all types of groups including corporate, youth, scout, family reunions, school groups, and tour companies – just to name a few. Experience all types of mild, intermediate and wild adventures on guided group rafting trips, jeep tours, Mesa Verde tours, inflatable kayaks, train rides, and paddle boards! Groups can choose from mild to wild for adventures, but also for unique meetings, team-building challenges, group bonding, motivational trips and mostly, for FUN. And, be aware: after your first experience with Mild to Wild, you will probably want to make it a yearly event with us! Mild to Wild's diverse array of trip options allow us to create an experience that is ideal for your specific need.
More Information By Group Type
Why Chose Mild to Wild For Your Group Rafting Trip
Group Experts – We are celebrating 26 years of connecting family & friends through nature and adventure! We are known as the Southwest's Whitewater & Adventure Experts…just ask the locals.
Exclusive Guarantee – "Commitment to be the Best" – Our goal is to exceed expectations. If you have any concerns, you have direct access to us the owners, Molly and Alex. We are committed to excellence and serve over 25,000 delighted guests annually
Highest Trained Guides – We have a State-Certified Guide Training Program. Our in-house guide training assures high quality and knowledgeable guides. Our training program exceeds the State requirements to ensure our guides' higher level of professionalism & experience. Your guide is trained in river rescue, local knowledge, customer service skills, as well as First Aid and CPR.
Family-Focused & Family Owned – We are family-focused with committed owners! We are a family at Mild to Wild! Alex and Molly, our leaders/owners, are daily managers, guides on the river, trip consultants and greeters! Our team is a family and we want you to feel a part of that family!
1st Class Trip Provisions – We provide state-of-the-art, self-bailing rafts and equipment, quality shuttle vehicles, professional guides, AED's, multiple satellite communication devices, on water radios to communicate between boats, free helmets, free Coast Guard-approved personal flotation devices, free splash gear, safety orientation, and our unparalleled guarantee.
Ease of Planning – You will receive a dedicated group coordinator to help you plan your group's adventure & ensure any details or accommodations are met. We offer flexible payment plans, group discounts, electronic waivers, & split payments.
Safety
At Mild to Wild safety is our number one priority. While we strive to provide an engaging and exciting experience for youth groups, we always take safety very seriously with our industry-leading safety precautions.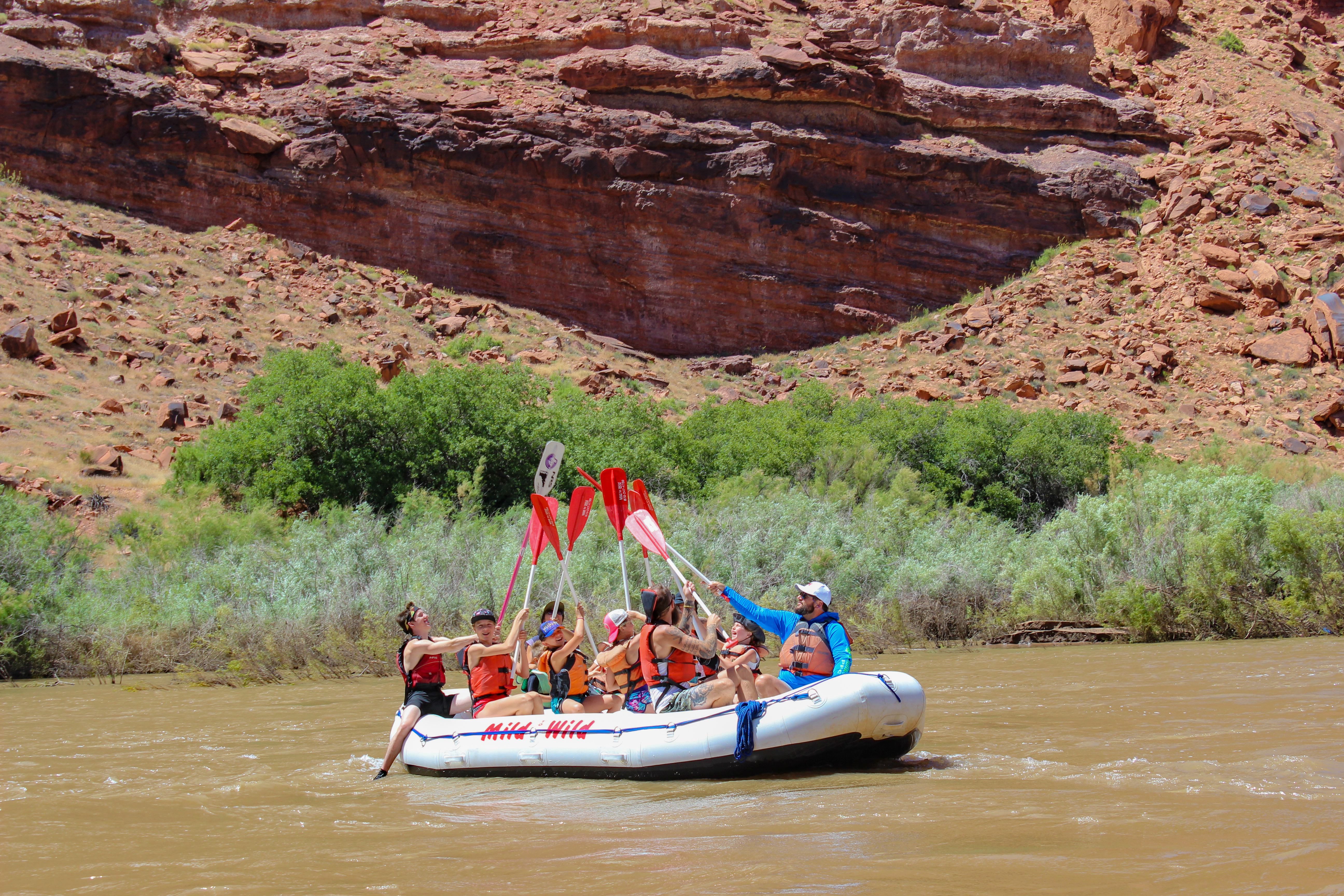 Extra SAFETY PRECAUTIONS
True river professionals guide you down the river and share their love and knowledge of the
river with you
We step above industry standards and bring AED's on trips
On river radios & satellite communication devices
Our trip leaders set the standard with an average of 2,000 river miles
State-certified, in-house guide training ensures quality
First Aid and CPR certification for all guides
Online waivers & pre-trip preparation material
Free helmets and PFD's
Instructional and safety orientation prior to launch
EASY PLANNING FOR TRIP LEADERS
We know organizing a group trip is a big undertaking; not to worry, we are here to help! You will have a single, personal contact at Mild to Wild to help accommodate all the trip planning details & special arrangements. All of our adventures include experienced caring guides & staff, and quality shuttle vehicles & rafting equipment. We are knowledgeable about our area and would love to help coordinate your Southwest experiential trip. All reservations come with flexible payment plans, lenient cancellation policy, and online waivers submission.
We know organizing a group trip is a big undertaking; not to worry, we are here to help! We help through the whole process starting with connecting you with a group coordinator who will assist you in choosing the best trip. All of our adventures include experienced, caring guides and staff and quality shuttle vehicles rafting equipment. Our Durango & Moab based locations also offer free parking, changing rooms, bathrooms and a store for last-minute needs and souvenirs. We are knowledgeable about our area and love to help coordinate your Southwest vacation, including other area activities, meals, and accommodations. For other resources to help you plan your group trip, check out these links: Tips for Choosing the Right Trip, Class of Rapids, Lodging, Common Concerns.
Group discounts are provided and group payment plans are available. We also welcome exclusive and custom chartered trips.
Choosing the right outfitter is important to the success of your outing. Our years of experience as an industry leader will help your group achieve its goals, no matter the number or special logistical needs. With our years of experience, we will make your adventures into lifelong memories and guarantee it to be a highlight for your group.
Reviews From Previous Groups
Cottonwood Gulch Expeditions:
We were very happy with everything that we experienced with Mild to Wild. The professionalism and enthusiasm from educating our team on the different levels and rivers to the guides being able to adapt to working with 20+ ten-year-olds, and knowing exactly what everyone needed and maintaining the schedule we needed. Rafting isn't a normal part of our curriculum here but it was probably one of the better trips we did in 2019, and hope that we can include it into the curriculum in 2020 and on.
Aspen Community School:
Amazing. The guides were supportive, hilarious, patient, accommodating, and provided so many opportunities for the kids to understand the river, river safety, desert camping etiquette, and overall how to have an amazing river experience. They made sure that there was plenty of food, playtime and games. The kids were exhausted from all of the wonderfulness from the trip! Thank you Grace, Sam and Eric!!!
Girl Scout Troop on a 3-Day San Miguel Trip:
Our Girl Scout Troop had a blast on our 3-day rafting trip. Our guides, Emma, Nickel, and Mike, were amazing. They were fun, knowledgeable and made our trip so fun. Our group ranged in age from 12 to 46. Everyone had a great time.
Group Discounts and Policies
Single Day Trips in Colorado & Utah   
10-24 Guests: 10% off Rate
25-49 Guests: 15% off Rate
50+ Guests: 20% off Rate
Single Day Trips in Arizona
12-24 Guests: 10% off Rate
25-32 Guests: 15% off Rate
33+ Guests: 20% off Rate
Multi-Day Trips in Arizona, Utah, & Colorado
8-16 Guests: 10% off Rate
17-24 Guests: 15% off Rate
25+ Guests: 20% off Rate
Group rates are given with the following conditions:
Payments must be made by the group leader (not by individual members making individual payments).
Establish a waiting list for seats in case members of your group cannot make it. This will avoid cancellation charges.
Waivers may be sent in advance. Make copies, have each participant complete the form, then collect forms and bring them to the check-in area the day of the trip. Children under 18 must have signed liability release forms from their parents.
Kids' prices are based on kids pricing specific to each trip.
Example Group Trip Options