Cataract Canyon 3 Day Rafting Trip
Colorado River
About This Trip
If you want to explore the most wild areas of Canyonlands National Park in a short amount of time, a Cataract Canyon 3 day rafting trip is the way to go. Keep in mind, this trip is motored to make the 96 mile journey in just 3 days.
The first part of this Colorado River trip will be spent relaxing on the boat and taking in the colossal scenery of an ever-growing canyon. Along the way is a seldom-seen view of Dead Horse State Park, ancient ruins nestled in the cliffs, and one of most significant confluences in the American West— where the Green River meets the Colorado.
On day 2, you'll strap in to your PFDs and helmets, and hold on tight through some of the biggest waves the Colorado River has to offer. Day 3 will serve up whitewater for breakfast (after real breakfast) followed by a calm cruise to Lake Powell for the journey's end.
Get ready for a wilderness adventure filled exhilarating rapids, delicious meals, beautiful desert beaches, and some of the starriest skies you've ever seen.
Cataract Canyon 3-day raft trips start at $1099.00.

Location/Season
Canyonlands National Park, UT
March – October

Class of Rapids
IV – V High Water
III – IV Low Water

Restrictions
Low Water: 10+
High Water: 14+

Meet Time
Boat Options
S-Rig & Snout Rig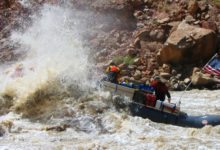 This trip utilizes custom motorized S-rigs and Snout Rigs, allowing for unparalleled comfort and speed to navigate the 96 mile journey from put-in to take-out. These river-running machines allow for the biggest action Cataract Canyon has to offer. You'll experience the mightiest of waves the Colorado River, while smaller and less stable crafts are often forced to row around much of the canyons premiere action.
Payment & Cancellations
Payment Options
1/2 down, 1/2 charged 60 days prior to trip.
1/3 down with remaining balance charged in thirds by 60 days prior.
Call for other arrangements!
Free Courtesy Hold
We don't want you to miss out on this trip so we'll hold your spots, payment-free, for 24hrs while you make your final arrangements & prepare for payment.
Fees
In addition to the listed trip cost, we collect an additional 9% for River and Land Access Fees (ie. Forest Service, BLM, NPS, City, Private Land Use).
Cancellation Policy
60+ days: Receive a refund less $200 per person unrecoverable fees.
45+ days: Reschedule for another trip/date, or receive Mild to Wild gift certificate less $200 per person.
Less than 45 days, unfortunately there will be no refund.
RoamRight Travel Insurance is recommended to help cover unforeseen circumstances, such as cancelled flights, sickness or medical evacuations.
Guests needing to be evacuated from the canyon will be charged a minimum of $1,000 per person.
Map + Facts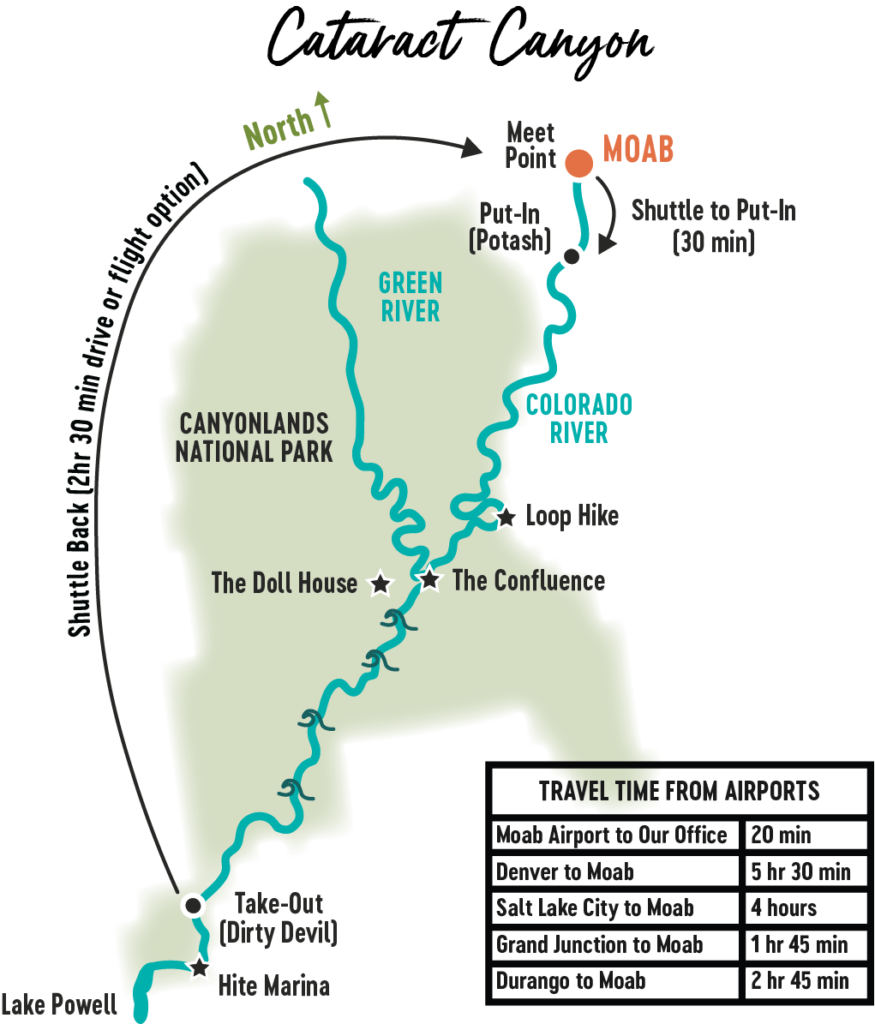 Top 10 Things to Know about Cataract Canyon
Cataract Canyon length: 96 miles 
Cataract Canyon put-in: Potash 
Cataract Canyon take-out: Hite Marina 
Cataract Canyon rapid class: Class III, IV and V 
Cataract Canyon's top rapids: Big Drops 2 & 3, Capsize, Rapid 5 
Best for Ages: 10+ low water, 14+ high water 
Located in: Canyonlands National Park, Utah 
Notable Scenery: Dramatic red sandstone, Dead Horse State Park, Green River Confluence
Notable Sites: Ancient granaries, Horseshoe bend hike, Petrified wood field, Tex's Grotto, Doll's House
Average CFS Range: 5,000 – 80,000
Authorized Concessioner
Mild to Wild Rafting is proud to be an authorized concessioner of Canyonlands National Park.