How We Handle High Water at Mild to Wild
Every so often, the Rocky Mountains that feed our wonderful rivers have an extra-fruitful winter. And with their ultra heavy and snowy coats to shed come spring, the runoff can tend to be rampant, righteous and precarious. 
During these years, we take additional safety precautions for our rafting trips, which also requires us to ask for some flexibility from our guests. Mother Nature calls the shots after all, even if it might be inconvenient!
Safety is always our #1 priority at Mild to Wild, and we hope that anytime we have to use the  additional safety precautions listed below, our guests will understand where we're coming from. 
This list doesn't include precautions specific to Desolation Canyon,  Gates of Lodore, or the Yampa River. We usually don't experience dangerous water levels in these particular areas that require major adjustments, which is not to say that those situations can't arise. In the event we need to make adjustments for these rivers during high water, we will communicate them to guests.
With that, here's the lowdown on how we handle high water.
Bigger Boats
Cataract Canyon
Every Cataract Canyon trip comes with an S Rig (large raft with a motor). 

When water levels swell, we will only use these boats rather than our oar boats through the rapid section. Waves can climb to 20 feet or higher during peak runoff, and our large rigs made to handle these walls of water will make for one of the most memorable rides of your life. 
Daily Trips
We use the same 15 foot rafts during high water, however we'll put an oar frame on them so the guide has more control. 

These set ups still allow you to paddle, the raft will just have more power and handling from the guide.  

If you're on a single boat trip, we usually add a safety boat to come along. 

High flows may require kayaks to switch to premium boats.
All Other Trips
Rafts will be adjusted on a case-by-case basis depending on the rapids of that particular river. 

Expect for kayaks to not be an option depending on the river and how saucy the rapids are.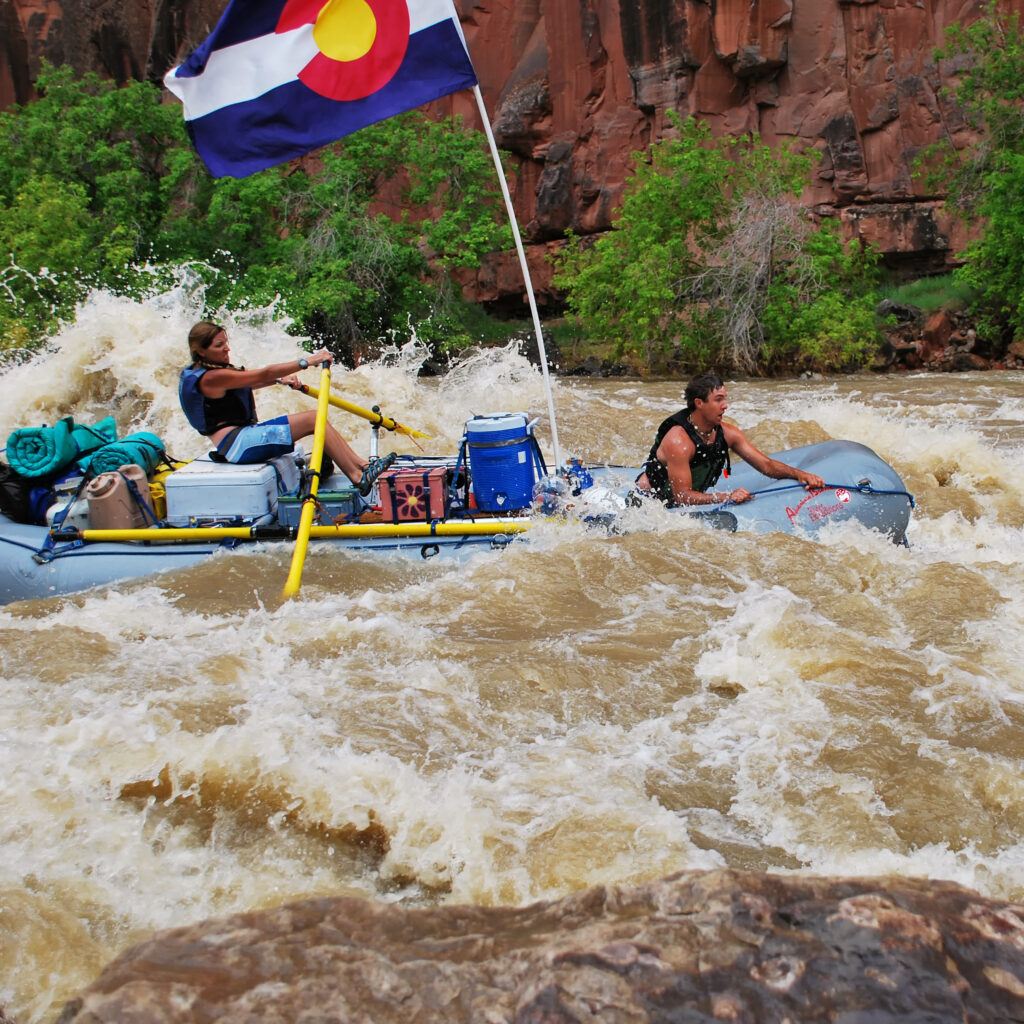 Switching Rivers or Sections
We switch rivers when guests aren't able to reschedule and/or have younger rafters along for the trip. If a river you're interested in isn't listed below, it's likely that it doesn't usually get too much water to require switching rivers or sections. 
Lower Animas 
Too high of flows may require us to run lower sections of the river where the rapids aren't as big, or switch trips to another day.  
Upper Animas 
Depending on the time of year when the Upper Animas becomes too dangerous to run, we'll move trips over to the Piedra River, San Miguel or Dolores. 

While these rivers are usually considered intermediate, peak runoff flows can bump them up to high adventure. 
Cataract Canyon 
When the swell is too colossal on Cat, our top recommendations for switching trips is the Green River through Gates of Lodore, the Yampa, or Dolores River. 
Castle Valley
When the Colorado River through Castle Valley swells too high, we'll reschedule trips for another day, or move downstream where the rapids aren't as big.
San Miguel 
During high flows, we may move further downstream where the river corridor opens up and there's more space for the water to go. 
Piedra 
We may move to the Dolores, San Miguel, or Lower Animas when flows are too high on the Piedra.  
Salt River 
High flows on the Salt River, we will reschedule for another day.
For multi-day guests, we may switch to Cataract Canyon if that works for the guests.
Raising Age Limits
We list the age restrictions on each of our trips's landing pages, which include low and high water limits. 
The high water season usually lasts between the last weeks of May and the first weeks of June. However, when there's extra snow in the mountains to supply extra runoff, high water can either flow in earlier and/or later than those weeks. 
If the water swells over average runoff levels, we reserve the right to raise age limits, move trips with kids to other rivers or switch sections that are more appropriate..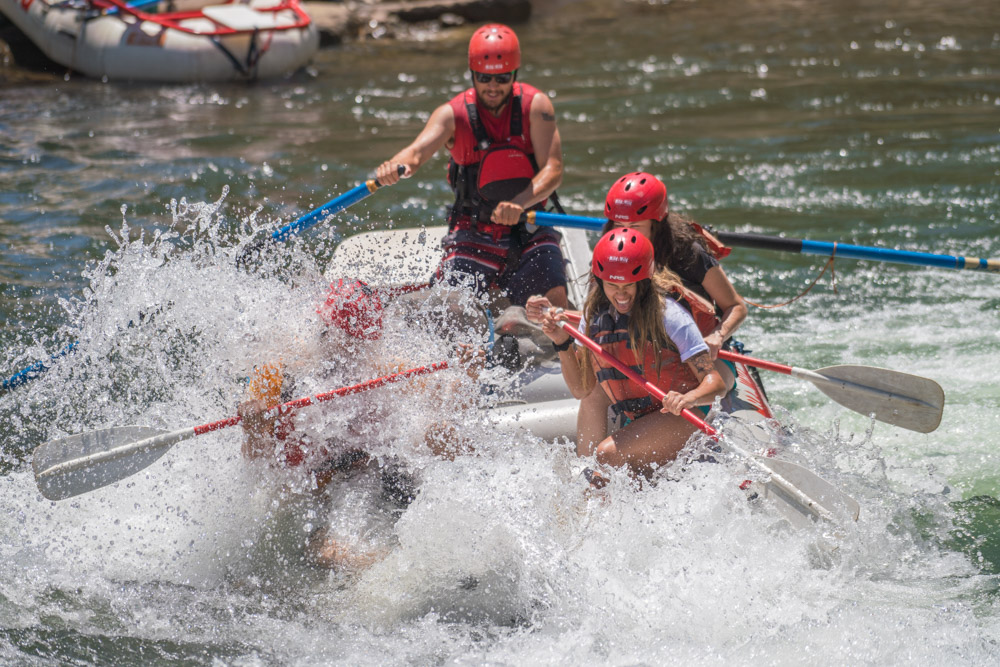 Portaging Rapids
Lower Animas 
At super high flows we'll portage Smelter Rapid, walk around, and put in at Santa Rita right below it. 

All rafters ages 4-5 have to walk around Smelter, regardless of water levels. We may also raise the age limit for running Smelter Rapid. 

If you purchased the photo package for Smelter, our photographer will snap you going through the Santa Rita rapid instead.
Upper Animas
During high water we portage "No Name," a technical Class V rapid.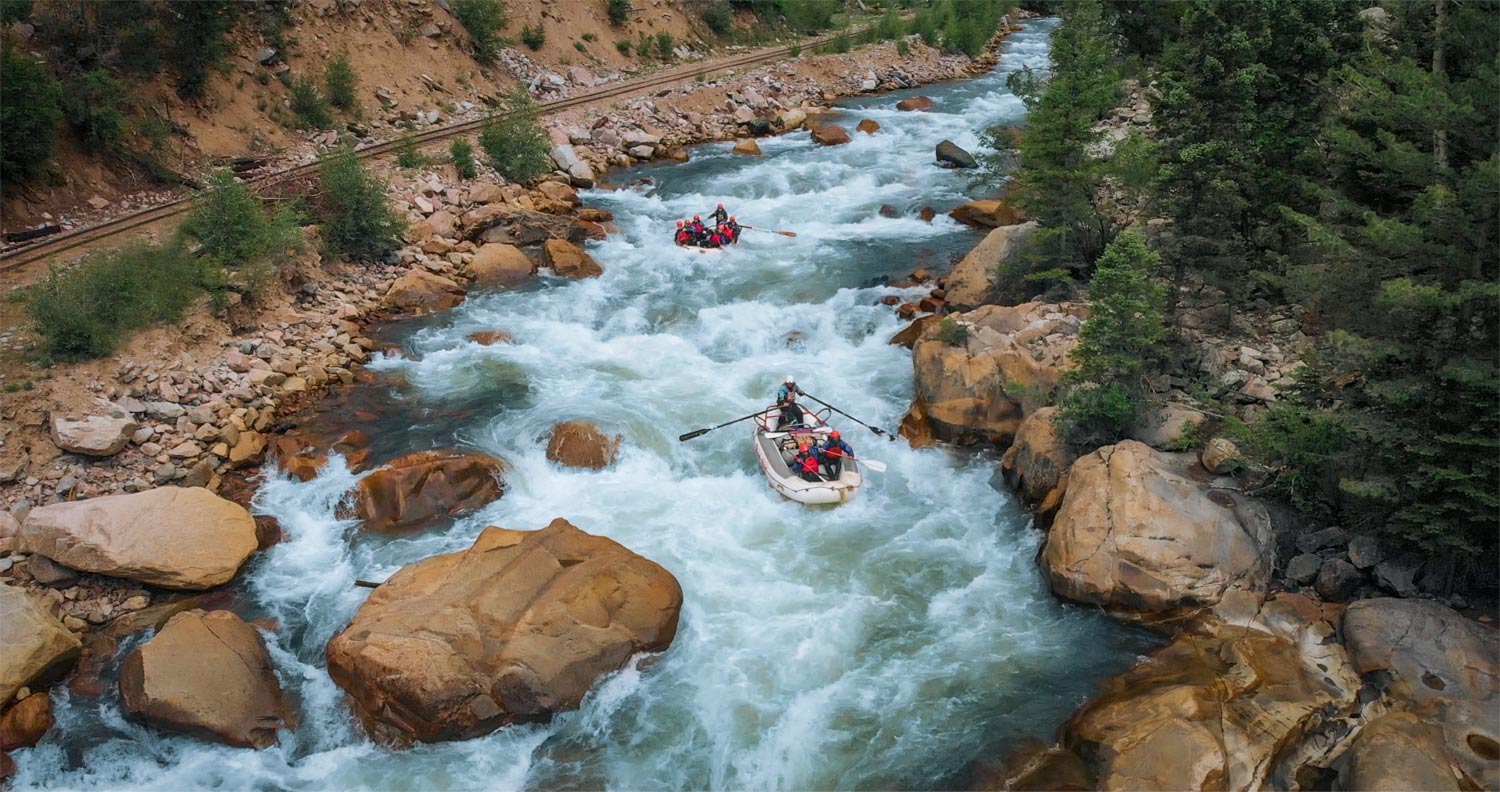 Questions or Concerns?
We monitor CFS gauges daily for every river we run. If water levels rise too high for a particular river, we always reach out to guests prior to their trip. This especially goes for guests who have kids along for the trip. Safety is our number 1 priority, and we reserve the right to raise age restrictions, and switch rivers or sections.
All Mild to Wild river guides are required to exceed the state requirements for guide certifications, have WOOFER and CPR certifications, along with other safety experience.
If you're still uncertain about your river trip, feel free to reach out to us!