Silverton Jeep Tour
Discover Colorado's Most Preserved Mining Sites
Silverton Jeep Tour
Location:
Silverton, Colorado
Adventure Level:
Mild
Season:
Mid May – Early October
Age:
All Ages
Tour Description:
Explore Colorado's most preserved mining sites. Immerse yourself in the history of the American west and feel a sense of astonishment as you picture the men and women who forged their life and existence chasing their dreams in this imposing environment. Tour into the Tundra high above Silverton, a world away from the stresses of modern life with waterfalls, mountain wildlife, beautiful vistas and Colorado's famous wildflowers. A great trip for the whole family and kids are extra entertained with our Mild to Wild scavenger hunt. Find the items on the checklist and get some fool's gold!
*Note: During the end of July and into early August, our Silverton jeep tour becomes more of a wildflower tour. Experience magnificent and stunning Colorado wildflowers and have the opportunity walk gentle trails amidst towering peaks with ample breaks to take photos!
Silverton Jeep Tour Options
All information provided while booking online is transmitted via a secure connection. Credit card details are heavily encrypted/inaccessible.
Trails & Rails
Experience a Colorado ghost tour and the Durango Train. Meet: 8:00am in Train Station Parking Lot

Return: 6:00pm

Cost: $184* Adult; $134* Youth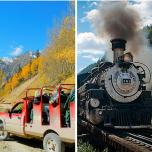 Book This Trip
More Info
Half Day Silverton Jeep Tour
Spend half a day exploring ghost town ruins above Silverton, CO. Meet: 9:45am at Columbine Park, Silverton, CO

Return: 1:30pm

Cost: $89* Adult; $74* Youth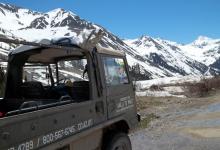 Book This Trip
More Info
Full Day Silverton Jeep Tour
We cater to you on this tour above Silverton! Meet: 8:15am Durango Office

Return: 4:00pm

Cost: $149* Adult; $119* Youth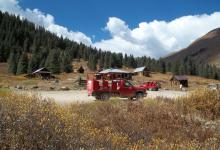 Book This Trip
More Info
Custom Jeep Trail Tour
Enjoy a tour that is all your own! Choose your time and tell us what you want to experience on your private jeep trail tour! Base cost covers up to 7 guests and up to 8 hours.

Cost: $995* Call to reserve! (970) 247-4789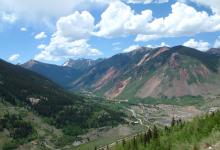 *Additional River/Land Access Fees not included
Experience the Ghost Town Tour with a ride on the
Durango & Silverton Narrow Gauge Railroad
on our
Trails 'n Rails
package.
---
Check out these helpful links: