School Groups
Rafting, Outings, & Adventures in Colorado, Utah and Arizona
About School Group Trips
There is no better way to celebrate a school year, inspire teamwork or learn than on an outdoor adventure in nature's playground. Whether it is on a guided white water rafting trip, an instructional inflatable kayak course, a flatwater paddleboard course, a guided jeep trail tour, or on one of our Adventure Value Packages (many of them paired with the historic Durango Train), you will have an exhilarating, memorable day with your school group.
Our trips encourage participation, inspire confidence and challenge kids to explore their full potential. Learn skills such as paddling, teamwork, confidence, and leadership!
Mild to Wild provides world-class team adventures and has been around for over 25+ years. From our high-quality guides, well-maintained equipment, and shuttle vehicles, to our rental options and our group coordinator, you will be treated to a group outing you will remember and treasure! If one of our trips doesn't meet your needs, let us know what you do need, and we will see what we can do!
Download Sample School Group Proposal
The Value of Experiential Trips
In contrast to our traditionally-run commercial trips, where we do all the work, experiential adventure trips will involve the youth with the trip logistics or rigging boats, loading & unloading gear, camp setup, cooking, and cleaning. We will include social, emotional, educational, and altruistic elements to the trips in the following manner.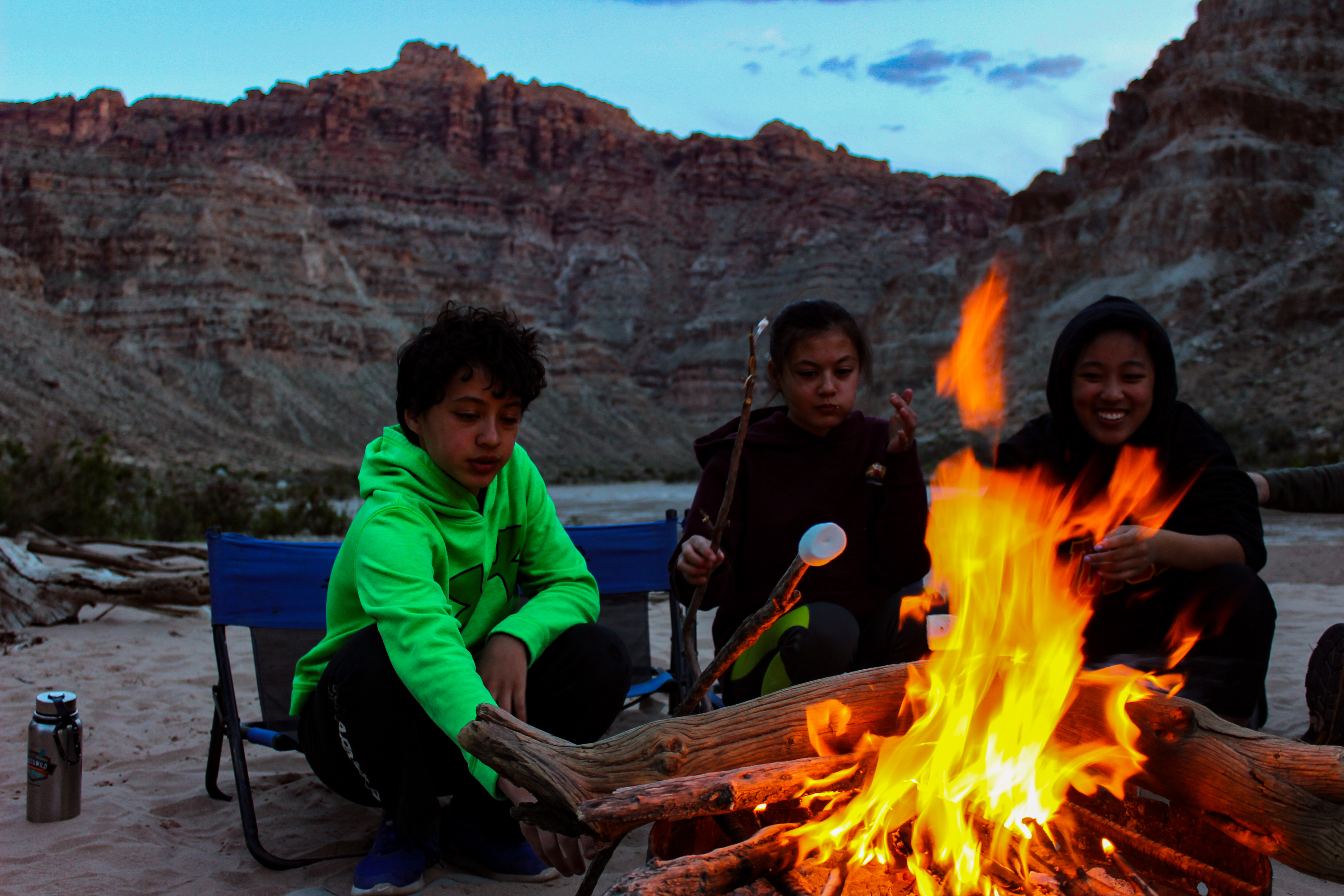 SOCIAL ELEMENT
Participants will be broken into teams helping each day with a different set of duties. Teams will take turns helping with camp set up, boat loading, kitchen set up, dishes, and campfire fun. Collaborating and contributing to the group effort will be an essential part of the trip. Teamwork will be encouraged through the paddling of boats both in flat and whitewater.
EMOTIONAL ELEMENT
We encourage and support students to go beyond their comfort zone and support each other through the challenges of a wilderness trip. From taking on the bigger rapids, hiking up a steeper incline or through a slot canyon, or doing more of their share of camp chores. Learning to adapt to new experiences and supporting each other in adventure leads to a closer-knit group and a greater understanding of other's perspectives and diversity.
EDUCATIONAL ELEMENT
Sharing of the geology, flora, and fauna, as well as "Leave No Trace" curriculum will be an essential part of the trip. Aligning with the National Park Service's mission to preserve the natural and cultural resources we seek to share the unique features that make this place worth preserving for generations to come.
ALTRUISTIC ELEMENT
In our shared experiences on our trip, we encourage compassion, empathy, and support. We strive to leave the camp cleaner than how we got it in order to demonstrate how our impact affects others' impact, illustrating the importance of thinking beyond ourselves.
Popular Single-Day School Group Trips
OPTIONAL EDUCATIONAL OPPORTUNITIES
"Leave No Trace" Principles
River Safety River
Waterway Conservation
Rafting Terminology
How to Read a River
EASY PLANNING FOR TRIP LEADERS
We know organizing a group trip is a big undertaking; not to worry, we are here to help! You will have a single, personal contact at Mild to Wild to help accommodate all the trip planning details & special arrangements. All of our adventures include experienced caring guides & staff, and quality shuttle vehicles & rafting equipment. We are knowledgeable about our area and would love to help coordinate your Southwest experiential trip. All reservations come with flexible payment plans, lenient cancellation policy, and online waivers submission.
Popular Multi-Day Youth Group Trip Options
School Group Discounts
Single Day Trips in Colorado & Utah   
10-24 Guests: 10% off Rate
25-49 Guests: 15% off Rate
50+ Guests: 20% off Rate
Single Day Trips in Arizona
12-24 Guests: 10% off Rate
25-32 Guests: 15% off Rate
33+ Guests: 20% off Rate
Multi-Day Trips in Arizona, Utah, & Colorado
8-16 Guests: 10% off Rate
17-24 Guests: 15% off Rate
25+ Guests: 20% off Rate
Group rates are given with the following conditions:
Payments must be made by the group leader (not by individual members making individual payments).
Establish a waiting list for seats in case members of your group cannot make it. This will avoid cancellation charges.
Waivers may be sent in advance. Make copies, have each participant complete the form, then collect forms and bring them to the check-in area the day of the trip. Children under 18 must have signed liability release forms from their parents.
Kids' prices are based on kids pricing specific to each trip.
Group rates cannot be applied to private launches unfortunately, but we will always try to accommodate you! Please give us a call with your budget and we will do our best to work out a private launch if it's imperative for your group.
Charter Buses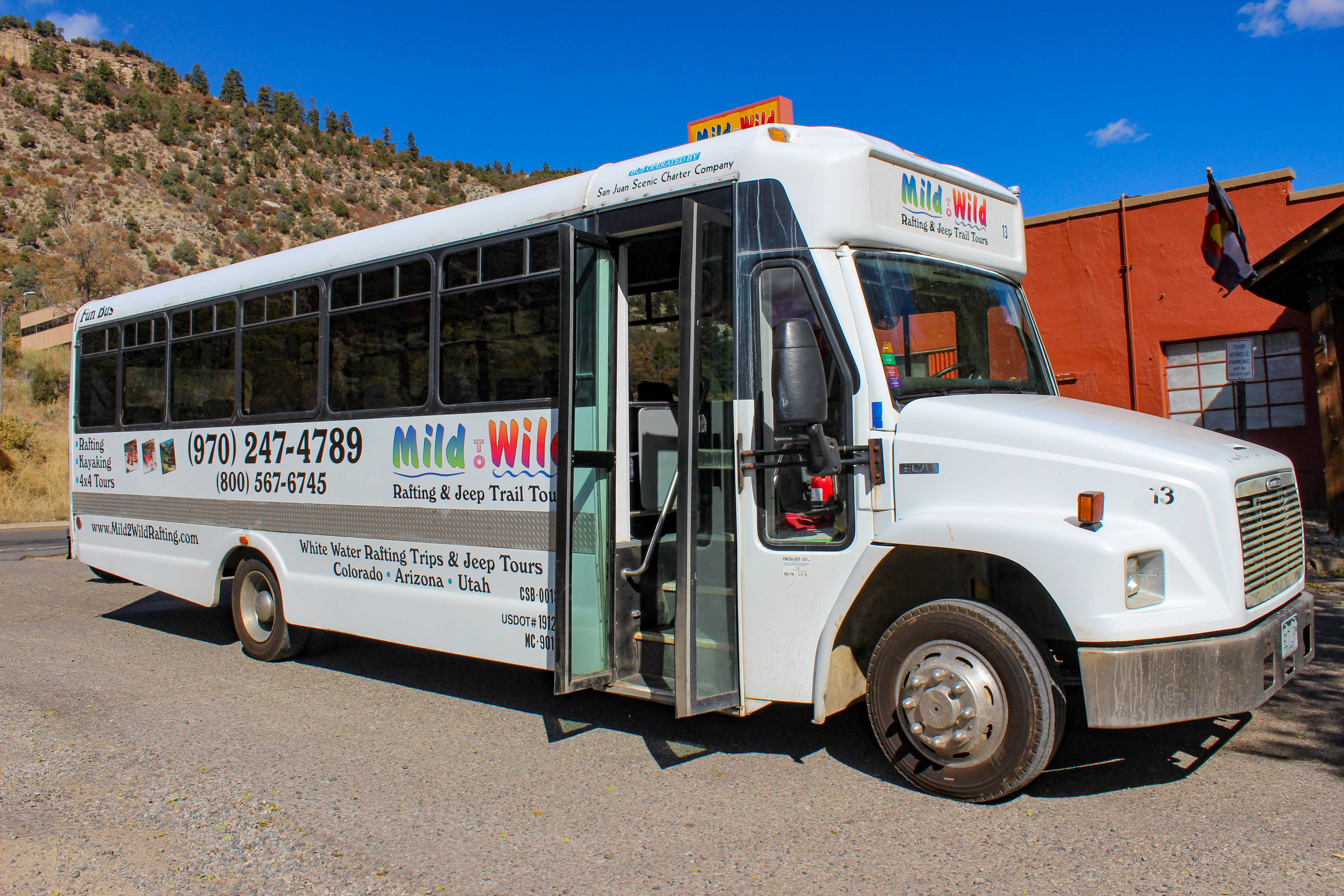 Interested in a private charter bus for your group?
Visit our Charter Bus section to learn more about our bus options.