Rafting the Verde River In Arizona
1-Day and 2-Day Arizona White Water Rafting Adventures!
Verde River  Information
Location:
Camp Verde, Arizona
Adventure Level:
Rafting: Mild to Intermediate Inflatable Kayaks: High Adventure Premium Boat: Intermediate to Advanced Intermediate
Class:
High Water: II and III Rapids, one  Class IV+/V Rapid (often portaged) Low Water: II and III Rapids, one class IV (sometimes portaged)
Season:
Late February – Mid April On dry years the season ends Mid March
Restrictions:
Raft: Ages 6 and up (except at high water) Inflatable Kayak: Age 12 and up, and 50 pounds Adventure Boat: Age 12
Current Water Levels
Verde River Description:
Discover Arizona's only federally designated "Wild and Scenic" River- the Verde River. Carving a spectacular canyon painted by nature in multiple hues of golds, reds and browns, it drops at an average rate of 20 feet per mile. Cottonwoods, Sycamores and Sage grow from the banks, while the sandy beaches beckon you for breaks. Paddle an inflatable kayak or relax in a raft while you are submersed in wilderness fun. Commonly spotted wildlife includes javelina, black bears, golden eagles, great blue herons, otters, deer and incredible varied bird life, including the rare desert bald eagles. "Wild and Scenic" wildlife and the river's chutes and drops makes this a truly special Arizona rafting trip. During wet years we can experience high-water conditions during late February and March at which times we operate
Verde River rafting
trips in conventional 15 foot self bailing rafts. However, this water flow is not reliable and can be difficult to catch, making the
inflatable kayak
the optimal way to experience the magic of Arizona whitewater in the Verde River Canyon. The well-channeled Verde River allows us to operate inflatable kayak trips during the winter season when base flows keep a steady 150-200 cubic feet per second of water flow in the river. These flows offer lots of fun, Class II "splashes" and Class III "wet and fun" white water thrills in the form of a twisting waterway full of chutes and drops interspersed with calm floating. No experience is needed to operate these free flowing and stable one person boats, also known as "duckies". Taking on the Verde River in an inflatable kayak, one on one, under the watchful eye of our instructor/guide is an adventurous and rewarding way to experience this beautiful
Arizona rafting trip
.
Overnight trips in inflatable kayaks are accompanied by a gear raft that carries all camp comforts (
See Camping
) and can accommodate a couple of passengers if the desire to sit back strikes or you have some younger children accompanying you on the trip. For those wanting more adventure, or a smaller guide to customer ratio, but do not desire to control their own destiny in an inflatable kayak, we offer Premium Boats. These smaller boats have smaller tubes so the splashes are even bigger!
Verde River Rafting Trip Highlights:
Arizona's only federally protected river under the Wild and Scenic Act
Deep canyon scenery
Excellent wildlife viewing
Bird paradise and wild habitat
Fast current with lots of fun, splashy whitewater
Special Ways We Care for You on the Verde River:
Multi-faceted Satellite communication systems to communicate with our guides and increase safety in the canyon
Specially designed 4-wheel drive vehicles to ensure your shuttle out on the rugged trails
Different boat options for various water levels and adventure desires
Outfitting on the Verde since 1998
Free helmets and free splash jackets
Trips run to the higher safety standards of Colorado state
Quality trip leaders with an average of 2,000 river miles of experience
Verde River Rafting Trip Options
Verde Two Day Trip
Family fun rafting with deluxe camping overnight! Challenge numerous chutes and rapids, including the exciting class IV to V "Verde Falls". Soak in an invigorating natural, riverside hot spring & travel through remote canyons on this swift current river.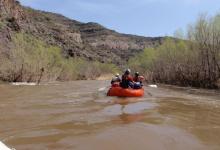 Book This Trip
Learn More
Verde One Day Trip
Wild and Scenic Arizona White Water Rafting Enjoy Arizona's spring sun and challenge numerous chutes and rapids, including the exciting class IV "Verde Falls".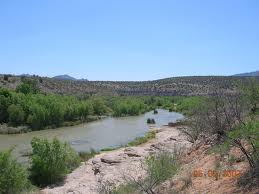 Book This Trip
Learn More