Verde River Rafting
In Arizona
Trip Highlights
Unfortunately, we are not planning to raft the Verde River this season due to closures.
Arizona's only federally protected river under the Wild and Scenic Act
Deep canyon scenery
Excellent wildlife viewing
Bird paradise and wild habitat
Fast current with lots of fun, splashy whitewater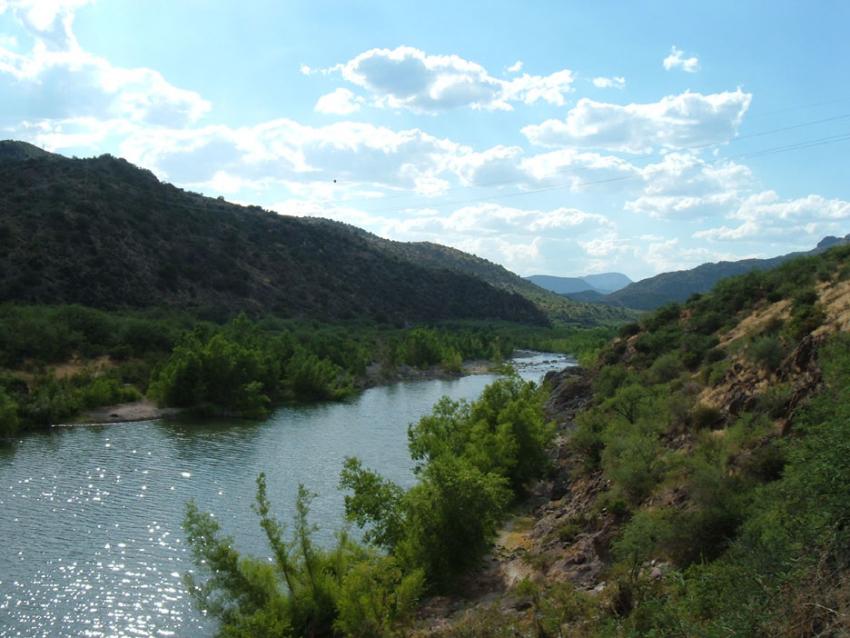 Location

Adventure Level
Rafting: Mild to Intermediate
Inflatable Kayaks: High Adventure
Premium Boat: Intermediate to Advanced Intermediate

Class of Rapids

Season
Late February – Mid April On dry years the season ends Mid March

Restrictions
Raft: Ages 6 and up (except at high water)
Inflatable Kayak: Age 12 and up, and 50 pounds
Adventure Boat: Age 12
Boat Options
Standard rafts hold up to 10 guests. Premium rafts provide a more personalized trip with a smaller guide to guest ratio (up to 6 guests). Inflatable kayaks increase the level of adventure with you controlling your own destiny under the supervision of a kayak instructor. No experience is necessary.
All information provided while booking online is transmitted via a secure connection. Credit card details are heavily encrypted/inaccessible.
1-Day & 2-Day Arizona White Water Rafting Adventures!
Discover Arizona's only federally designated "Wild and Scenic" River- the Verde River. Carving a spectacular canyon painted by nature in multiple hues of golds, reds and browns, it drops at an average rate of 20 feet per mile. Cottonwoods, Sycamores and Sage grow from the banks, while the sandy beaches beckon you for breaks. Paddle an inflatable kayak or relax in a raft while you are submersed in wilderness fun. Commonly spotted wildlife includes javelina, black bears, golden eagles, great blue herons, otters, deer and incredible varied bird life, including the rare desert bald eagles. "Wild and Scenic" wildlife and the river's chutes and drops makes this a truly special Arizona rafting trip.
During wet years we can experience high-water conditions during late February and March at which times we operate Verde River rafting trips in conventional 15 foot self bailing rafts. However, this water flow is not reliable and can be difficult to catch, making the inflatable kayak the optimal way to experience the magic of Arizona whitewater in the Verde River Canyon.
Payment & Cancellations
Payment Options
Pay in full.
1/2 down, 1/2 charged 30 days prior to trip.
1/3 down with remaining balance charged in thirds.
Call for other arrangements!
Free Courtesy Hold
We don't want you to miss out on this trip so we'll hold your spots, payment-free, for 24hrs while you make your final arrangements & prepare for payment.
Cancellation Policy
We know plans change… so we offer a lenient cancellation policy. An 85% refund is issued for cancellations received in writing 48 hours prior to trip departure.
Fees
In addition to the listed trip cost, we collect an additional 8% for River and Land Access Fees (ie. Forest Service, BLM, City, Private Land Use).
The Mild to Wild Difference
Special Ways We Care for You on the Verde River:
Multi-faceted Satellite communication systems to communicate with our guides and increase safety in the canyon
Specially designed 4-wheel drive vehicles to ensure your shuttle out on the rugged trails
Different boat options for various water levels and adventure desires
Outfitting on the Verde since 1998
Free helmets and free splash jackets
Trips run to the higher safety standards of Colorado state
Quality trip leaders with an average of 2,000 river miles of experience
10 REASONS TO ADVENTURE WITH MILD TO WILD
Rated #1 on Trip Advisor
1.
Whitewater & adventure experts for 25 years
2.
Free parking!
3.
Trip leaders exceed state requirements with avg. of 2,000 river miles
4.
Safety is our #1 priority
5.
Retail store with changing rooms and indoor bathrooms
6.
Free splash jackets upon request!
7.
We are a family! You are our family!
8.
Money back service guarantee!
9.
We know plans change so enjoy our lenient cancellation policies!
10.