Rafting Season Forecast for 2022
By Kim Cassels • April 11, 2022
Rafting Season Forecast for 2022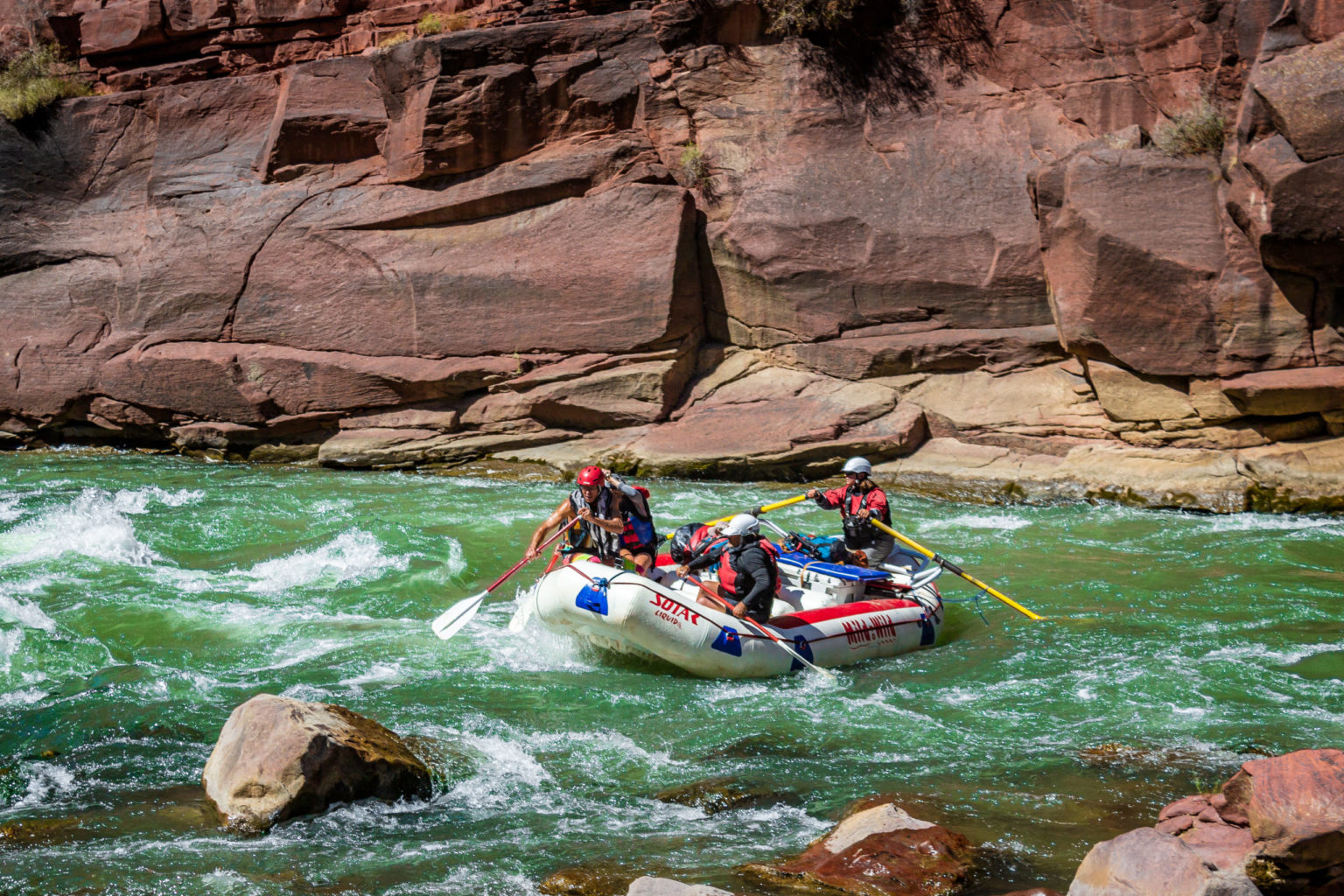 Calling all river fanatics! Grab the pumps and paddles and dust off those PFDs, because the Rafting Season Forecast for 2022 is here! This winter certainly kept us on our toes, and with the final weeks of significant snowfall behind us, we've got the full scoop on what to expect for your Southwest rafting excursions.
All in all, we're looking like a typical runoff for the Southwest Colorado season, with the best flows through late May into the first two weeks of June. Folks and families looking for mellower river runs should hop in the water from late June to August.
As for the Colorado River and the Green River season through Utah, the snowpack is a little below average, but no too low for good flows in mid-Spring.
Check out each river section Mild to Wild runs in Southwest Colorado and Utah to get an idea of what the water will be comin' down the mountain, and then get to planning your rafting adventures!
Southwest Colorado Rafting Season Forecast for 2022
---
Upper Animas River — Wild 
The snowpack levels in the San Juan Mountains above Silverton are currently sitting around 100%. This should make for a pretty predictable season on the Animas River, no matter what section you end up running! 
The Upper Animas river's average gradient is 85 feet per mile, making it one of the most difficult commercially run rivers in the United States. To ride the tail of the white water beast of the Weminuche Wilderness, all adrenaline-seeking paddlers must be physically fit, able to pass a swim test through a Class III rapid, and at least 16 years old.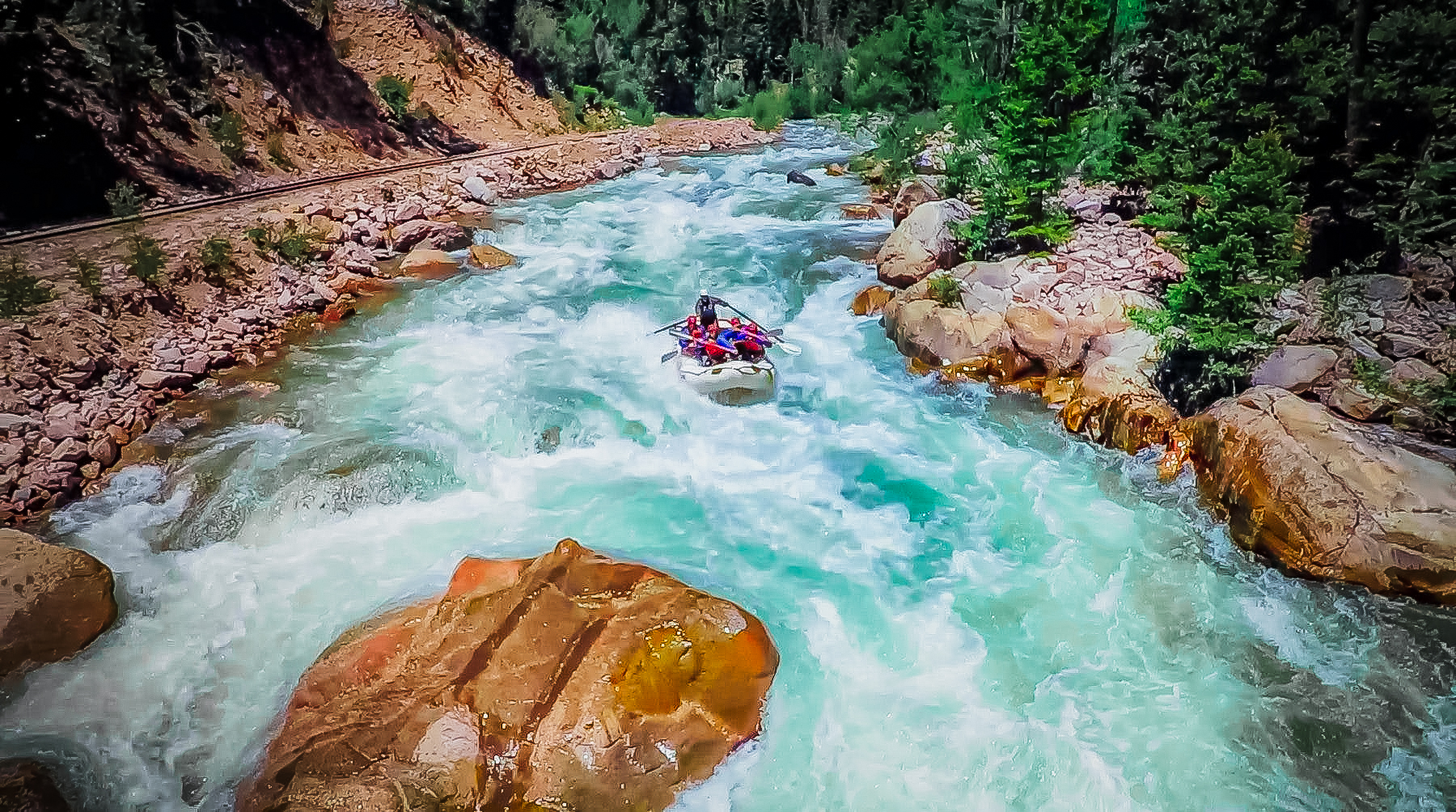 High Water & Low Water Season
High Water: Expect around 1500 – 2000 CFS (at the Silverton section put-in) the first week of June. These flows can fluctuate up to 800 CFS daily.  
Low Water: Expect flows to drop below 1000 CFS by June 21. The Upper Animas season usually ends the first week of August.  
Silverton Section 
This is the most rowdy (and difficult) section to run on the Upper Animas. At peak season flows, expect constant Class III rapids with a few IV's sprinkled in, and a pair of quite-steep, yet quite-memorable, Class V's. 
Roar it up on the Silverton Section 
Needleton Section 
Things widen a bit for the Animas River corridor in this section, and is as one might say deceivingly, "mellower" than the other sections. You'll still spend the day busting through Class III, IV and V rapids, they're just not as frothy as the Silverton section since they have more space to spread out. 
Bring on the suds in Needleton
Rockwood Gorge
 – Only Low Water Season 
Rockwood Gorge is the most diverse and technical section on the Upper Animas River. It's granite chasms are jaw droppingly scenic, and much of the run is spent maneuvering around the boulders and dropping through mostly Class III, severa Class IV, and two very saucy Class V rapids.  
As the name might suggest, this is an enclosed and indubitably remote section of the Upper Animas. Because the channel becomes so narrow, and nobody wants to bounce between granite boulders in the thralls of roaring white, we do not run Rockwood Gorge at flows over 500 CFS. 
Get down and technical in Rockwood Gorge 
---
Lower Animas River— Mild-ish
The Lower Animas River, as many locals and visitors would like to know, is going to have an average runoff this year based off of the 100% snowpack in the San Juan Mountains above Silverton.
Levels on the Lower Animas do tend to fluctuate more based on the rain showers in the mountains however, so keep your eyes peeled for daily weather forecasts as they can make water levels vary up to 300 CFS some days!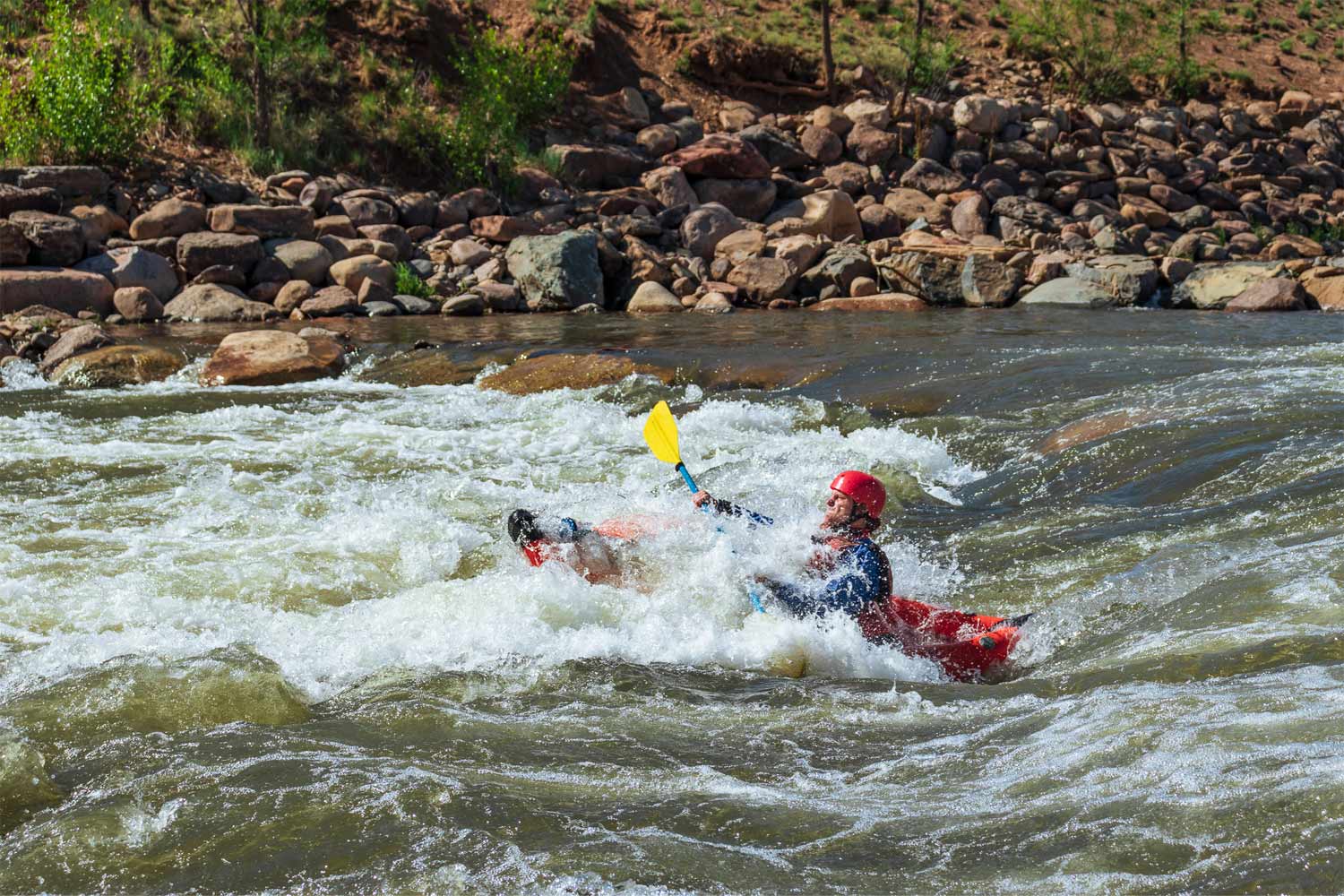 High Water & Low Water Season
High Water: Expect peak flows between 3600 – 4200 CFS by early June. This is when Smelter White Water Park's Class III rapid has the biggest splash! 
Low Water: Spring runoff levels usually stay around 1000 CFS, and return towards the end of June. The Lower Animas rafting season usually ends in September.
Take a Durangotang's favorite rafting trip
---
San Miguel River — Intermediate
The north-facing basins of Red Mountain and Lizard Head Pass are sitting about 100% snowpack to start the rafting season on "The Little River that Could." The San Miguel's season is always short, but oh-so sweet, and is many a Colorado river guide's favorite waterway to run throughout spring.
Its average gradient of 63 feet per mile makes for constant Class II rapids on the upper section, and plenty of Class III rapids on the lower.  The upper section winds through a narrow section, making for a technical paddling trip in the morning. The lower section is where the river widens, but the rapids get a bit bigger for afternoon splash-mania.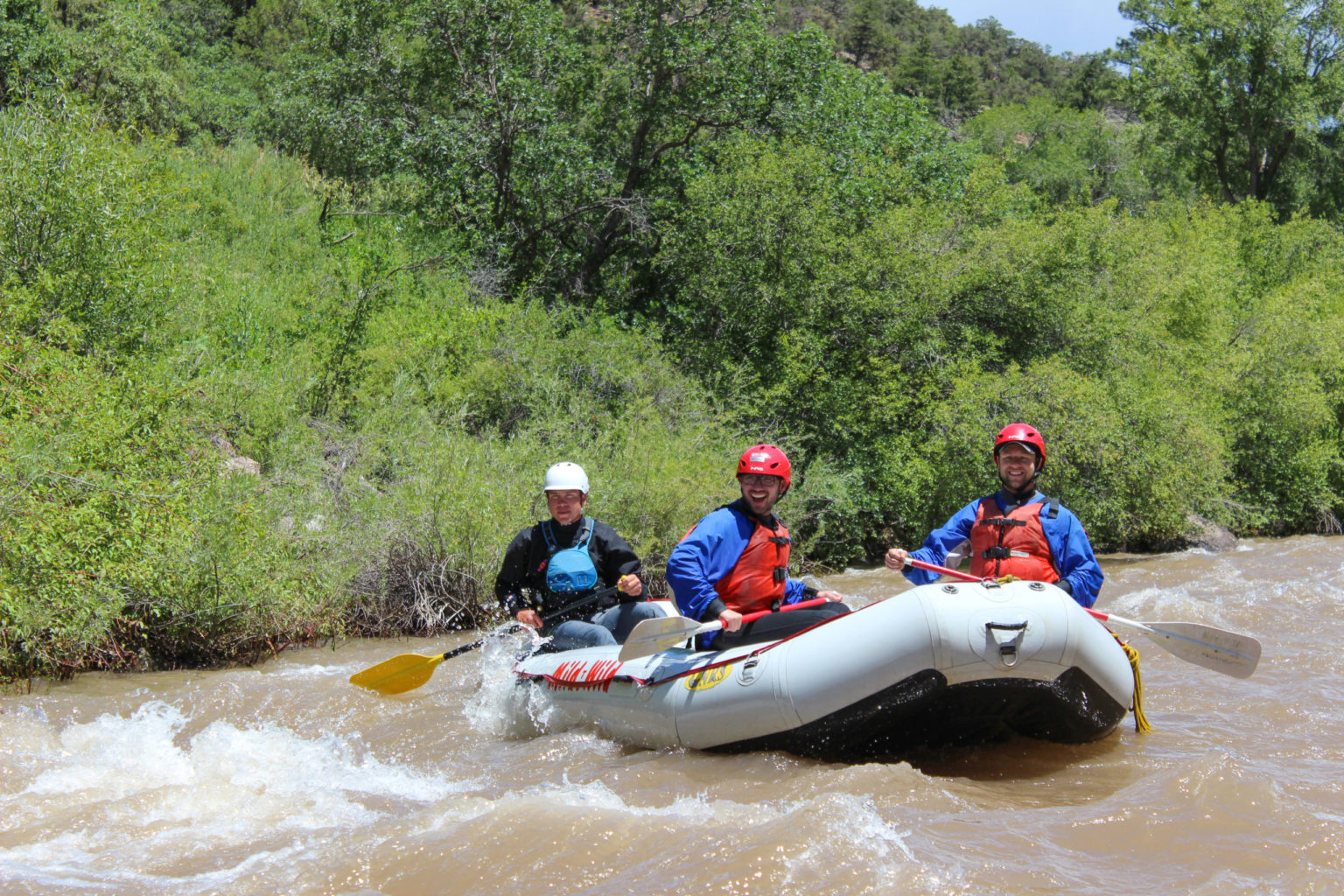 High Water & Low Water Season
High Water: Flows should be around 800 CFS between June 1 – June 21. 
Low Water: Expect the runoff to drop down between 220 – 400 CFS by July. 
Do the twist on the San Miguel
---
Piedra River— Wildish
The peaks above Pagosa Springs are at 110% snowpack, which bodes well for antsy white water vagabonds in spring. The Piedra's season is one of the most exclusive rafting trips in  Southwest Colorado, both for its brief rafting season and under the radar reputation. 
At high water, paddlers will rejoice in pool-drop rapids in the Class II, III and IV variety. At low water, Class II and III+ will test out your maneuvering skills with your guide.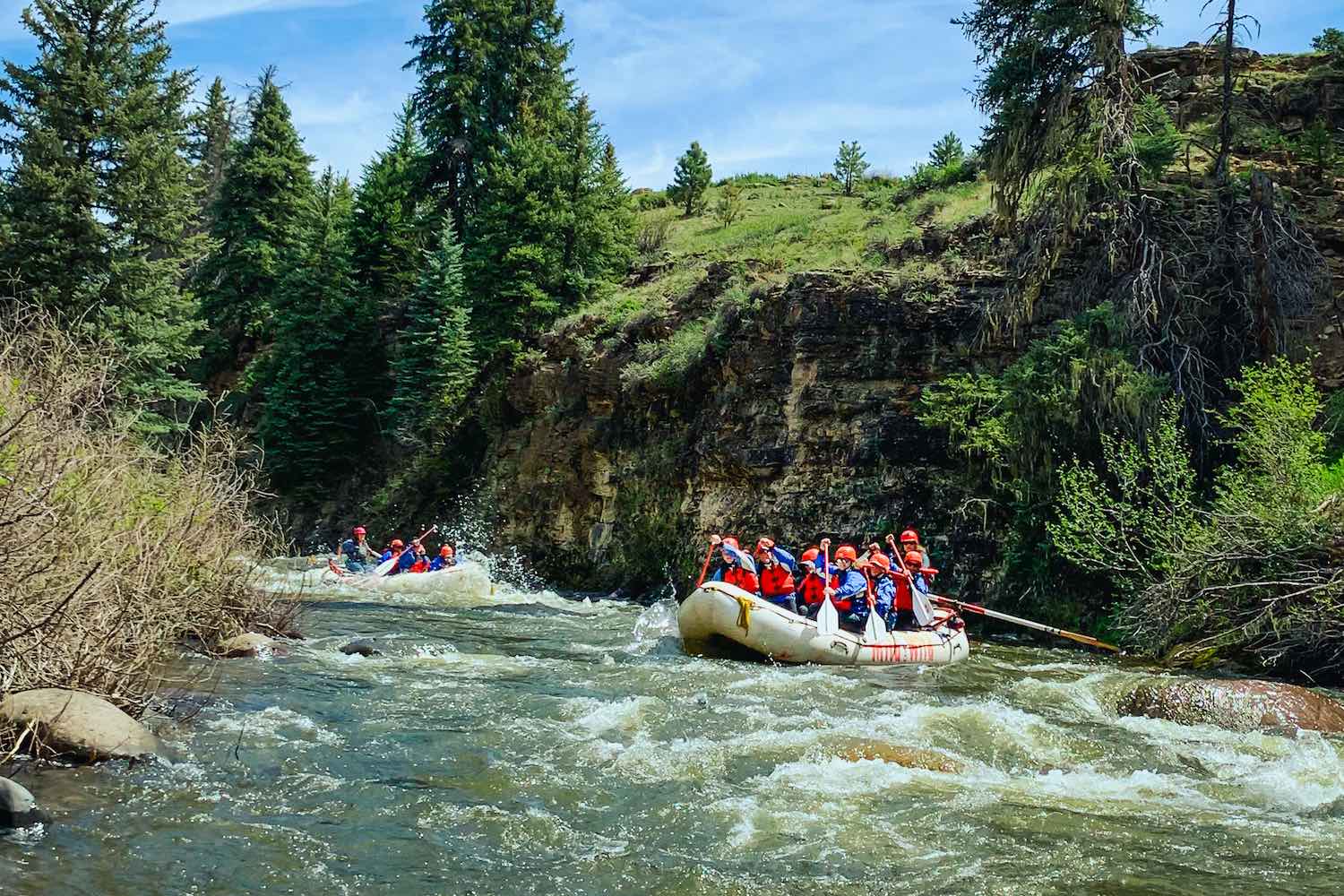 High Water & Low Water Season
High Water: The absolutely peak flows on the Piedra only last for a couple days, which may be up to 1800 CFS somewhere between late-May to early June. In general, high flows above 1000 CFS could last from May 21 to June 7.  
Low Water: May drop between 450-750 CFS through June. 
Raft Colorado's best kept secret
---
Yampa River — Intermediate 
The basins above Steamboat Springs are setting at about 90% for snowpack, making the Yampa's already short season that much more exclusive in 2022. The Yampa is the last free-flowing river in the Colorado river system, and is an absolute bucket list item for any wilderness connoisseur. 
During peak season flows, Warm Springs rapid climbs to a big-drop Class IV, and the ripples of Split Mountain make for a very-splashy run of Class II and III's.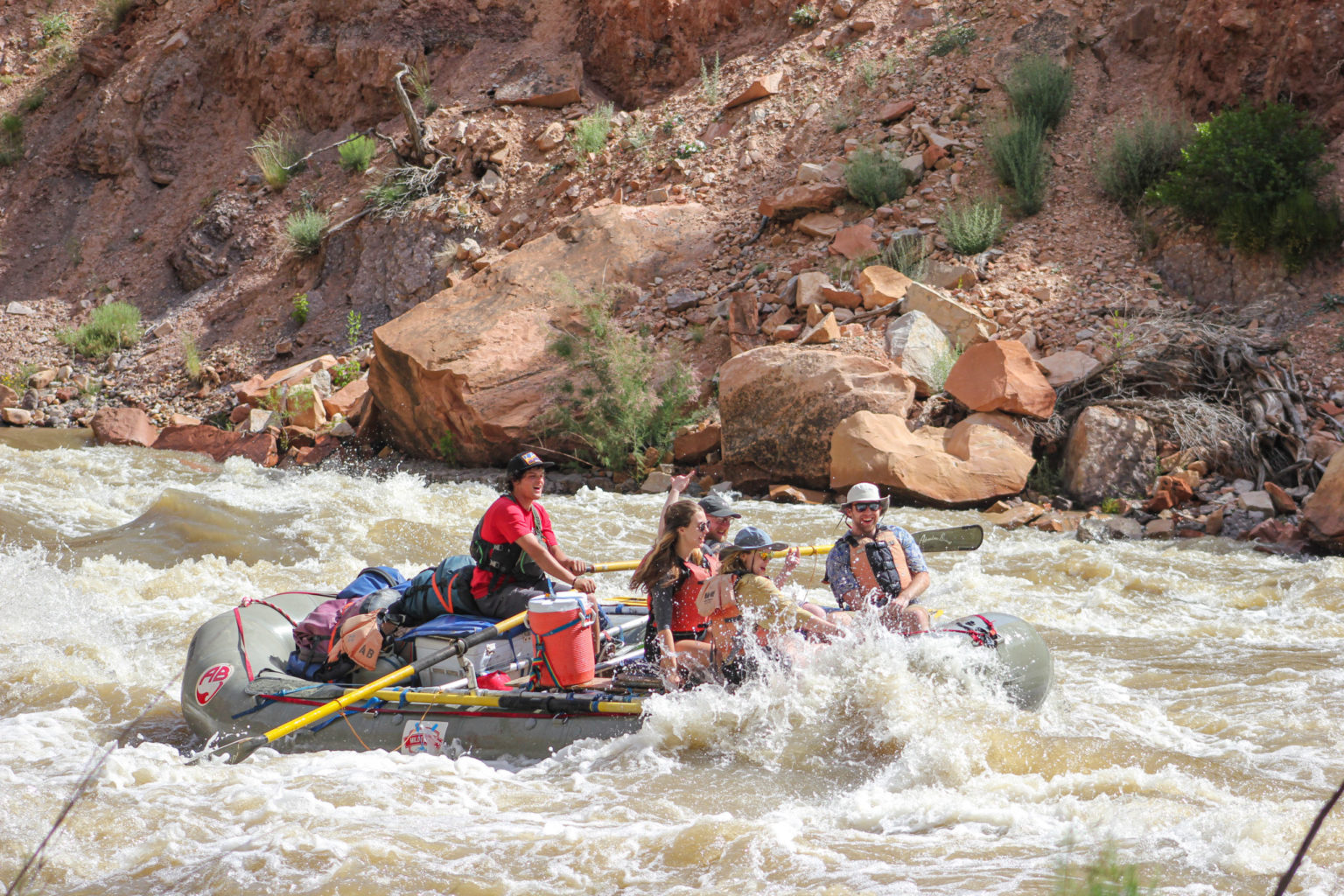 High Water & Low Water Season 
High Water: Flows are expected to swell to 8,000 CFS, fluctuating mostly around 5000 CFS by the mid-May to early June.  
Low Water: The last trip on the Yampa will most likely be the week of June 18 at around 1500 CFS. 
---
Lodore – Intermediate 
The Wymong's Upper Green Basin that feeds Flaming Gorge is currently at 73%, with the dam at 87% of average water levels. The release schedule however will be released by the Bureau of Reclamation in late April. 
Lodore's flows are also heavily influenced by the Yampa's contribution once the Green River enters Echo Park. Lovers of Lodore Canyon can expect Disaster Falls and Hells Half Mile to stay fairly technical through their steep, Class III drops at peak season.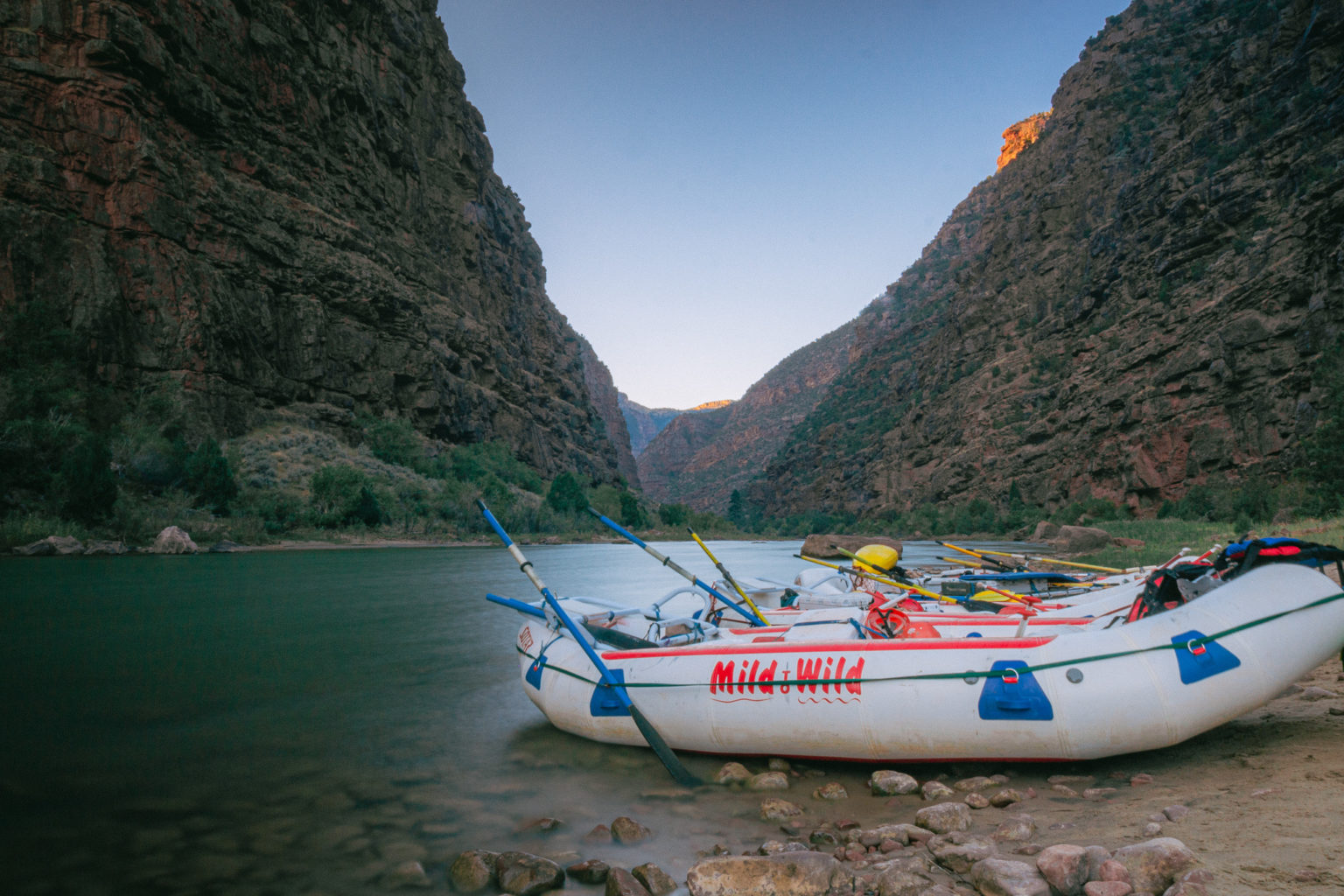 High Water & Low Water Season
High Water: Lodore is expected to run around 6,000 CFS before meeting the Yampa, which could jump to about 12,000 CFS in late May to early June. 
Low Water: Above the confluence, Lodore is expected to run between 850-1,200 CFS by July. 
Utah Rafting Season Forecast for 2022
---
Desolation Canyon – Mild 
As the Green River winds its way out of Dinosaur National Monument into the ruggedly beautiful boondocks of Desolation Canyon, flows pick up from the contributing tributaries of the White River, Willow and Nine Mile Creek. 
Desolation Canyon boasts over 60 rapid sections, most of them being Class II with a few Class III's sprinkled throughout the 86 mile drift. "Deso" is a crown jewel of western rivers for its gargantuan scenery and friendly waters no matter what time of year.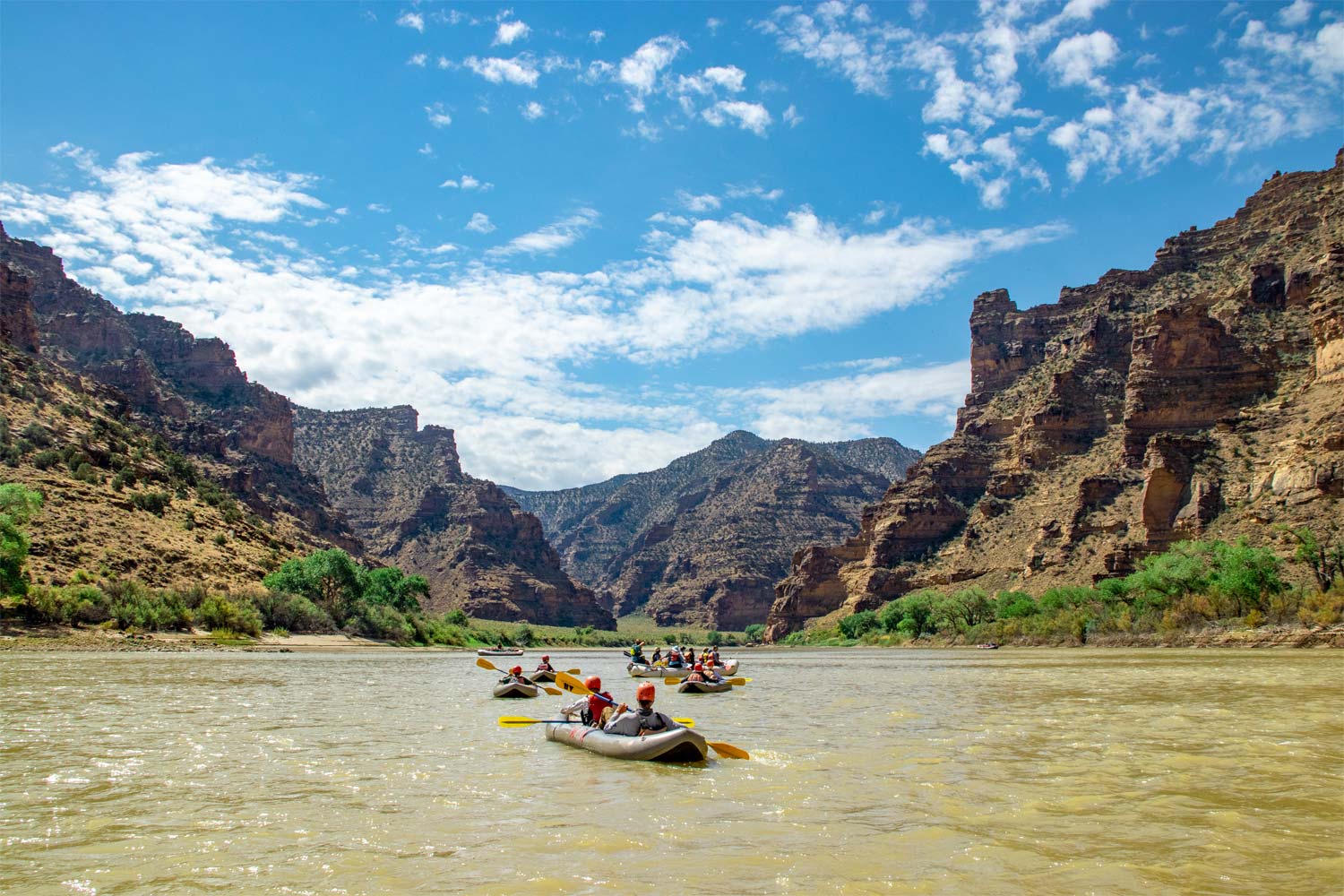 High Water & Low Water Season
High Water: Peak flows are expected to brim at 16,000 CFS between May 21 to June 10. 
Low Water: Water levels will taper off in late June, down to 2,000 CFS until August or September.
Explore the most remote river in the West
---
Castle Valley – Mild 
The basins for the Upper Colorado River are currently about 80% for snowpack. The stretch of the Colorado River through Castle Valley is always mellow in turns of rapids, which will probably stay around Class II's for the season. 
Castle Valley's flows can fluctuate during Moab's monsoon season, especially in late summer up to 500 CFS. This daily float trip is a favorite for visitors and locals alike, especially for the much needed cool off in the afternoons.
High Water & Low Water Season
High Water: Expect around 20,000 CFS between late May and the first two weeks of June. 
Low Water: Expected flows to drop to about 3,000 CFS by July. 
Float through Moab's skyscrapers 
---
Cataract Canyon – Wild 
For Utah's biggest white water this year, Cataract Canyon will be flowing on the lighter side in 2022. Cataract Canyon is always big however with a gradient of 16 feet per mile— that's twice as steep as the Grand Canyon. 
At lower flows, the Big Drops will maintain their excitement in how they become far more technical. Cataract's Class IV and V sections will be bit more boulder strewn this year, so big rigs will have some fun navigating those quick turns.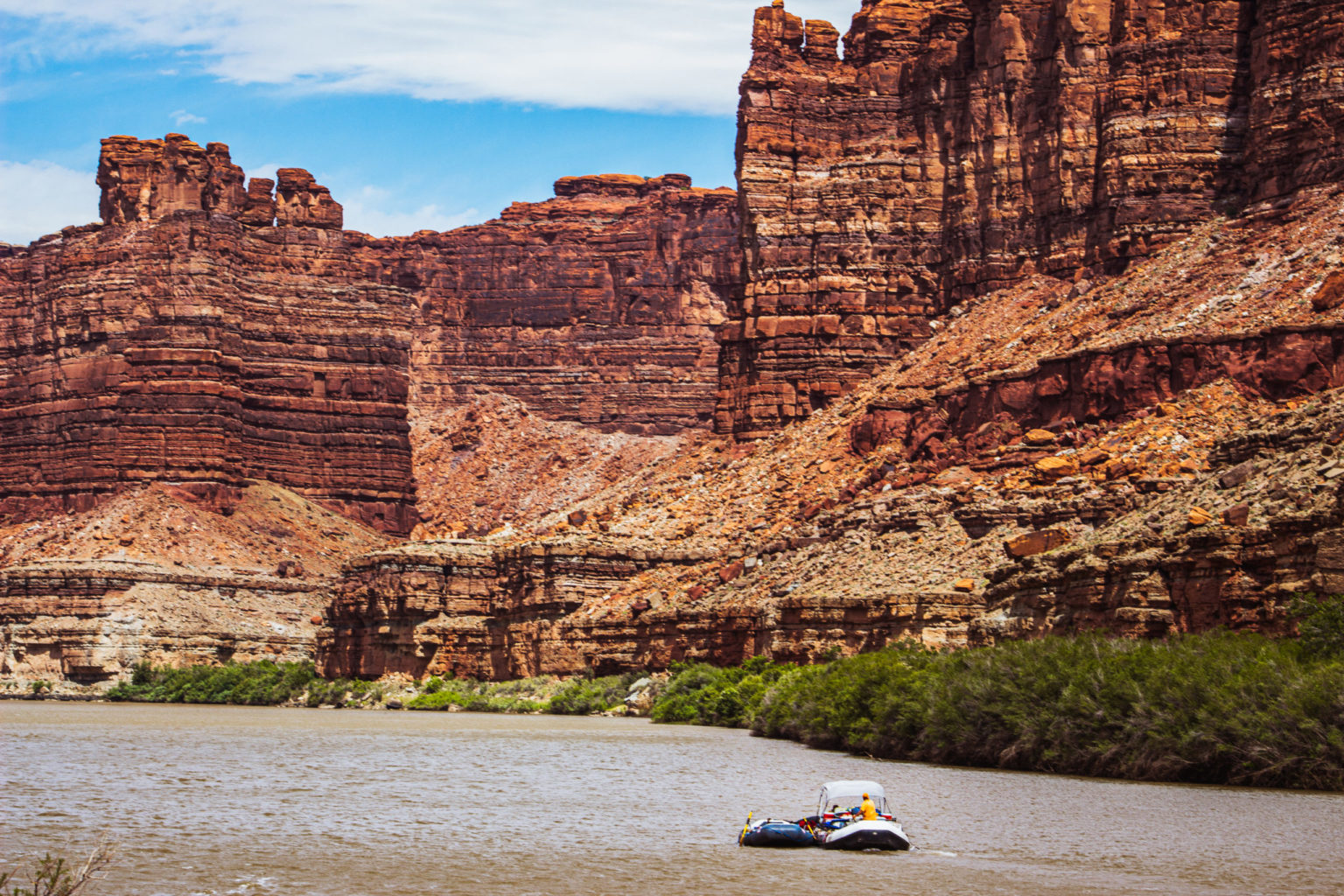 High Water & Low Water Season 
High Water: Flows are expected to peak at 36,000 CFS between May 21 to June 10. 
Low Water: Water levels should taper off to 5,000 CFS by July.
Drop it like it's Cataract Canyon 
More Reading 
Why the Green River is One of the Best to Raft
Get New Blog Posts in your Inbox