Why The Green River is One of the Best for Rafting Trips
By Kim Cassels • June 15, 2021
Why The Green River is One of the Best for Rafting Trips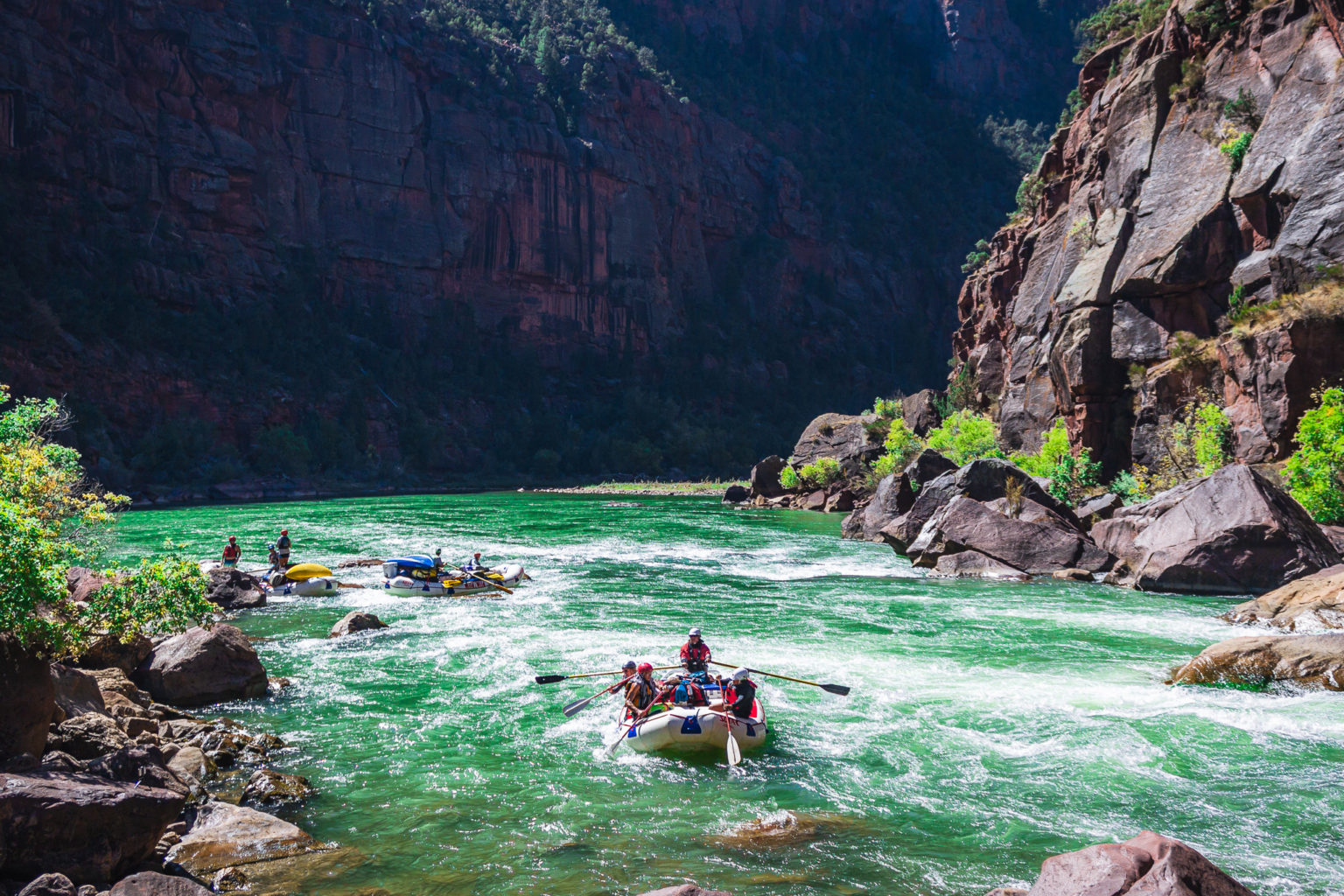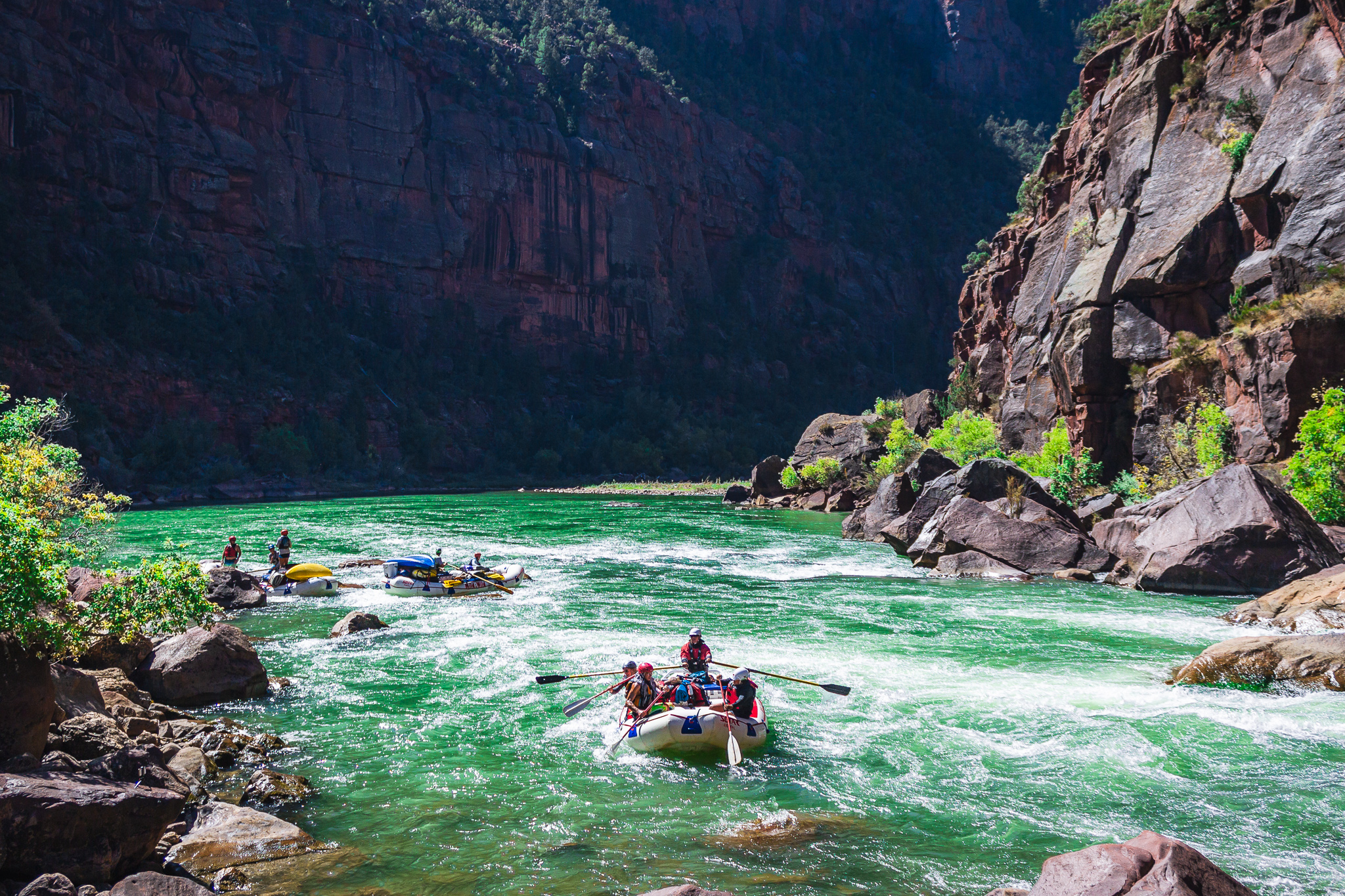 Whether you've been curious about rafting trips down the Green River, or have only just sparked your interest in such a journey to pristine and seldom seen wilderness, we're happy to share why it is one of the most memorable places one could ever experience. 
The Green River is an ancient waterway that flows 730 miles from Wyoming's Wind River Mountains to the Colorado River in the rumbling belly of Canyonlands National Park. In its million-year-old voyage through mountains, plateaus, valleys and sandstone deserts, the stream slices the Earth open to reveal its many past lives. And in its many canyons comes a wealth of protected and preserved biodiversity. 
There are multiple places to enter this portal to prehistoric eras and traverse scenery seldom seen by humankind. Luckily, the Green River, while unquestionably remote, is the perfect waterway to take your first or millionth river trip. Here's why. 
Adventure Level of Green River Rafting Trips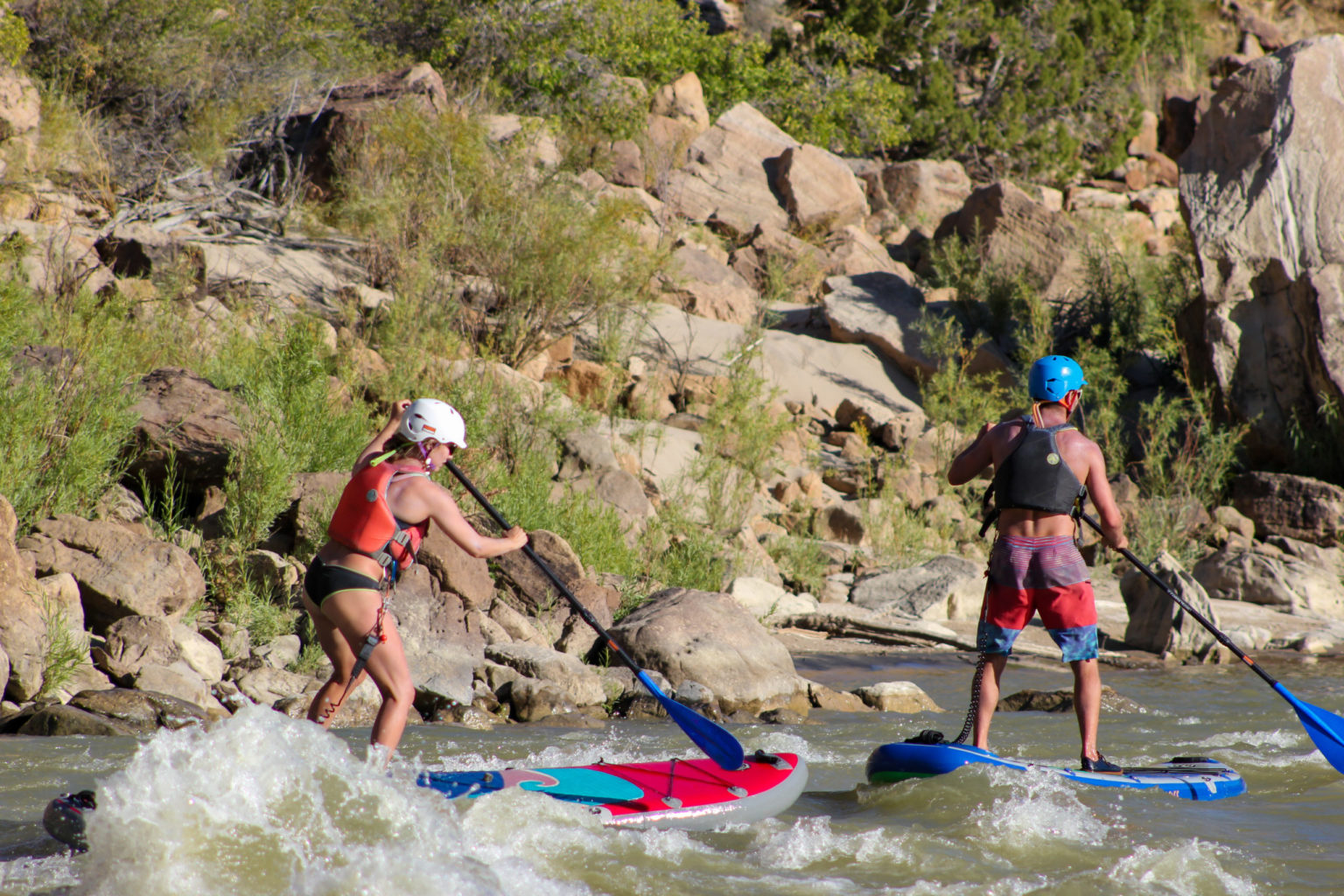 Green River descents skew towards the gentler side, which makes most of its whitewater sections incredibly fun and runnable even for novice kayakers. And since the Green River flows from Wyoming out of Flaming Gorge Reservoir, its water levels are pretty consistent— so long as Wyoming gets its fair share of snow.  
In the viridian waters of Lodore Canyon, the Green River billows at its mightiest in Disaster Falls. At high water (usually in late spring), Lower Disaster Falls can froth up a Class IV rapid. 
Many of the exciting whitewater sections along the Green River are in Whirlpool Canyon and throughout Desolation Canyon. These rolling runs of class II and III rapids come with plenty of splashes without the scares. So really, you can take just about anyone on a Green River rafting trip, kids and grandparents included. 
History and Archaeology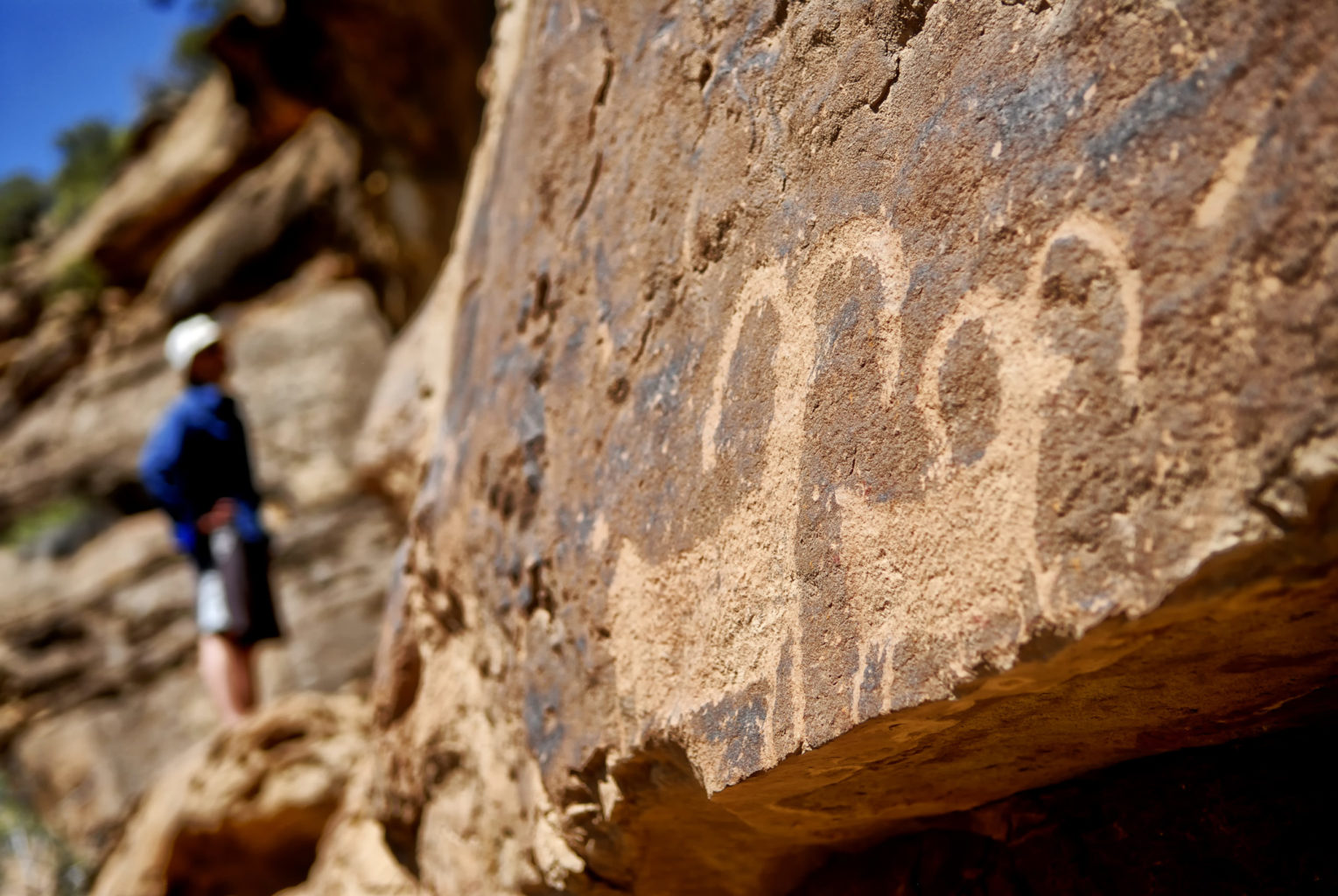 Well before rubber rafts started bounding down this archaic river in the 1950s, the Green served hunters and gatherers who survived the last ice age. 10,000 years ago, nomadic groups known as Paleo-Indians descended on this waterway beside mammoths, bison, camels and other long-gone game.
However, the ancient ones who immortalized their livelihood along the Green were the Fremont People. These indigenous groups chiseled and painted scenes from their daily lives on the canyon walls starting 2,000 years ago. Some of the most beautifully preserved petroglyphs and pictographs reside along the Green River, and are accessible only via rafting trips. 
Other sights from people of the past are more recent, like the late 19th century outlaw hideouts of Butch Cassidy in Desolation Canyon, or the inscriptions of Denis Julien in Labyrinth Canon from the 1830s. 
Hikes on Green River Rafting Trips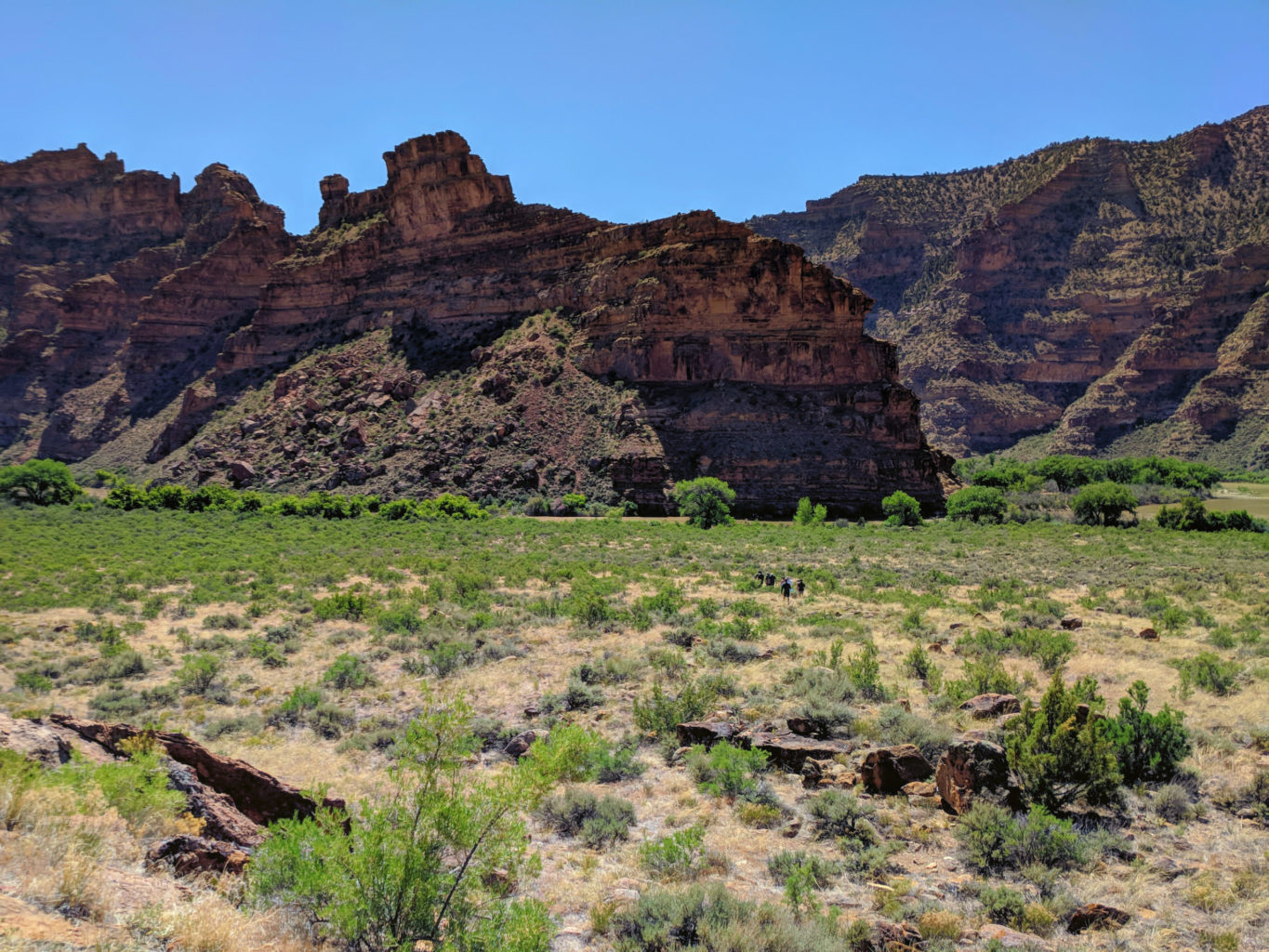 The Jones Hole trail in Dinosaur National Monument is a favorite for good reason. This 5-mile, in-and-out route completely changes from a desert ecosystem into a flourishing forest along a clear water stream. Along the way are trickling waterfalls, pristine petroglyphs, wildflower meadows and wildlife. 
In Desolation Canyon, Rock Creek Ranch is only a short jaunt off the river. The 100-year-old homestead sports an apple orchard that still blossoms, and remnants that haven't been taken as keepsakes can still be discovered throughout the property. 
Labyrinth Canyon's glossy stretch of the Green River presents plenty of opportunities to explore side canyons. Trin Alcove in Three Canyon is a geologic gallery with gorgeous slots that John Wesley Powell named on his expedition in 1869. 
Gates of Lodore Rafting Trips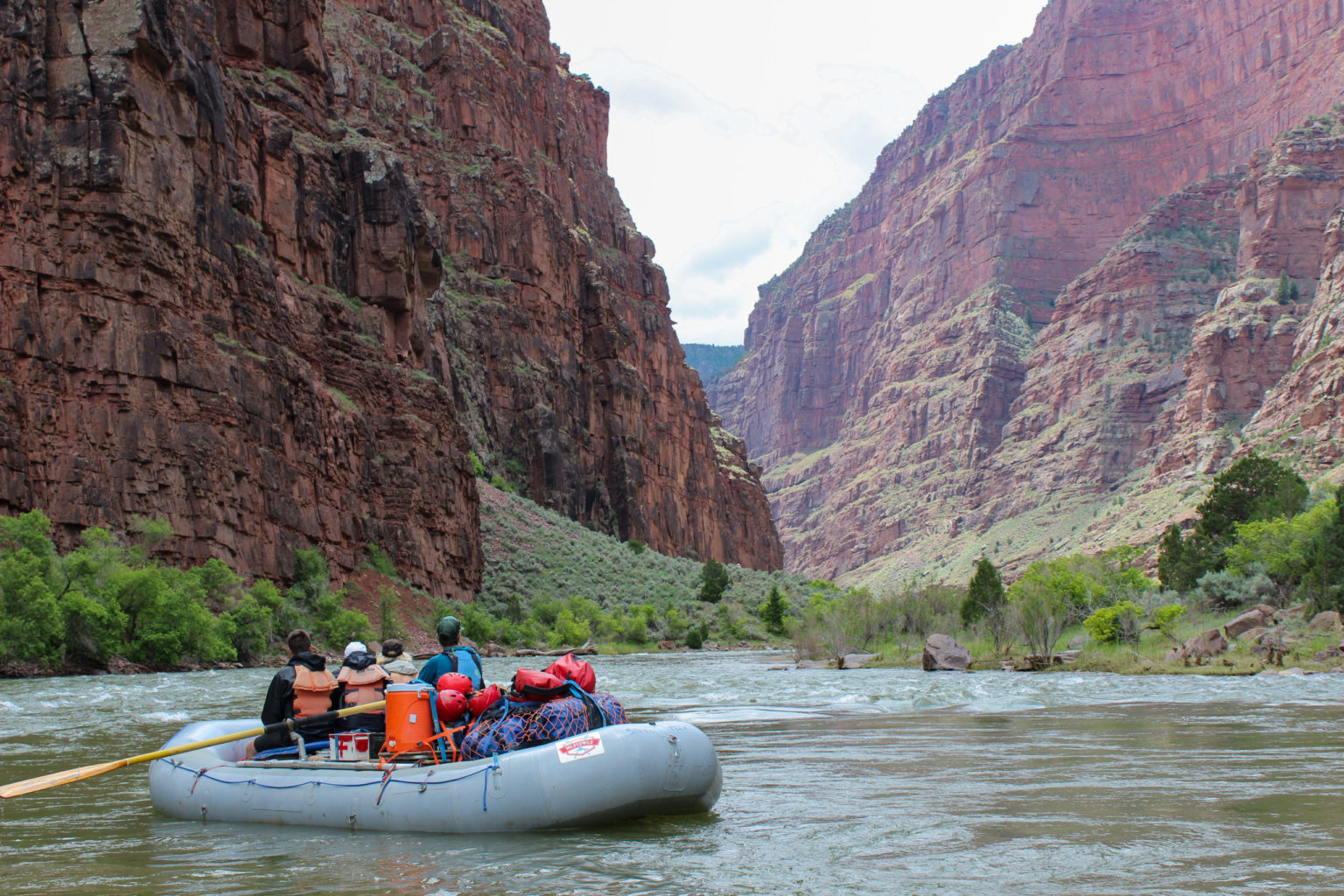 If you're looking for a shorter wilderness getaway, Green River rafting trips in Lodore Canyon are a superb way to immerse yourself in nature for a three or four days. 
Any Green River rafting trip in Lodore Canyon starts with a memorable impression. Billion-year-old gates mark the entrance to this ancient chasm in crimson quartzite, and once you've passed through this 2,000-foot ingress, rolling waves are soon to come. 
Lodore Canyon is gorgeously unique as it stays fairly narrow and steep until meeting the Yampa River in the drastic geologic circumstance of Echo Park. Here, the canyons and sculptures begin to change dramatically, adding even more interest to what the Earth was up to millions and billions of years ago.

The remoteness of this canyon has also allowed its petroglyphs and fossils to remain pristine for our enjoyment. At the rafting trip's end, the quarry (discovered in 1909) is a superb place for you to witness what this river has seen through the ages. 
Dinosaur National Monument also ensures you'll experience a newfound rarity of nightly displays. This section of the Green River meanders through a Dark Sky Park, meaning it's a place of true, unadulterated darkness. Dark Sky Parks allow you to observe parts of the galaxy you could never see with the naked eye otherwise. 
Check out Gates of Lodore Rafting Trips here.
Desolation Canyon Rafting Trips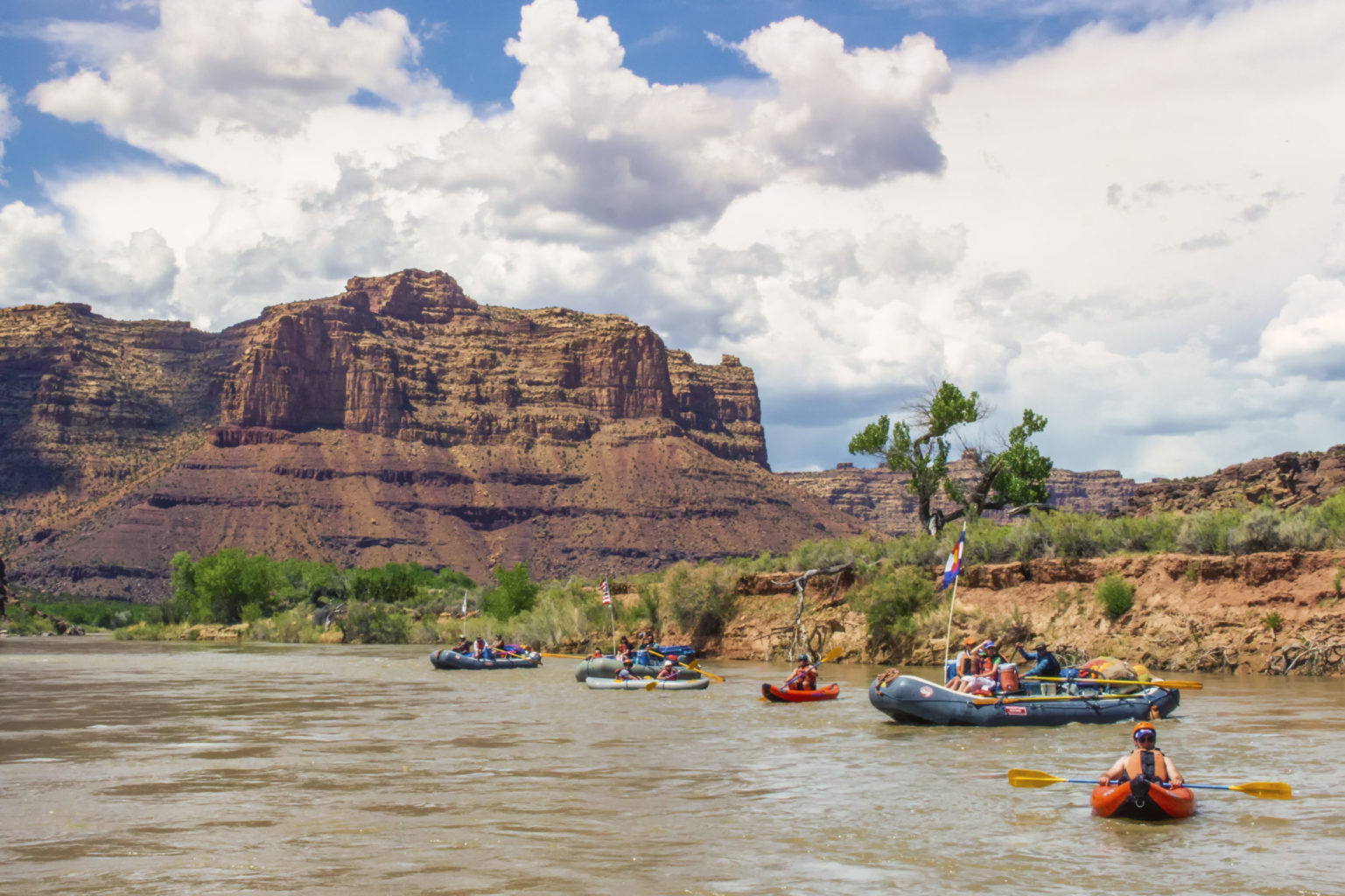 For those really wanting to take a Green River vacation, Desolation Canyon is supreme. 
"Deso" is a massive rift along the Green River, and it resides in the most remote wilderness area in the contiguous United States. At times its walls rise higher than the Grand Canyon's at over 5,000 feet. 
Don't let the name fool you either. Because this canyon is so isolated, it allows wildlife to thrive without the burden of intrusion. Bands of wild horses are not uncommon to see galloping through the valleys, or big horned sheep prancing along limestone cliffs, or eagles floating between the void. You know, classic wild west stuff.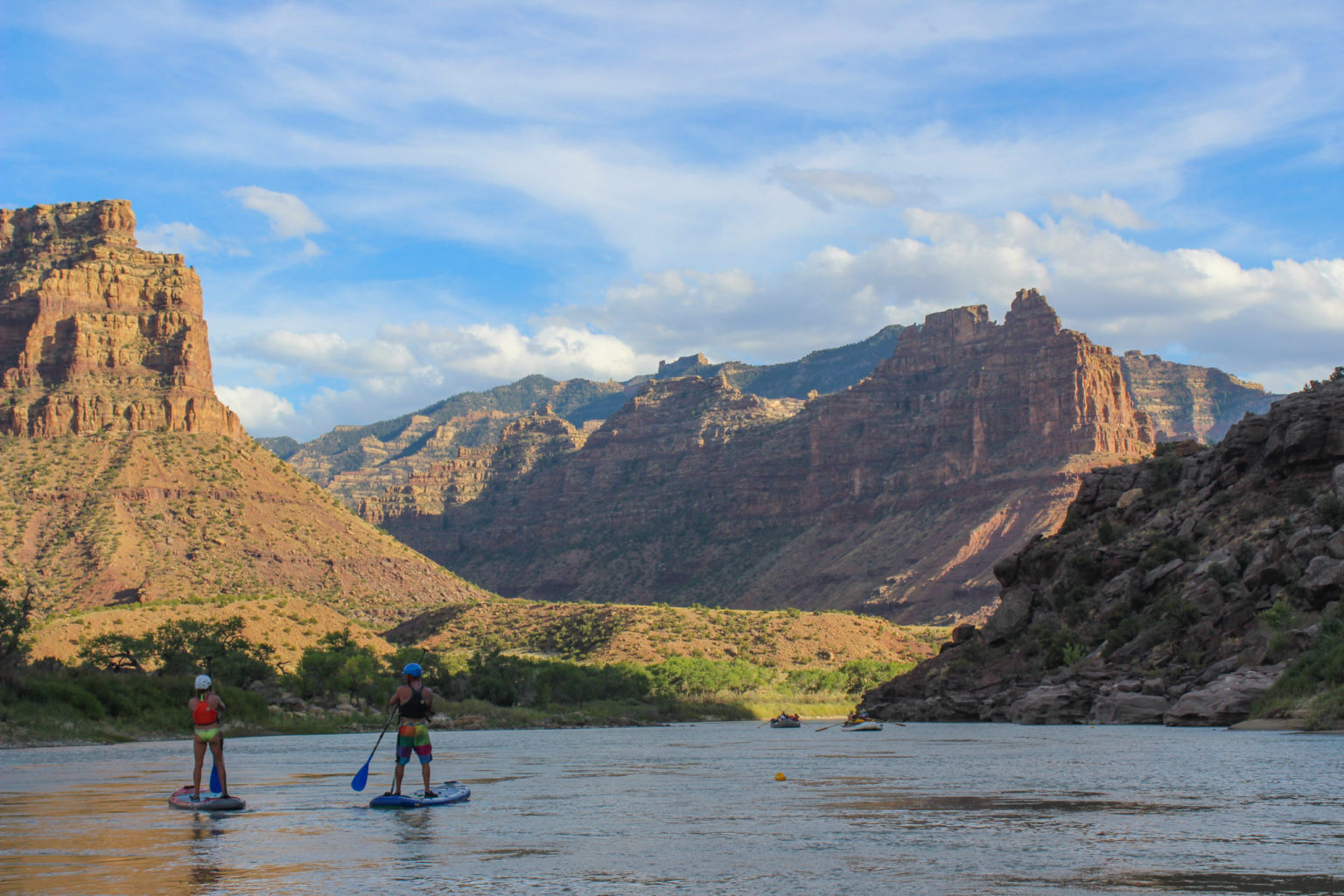 This incredible swath of untouched nature is protected under the Wild and Scenic River Act. That said, despite its remoteness, Deso is surprisingly welcoming to the youngest of adventurers. The consistent class II rapids make this a fun and friendly place to try out kayaking and paddle boarding for new and experienced river runners alike. 
And below the looming rim are the Green River's widest and silkiest beaches. Camps here come splayed across from amphitheaters and hoodoos in constant sculpt, which are the perfect backdrop for any activity along the sand. 
Check out Desolation Canyon Rafting Trips here.
Private Trips on the Green River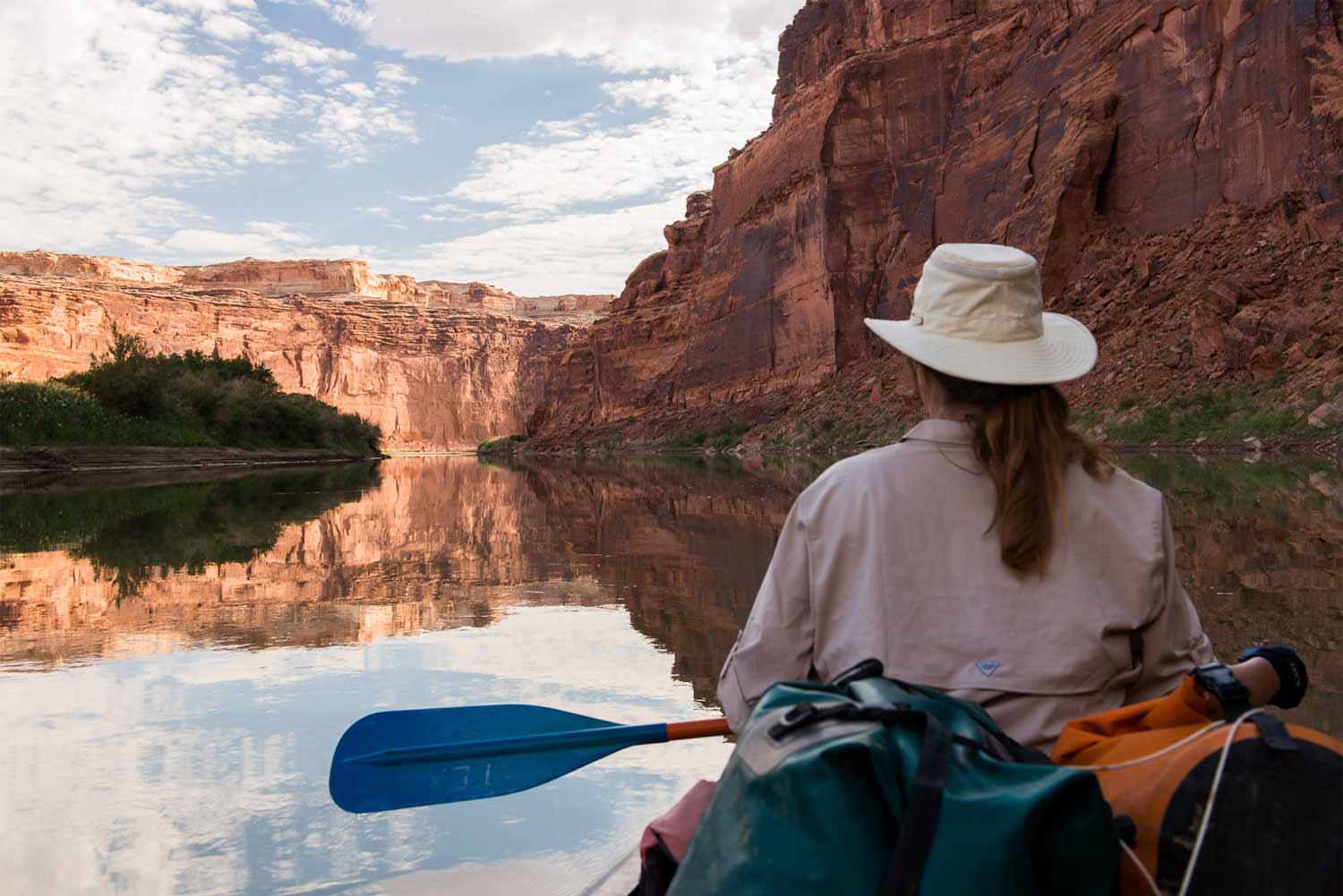 If you're ready to row at it alone, Labyrinth Canyon is a beautiful rift steeped in beauty and glossy waters. This float trip is excellent for adventurers with less days to spare on the river, and for those giddy for side hikes loaded with history and geologic wonder. 
A special feature of this river-worn labyrinth is its smooth, apricot colored Wingate Sandstone. Within this slick rock canyon are plenty of remnants from homesteaders, miners and early explorers.
Labyrinth Canyon trips can be from 45 to 68 miles long and require a permit. This chasm meanders before Stillwater Canyon to enter Canyonlands National Park. For a complete guide of rafting the Green River through Labyrinth Canyon, visit labyrinthcanyon.com
More Reading 
The Best Camping Recipes You Need on Hand Whether You're Rafting or Not
Get New Blog Posts in your Inbox