9 Things You Should Know Before Off-Roading in Moab
By Kim Cassels • February 4, 2021
9 Things You Should Know Before Off-Roading in Moab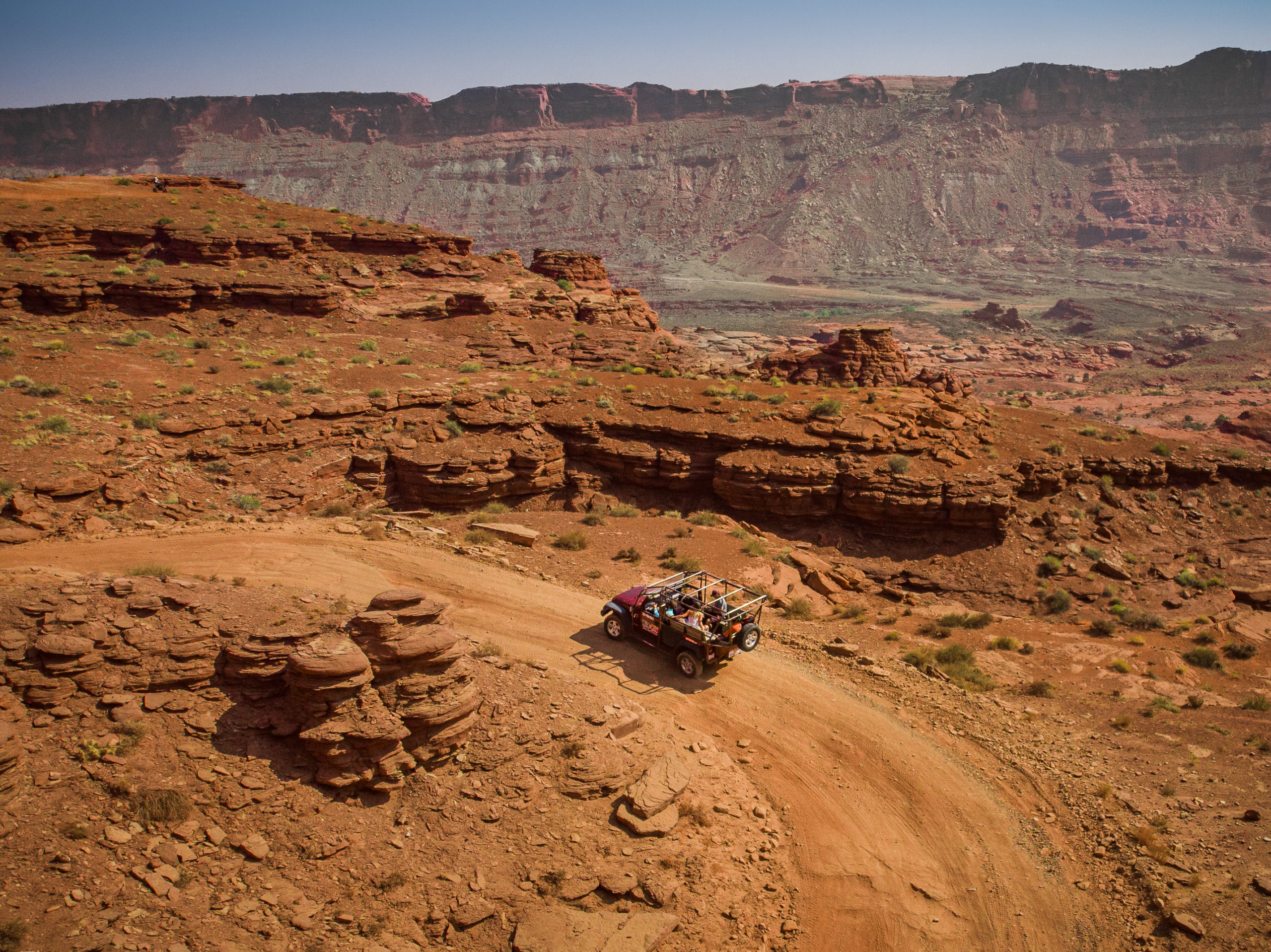 Let's go wheelin', aka off-roading in Moab! It's a downright custom here alongside the climbers, rafters, and mountain bikers frolicking amongst the sandstone. With public lands aplenty, rolling into the desert in tricked out toys ensures you'll see a lot more in less time, and with air conditioning, hallelujah!  
And we know you know, or at least should know, some of the absolute basics when galavanting around in Moab's desert. Like bringing enough drinking water that could handle solid swan dive, wearing sun protection on your noggin and skin, and having a couple of first aid essentials on hand. 
But when it comes to offroading in Moab, there's a handful of unique, and obligatory, customs that everyone should know before joining the community. Give these tips a gander before you go out there getting into trouble, and not in a cute way.  
#1 Planning Routes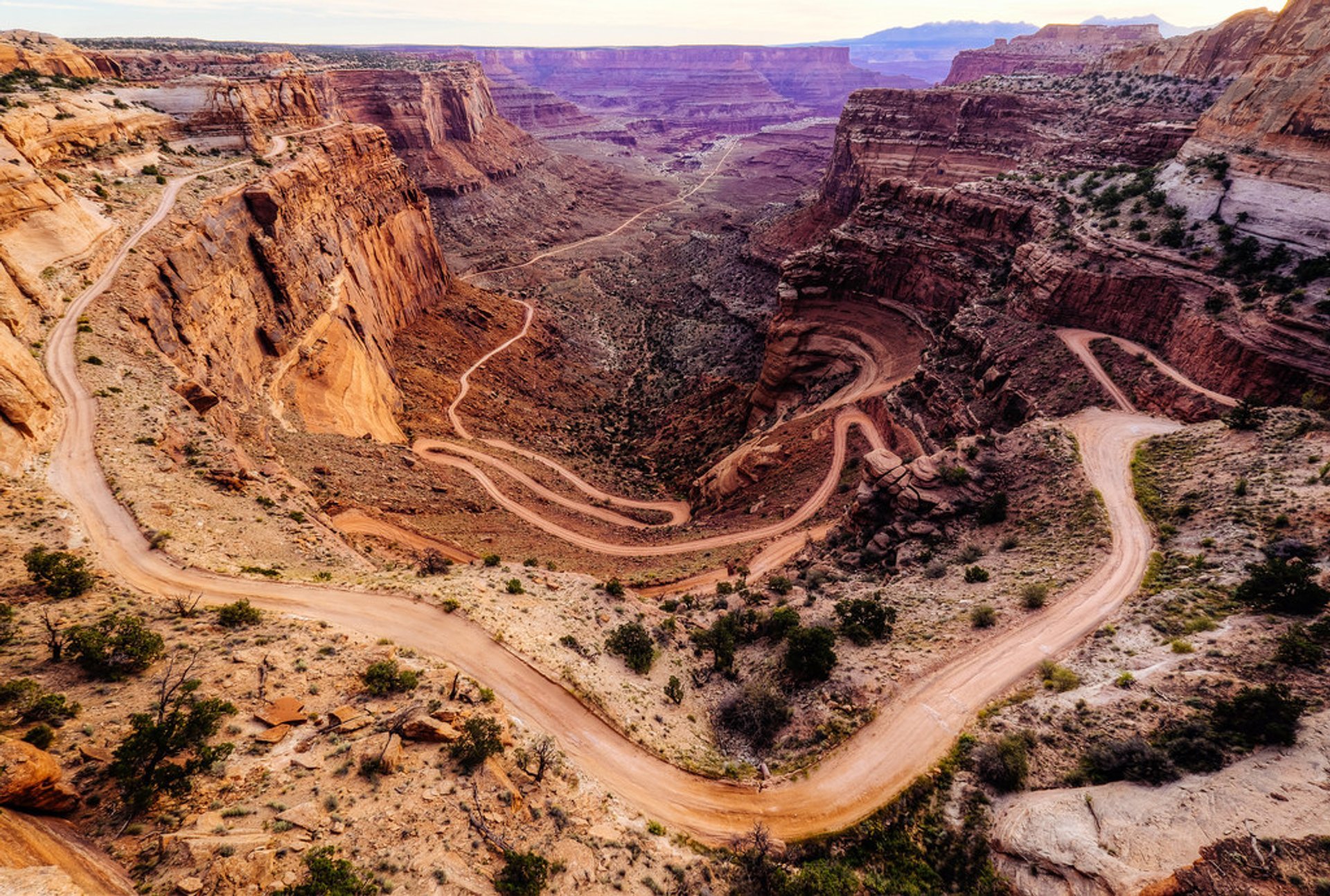 There are 1.8 million acres of public lands surrounding Moab. So before you start liberating the throttle towards a canyon like a wide-eyed fruitcake, do a little research. Knowing the trails will help you gauge your capabilities, understand your time frame for the day, and help you prepare for everything that comes with both of those aspects. 
For example, if you're going on the rambunctiously famous Hell's Revenge or Poison Spider trail, be ready for a full day of slow, technical, and steep driving with an experienced crew. Also, the names of the rowdy trails tend to be pretty indicative of what's waiting for your vehicle out there. And hopefully, you like the smell of burnt rubber. 
If you're looking for a more mild cruise that takes a bit less preparation and a posse, there's the widely popular Shafer Trail to Canyonlands or Onion Creek in Castle Valley. We're not saying your sedan belongs anywhere out there, but these are great trails that only take a couple of hours and are more about the sites rather than white knuckle thrills. 
#2 Trail Courtesy
For those who are new to the off-roading culture, here's a little advice that will make you a friend amongst the crawlers rather than a P.I.T.A. Share the trails by being courteous of space. If you're taking your time getting past an obstacle, let others go in front of you, and don't hold them up! Also, if you need extra help, don't be afraid to ask. Folks love giving assistance with the doozies out there. 
If you've come to do some off-roading in Moab, chances are you're hot on the scenery. So keep it pristine. Do not make new trials as it's very uncool and completely illegal. Blazing your own path destroys the precious topsoil that cultivates this miraculous desert, and it fuels animosity and disappointment in the human race. That might sound harsh, but so are those tires in places they don't belong. 
#3 Go with a Group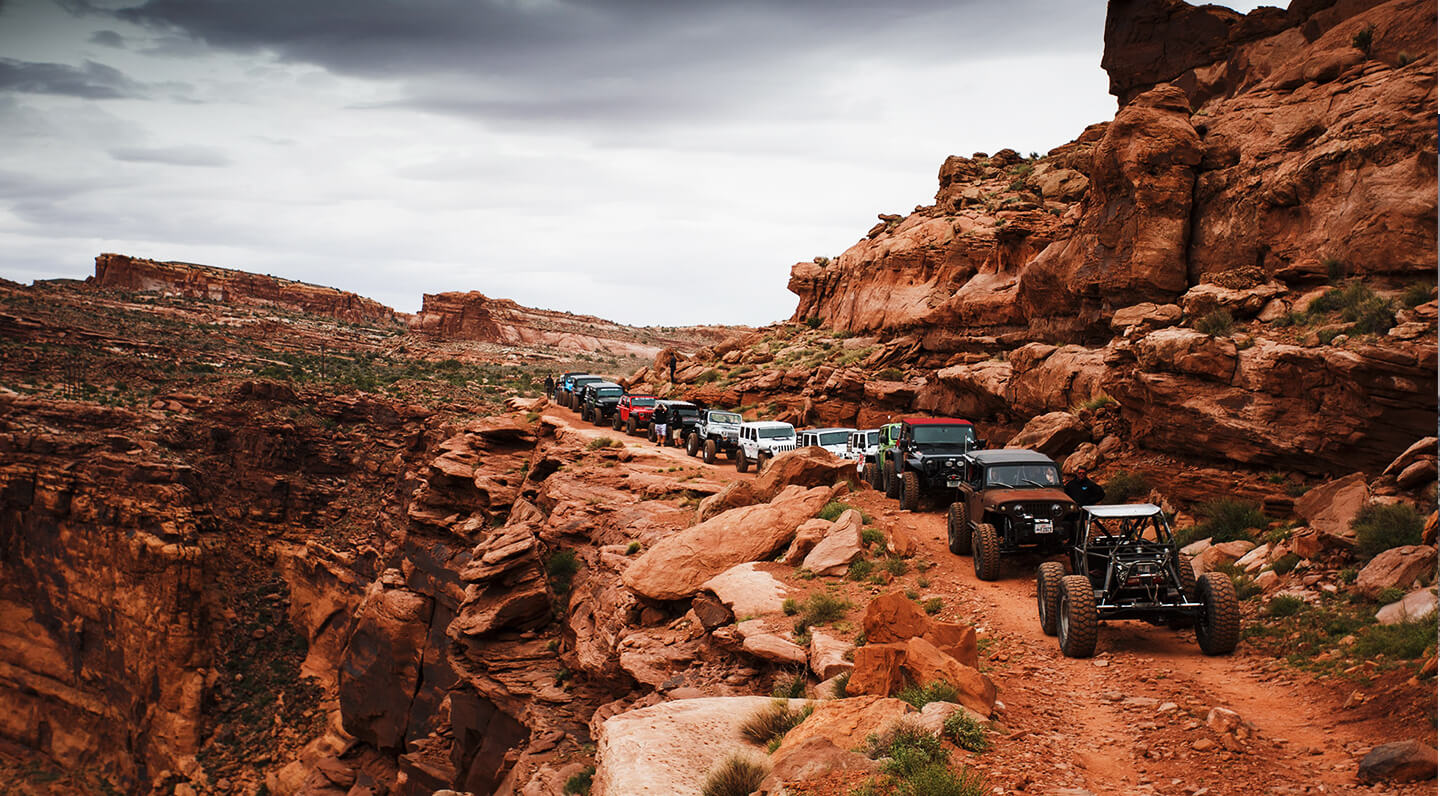 Off-roading in Moab is a social thing. Unless you're mostly cruising well-worn dirt roads, someone is guiding you through the exciting stuff outside of the vehicle. Having a convoy adds to the fun and makes the trip easier anyway! You can share supplies and ensure you have plenty of fuel, winches—if it comes to that, common sense (hopefully), and support when things start to get interesting. 
Also, if something happens to your vehicle, a regular occurrence around Moab, you'll have a ride back to civilization. It's not recommended to travel the backcountry with one vehicle unless you're going for an easy scenic drive that's well-traveled. Keep in mind that cell service quickly becomes non-existent within minutes of leaving Moab, and getting into pickles alone out there is super, if not duper, dangerous. 
#4 Don't use UTV's like Your Car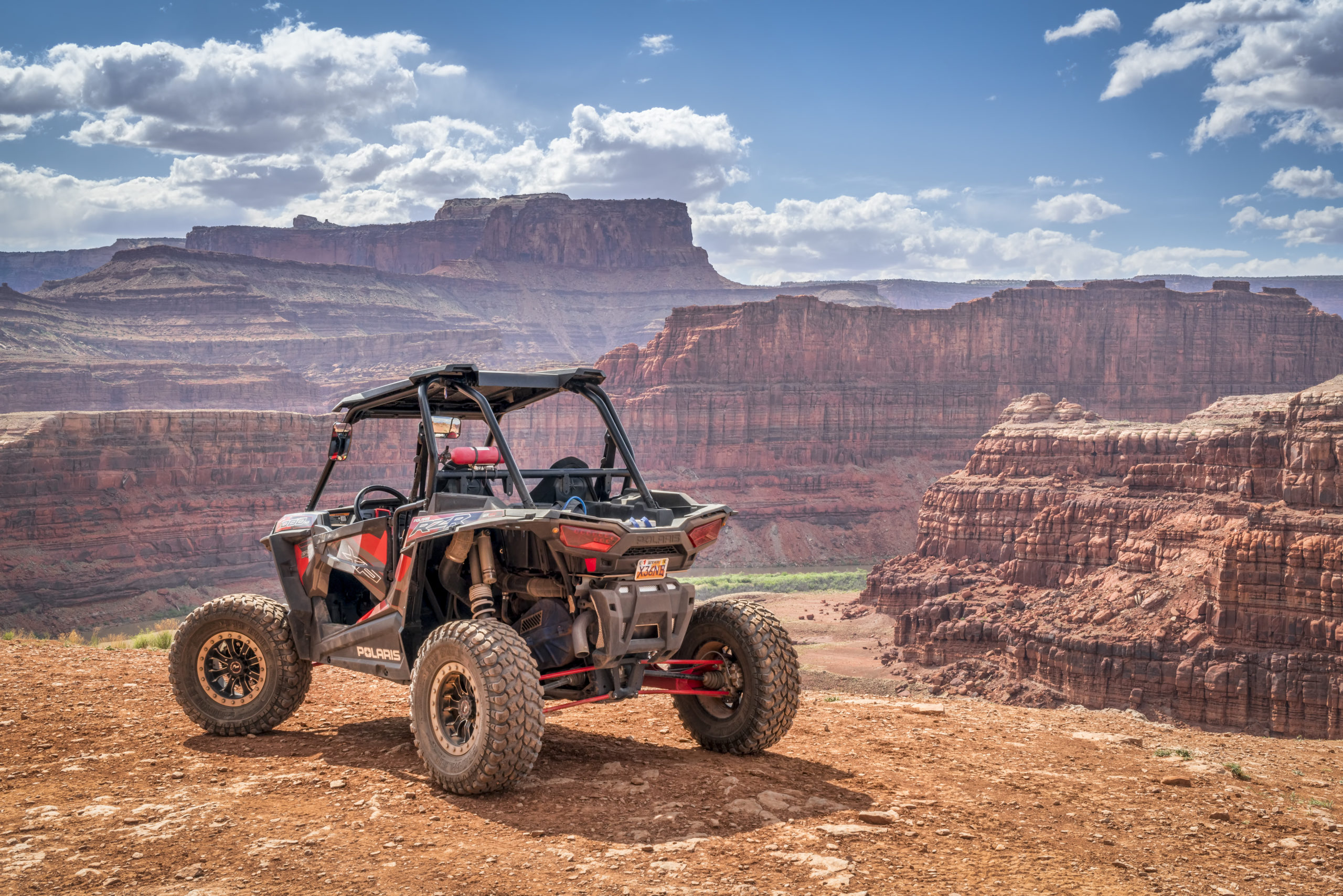 The rental company is going to tell you this too, but it's also good to know as you're shopping around for your off-roading experience in Moab. Just because UTV's are street legal in Moab doesn't mean they're like any other vehicle.
Depending on the lucky side-by-side you choose, the top speed is usually between 45 – 60 mph. Driving these roaring cages down the highway could very easily ruin their belts, and you'll be the one paying for it. 
Some folks expect to get to Moab and trade out their vehicle for a UTV for their entire stay. Now if you're staying within the vicinity of the trails right out of town like Kane Creek or the Sand Flats, you can probably get away with it. Otherwise, have a trailer ready to rock, or look for companies that will transport your rental if you don't have one. 
#5 Cost to Rent in Moab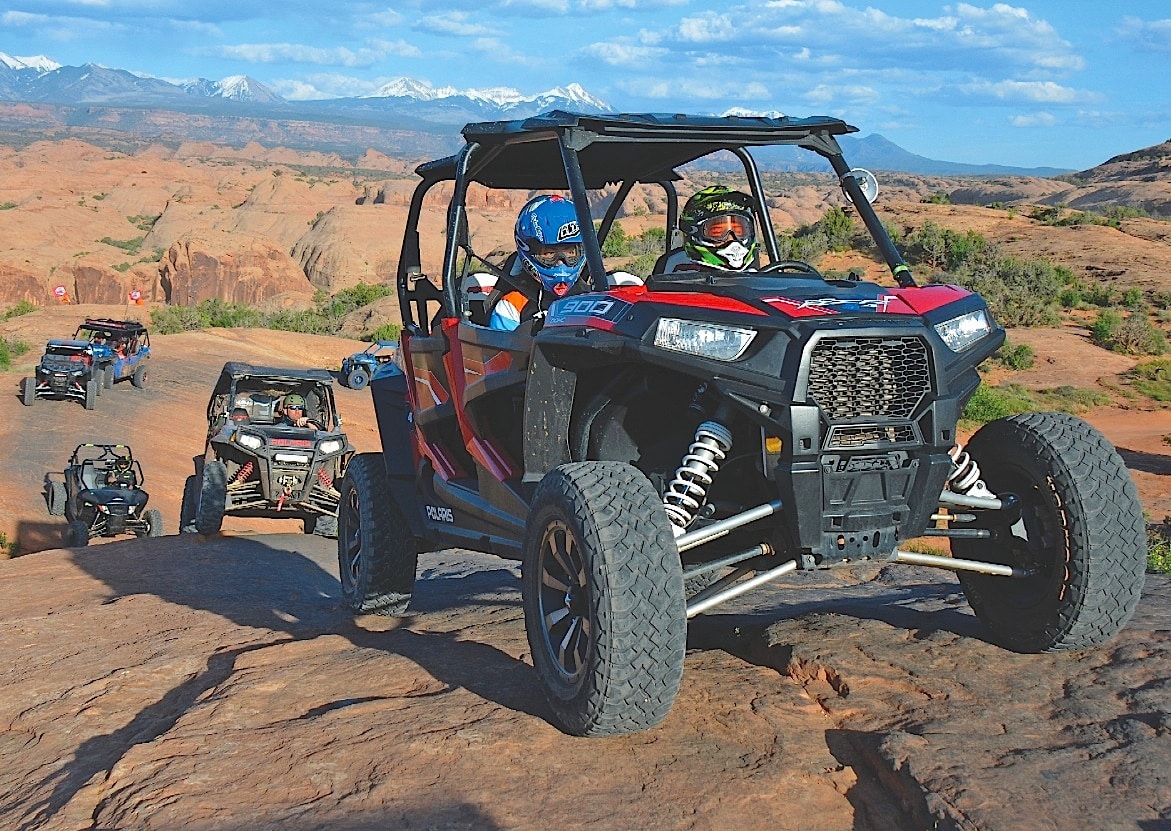 Moab's outfitters have a slew upon SLEW of options when it comes to off-roading machines. Trucks, jeeps, RZRs, motorcycles, and anything else made for dirt is likely on the menu.
Below is a list of approximate prices for most of the vehicles Moab has to offer. Prices of course vary if you're renting for a half or full day, or multiple. Most companies follow the incentive of giving a lower rate the longer you rent. Also, keep in mind that all renters, no matter what company you rent with, are financially responsible for any damage that happens to the vehicle, even scratches. 
Jeep Wrangler 
$260 / day
Jeep Rubicons
$285 / day 
Toyota Tacomas
$225 / day 
UTVs
$310 / day 
Dirt Bikes 
$35 / day 
#6 Times of Year to Go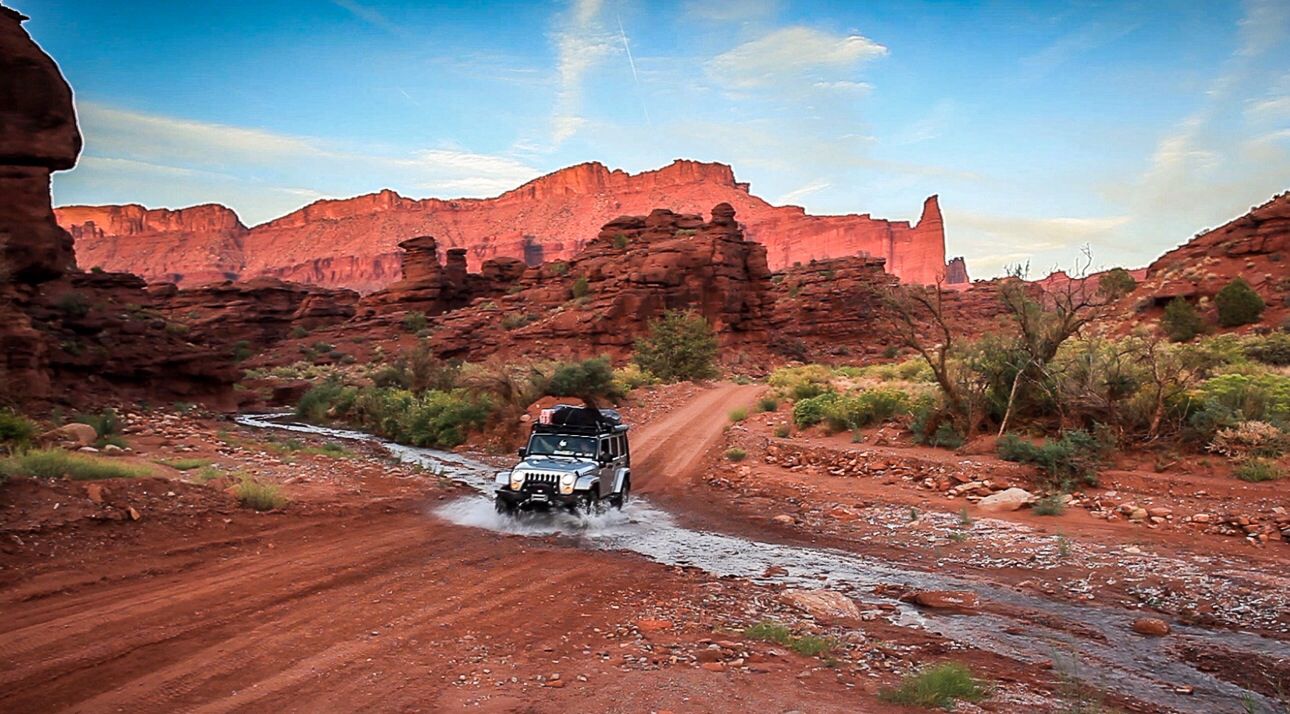 You might not believe it, but Moab gets some pretty serious weather aside from its impressive heat. July to August is the monsoon season, which can make crossings difficult and treacherous. BUT, early afternoon muddin' is undeniably satisfying and surprisingly refreshing.  
From December to March, the slickrock becomes even slicker with snow and ice. Many outfitters are also closed for the winter, but not all! It is far less crowded, and going earlier in the season versus later ensures less snow— usually. 
The best time to go off-roading in Moab is usually spring and fall. These seasons aren't nearly as hot, and the weather stays pretty mild and sunny. However, these are also peak times for tourism, so expect it to be busy, very busy. 
#7 Who is Off-Roading For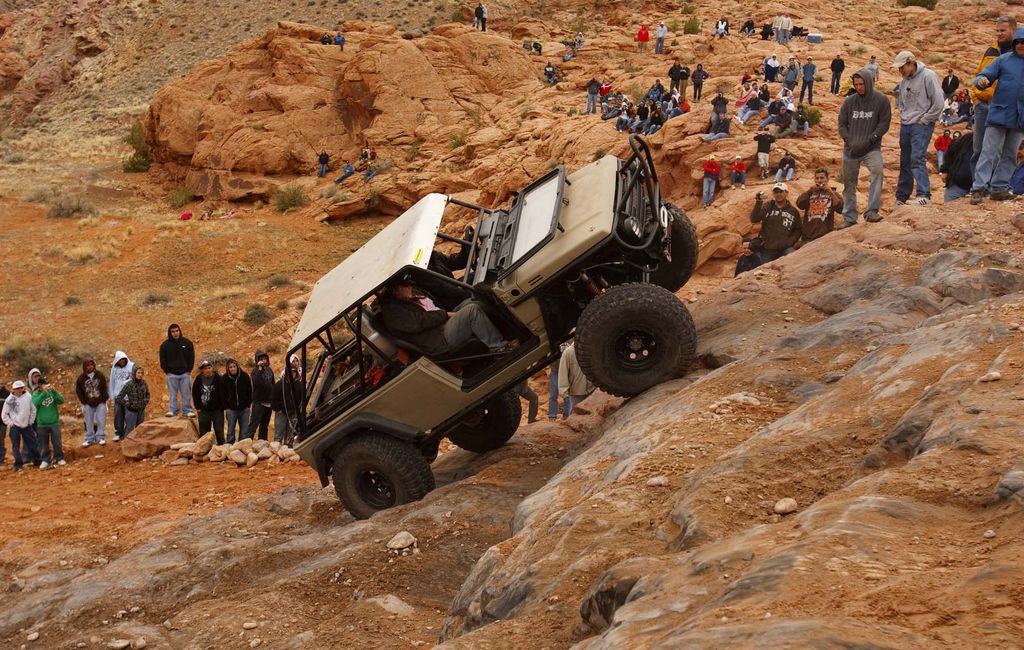 Not all off-roading is for machine loving vagabonds, but it certainly can be if you're interested in exploring that slice of Moab's culture. It's also for those who want to experience more of Utah's backcountry and in less time. 
Also, keep in mind that the rougher the trail, the louder, prouder, and busier that area will be. Rock crawling is a spectator sport, so when strangers stop to watch you and come up to your vehicle, be prepared to perform! If you're not a social person, the rock crawling side of off-roading might not be for you. 
If you want to sink into the soul-stirring silence that reverberates within this sandstone kingdom, off-roading won't provide as much of that. Some places will be more relaxed, like Canyonlands National Park as it doesn't allow entry of UTV's. Or Castle Valley, surprisingly, since many off-roaders near Moab tend to go up Kane Creek Canyon or the Sand Flats. 
#8 Types of Terrain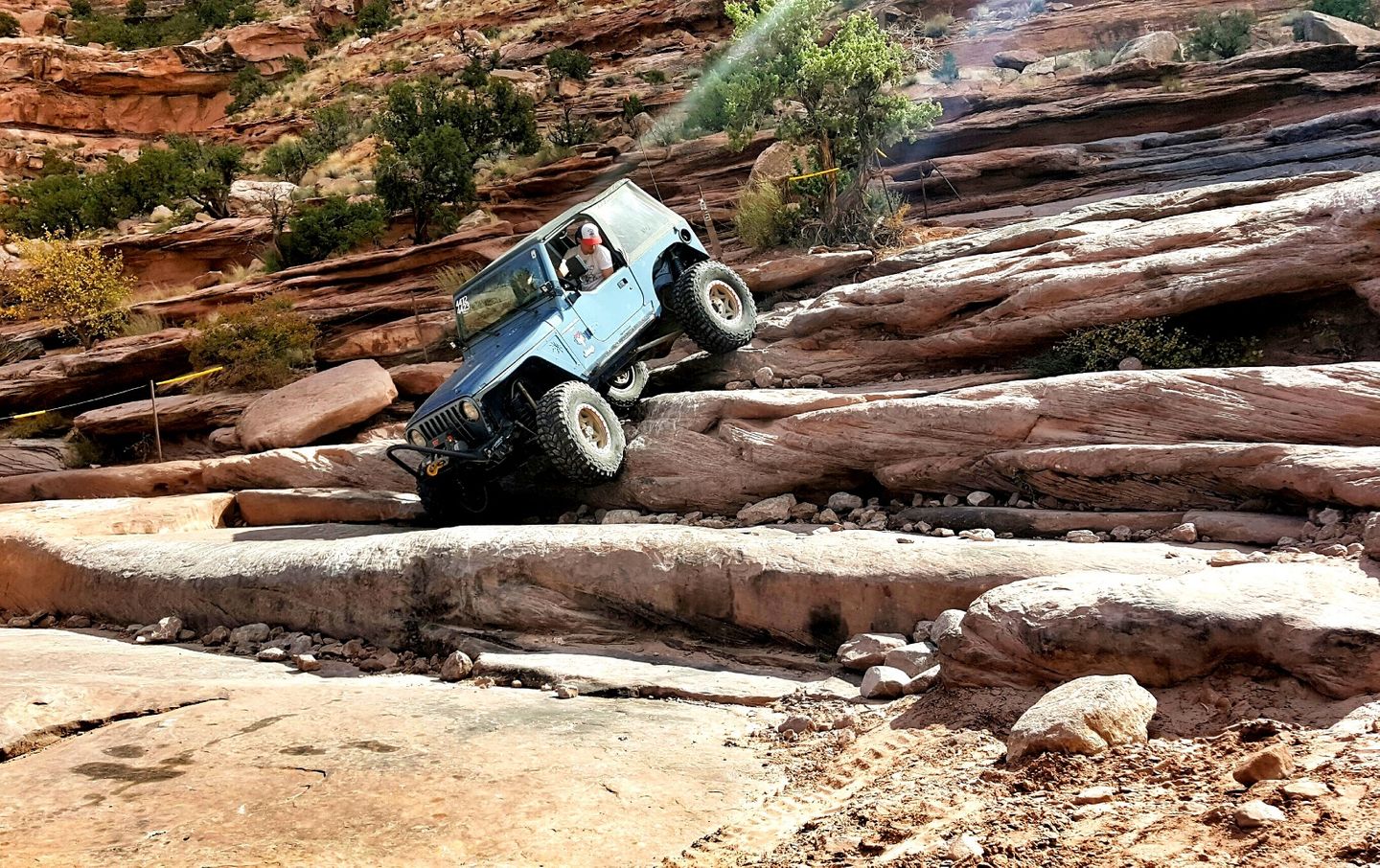 Off-roading trails in Moab have a pretty straightforward rating system based on terrain: Easy, Moderate, and Difficult. But those terms might mean something different to folks who aren't geologically inclined— hehe, inclined. Here are a few descriptions that help visualize the types of trails along Utah's loam and ledges. 
Easy, Breezy, Beautiful— Still Need High Clearance
Easy trails are usually categorized by being well-worn dirt roads with few obstacles. Notice the "few" obstacles there, which means you'll still be in need of skilled driving, off-road tires, and high clearance. 
Some easy off-road trails around Moab: 
Shafer Trail 

Gemini Bridges 

Onion Creek 
Moderate — Work those Angles
A moderate trail means you're going to need some more experience getting down, over, and around the various terrain around Moab. Steep descents and climbs will come on sandy slopes, Slickrock ledges, and roads of rocky rubble. 
Some moderate off-road trails around Moab: 
Fins n' Things 

Chicken Corners

Long Canyon 

 
Difficult — Tell My Axle I love Her!
If you thought teeter-totters were for the playground, you'd still be right. Moab's difficult off-roading trails certainly feel like one, and the toys they require are as epic as the staircase ledges, chutes, exposure, and boulder-strewn canyons they go to clamber. First-timers should spend their time mostly as passengers or shameless pedestrians on these unbelievable passages.   
Some difficult off-road trails around Moab: 
Poison Spider

Moab Rim Trail

Steel Bender 
#9 Other Options

If you love the idea of going off-roading in Moab, but you're intimidated by the vehicles, terrain, or whatever else that understandably comes with this machine-loving activity, you can always tag along with someone who knows what they're doing. Tours are an awesome way to see the scenery you've come to Utah's deserts for without having to worry about your vehicle staying upright, among other things. 
Moab Jeep Tours are also more about the history, geology, and amazing sightseeing rather than clinging to the O.S bar for half the day. If you're interested in learning more about what makes this area so miraculous, consider going with an expert rather than renting and hoping for the best. 
Tours are also great for those with stacked itineraries. The guides take care of all the supplies and ensure you'll see the best areas while learning more about Moab, from how it was shaped through the eons, to the people who somehow survived out here before cold beer blessed humanity. 
Anyone can go off-roading in Moab, it just depends on what you want out of the experience. Shop around, first for trails, and then for your vehicle, not the other way around as it's commonly misconstrued. 
Another thing, always ask a local! Moaboans… or Moabanites? Either way, they're super friendly people who know these canyons better than anybody. And as long as you head out with a plan, and literally don't get in over your head for that matter, you're probably going to be hooked. Happy crawling! 
More Reading
Why Take a Guided Jeep Tour in Moab – Top Three Reasons 
Get New Blog Posts in your Inbox