Arches National Park
Moab, UT
Arches National Park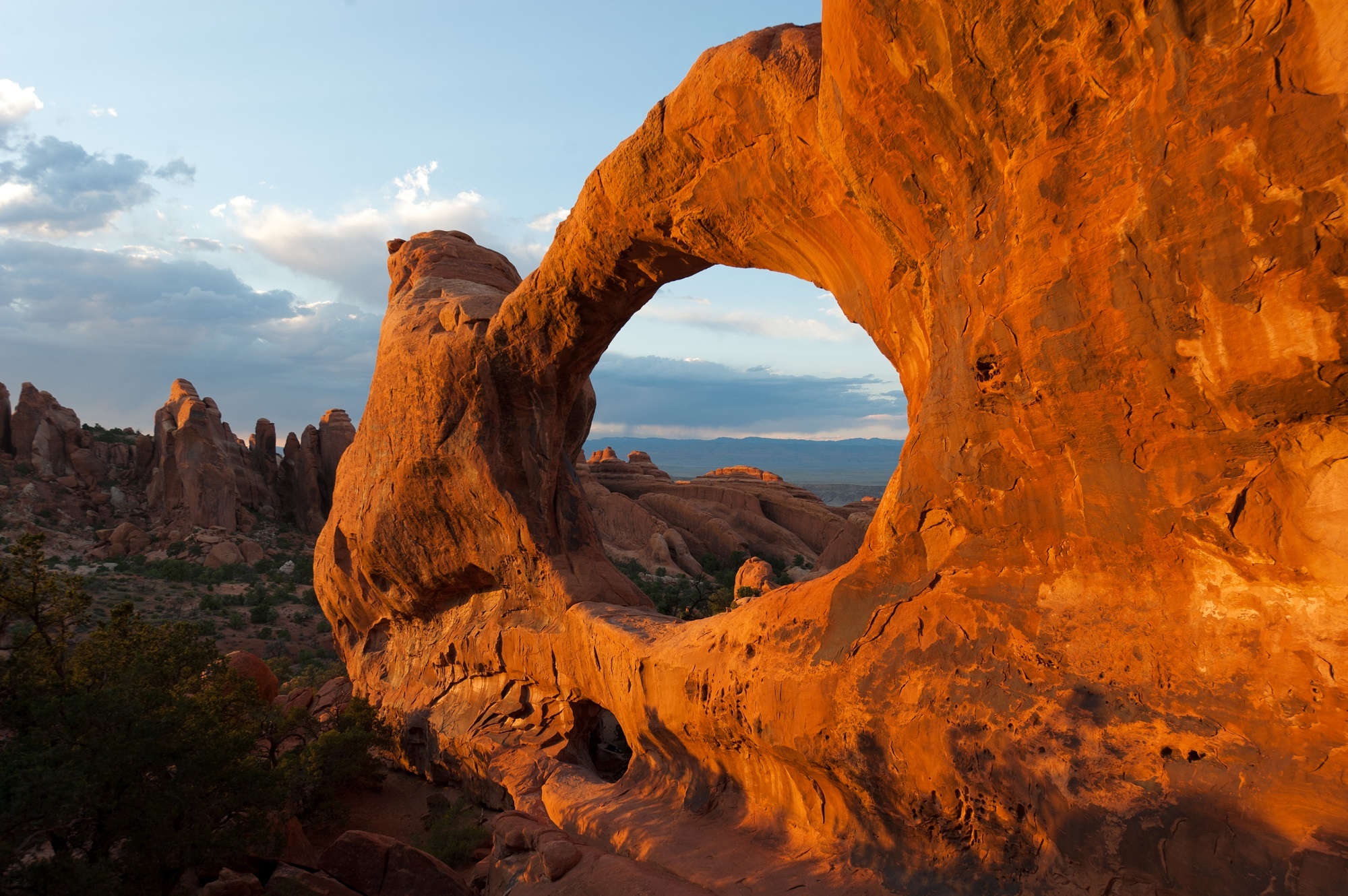 Arches National Park has over 2,000 arcs in its 119 square miles of lush desert. Its pretty-in-red sandstone has drawn over 1.5 million people in the last few years. Stats aside, this landscape offers incredible hikes and exploration that beckons childlike curiosity and euphoric swoons of wanderlust. 
Check out this guide for the scoop on what bridges you'd be a goon to miss, where to stay, where to find treasure and plenty of other run-of-the-mill things you'll be happy to know before you go. 
How Much Time Do You Need To Explore Arches
For those looking to hike into the landscape, the park has various trails for all abilities. Easier routes usually take around an hour to complete while more difficult hikes can take about 4 hours. This doesn't include the time to stop and smell the sagebrush. 
If you're going for a scenic drive, set aside about 5 hours to cruise to each overlook and take short walks— don't miss Balancing Rock. If you've only got a couple of hours, do the Windows Section or Delicate Arch Viewpoint. 
Salt Valley Road is unpaved and 17.5 miles in and out (within the park limits), and should be allowed as a half-day trip, at least. 
Most Iconic Arches to Visit
What's a visit to Arches National Park without exploring these iconic geographical features. These are our top 4 most iconic arches we think you should take the time to view. The photo ops will be well worth it!
The park's poster child rests on the edge of undulating Slickrock. This is a more difficult trail that takes about 2.5 hours to complete. The lone embow can also be seen a mile away from Lower Delicate Arch Viewpoint.
One arch framing another makes this one of the most photogenic spots in the park. The Windows Trail is an easy 45-minute stroll to arrive at these three sandstone frames.
This lanky span of stone is the longest in North America at 306 feet long. The bridge is 1.6 miles from the Devil's Garden Trailhead and reveals Pine Tree and Tunnel along the way.
Two arcs one joint, and just 20 minutes from its trailhead in the Windows Section. The South bridge is the tallest in the park at 144 feet, while the north one sets the sun quite nicely.
Weather In Arches National Park
Since Arches National Park is in a high-desert environment it can experience some dramatic weather. As long as you are prepared for the conditions Arches can be enjoyed during all seasons. Spring, Early-Summer, and Fall all the most temperate times to visit.
Spring
Most Popular Season
Daytime highs average 60º to 80ºF (15º to 26ºC) 
Nighttime lows average 30º to 50ºF (-1º to 10ºC) 
Summer
Occasional Monsoons
Daytime often exceeds 100ºF (37ºC) 
Nighttime lows average 60° to 70°F (16° to 21°C)
Fall
Popular Season
Daytime highs average 60º to 80ºF (15º to 26ºC) 
Nighttime lows average 30º to 50ºF (-1º to 10ºC) 
Winter
Can Be Icy with Light Snowfall
Daytime highs averaging 30º to 50ºF (-1º to 10ºC)
Nighttime lows averaging 0º to 20ºF (-17º to -6ºC)
Camping In Arches National Park
Arches National Park has camping available to visitors. The park has limited quantities of both developed and backcountry sites. The Backcountry sites will generally require visitors to access via unimproved roads and trails. Given the popularity of camping within the park, improved campgrounds will fill up extremely quickly. Be sure to reserve both improved campsites and backcountry campsites many months in advance on the National Park Website. If you are unable to secure a site, there are plenty of camping options in Canyonlands National Park, Deadhorse Point State Park, and private campgrounds in Moab.
Improved Camping In Arches National Park
Devil's Garden Campground
Reservations are essential to land one of the 51 sites at the park's only established campground. Bookings can be made up to 6 months in advance between March and October. First come first serve season is November to February.  
The standard site is $25 per night and comes with a fire pit and picnic table. The campground has bathrooms, potable water, firewood for sale, and no RV hookups. 
Backcountry Camping In Arches National Park
Backpacking Sites
The backcountry of Arches is for more experienced backpackers as skillful navigation is key. Hiking to the designated campsites and at-large zones are not always marked by paths, and campfires are not allowed. 
There are two designated sites in Courthouse Wash and one off the primitive trail in Devil's Garden. Permits are required to backpack and are purchased at the visitor center for $7.
Insider's Tips For Arches National Park
Go Early or Show up Late
To ensure you won't be waiting in a never-ending line of exhaust, get to the park before 8 AM or after 3 PM. Arches is open 24/7 offering up quintessential sunrises and stargazing sessions. For a groovy sunrise, watch the Three Gossips blush or poke through the South Window and Turret Arch. At sunset, Delicate Arch is pretty alright along with the Fins in Devils Garden, along with a lot of other spots. 
Don't Bust the Crust
Don't be a jerk to nature and watch your step out there. Cryptobiotic soil is the lifeblood of desert flora and without it plants would literally evaporate. Okay, they wouldn't literally evaporate, but they would die in mass numbers and wouldn't return until this biological crust formed again— which takes between 5,000 to 10,000 years. To understand what this precious soil is and how to protect it, check out this activity.
Hidden Petroglyphs
The Dark Angel Trail in the Devil's Garden leads to the massive free-standing spire. Nearby, with no path to guide the treasure hunt, is a rare and well-preserved panel of petroglyphs. When you've landed in the right pinion tree, a wooden sign greets; "You've found something unique, please preserve it." Look, don't touch, and take time to ponder this hidden scene left by residents from hundreds, perhaps thousands, of years ago.
Arches National Park Film and News
More Moab Utah Planning Resources
Activities
Plan Your Trip