1/2 Day Moab Jeep Tour
Afternoon Trip
About This Trip
This afternoon half-day Moab Jeep tour allows guests to immerse themselves in the unique terrain surrounding Moab. An expert guide will provide interpretive information about how the landscape was formed and the unique ancestral history of these canyons, along with other in-the-know tidbits.
Our specially designed, open air vehicles will give passengers a comfortable ride on Moab's backcountry roads. This scenic Moab jeep tour provides a little more ruggedness to the ride than our breezy Morning Jeep Tour. Some of the trails we explore include Gemini Bridges, Kane Creek, and more!
Moab Jeep Tours start at $99

Location

Meet Time

Return
Ages
Tour Options
Afternoon 1/2 Day Moab Jeep Tour
Explore the beauty of Moab, Utahs, canyons, and red-rock towers on the afternoon 1/2 day Moab Jeep Tour
Payment & Cancellations
Payment Options
1/2 down, 1/2 charged 30 days prior to trip.
1/3 down with remaining balance charged in thirds.
Call for other arrangements!
Free Courtesy Hold
We don't want you to miss out on this trip so we'll hold your spots, payment-free, for 24hrs while you make your final arrangements & prepare for payment.
Fees
In addition to the listed trip cost, we collect an additional 9% for River and Land Access Fees (ie. Forest Service, BLM, City, Private Land Use).
Cancellation Policy
Receive a 90% refund with written notice 36 hours or more before the trip. Less notice, unfortunately there will be no refund.
Optional Upgraded 24 Hour Cancellation Policy: Receive a 100% refund up to 24 hours prior to trip departure. Up to 12 hours prior to departure trips can be rescheduled, or receive a Mild to Wild Gift Certificate for trip cost. This upgrade is only available at the time of reservation and must be applied to each seat.
Itinerary
2:00 PM
Meet your tour guide and get ready to head out into the desert
Travel out of town to one of our stunning off-road routes
Discover historic sites and geological wonders
Get out of the vehicle and take in a grand vista
Travel off-road through deep canyons
6:00 PM
Return to Mild to Wild Rafting & Jeep Tours and say goodbye to your guide
*We use multiple routes dependant on conditions 
Important Considerations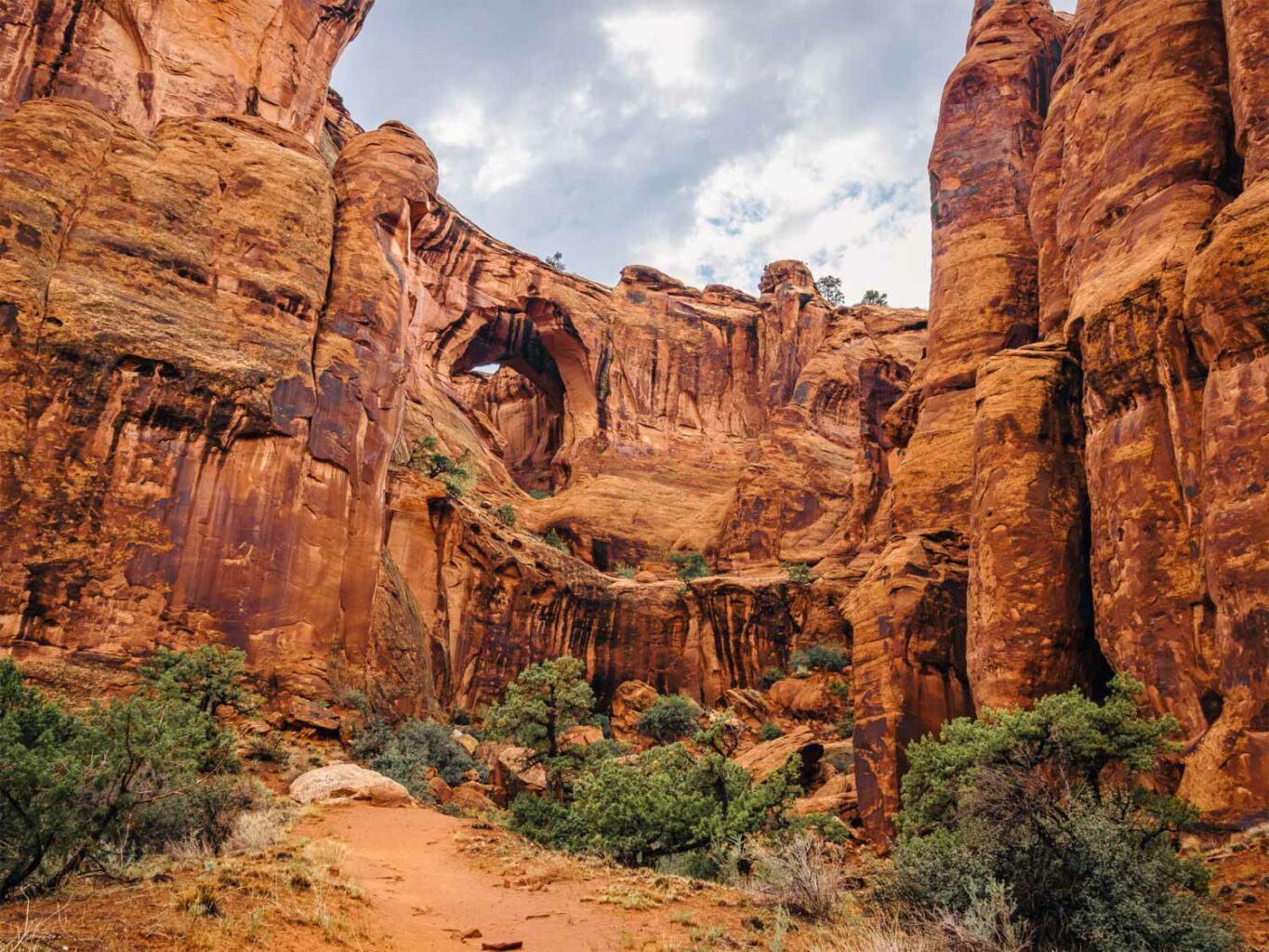 If your child uses a car seat, please bring it along. Mild to Wild does not provide car seats.
The routes of the trips will vary, but we try to keep our afternoon tours on more rugged trails.
We do not provide snacks on these tours, so feel free to bring some for your trip.
The trip does not include any National Park visits, we'll explore the surrounding wilderness areas just outside of Moab.
These tours are much more about the sites rather than the white-knuckle thrills. If you're looking for a rock crawling tour, consult with a reservationist!
What to Wear & Bring
Shirt with sun protection – UPF shirts or other athletic, light-weight long sleeves
Hat that covers both your face and neck
Sunglasses
Hiking / tennis shoes (no flip flops or crocs!)
Cooling bandana – During the hottest months (July & August)
Sweatshirt – For early spring or rainy days and fall mornings
Rain jacket — Monsoon season (August & October)
Water bottle – Your guide will provide water for refills.
Sunscreen
Camera
Snacks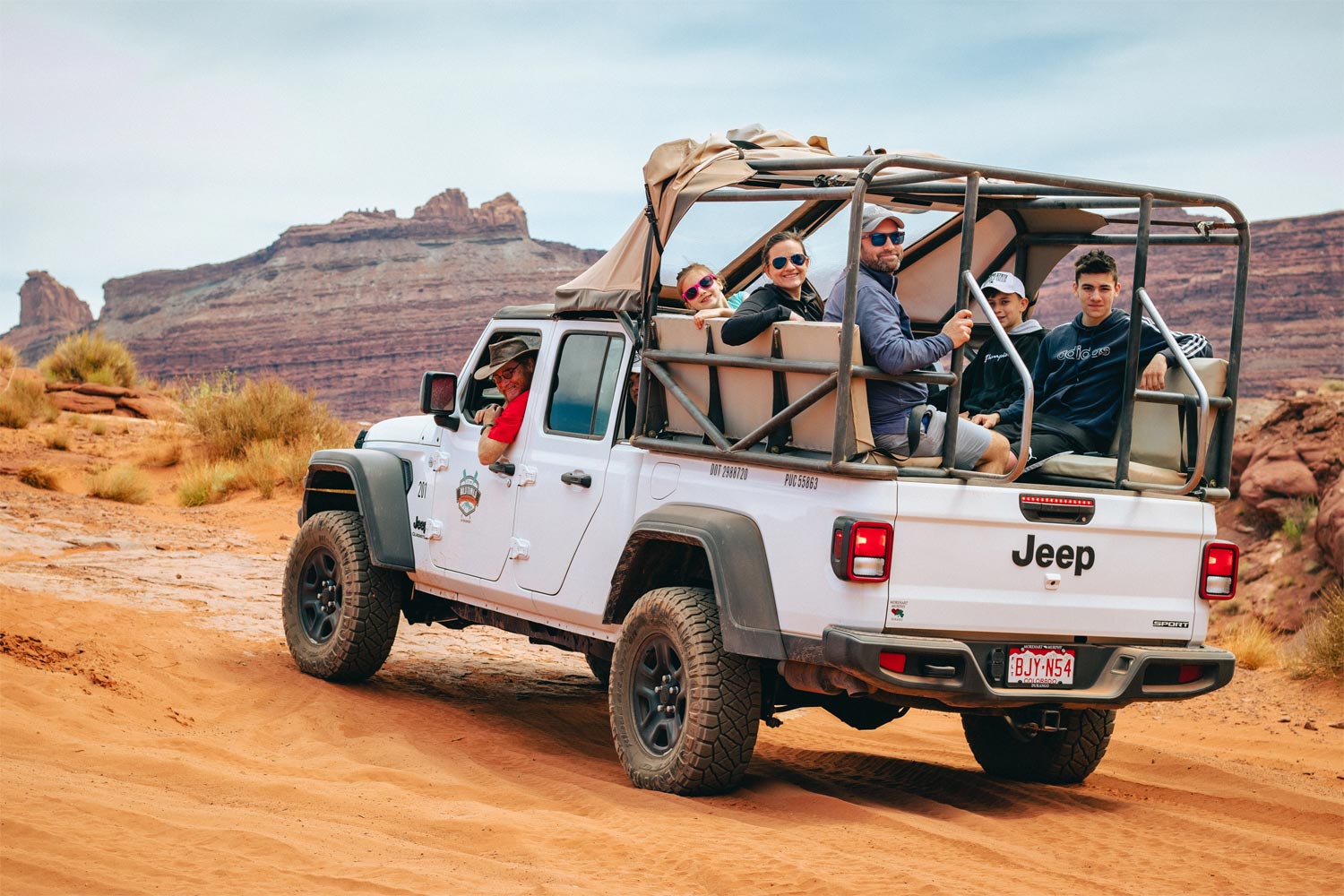 Trip Highlights
Discover Moab's Redrock towers, canyons, & cliffs from an off-road perspective
Learn about Moab's unique geological and ancestral history from an expert guide
Travel fun roads to scenic viewpoints & grand vistas
Take in the off-road sites from a custom designed, open-air tour vehicle
Explore off the beaten path areas outside of the National Parks