3 Day Moab Kayaking Trip
Colorado River
About This Trip
Truly escape the "real world" and spend 3 days and 2 nights on the mighty Colorado River!
Paddle through the Martian landscape of Castle Valley in your own inflatable kayak for three, easy going days! This trip is great for those who want to up the adventure level for their Colorado River trip, and aren't afraid of a workout! A raft or two will come along to carry the food and camping gear, but otherwise, you're the captain of your vessel for this trip.
Castle Valley offers scenery straight out of your favorite westerns and mostly calm waters. Your camp for two nights will be along beautiful beaches, and you'll have plenty of time to explore the area while your guides whip up delicious meals for you. This is the perfect, low key trip for those who are in need of a little adventure through the desert.
Moab Utah kayaking three day trips start at $599.

Season

Class of Rapids

Meet Time

Return
Kayaking Options
Inflatable Kayaks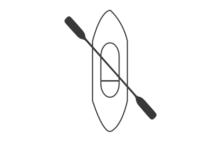 You'll be in your own kayak for the entirety of this trip, so be ready to paddle, paddle, paddle!
New Flexible Payment & Cancellations
Payment Options
1/2 down, 1/2 charged 30 days prior to trip.
1/3 down with remaining balance charged in thirds.
Call for other arrangements!
Free Courtesy Hold
We don't want you to miss out on this trip so we'll hold your spots, payment-free, for 24hrs while you make your final arrangements & prepare for payment.
Cancellation Policy
60+ days: Receive a full refund minus $100 per person unrecoverable fees.
59 – 45 days: Receive a full refund minus $200 per person unrecoverable fees.
44 days – 30 days: Receive full credit towards any Mild to Wild trip within the next three years less $200 per person.
Less than 30 days: Unfortunately there will be no refund.
Fees
In addition to the listed trip cost, we collect an additional 9% for River and Land Access Fees (ie. Forest Service, BLM, City, Private Land Use).
Itinerary
Day One Itinerary
Meet at 711 500 West, Moab UT 84532 at 10:00AM.
Shuttle to the River. Pack overnight gear and dry bags, sign release forms and get dressed for the river!
Shuttle to the river for your safety orientation and rafting instructions.
Relax and take in the scenes of Castle Valley from the "Mighty and Friendly" Colorado River!
Stop for lunch and enjoy an amazing hike in the canyon.
Resume rafting and challenge "Onion Creek" rapid.
Make camp at a big sandy beach under the shade of Cottonwood trees. Relax, play Frisbee, horse shoes, beach games and explore on a hike.
Enjoy a delicious guide prepared meal – Made fresh riverside and preceded with appetizers.
Day Two Itinerary
Wake up to coffee and hearty guide-prepared breakfast to fuel you up for your day.
Enjoy some hikes while the guides clean up. Pack up your tent and sleeping gear while the guides rig up the boats.
Get back out on the river and delight in the warm water rapids of the Colorado River.
Stop along another sandy beach for a deli-style lunch.
Resume rafting and savor the wonders of the beauty around you.
Pull off at a sandy beach for another night under the stars! Guides will once again cook a delicious dinner while you enjoy your surroundings.
Day Three Itinerary
Wake up to a Cowboy breakfast and your last day on the river!
Jump back on the river for Class II splashes in "Rocky" rapids.
Check out the Class II+ "White's" rapid.
Stop to enjoy another delicious riverside lunch.
Hop back into your kayak to enjoy the last bit of your peaceful escape!
Take out and say goodbye to the mighty Colorado river, take your special memories with you and shuttle back to Moab at approximately 2:00 – 3:00 PM.
Trip Map