Durango Silverton Train
Discover the Unbelievable Durango Silverton Train
About the Durango Silverton Train
Ready to chug it up through Colorado's largest wilderness area? The Durango Silverton Narrow Gauge is one of the best ways to experience the expansive scenery and exciting history of the San Juan Mountains!
For round trips on this old locomotive, the train offers 5 hour rides through Cascade Canyon, or a 10 hour excursion from Durango to Silverton and back.
As a heads up, Mild to Wild is no longer booking tickets for the Durango Train. To grab your seats, visit DurangoTrain.com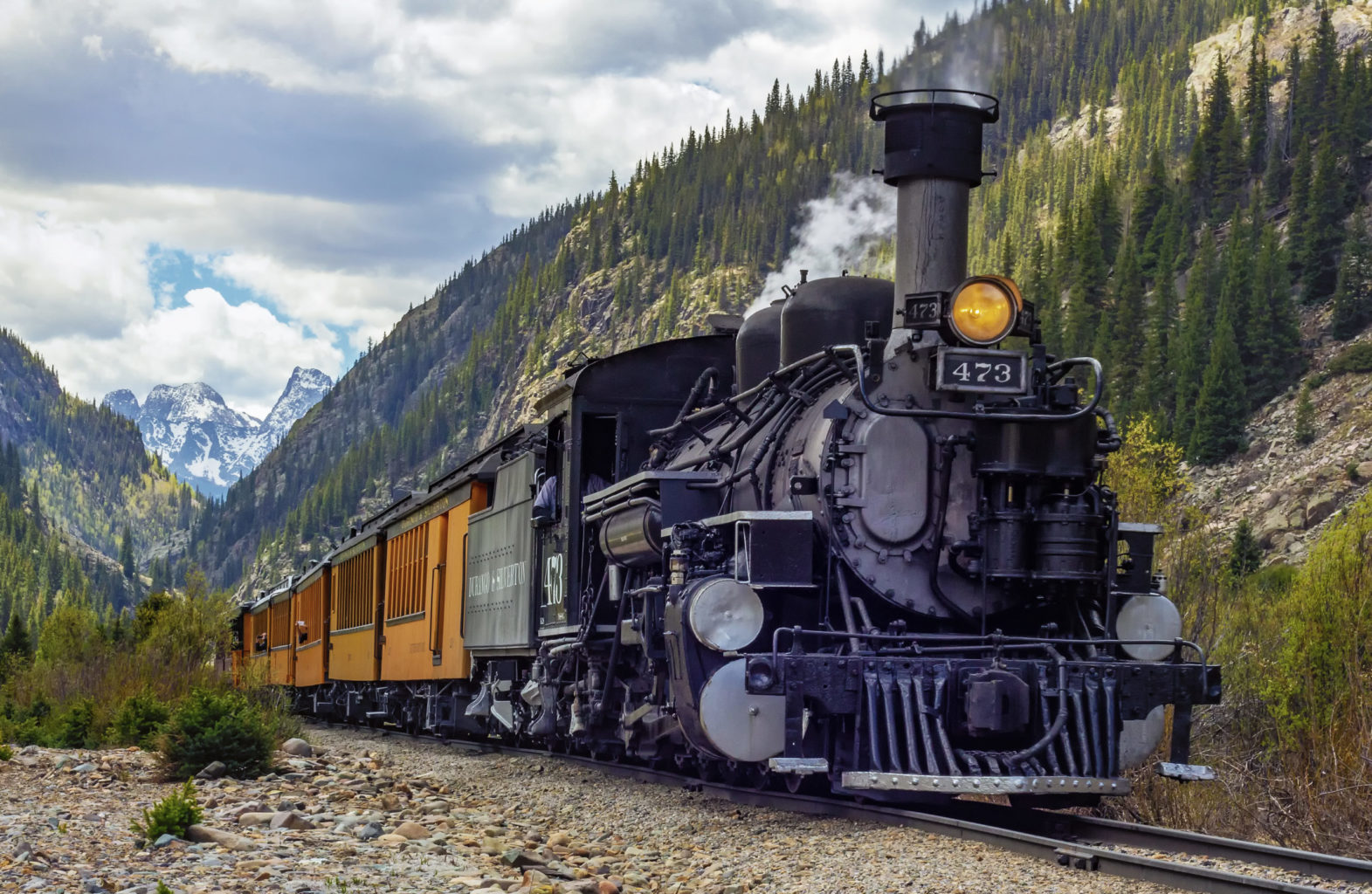 Trails & Rails Package
If you want to fully experience the San Juan Mountains in all their glory, we recommend combining a morning Silverton Jeep Tour with a one-way train ride back to Durango in the afternoon. This package comes with quite a few perks, including:
A scenic shuttle to Silverton on the San Juan Skyway
An off roading tour to Silverton's historic mining sites, waterfalls, and mountain meadows
Time to shop and grab lunch in Silverton
A 4-hour train ride through the Animas River Canyon to Durango (in lieu of a 10 hour round trip on the train)
Schedule:
8:00am: Meet your Mild to Wild shuttle driver in the Railroad parking lot located west of McDonalds on College Drive (All day parking is available in the DSNGRR parking lot).
8:15am:  Shuttle leaves promptly.
10:00am: Arrive in the historic, Victorian town of Silverton.
10:00am-1:00pm: Explore the high country and ghost towns with your guides on customized 4×4 tour vehicles.
1:00pm: Return to Silverton to enjoy shopping and lunch on your own.
2:30 pm: Board train for 2:45 train return to Durango.
6:15 pm: Arrive in Durango.
This package is available from May – October (Monday – Saturday)
Book the Trails & Rails Package

Location

Adventure Level

Season
Mild to Wild Packages
Mild to Wild offers a large selection of half-day tours that make it easy to mix and match adventures for those who are short on time. If you don't see a combination listed here that you'd be interested in, give us a call! Guests who book at least two of our trips that include Rafting, Jeep Tours or Mesa Verde receive 7.5% off of each trip!
Payment & Cancellations
Payment Options
1/2 down, 1/2 charged 30 days prior to trip.
1/3 down with remaining balance charged in thirds.
Call for other arrangements!
Free Courtesy Hold
We don't want you to miss out on this trip so we'll hold your spots, payment-free, for 24hrs while you make your final arrangements & prepare for payment.
Cancellation Policy
Receive a 90% refund with written notice 36 hours or more before the trip.
Fees
In addition to the listed trip cost, we collect an additional 8% for River and Land Access Fees (ie. Forest Service, BLM, City, Private Land Use).