Upper Animas
River Rafting
Upper Animas River Rafting
 Trip Highlights:
100+ rapids

Considered to be the most difficult commercially run rivers in the U.S.

Continuous Class II and III with intermittent IV's and V's – no pools!

The river drops at a rate of 85 feet per mile.
14,000-foot peaks rising from the banks of the river
Colorado's largest wilderness area – the famous Weminuche
Deluxe wilderness, semi-permanent camp
Two possible one-day sections, depending on the flows and your adventure level – Silverton or Needleton
Does part of your group want a mild trip while you paddle away all day? Check out the Lower Animas 3/4-Day!

Location/Season
Silverton, CO
Late May – Early August

Adventure Level
High Adventure: High swim potential and lots of contact with water. Adventure level changes by section. See below.

Class of Rapids

Restrictions
Needleton Section: 14+ (at lower flows)
Silverton Section & Rockwood: 16+
Physical fitness is essential. Required orientation the evening prior.
Wetsuits required (rentals available). Paddling experience recommended.
Upper Animas Rafting: Durango's Extreme Whitewater Rafting Experience
The Ultimate Class V extreme Colorado Whitewater Rafting Adventure!
Durango Extreme Whitewater Experience: Conquer continuous rapids and explore 14,000-foot peaks in the most spectacular and entertaining 26 miles of whitewater in Colorado. Considered to be one of the toughest commercially run trips in the United States, the Upper Animas river brings adventure enthusiasts from around the world to Durango, Colorado. Cascading creeks and waterfalls pour into the river as you face continuous sections of whitewater that leave your arms shaking from the constant paddling. Travel on the historic Durango & Silverton Train through the heart of Colorado's largest wilderness area to access this adventure, a unique and rewarding way to start and/or end your adventure. All participants must be strong swimmers, in great physical condition, and able to paddle as the boat bounces, spins, and submerges!  Mandatory pre-trip safety orientation includes a practice raft trip with a swim through a Class III rapid!
Looking for a great wilderness trip with lots of technical whitewater, but not quite the intensity of high-water runoff in June? As water levels lower in mid-summer so does the difficulty of the trip. Age recommendations drop to 14 for the Needleton Section and the trip lowers in intensity from extreme to advanced with one portage for those rafters who are under age 16 or do not want to run the bigger rapid. The ability to walk around the Class V rapids at more moderate water levels allows a larger spectrum of river enthusiasts to experience this magical Colorado rafting trip.
Our One Day Upper Animas River rafting guests only have one regret: missing out on our spectacular, deluxe, private camp and the thrilling rafting of day two! Our unmatched base camp is complete with a kitchen tent, potbelly wood burning stove, bathroom teepee, camp tables, and chairs, hammocks, horseshoes, games, campfire pit, and occasionally a visit from the area's bear! Then, after your relaxing night in the canyon, you get another spectacular day of whitewater rafting! All of the Upper Animas River rafting trip options are complete when you board the famous Narrow Gauge Railroad, overwhelmed with a sense of accomplishment, for your shuttle out of Colorado's most imposing canyon. Upper Animas raft trips starting at $449. Click here for directions to our main office in Durango.
Adventure Level Options
With three distinct sections, the Upper Animas has multiple adventure levels to suit your needs. All sections use a standard raft that will hold up to six guests.
Rockwood Gorge
High Adventure
Silverton Section
Extreme/Highest Adventure
Needleton Section
Intermediate/High Adventure
New Flexible Payment & Cancellations
Payment Options
1/2 down, 1/2 charged 30 days prior to trip.
1/3 down with remaining balance charged in thirds.
Call for other arrangements!
Free Courtesy Hold
We don't want you to miss out on this trip so we'll hold your spots, payment-free, for 24hrs while you make your final arrangements & prepare for payment.
Fees
In addition to the listed trip cost, we collect an additional 9% for River and Land Access Fees (ie. Forest Service, BLM, City, Private Land Use).
Cancellation Policy
We conform to the Durango & Silverton Narrow Gauge Railroad cancellation policy. Train ticket refunds/cancellations are subject to a fee cancelled 5 days before your reserved date. There are no refunds issued on reservations cancelled less than 5 days before your reserved date.
Receive an 80% refund with written notice 5 days prior to trip departure. Less notice, no refund.
At Upper Animas orientation, if determined this is not right for you, for 1 day trips you may apply the trip cost to another available trip, less $250 per person for the nonrefundable train ticket & orientation. For overnight trips, the non refundable amount is $300 per person. Train tickets may be able to be transferred depending on the train's availability.
Trip Insurance through RoamRight is recommended to help cover unforeseen circumstances.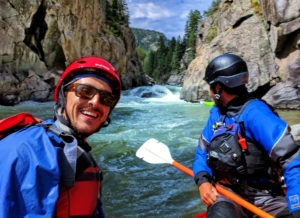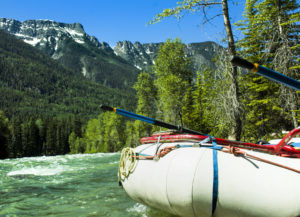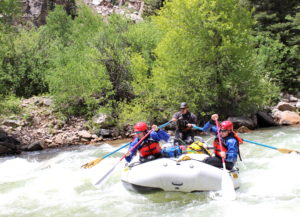 10 REASONS TO ADVENTURE WITH MILD TO WILD
20+ Years Expereince Guiding on the Upper Animas
1.
Guide to customer ratio average is 1 to 4
2.
Extra Safety boater for every 2-3 rafts, depending on flow
3.
Train shuttle included in price, $85 value
4.
Pre-trip, on-river orientation with a practice raft trip and swim
5.
Extra thick thermal wetsuit rentals – 5mm wetsuits, 2.5mm wetsuit jackets, wetsuit boots, gloves & skull caps
6.
Satellite/Spot Communication for Extra Safety in the Canyon
7.
Trip leaders average 5,000 river miles (Forest Service requires 1,250)
8.
Rated #1 on Tripadvisor
9.
Various raft sizes to give you the best adventure at different water flows
10.