Why You Should Do Moab and Telluride in the Same Trip
By Kim Cassels • May 13, 2022
3 Reasons Why You Should Do Moab and Telluride in the Same Trip

Trying to decide between a trip to the desert or the mountains? Why not just do both! The sculpted sandstone of Moab, Utah and craggy mountains of Telluride, Colorado reside in one of the most unique wilderness areas on the continent. And! They're less than 150 miles from each other. The distance makes this an easy and convenient road trip, and each area can be thoroughly enjoyed if you have about a week to ramble.
For outdoor fanatics, both Southwestern residents and visitors alike, the countless opportunities between the two towns will allow you more ways to recreate. Too hot to climb in Moab? Telluride's projects will keep your cool. Missed the river season in Telluride? The Colorado River will still be running!
Check out some of the other reasons we've whipped up to do Moab and Telluride in one epic, Southwestern voyage!
---
#1 Experience Two Completely Different Landscapes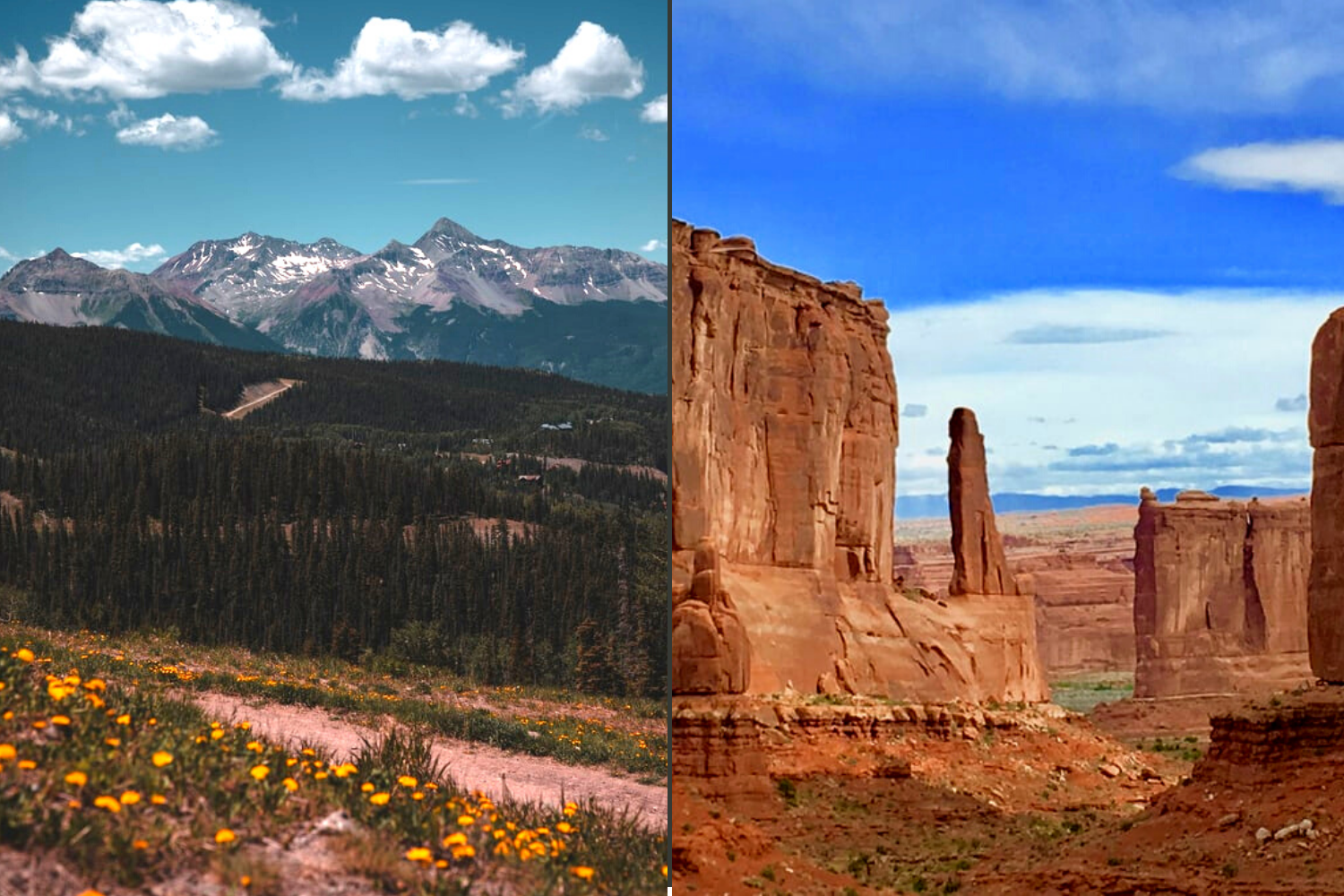 Moab and Telluride's terrain couldn't be more different. Nestled below granite cliffs and roaring waterfalls, Telluride is one of the most picturesque destinations in the heart of the San Juan Mountains. From bountiful wildflower meadows to crystal clear lakes below snow capped peaks, it's purple mountain majesty at its realest kids. 
Meanwhile, Moab's blushing desert has some of the most dramatic, geologic vibes on the planet. Its slickrock undulates in an ocean of sandstone, decorated with looming terracotta sculptures and windswept arches. It's no Mars on Earth— it's far, far more interesting! 
The Moab and Telluride "trip special" gets you world renowned scenery from each end of the spectrum. While these destinations feel worlds apart, they're less than 3 hours away from each other. Plus, when you're burnt out on Moab's heat, Telluride's mountain air supplies the relief you'll be yearning for the second leg of your trip!  
---
#2 Pair Up Two World Renowned Destinations for Outdoor Adventure
With great wilderness comes great expeditions! And even though these landscapes are near opposites, Moab and Telluride offer very similar opportunities recreation-wise. In fact, you could basically put together identical itineraries in each place! Or trade out one activity in one place to do in the other! Example A…
Play on the Colorado & San Miguel River 
Floating the Colorado River in Moab brings on the jaw dropping scenery of Castle Valley. This relaxing section is a must to beat Moab's heat, and is great for paddle boarding, kayaking and rafting. The rafting season in Castle Valley is from late March to early October. 
Rafting Trips in Moab
The San Miguel River is a narrow, free-flowing stream that churns up constant class II and III rapids through the alpine. This is the perfect intermediate trip for those who want to get in on the action of navigating this technical waterway. The rafting season on the San Miguel is from late May to July. 
Telluride Rafting Trips
Cruise Big Views in the Backcountry through Moab's Kane Creek & Telluride's Imogene Pass 
There are countless off roading trails surrounding Moab, and Kane Creek is the gateway to many of them. This chiseled canyon offers an amazing variety of routes to become immersed in the scenery. And it's immediately accessible from town! 
Moab Jeep Tours
If you want to truly experience Telluride's novelesque peaks, wildflower meadows and mining history, you'll have to learn to love exposure during the climb! The rewards are colossal, as this old mining road is the second highest drivable pass in Colorado. 
Telluride 4x4 Tours
Shred it up in Moab's Klondike Bluffs and Telluride's Mountain Village 
Klondike Bluffs is mountain biking paradise for its variety of slickrock and singletrack trails. This is a primo wilderness area for any experience level with more than 20 trails ranging from green to black. 
Moab Mountain Biking Trails
The elevation in Telluride is over 8,700 feet, so the climbs here are a whole other level of brutal. That's why the ski resort turns to a mountain biking haven during the warmer months, letting riders and their whips use the chair lift / gondola. Get ready for descent city! 
Telluride Bike Park
Trek Dramatic Trails in Moab's Devils Garden and Telluride's Blue Lakes 
If you want to see a slew of Moab's famous arches, the Devils Garden is a magical hiking area in Arches National Park. The park can get fairly congested during spring and summer, but the Devil's Garden provides more solitude to admire countless red rock embows. 
More Moab Trails
The Blue Lakes Trail is one of the most rewarding hikes in Southwest Colorado. The impressive elevation gain leads to three astoundingly beautiful mountain lakes. Along the way, you'll trek through multicolored wildflower meadows, hallways of aspens, and glacially sculpted valleys.  
Telluride's 10 Best Hikes
Send it on Moab's Wall Street and Telluride's Via Ferrata
In Moab, climbers don't discriminate on where they can find a good crack or slab to send. Right off Potash Road, you'll find a great selection of routes to scale without an excursion to the approach. 
Moab for the Adventure Junkie
A climbing venture right in town, the Via Ferrata (meaning Iron Way) is a climbing experience many clip into during a Telluride adventure. This intensely exposed route has a series of iron steps and cables hundreds of feet above the valley floor.
Climbing the Via Ferrata
---
#3 The Routes Between are Spectacular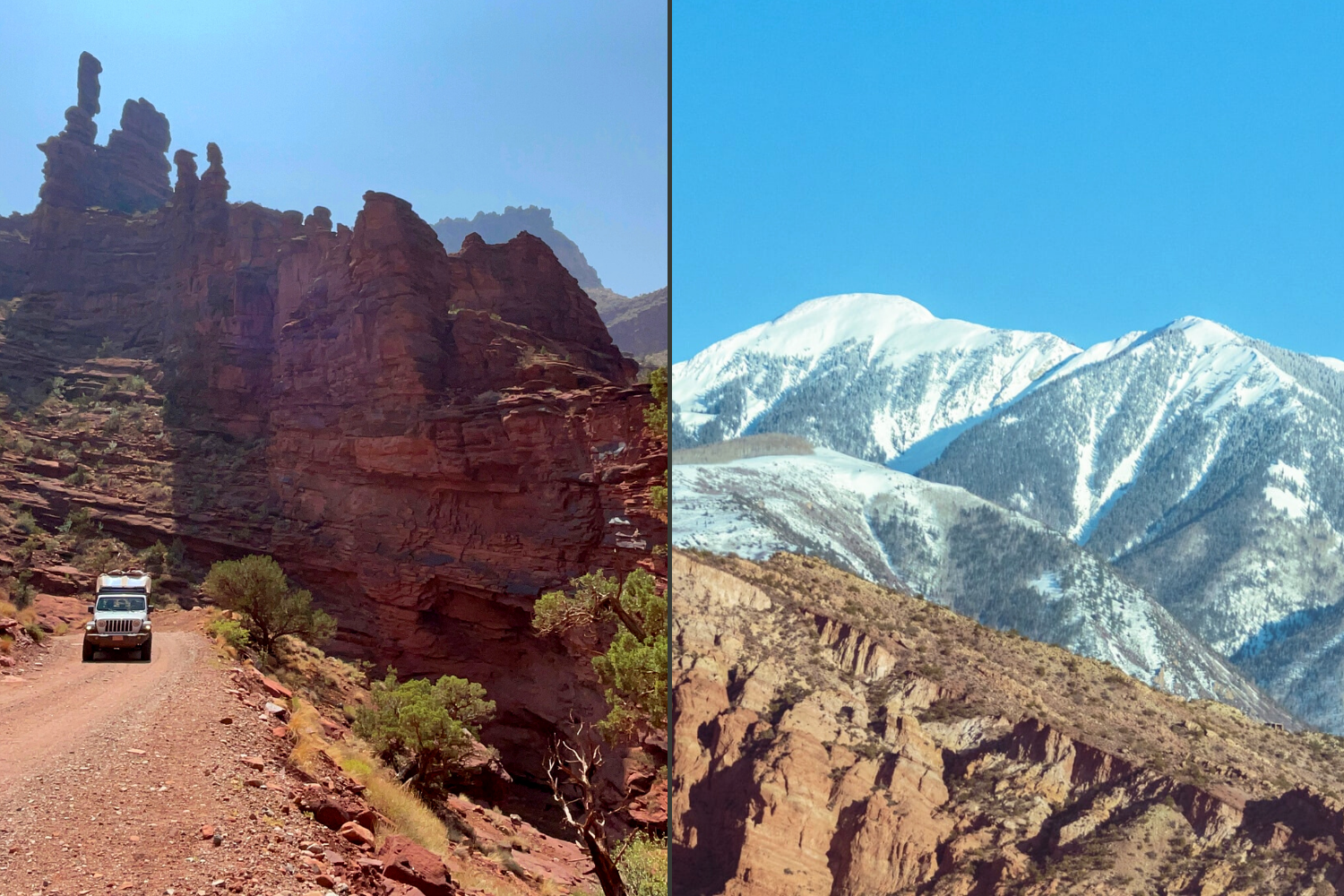 Highway 141 & Highway 90
130 miles 

2 hours 40 minutes
Two Lane Highway through diverse scenery
Once you've passed through Norwood and Redvale's farming plains, rubbled cliffs and pinion forests will start to emerge through the Paradox Valley. This drive comes with expansive views, where mesas stagger the windswept terrain, and the La Sal Mountains rise right out of the prairie before arriving at Highway 191. 
CO 145 to/from Gateway & Safari Route to/from Castle Valley 
161 miles

4 hours 20 minutes 

Spectacular drive between the red rocks of Gateway, paired an exciting backcountry road through Utah.
4×4 required
If you want to truly take the scenic route between Moab and Telluride, this dusted "highway" from Gateway, Colorado is one of the best ways to cruise the Southwest's backcountry. The paved portion of this drive from Telluride to Gateway follows the Dolores River in a canyon quite reminiscent of Moab's Castle Valley. 
From Gateway to Moab, the asphalt quickly stops and the dirt begins. This 50 mile stretch reveals a desert landscape juxtaposed by looming ponderosas and scrub oak hallways. Then, you'll drop into the aeolian canyon of Onion Creek, leading to the sculptures and crimson cliffs of Castle Valley. You'll see pavement once again as your hop on Highway 128 to cruise into Moab. 
NOTE: Don't take this route within a few days of rain— you will most likely get stuck in the mud! Otherwise, this dirt road is surprisingly smooth (mostly).
---
Planning a Moab and Telluride Trip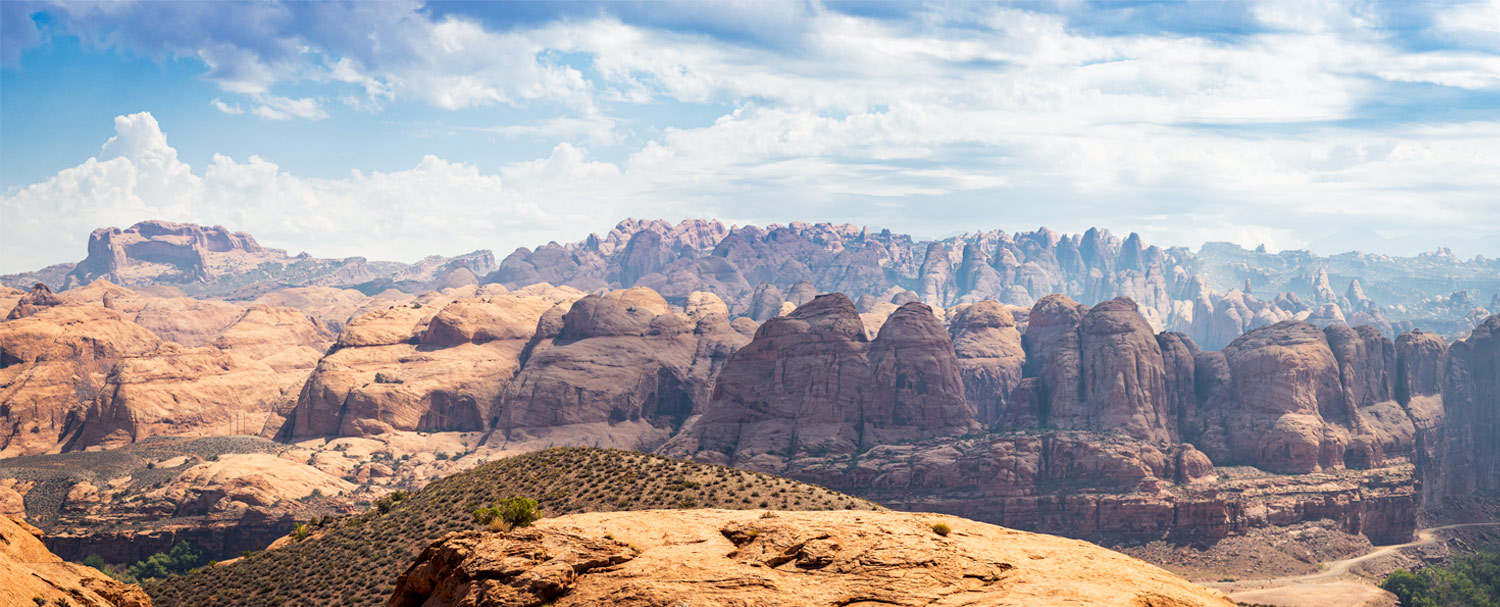 If you decide to take a Moab and Telluride trip, be sure to check out some extra planning resources in advance depending on the time of year you're going! In spring or summer, you may want to consider going to Moab first, and then cooling off in Telluride.
If you're going in fall, Telluride's colors start to turn in late September while Moab's start a couple weeks later. For winter, Telluride offers some of the best skiing in Southwest Colorado, and Moab will come with the most serenity and solitude one could ask for.
As for events, there are plenty of festivals in Telluride from spring to fall, while Moab starts throwing most of its shindigs in October.
More Reading
5 Cool Places to Camp in the Four Corners You Probably Haven't Heard Of 
Get New Blog Posts in your Inbox