The Ultimate Utah and Colorado Road Trip – For Travelers Seeking Unrivaled Western Wanderlust
By Kim Cassels • April 30, 2020
We understand and support that we must all do our part to slow the spread of COVID-19 even if that means postponing your adventure plans. Until we can travel in a responsible manner once again, we are continuing to share travel inspiration, road trip ideas, epic scenery, and more to encourage you to keep dreaming of your future travels that will help support the tourism and hospitality industries that have been hit so hard. 
The Ultimate Utah and Colorado Road Trip – For Travelers Seeking Unrivaled Western Wanderlust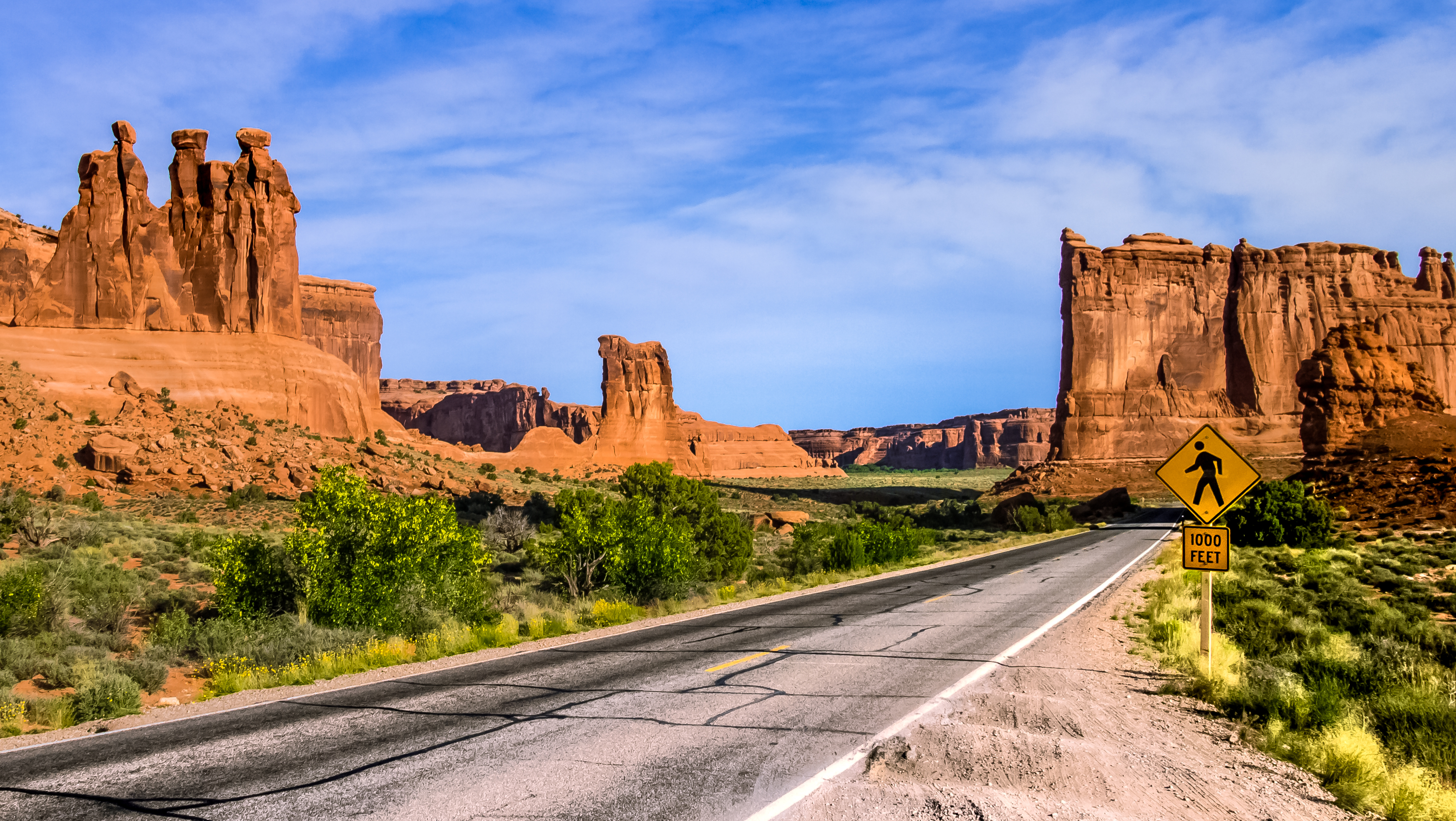 If you've never made your way out West, or you live in the great mammoth of the Colorado Plateau but haven't hit some of its major hot spots, get ready for this loop of a lifetime. This Utah and Colorado road trip hits two national monuments, two national parks, three famous mountain towns, and plenty of remote wilderness in between. Mazes of slender slots canyons and alpine meadows swept with wildflowers are just the beginning of the wonder that waits along the way. 
So get ready to get a face full of sunshine and air so fresh you'll wish you could drink it. Keep in mind the West's sunsets and sunrises come in pigments so saturated they might break your camera and simultaneously your sense of reality. The landscapes here are wild, where even the rocks have grooves that undulate with the rhythm of Mother Nature's beat-dropping finesse. Love it, respect it, and explore the wide open spaces of it. Check out this loose itinerary for roadtrippers of all archetypes with highlights of each destination and little local insights along the way. 
Where the Journey Begins – Salt Lake City, UT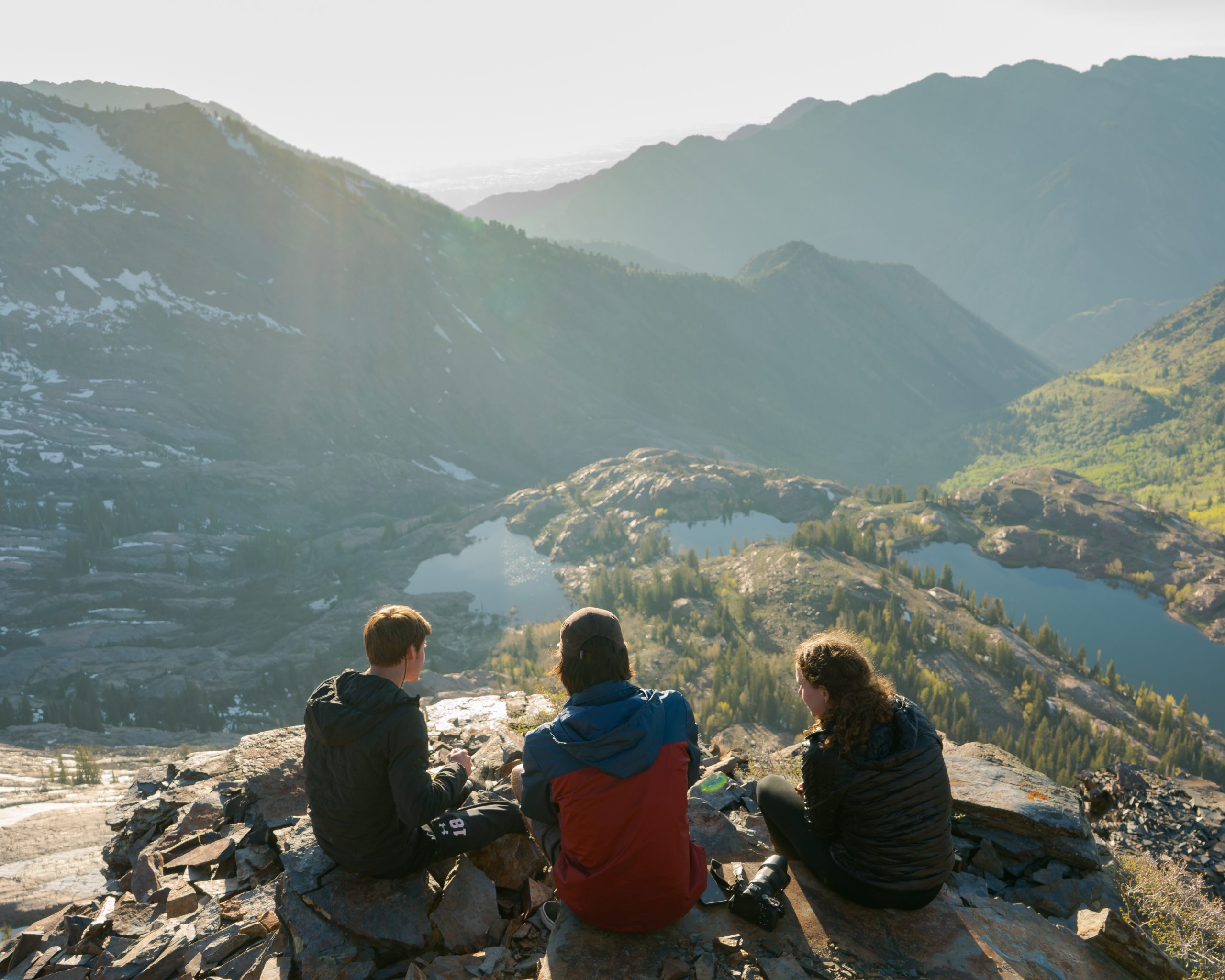 Salt Lake City is surrounded by humongous parks in need of constant ego boosts. The Uinta-Wasatch-Cache National Forest sits along this loop with quintessential Utahn mountain terrain. Dozens of lakes, rare wildflowers, thriving wildlife, snow capped peaks, and dense forests will keep you busy more than you have time for. Whether you decide to start your trip off with an epic wilderness right away, or round your journey out with this as the final cherry on top, spend some time here either way. 
Take I-80 E, then hop on US-189 until Park City (stop in for some skating at the Park City Ice Arena and Sports Complex if you feel so inclined) where you'll take UT-248 E until Kamas, then UT-150 E.   
Dinosaur National Monument UT/CO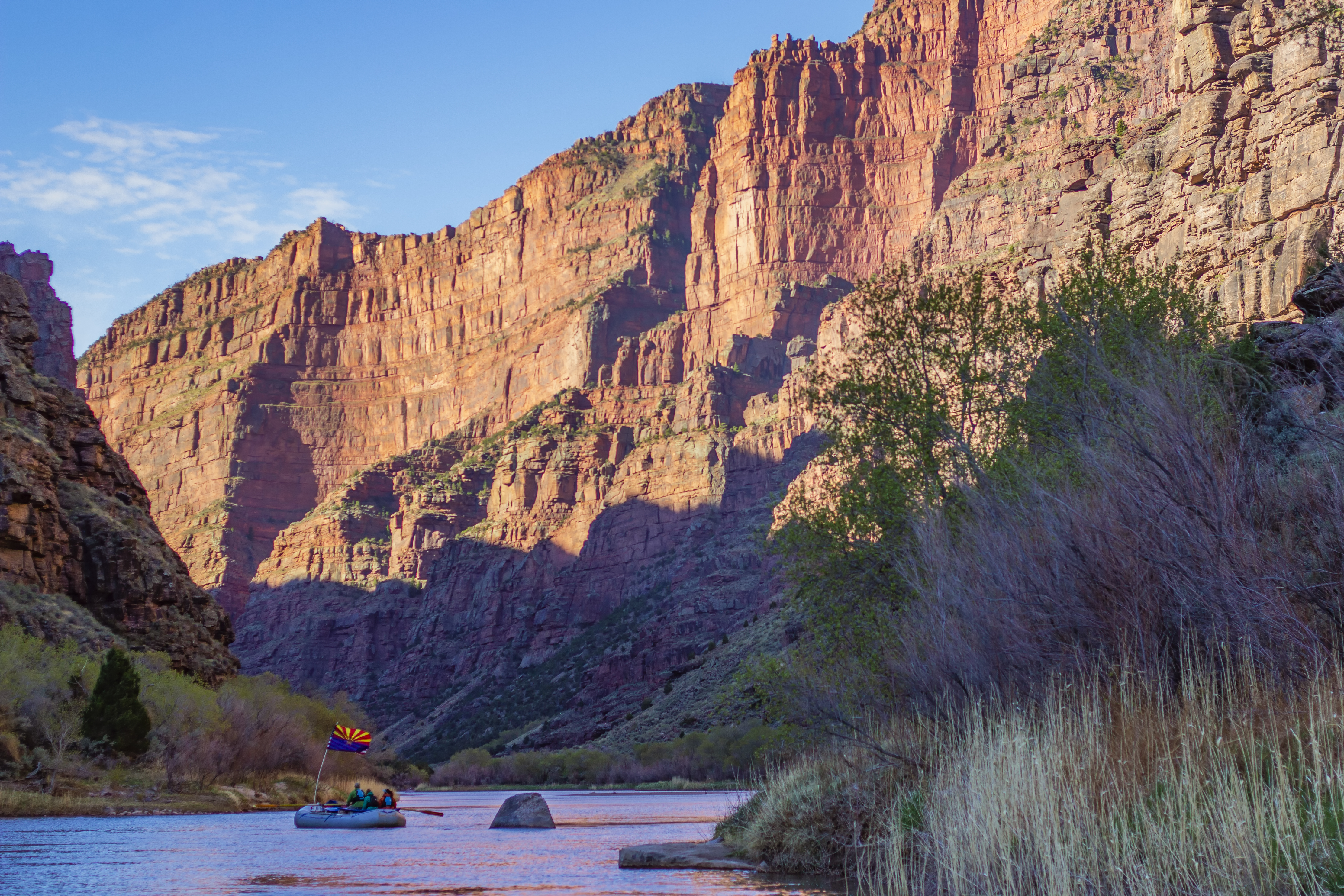 Eastbound across northern Utah, the scenery unravels into drier valleys filled with farmland until reaching the Uinta Mountain range again near Vernal. Utah and Colorado are exceptional Jurassic burial grounds, and this particular river canyon system is significant for its wealth of jumbo skeletons. Major excavations of this area began in 1909, which can still be given a good ogle today at the park's quarry.  
What to do
Two ancient rivers collide in the park that both offer blue-ribbon, multi-day wilderness extravaganzas. Hands down, the best way to experience Dinosaur National Monument is by raft. The Green River takes the float through the Gates of Lodore, a crimson crevice littered with silky beaches and historical significance. The Yampa River cuts through a blonde, tiger striped canyon, and is unique for it's no-dams-given environment, making it an incredibly special river for its wild nature. 
On your way in or out of the monument, get some fries with that shake at Bedrock Depot just off US-40 in the town of Dinosaur. The deli counter sits among a bounty of porcelain trinkets, children's books, rocks with fishes and glitter, jewelry— sky's the limit here! The sandwiches come hot (the reuben may result in transcendence) and the malts are made with homemade ice cream.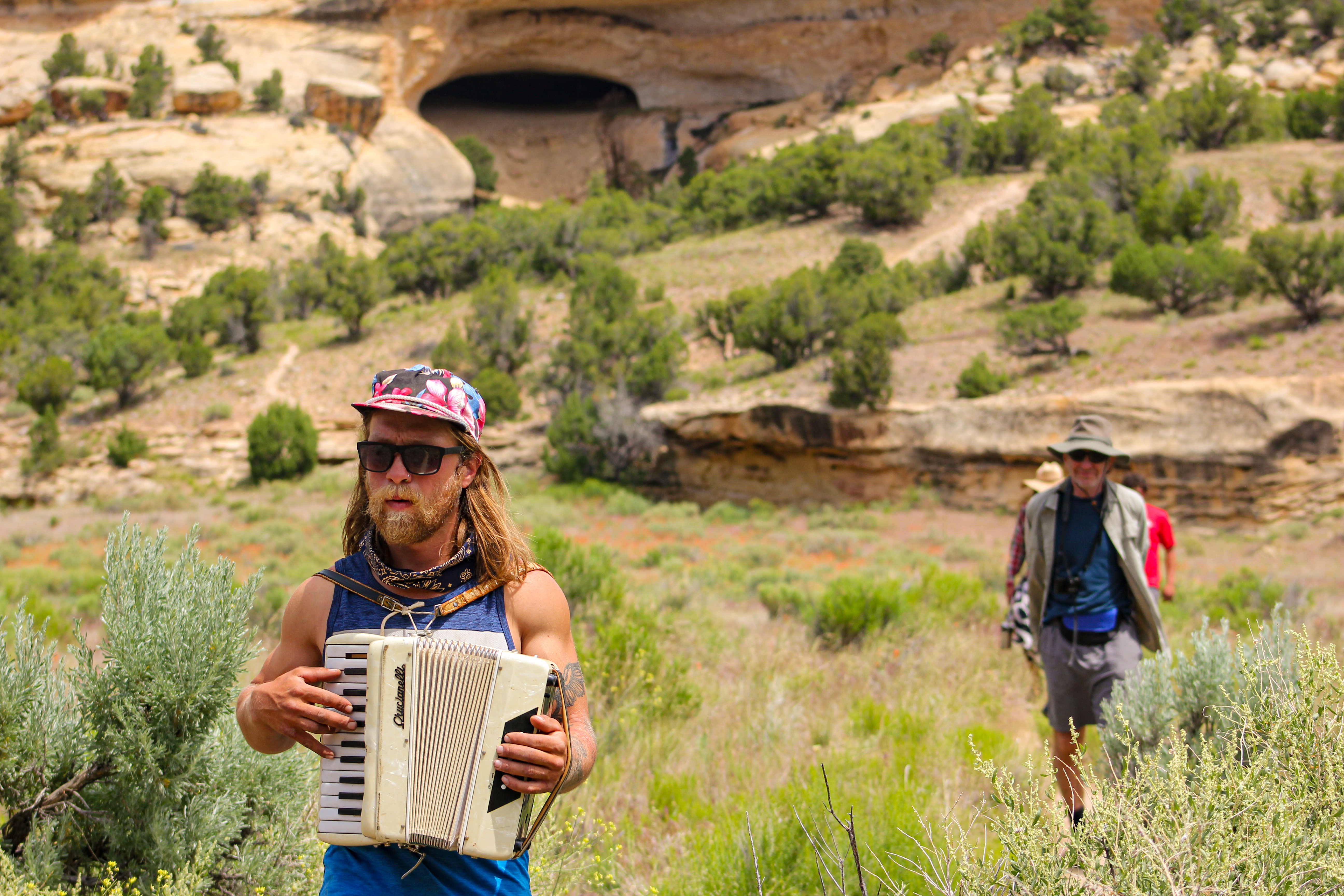 Local Tip
The nuance of quixotic probably started here in the bedrock of geological wonder, or maybe how Big Horned sheep on cliff walls balance better than most circus animals. If you're itching to see both, don't miss Jones Hole, a lush side canyon accessible both from the Green River or by Harpers Corner road.  
Grand Junction, CO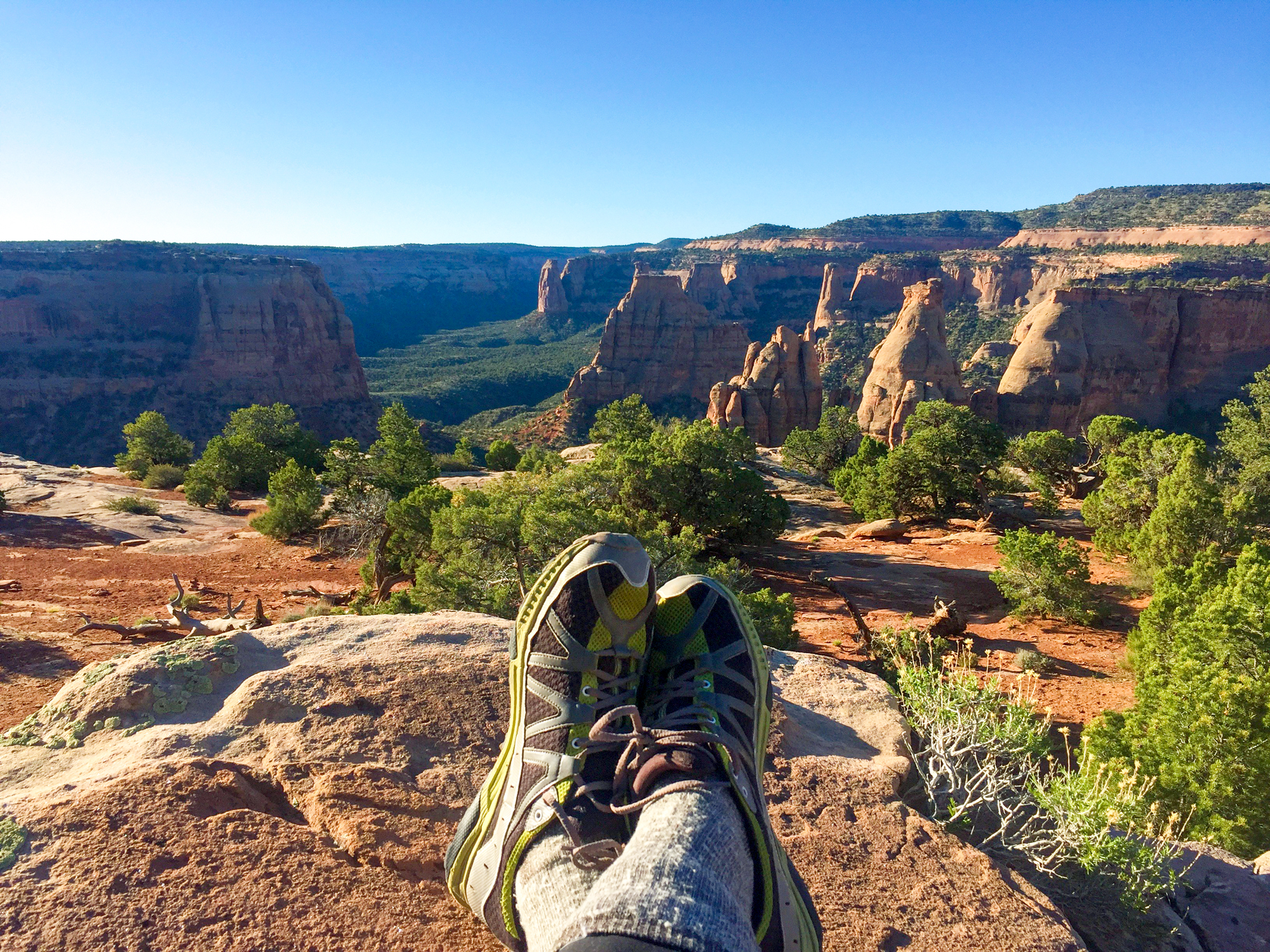 Heading south out of Dino, take CO-139 (Douglas Pass) to experience this mini mountain range on the way into Grand Junction. While the town itself isn't necessarily "happening'" aside from the super friendly locals, what makes this area lit is the surrounding terrain.
What to do
Colorado National Monument is just half an hour out of Junction and offers pristine hiking, biking and climbing. Don't miss the Devil's Kitchen Trail and Kissing Couple, and Independence monument for climbers. Not so down for any of those things? Hop on Rim Rock drive and enjoy the astounding views via air conditioning.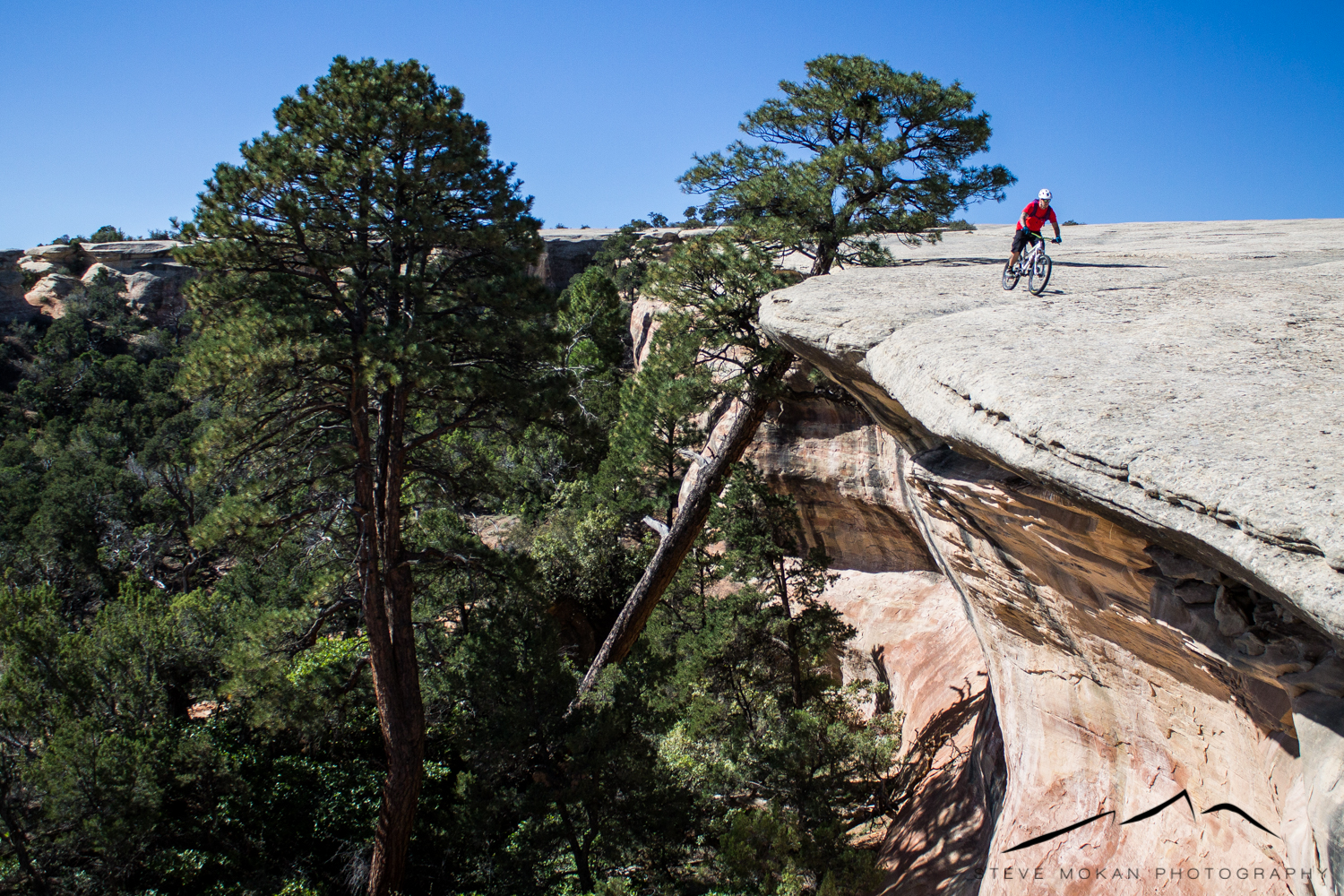 This is considered some of the best mountain biking country around for it's sandstone staircases and sweaty-palm-making exposure. Whether you're into pedaling your calves into swoll heifers, or you're just getting started, there's a swath of stellar trails here. For experienced riders, don't miss the Ribbon.  
Local tips
Grand Junction doesn't offer many campgrounds, but in the next town over in Fruita travelers can find some dispersed camping on BLM land. Head north on 18 road and keep left at the fork to reach some peaceful camping near plenty of mountain biking trails.  
Also, if you're here between June and October, do not, we repeat, DO NOT! miss your chance to get half your face around a Palisade peach. You can find them at the farmer's market, or just keep your eyes peeled for charming road signs. 
Ouray, CO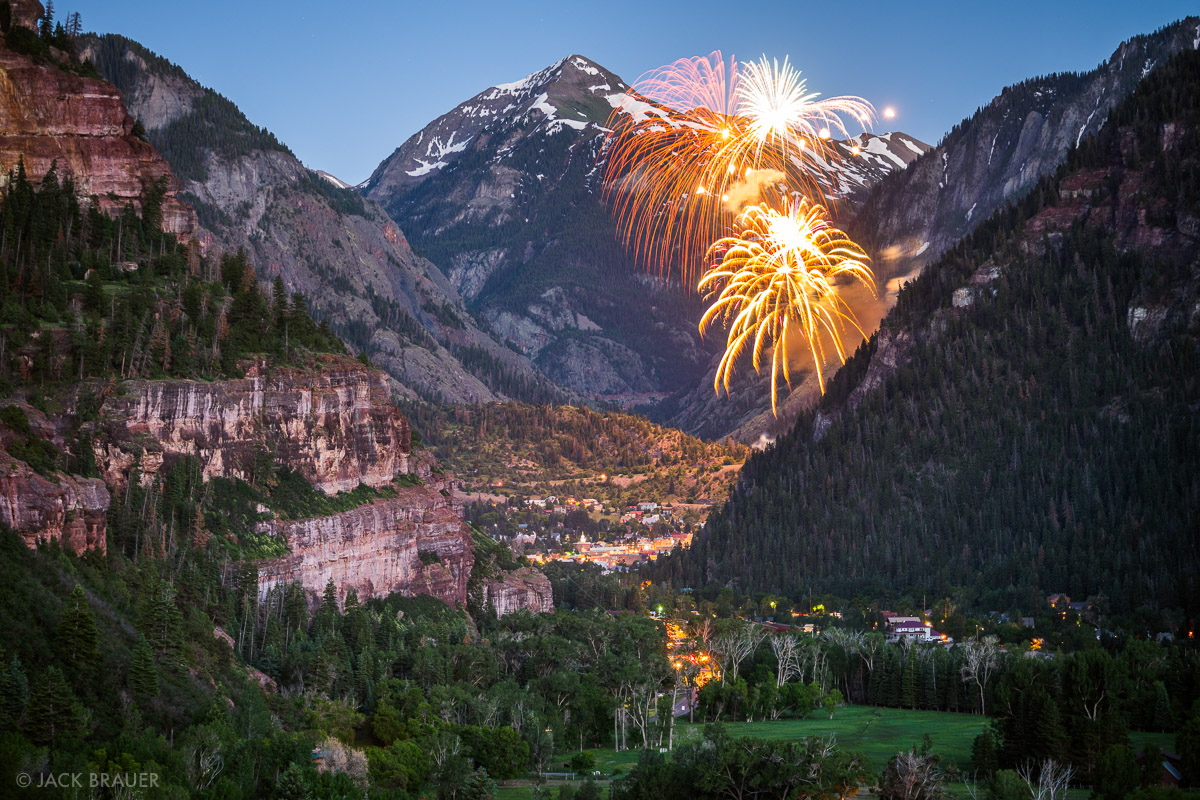 It's time for Rocky Mountain righteousness. Head out of Junction on US-50 E until Montrose (stop at Heidi's Brooklyn Deli for lunch) then hop on US-550 S where you'll reach "America's Switzerland" within the hour. This precious civilization below a fortress of fourteeners is known for its world-class ice climbing and exceptional good looks. Also, it's pronounced Your-Ray, not Oooo, Ray or Our Ray, it's everybody's ray. 
What to do
Box Canyon Falls park is just the start of incredible hikes in and around town. This steel walkway floats above a ferocious mountain stream that continuously shapes this narrow quartzite passage. It's a rare opportunity to explore a box canyon of this grandeur, so get there first thing in the morning or later in the afternoon to enjoy these misty hallways in peace. 
Speaking of waterfalls, ever looked at one and thought, "You know what that thing needs? Me falling inside of it on a rope." Ouray is balls to the wall for outdoor adventure, so it's natural that repeling into Earth's flooded basements comes with a demented touch here. Canyoning first timers will never feel more alive while simultaneously praying their hooks hold (they will, get over it!) Book a tour and make a memory you'll be bragging about for the rest of your life.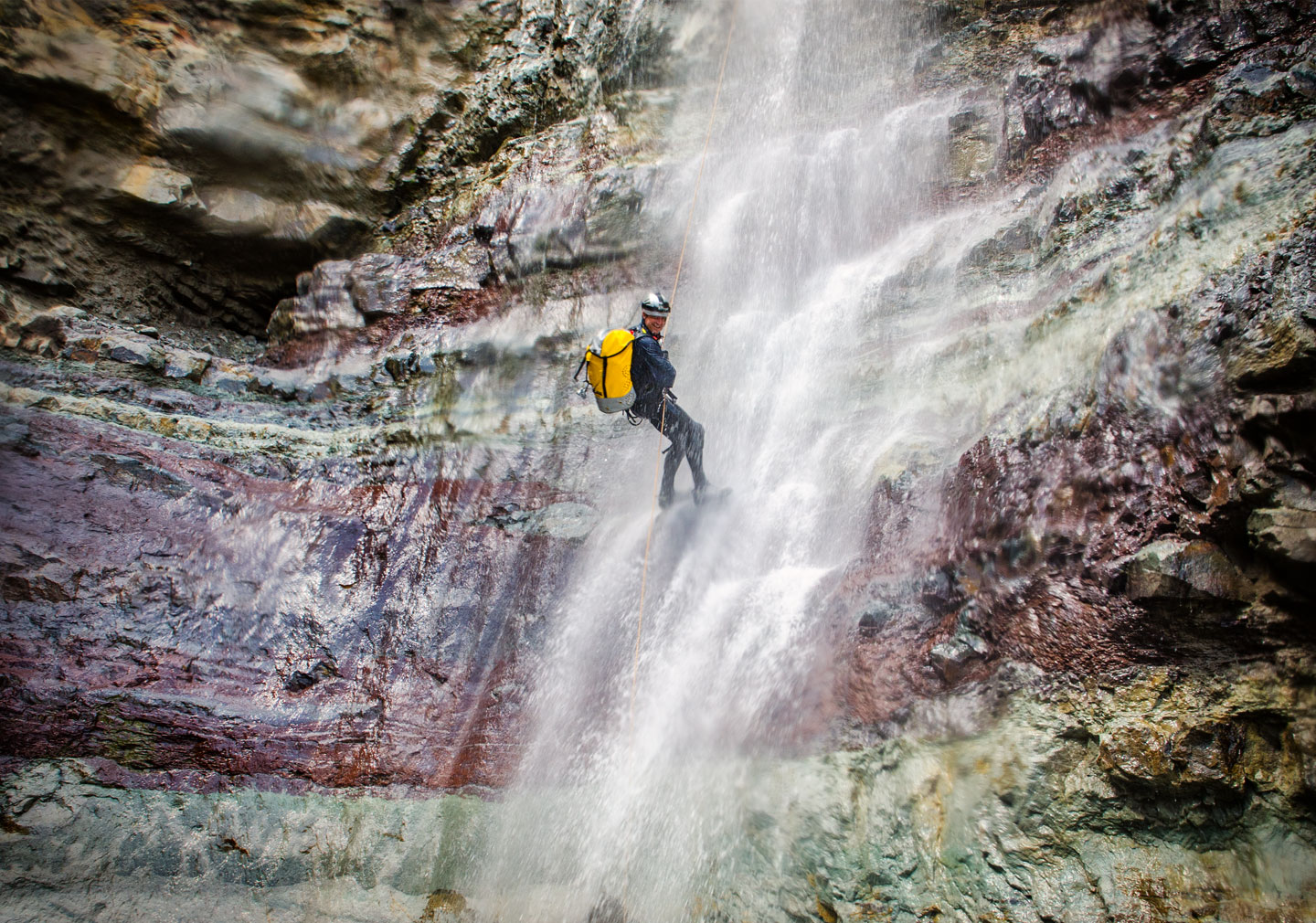 Local Tip
Ouray's hot springs are steamy, soothing, and a little busy. To discover natural hot springs in their primitive form, check out Chattanooga on the way to Silverton. Pull off US-550 onto Forest Road 679, then right onto 820 to head toward Columbine Lake trailhead. It's not marked, so if you find them, you've earned it. If you're down for a strenuous day hike with an immense reward, it's a strongly suggested to trek the Columbine Lake trail. 
Silverton, CO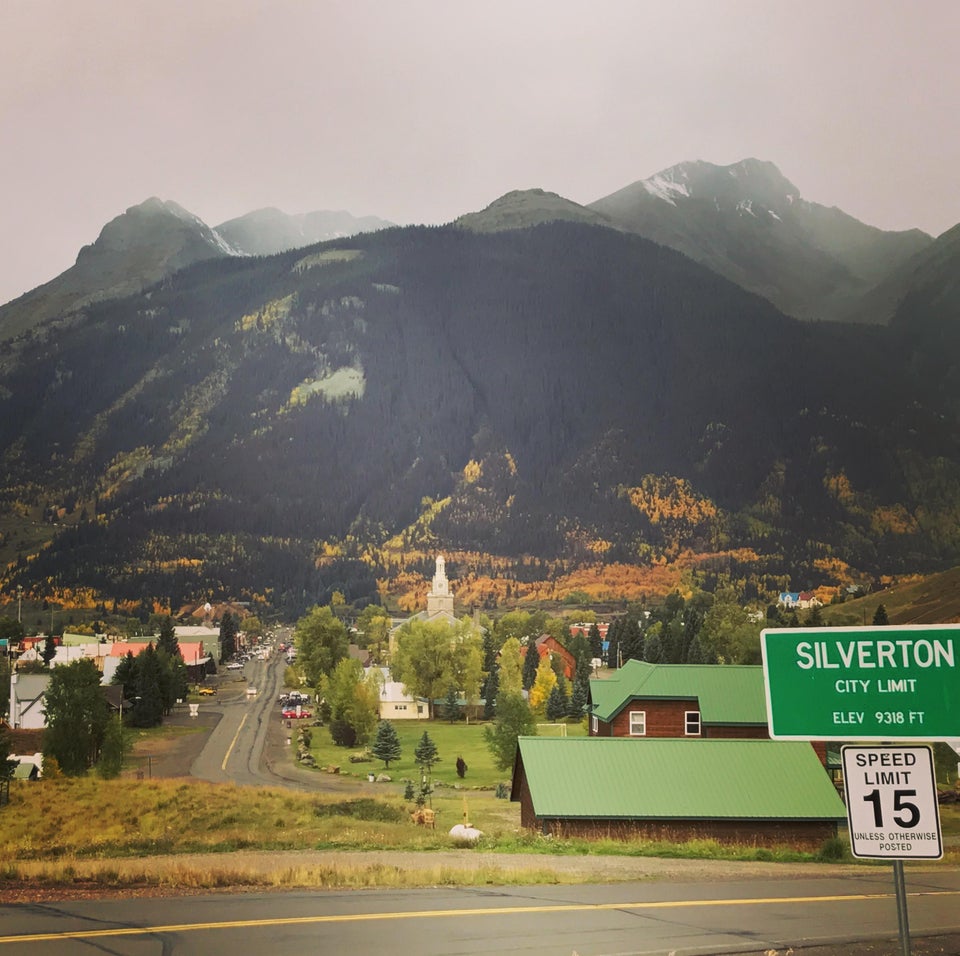 This next stretch of US-550 S, the "Million Dollar Highway", is one of the most mug-gaping routes in North America. Stop along the way over Red Mountain Pass for a peek over a cliff's edge (it lets the driver understand their responsibility in completion) and to explore waterfalls like Bear Creek Falls and rickity mines from the 19th century at Ironton and Yankee Girl. 
What to do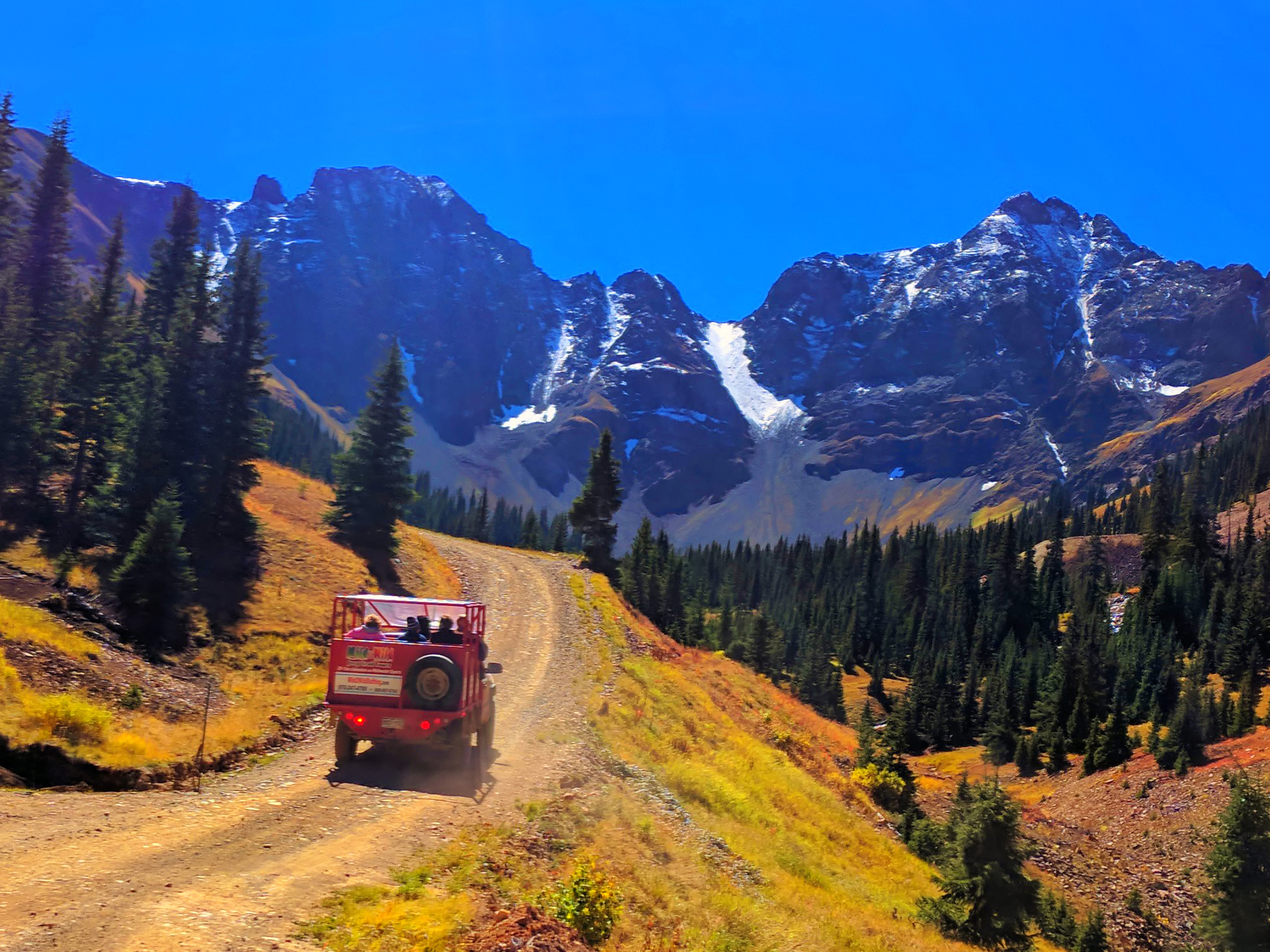 Silverton's surrounding peaks were once mining hubbubs where bearded boys in suspenders went blasting and digging into mountain sides in search of lucrative minerals. Their century old routes touch 13,000 foot peaks, and pass through Victorian ghost towns, blossom covered meadows and looming waterfalls. Get up there with an OHV or take a jeep tour for a legit Silverton experience.  
While you're there, you'll see one of the most righteous rivers of Colorado. You can think of the Upper Animas River less like a dulcet tributary and more like a whitewater breathing dragon. Naturally, someone has to fight the beast, so why not in an inflatable boat with a couple paddles for weaponry? Rafting the upper Animas is the ride of all rides to have ever… ridden, which also comes with a ride on the Durango Silverton Narrow Gauge train to transport you back to civilization.  
Local Tips
Silverton is totally nostalgic for its well-preserved 19th century vibes, but luckily the food has come a long way from slapping boiled meat on alum toast here. Get some fried treasures from the very cozy Rocky Mountain Funnel Cake Factory and a brewski from Avalanche Brewing (heads up, drinking at 9,300 ft brings a buzz on pretty quick).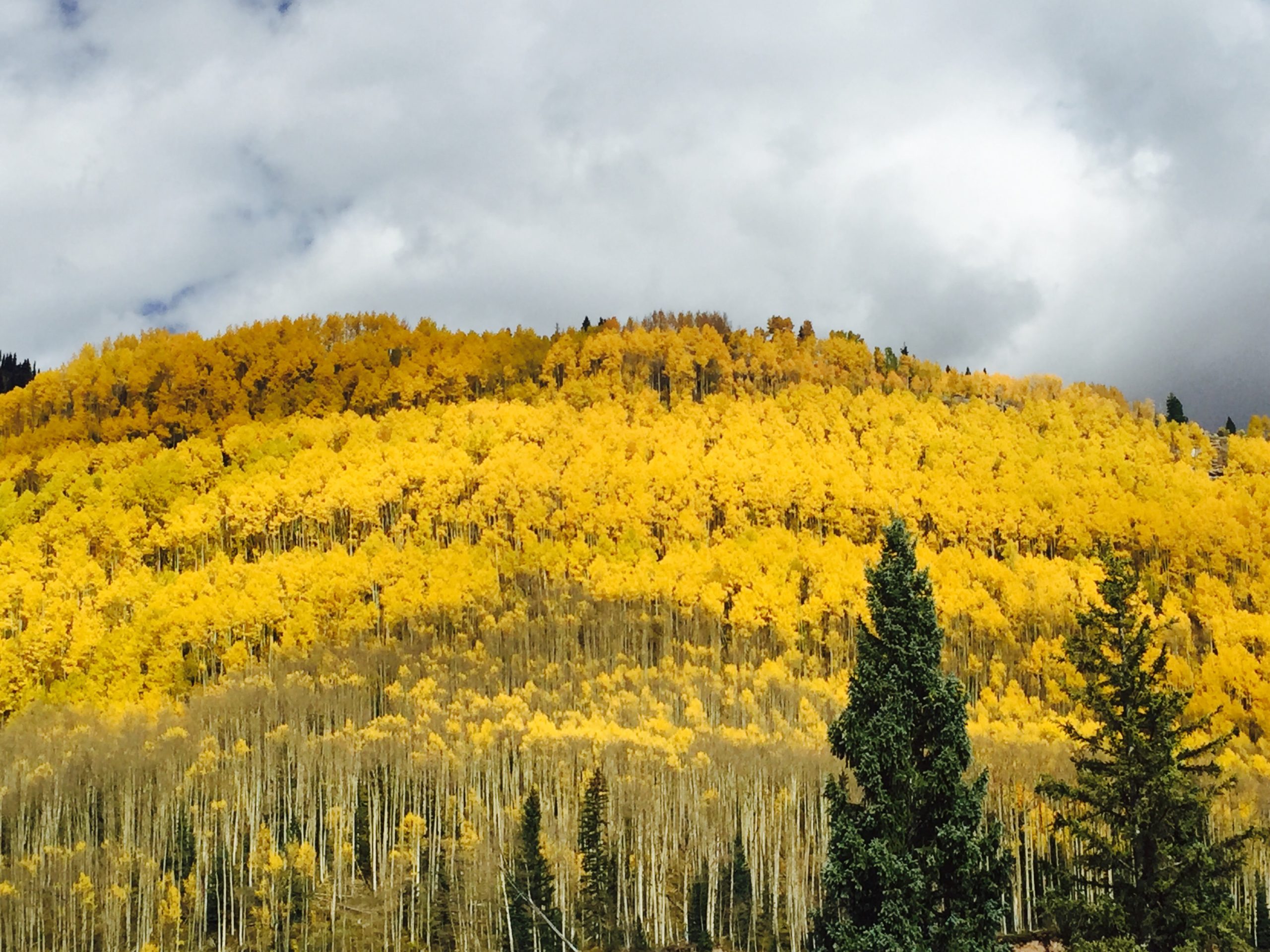 Also, if you love autumn like 100% of the population does, this area turns to El Dorado in late September to early October. It's also moose mating season! So, pretty romantic all around.  
Durango, CO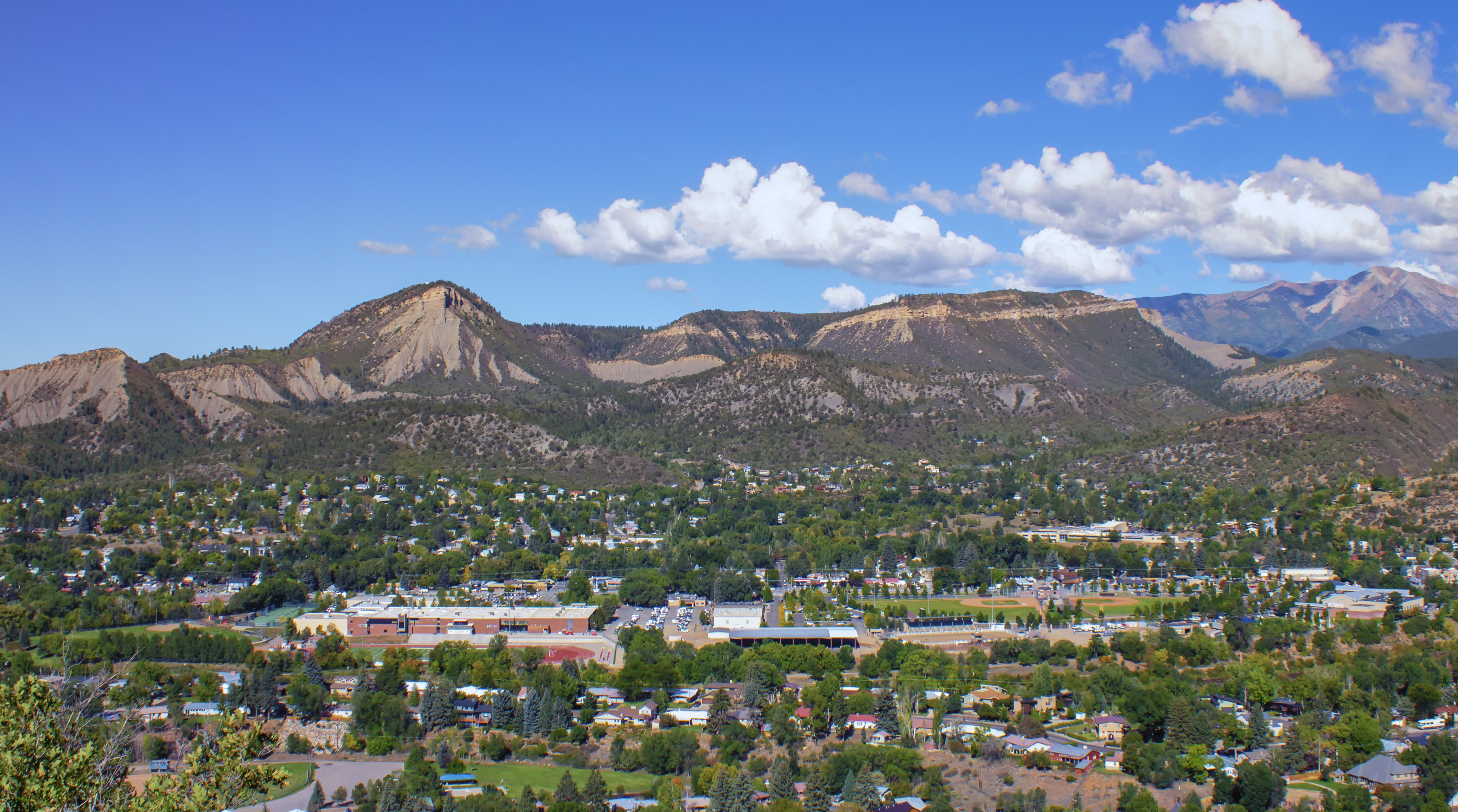 The next section of US-550 S drops down into the Animas Valley, where the Rockies begin to mingle with high desert mesas. If you're interested in primo camping and taking a gander at the Colorado Trail, stop at Molas Lake at least for a full day. Once you cruise into Durango, you'll find it's a bit bigger than the previous mountain towns and Colorado culture at its crunchiest.  
What to do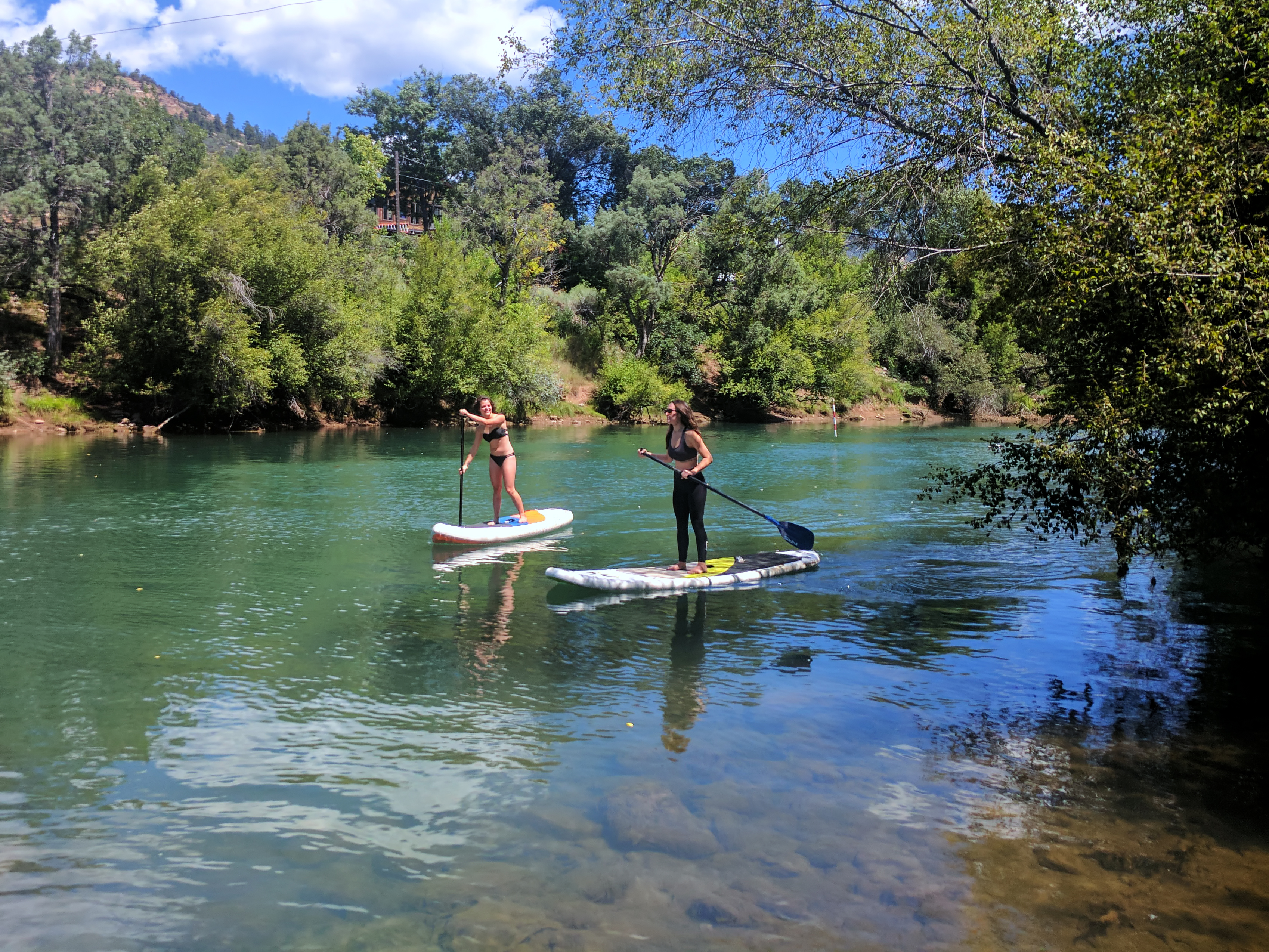 The Animas River runs right through Durango, where rafting, kayaking, and SUPing are some of the best ways to spend the afternoon here. In between your runs at Smelter Whitewater Park, grab your grub from downtown Main. It's hard to go wrong on this street as the heated competition for best burgers, tacos, pizzas and enchiladas keeps every spot on point. Grass Burger locally sources all its mouth-watering beef, or if no one can make a decision, hit up 11th Street Station for bomb diggity food truck heaven. 
If you're here during the not-so-snowy months, Purgatory Ski Resort still has opportunities to shred. The Alpine Slide and the Inferno Mountain coaster are both easy breezy tracks that induce plenty of chuckles as you max out at 25 mph. If you want to join a cult of mountain biking fanatics for the day, the slopes are covered with single tracks that start ala chairlift— yew baby, yew. 
Local Tips
If you decide to take a staple experience on the Durango Silverton Narrow Gauge Train, ride it only one way. Otherwise, enjoy 6 hours chug-a-lugging less than 30 mph.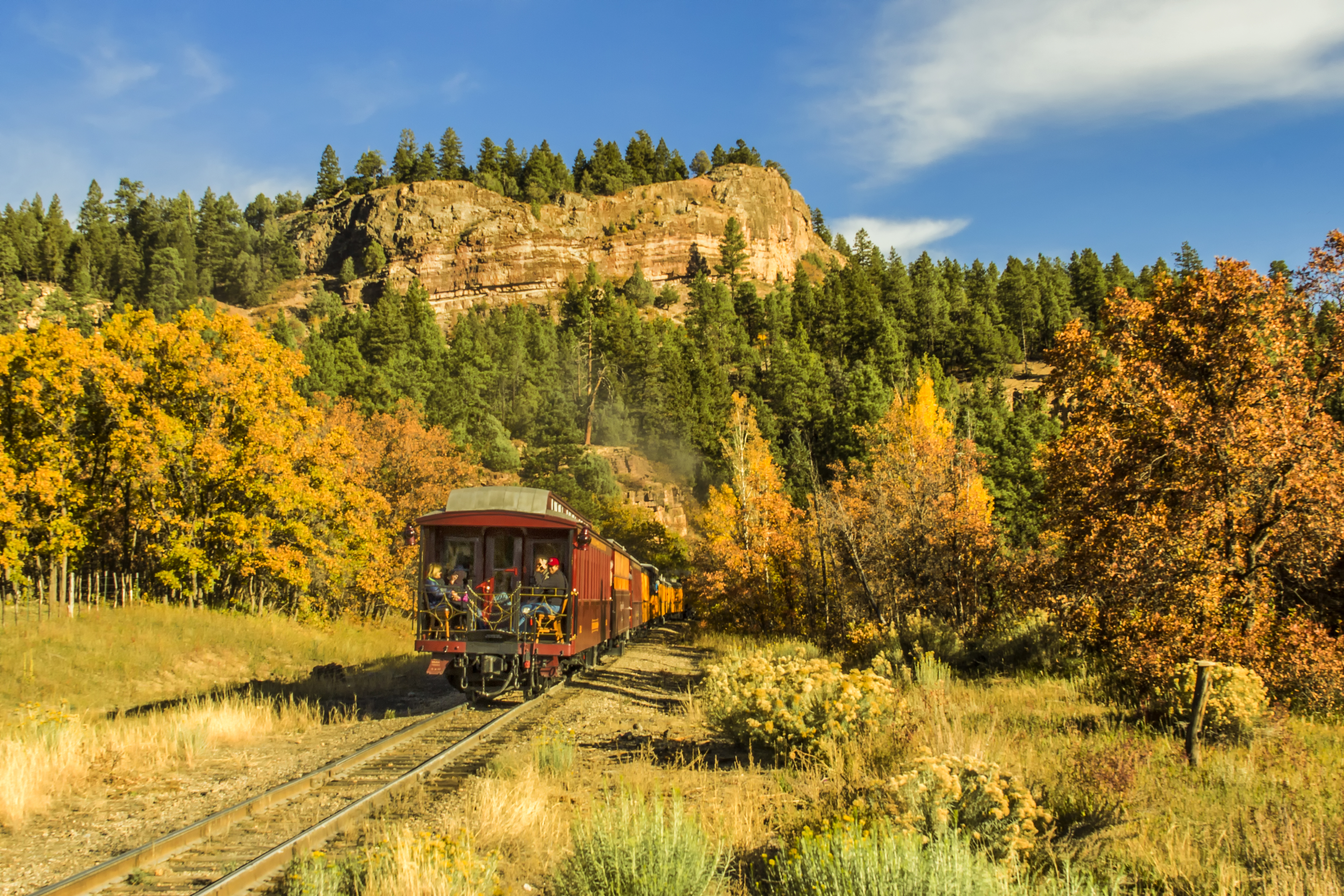 During Labor Day Weekend, this town sounds like one big throttle as the Four Corners Motorcycle Rally fills the valley with awesome events. Even if you're not traveling this loop on two wheels, it's an incredible tradition to witness. 
The entire town is connected by the Animas River trail, so if you want to take a break from being in the car (also, parking here from spring to fall is a doozy and complete p.i.t.a) you'll look like a local anyway. 
After your day out exploring Durango, stop by Steamworks Brewing for a refreshing pint of Colorado Kolsch and their famous Cajun Boil!
Mesa Verde, CO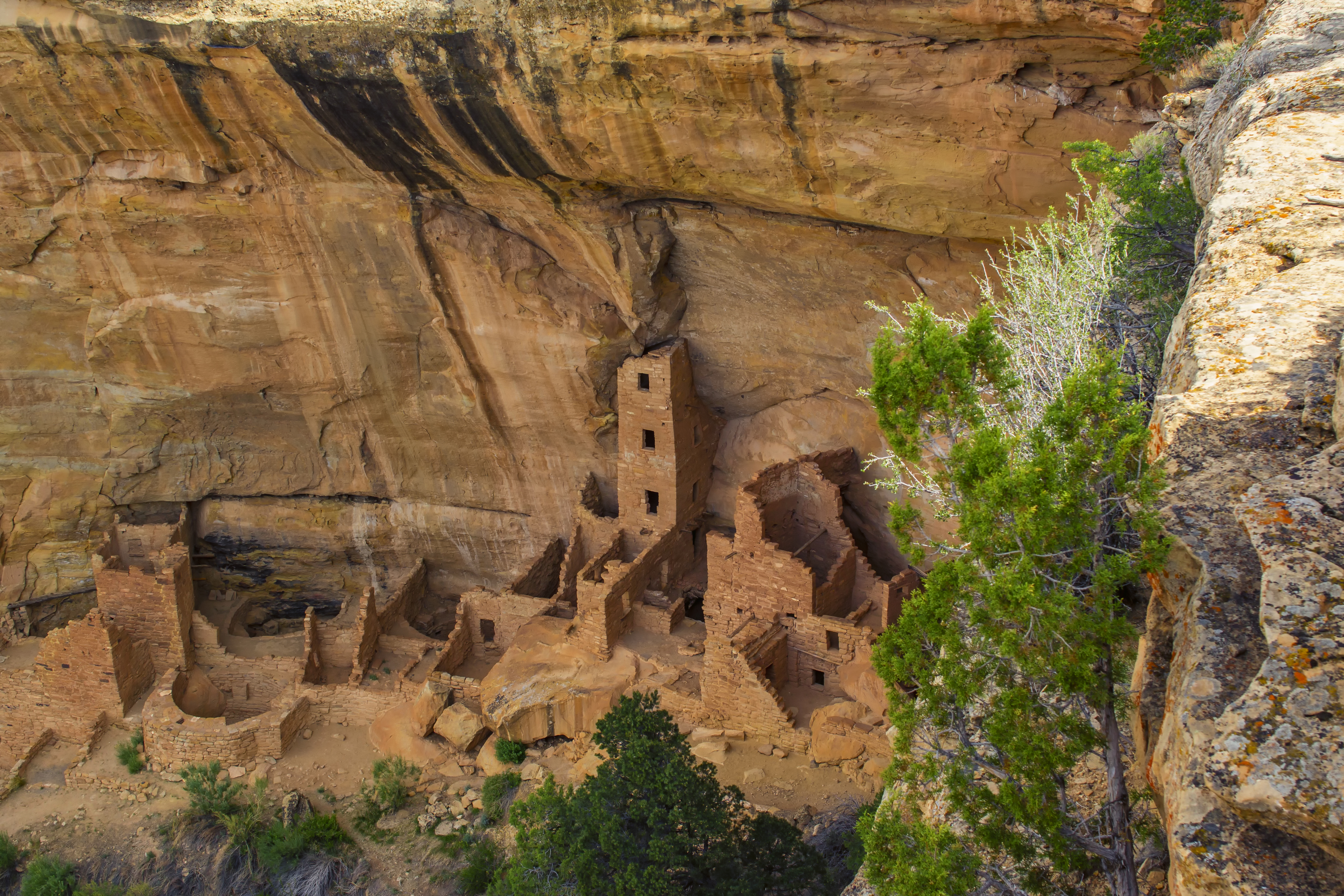 Head west on US-160 along the La Plata mountains. You'll be getting into OG Colorado country home to long-term ranchers. Mancos remains an undiscovered gem, so enjoy it while you pass through. 
What to do
Mesa Verde National Park is an archaeological dreamscape of ancient palaces resting inside the overhangs of sandstone cliffs. A guided tour offers more access to the park along with impactful insight into the Puebloans who thrived throughout this area 700 years ago. Tours traverse the high hanging dwellings by multiple ladder systems that are closed to general hikers. For those who want to explore the area on their own, there are tens of miles of trails to see this enormous historical park. 
Local Tips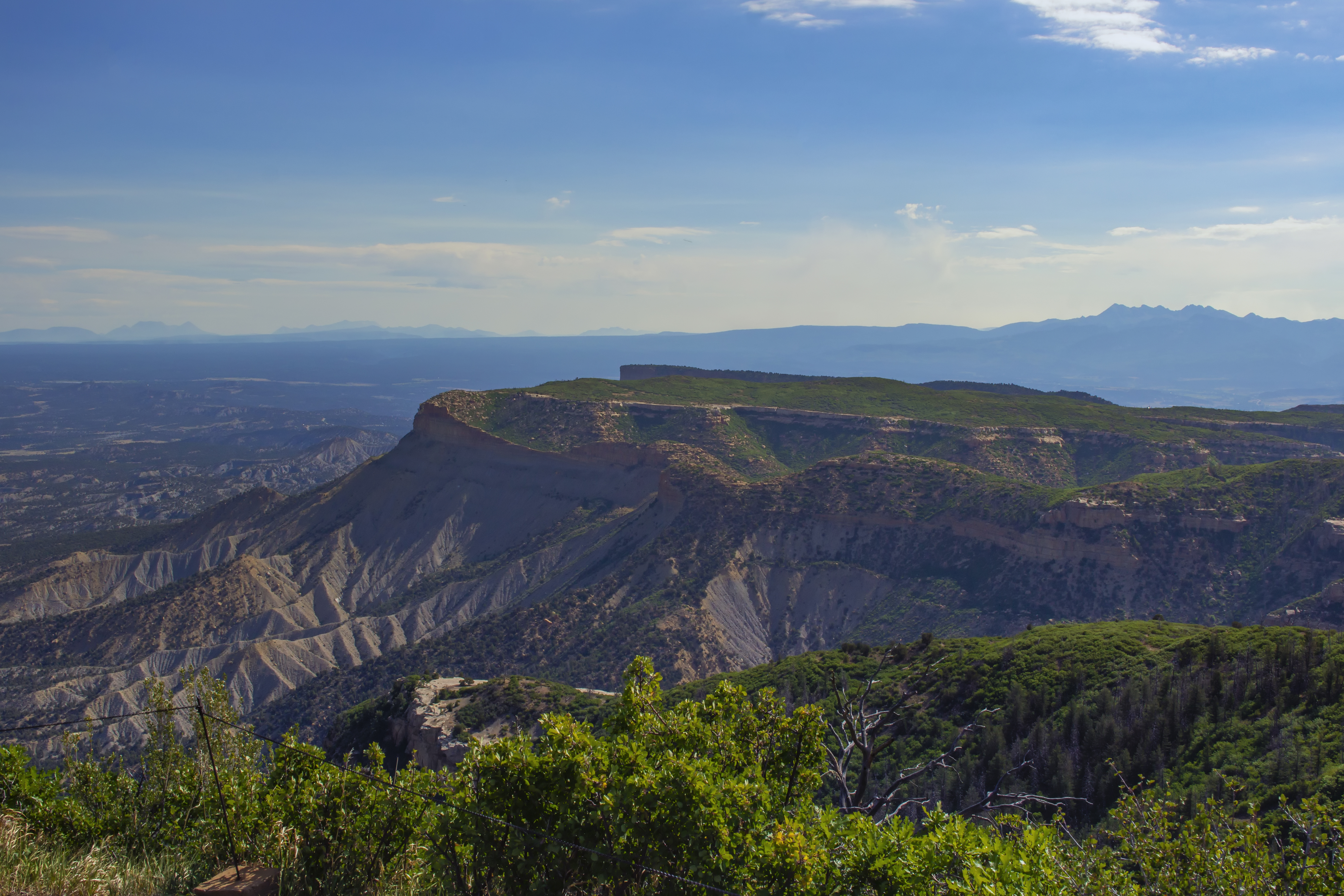 Staying inside the park is easy at Morefield campground. Free camping is nearby on County road 34 off US-160, but if you're looking for some amenities, Mancos State Park is also a great option especially for RVs. This area occupies an incredible surrounding wilderness, so practice bear safety no matter where you camp. 
Don't underestimate the small town scene here. Stop at Fenceline for the best ciders you'll probably ever try and Chavolos Mexican Restaurant for table-smacking good carne asada tacos.  
Moab, UT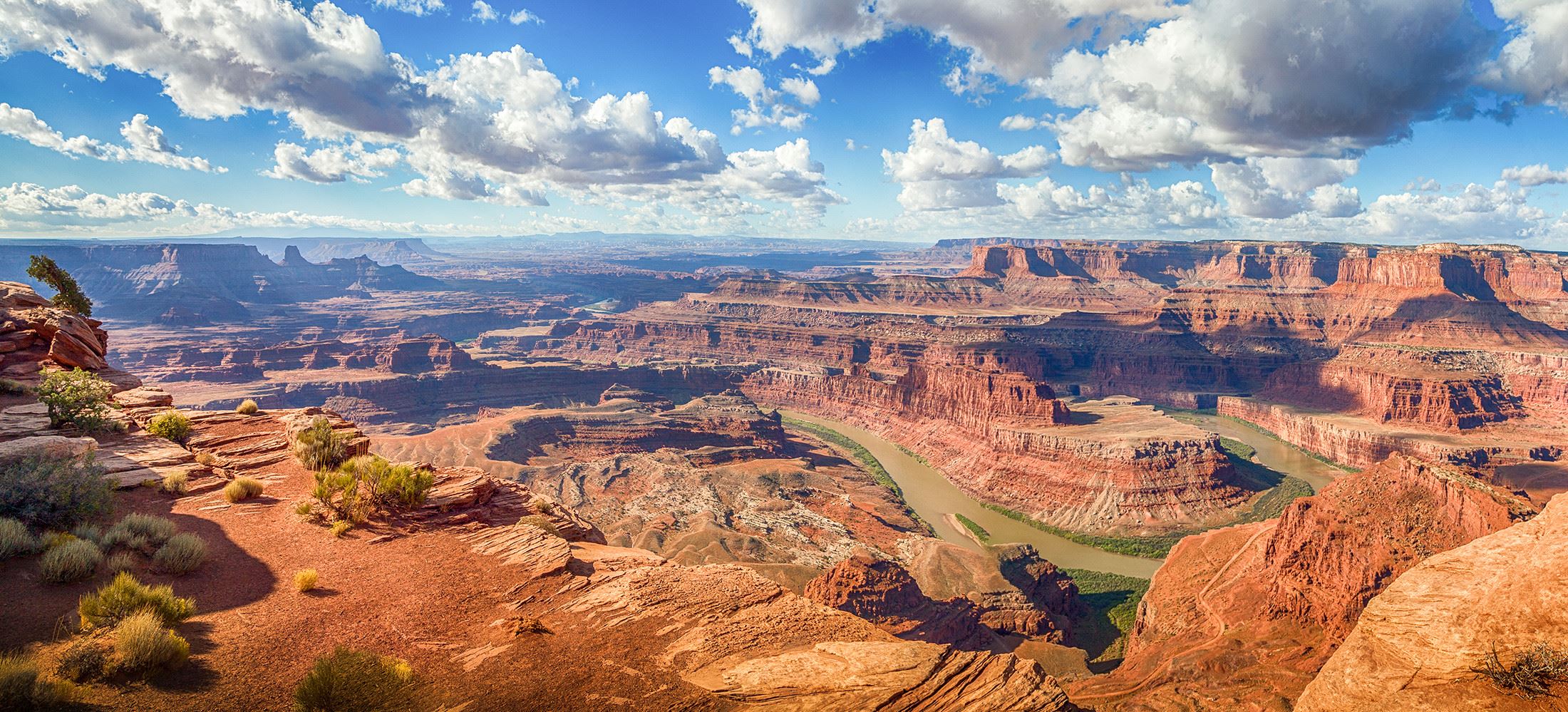 From Mancos, turn at the only light in town onto CO-184 W. Follow 184 until US-491 N. Don't worry if you get a little deja vu, that really is an identical Conoco station on the corner like the one outside Dolores.
Also, the hole in the wall next door, Bubba's, is more than worth the stop for smothered burritos and homemade pie. This two-lane highway does get busier as you start to near Moab both with drivers and pull offs for easily accessible photo ops, so drive mindfully as this landscape from Mars unfolds. 
What to do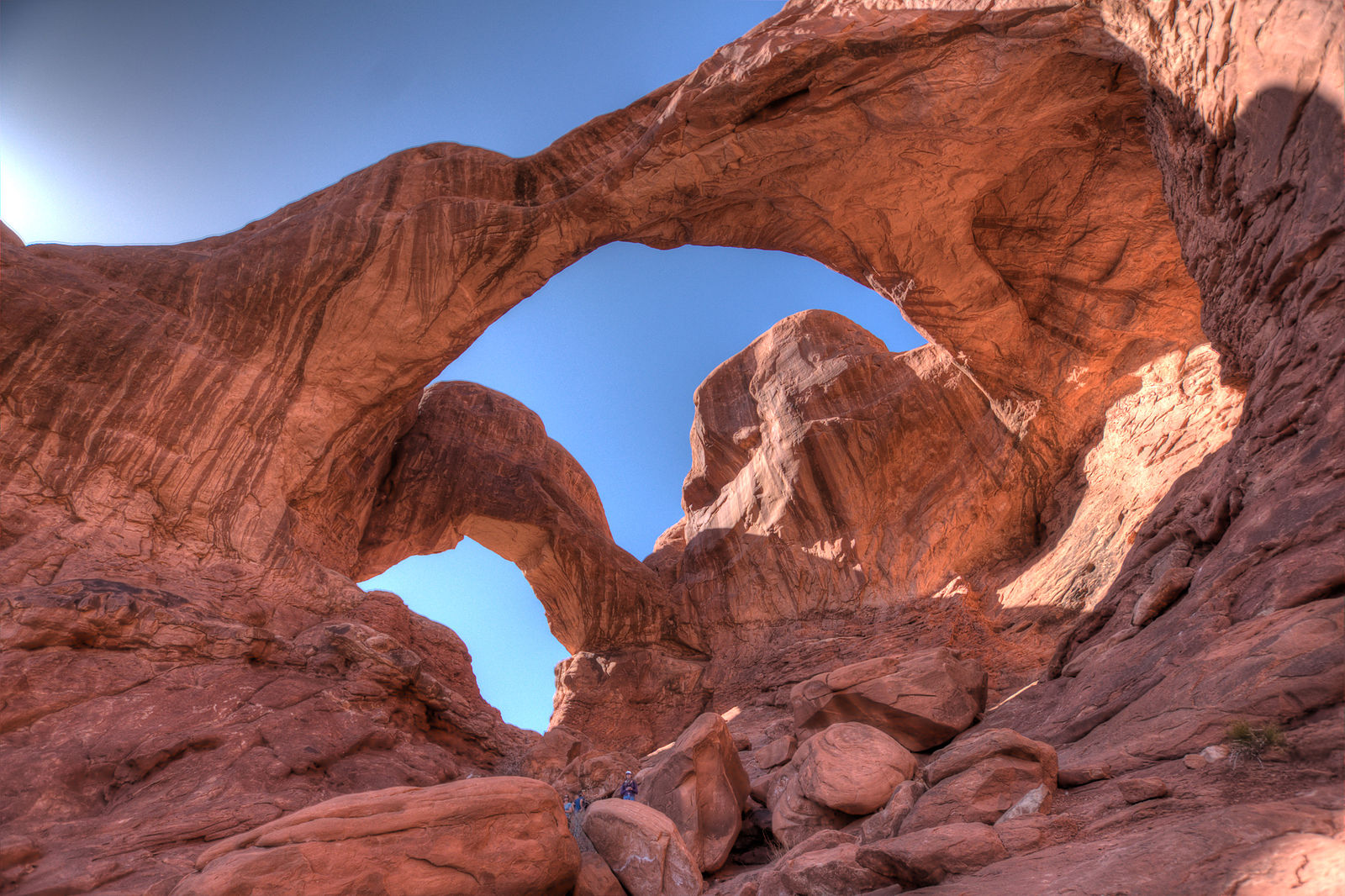 It's not really allowed to not stop by Arches National Park while you're in Moab. Since the park has the highest concentration of arches in the entire world, it's easy to see plenty even when visiting for just a couple hours. A great way to spend an entire day here away from the crowds is in the Fiery Furnace.  
The best way to beat the heat is to blanch it, take it from the paddlers in Castle Valley. The Colorado River flows past monumental, sunburnt beauties while churning out universally loveable class III rapids. Soak in the scenery quite literally from the banks, or raft through it like a boss on the Moab daily.   
Local Tips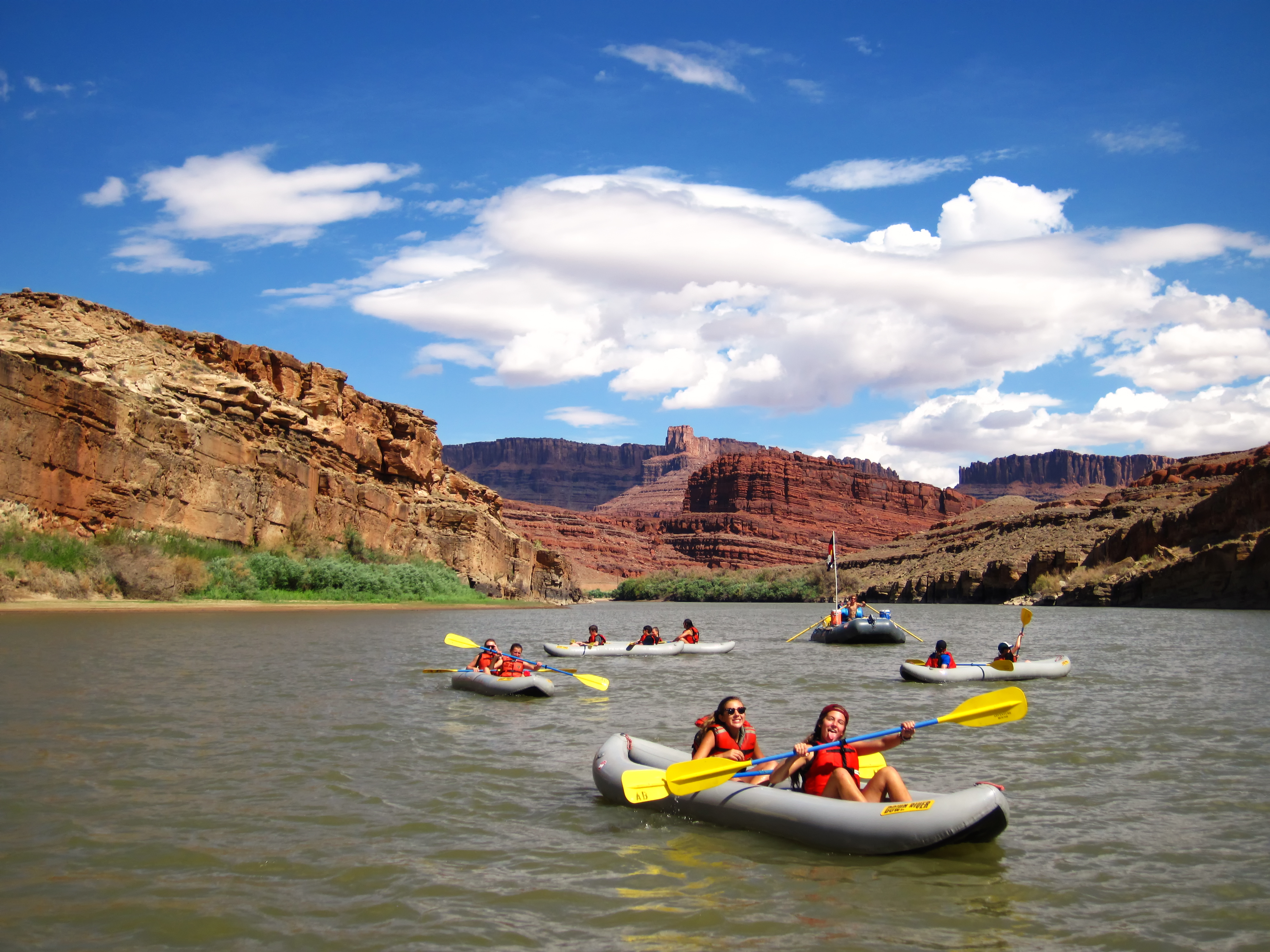 Unless you're here between November to May, the temperatures will test you by late morning to sunset with 90° F averages. Bring more water than you think you need, and start early or go late. This is applicable for Arches National Park as well as it tends to get a line of cars back to the highway entrance between 9 AM to 2 PM.  
This town is poppin' with visitors, loud OHV drivers and outdoor enthusiasts of every endeavor— it will be busy no matter where you're at unless you take to longer trails and the boonies. If you're trying to get truly immersed in this vast landscape, consider staying in Canyonlands National Park's Maze or Needles districts, or take one of the most famous adventures of all time through Cataract Canyon.  
Meet the Journey's End back in Salt Lake City, UT
Out of Moab, take US-191 N to Castle Gate, then continue on to US-6 W. If you're not in a hurry to get back to SLC, pay the Manti-La Sal National Forest a visit, even if it's just for a cruise on the Energy Loop. This detour is two hours from Price if you take UT-10 S then UT-29 W. When leaving, both US-89 N and UT-139 N will take you through the mountains in under three hours back to Salt Lake City. 
Last boxes to check off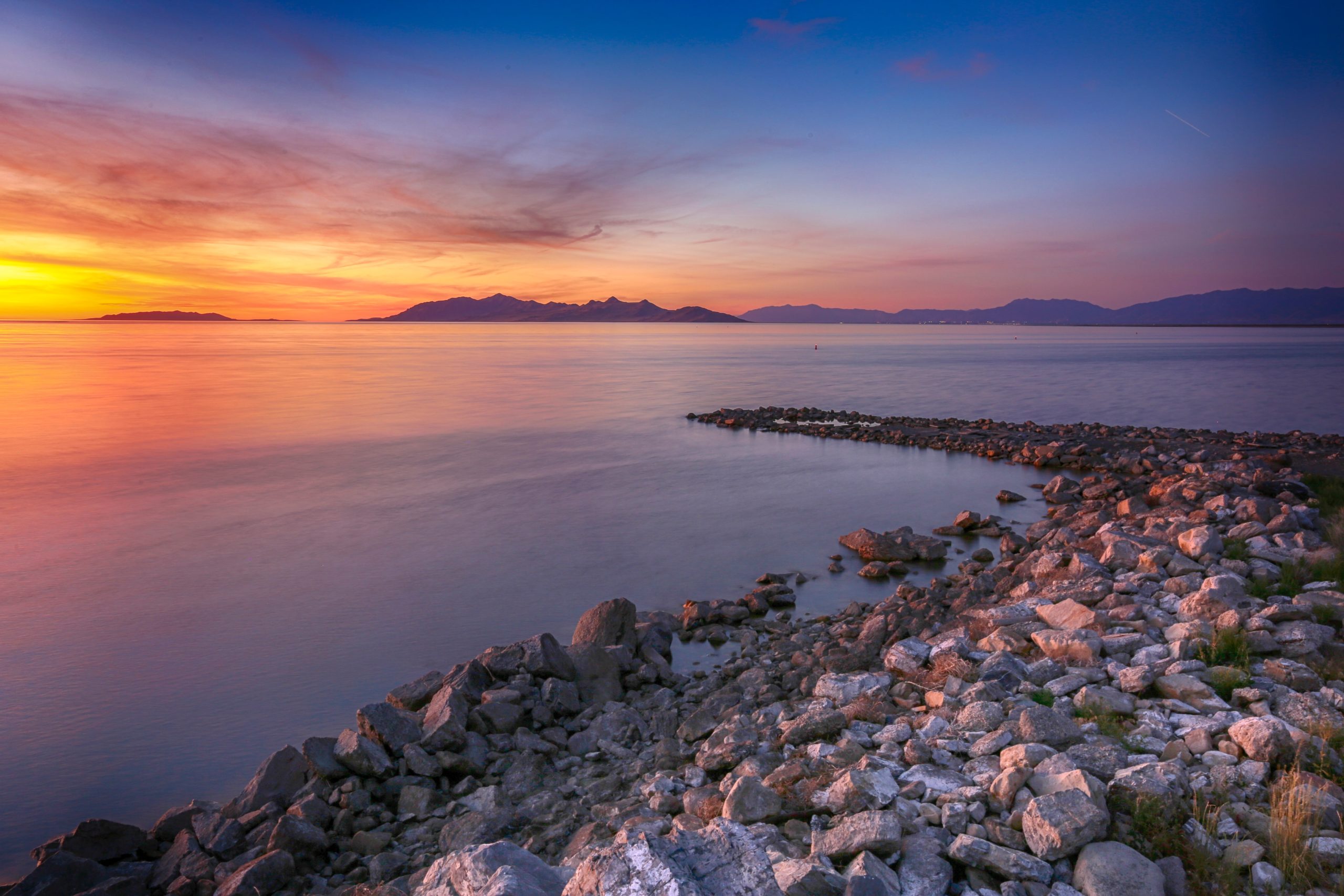 If you're not already en route for the terminal or a station to head home, there's a few ways to round out this road trip. Depending on how much footwork you put in on this 900 mile journey, you and your dogs might enjoy The Kura Door, an SLC favorite japanese spa that also offers a life-changing Ofuro bath of teas and essential oils.
Another relaxing way to enjoy the end of the journey is browsing the Spiral Jetty at the Great Salt Lake, a natural art installation from 1970. If you're exploring downtown, go for the Living Room trail for the best view of the city. 
More Reading 
6 Reasons to Consider a Multi Rafting Trip for this Year's Vacation
Get New Blog Posts in your Inbox