The Best Camping Recipes You Need On Hand Whether You're Rafting or Not
By Kim Cassels • June 11, 2021
The Best Camping Recipes You Need On Hand Whether You're Rafting or Not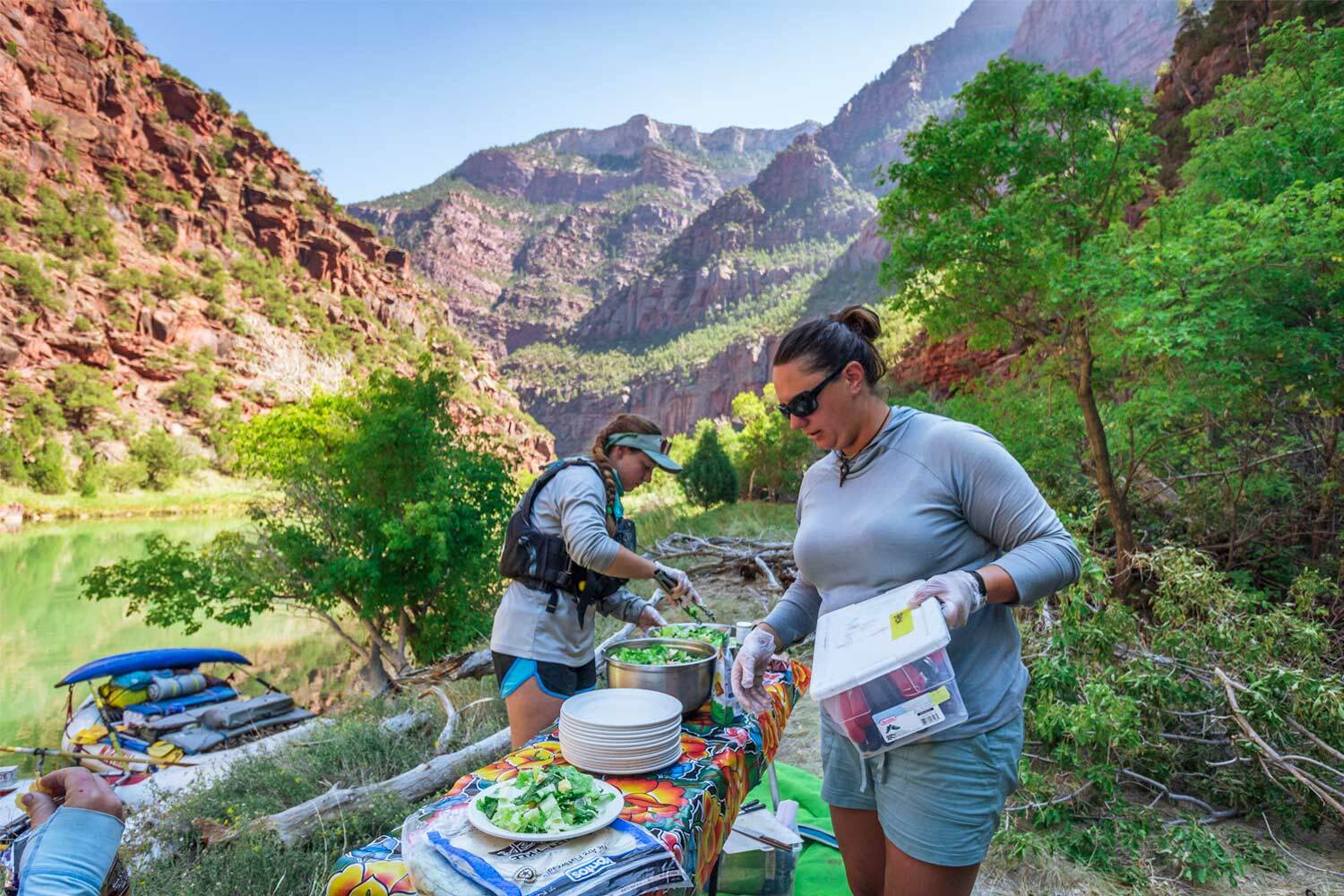 As river running connoisseurs, we are without a doubt tremendously serious about our camping recipes. And as professional outdoor dwellers, we feel it is our duty to share our food smarts with the rest of the wilderness-lovin' community.
Sometimes meals need to be as quick as possible to appease the ants in our pants to get on the river and trails, while others are meant to be far more special than you'd take the time to make at home. Because who doesn't want a three course dinner on the beach, in an ancient canyon, by a campfire? Of course, if you're on one of our overnight rafting trips, the only thing you'll be doing for these satiating meals is lifting a fork. 
Here's a list of a few camping recipes that Mild to Wild whips up on our Multi-Day rafting trips.  
Camping Recipes for Breakfast 
Claimed as the most important meal of the day! So we treat it as such (just like the other meals to come, but don't tell breakfast we said that). These classics ensure you'll have plenty of calories to start the day. 
For a Crowd – Omelette / Scramble Bar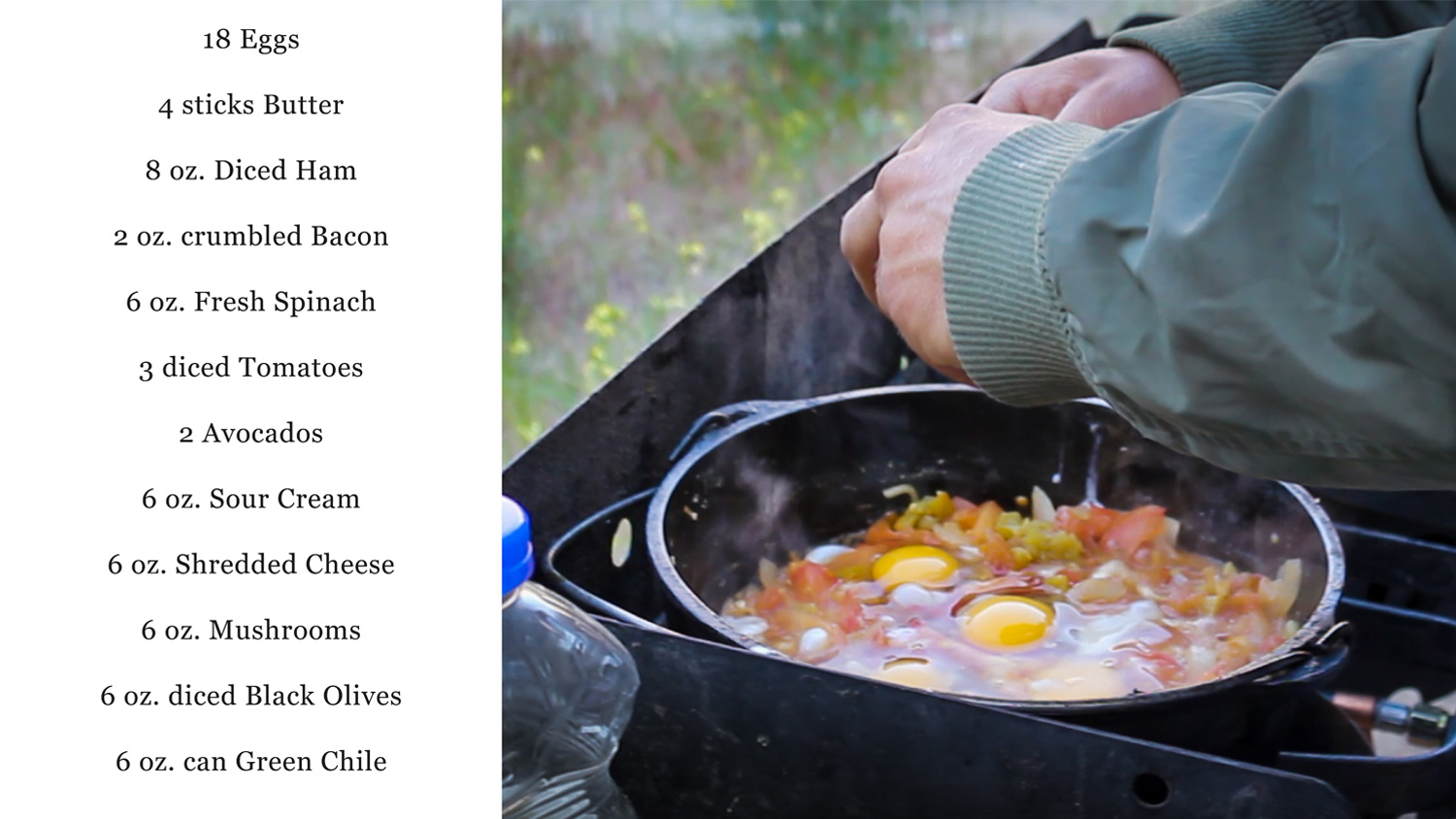 Beat eggs together in a large bowl. Place ham, bacon, spinach, green chilé, mushrooms, olives, sour cream and cheese on the side with diced tomatoes and avocado. 
Heat griddle and coat with butter. Pour enough egg mix into the skillet to fill the bottom. Place the veggies and meats in the middle and fold eggs over into thirds. Or scramble em' for those who'd prefer! Serve with toast and jam on the side for extra yumminess! 
Serves 6 
Easy Camping Breakfast – Salmon and Lox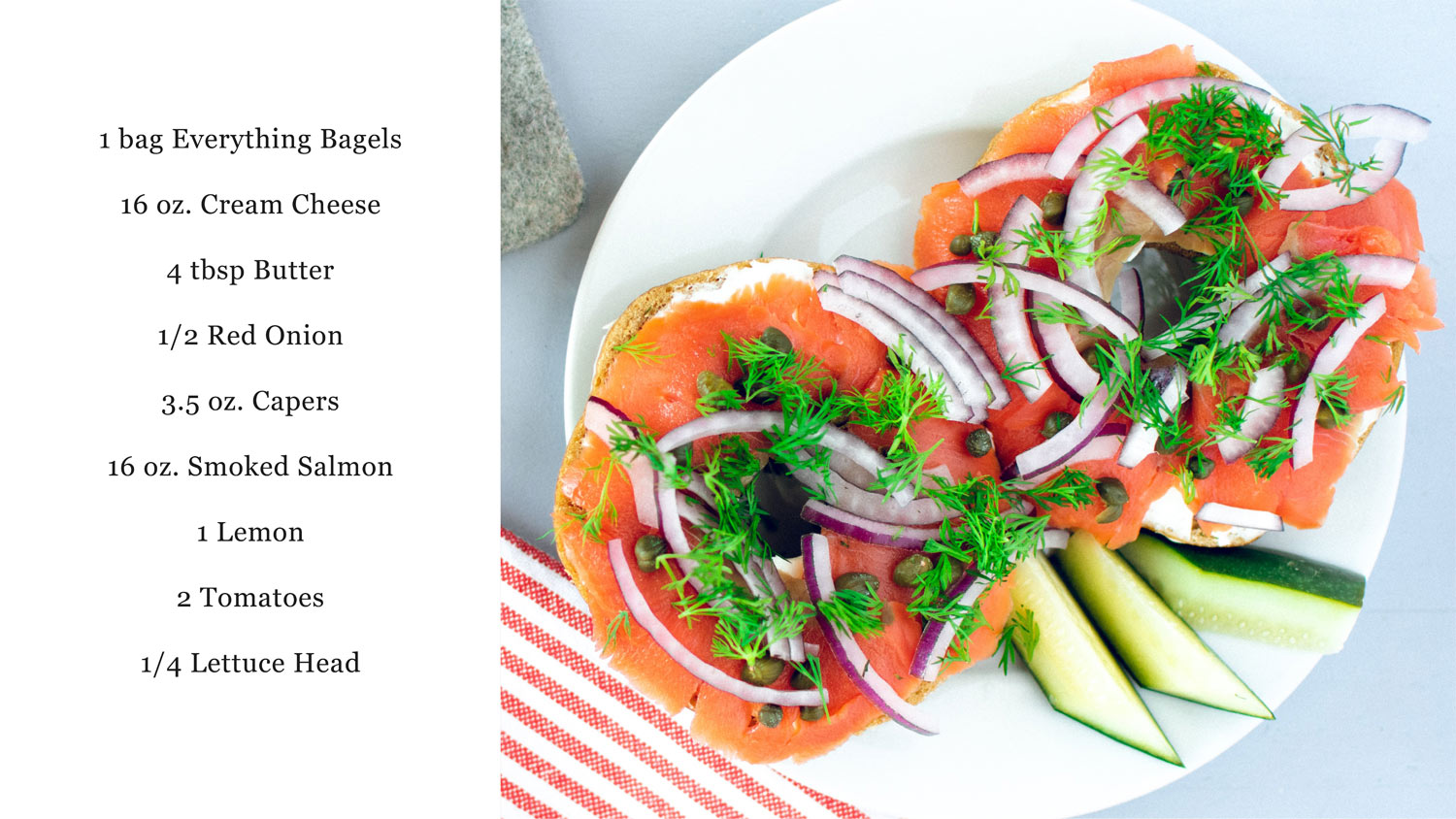 Toast the bagels in butter. Thinly slice onion and tomatoes, cut lemon into wedges, lay out bed of lettuce with the other fixin'. Assemble your bagel and then enjoy this easy, ready to devour spread! 
Serves 6 
Easy Camping Lunches 
We love a mobile lunch! The mid-day eats can go in your hand while you row, walk or whatever else you're up to out there. Here are two easy lunches for camping that require no dishes and are as yummy as a good old fashioned sammich. 
On the Go Taco Salad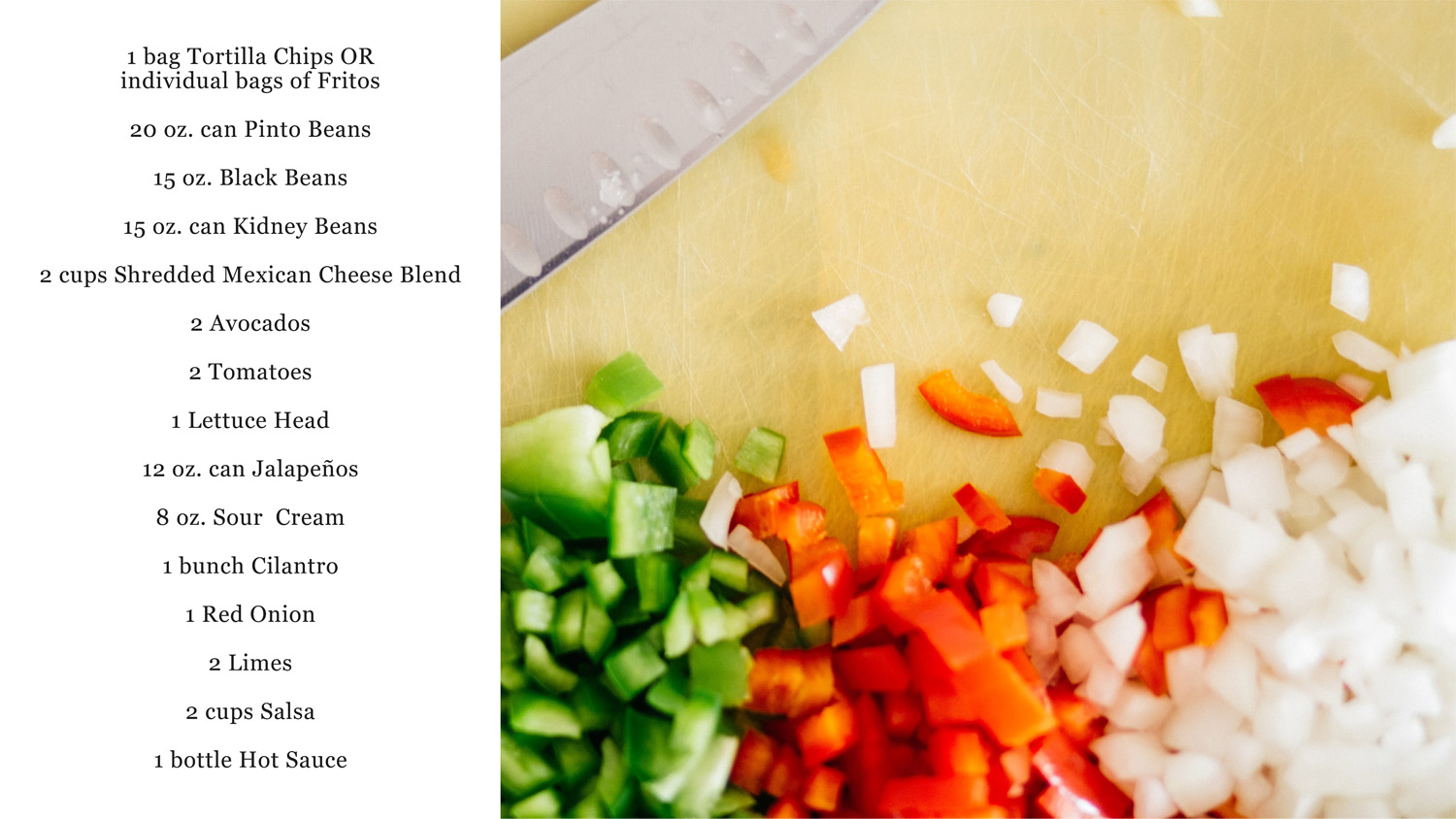 Drain and combine canned beans in a large bowl. Chop lettuce, dice tomato, onion and avocado and mix in with beans. Add shredded cheese and leave some to add in on the side. 
For the toppings, finely chop cilantro, slice limes, drain jalapeños and set on the side with hot sauce, salsa and sour cream. Serve bean mix and toppings over chips or right in a Frito bag! 
Serves 8
Refreshing Mediterranean Pita Pockets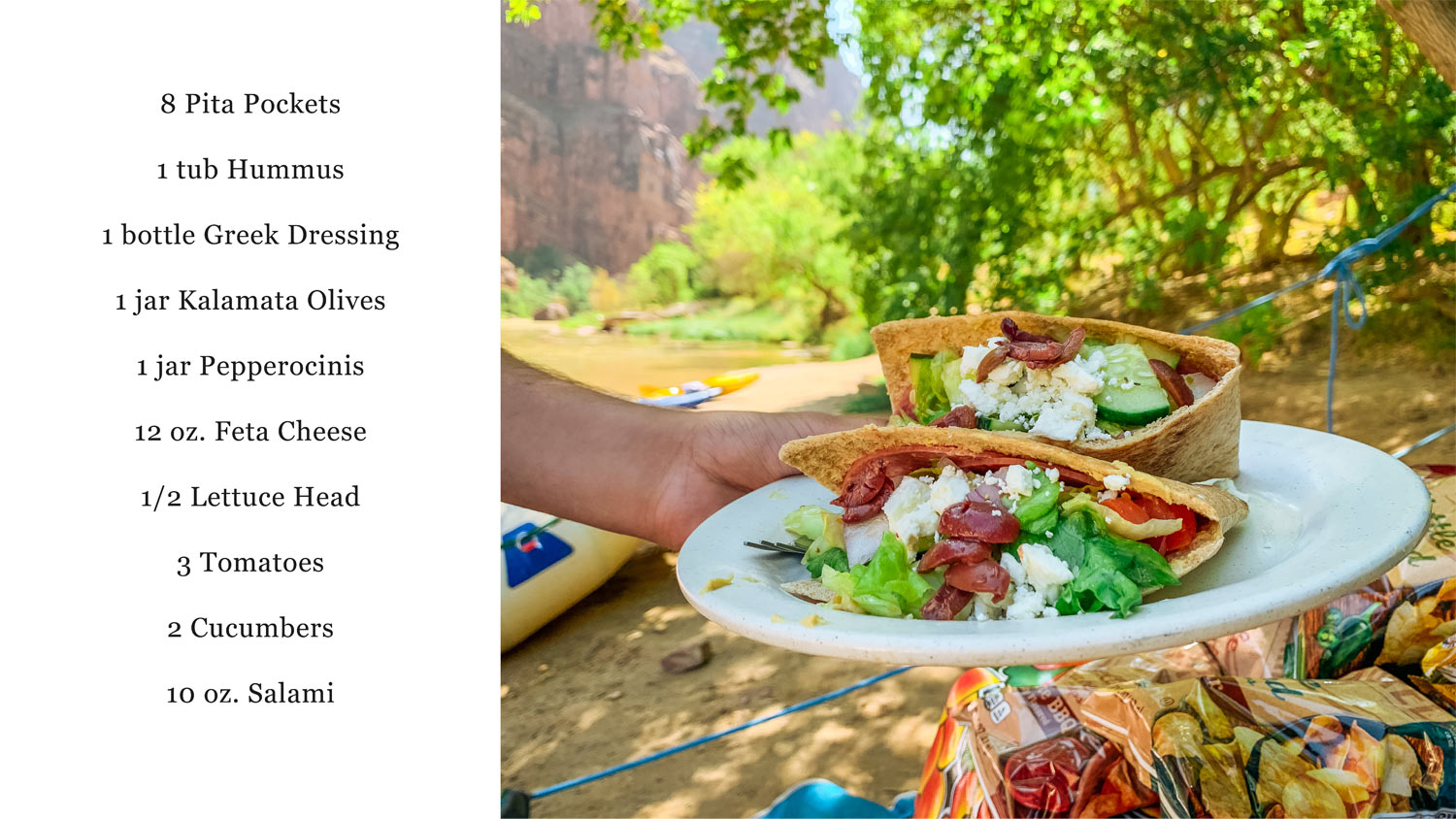 Dice up the veggies and lay out the other goodies to build your own Pita Pocket! 
Serves 8 
Camp Appetizers 
Who said you can't have an aperitif before the main course when you're camping? After a long day under the sun, through the dirt, and swimming through running waters, it's hard to wait to start grubbing! These two refreshing and healthy camping appetizers will keep the hangry at bay.
Caprese Salad on a Stick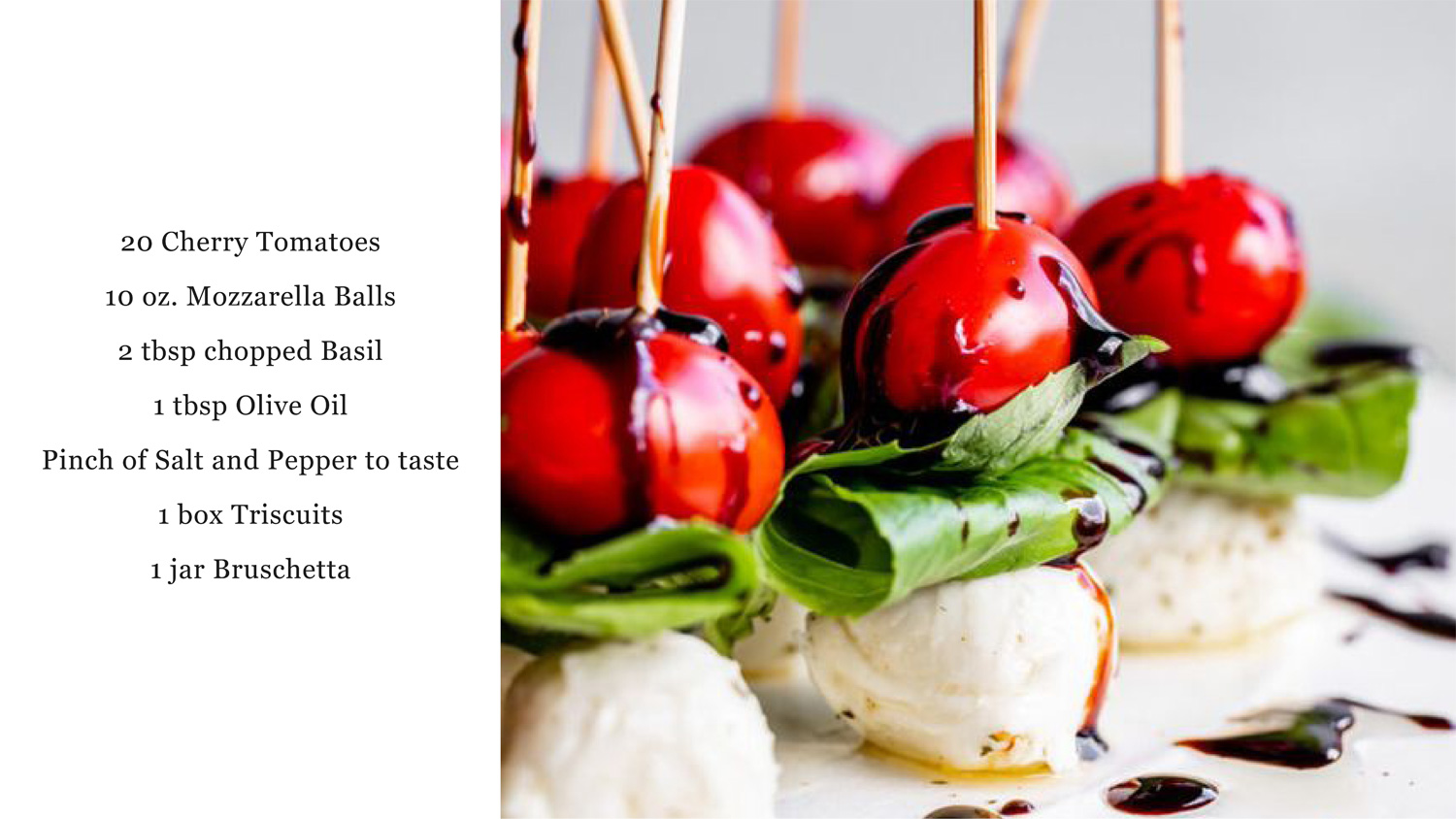 Grab a large bowl, and throw the tomatoes, mozzarella, basil, olive oil all together. Serve with toothpicks and Triscuits and Bruschetta on the side.  
Serves 8
Beach Side Spring Rolls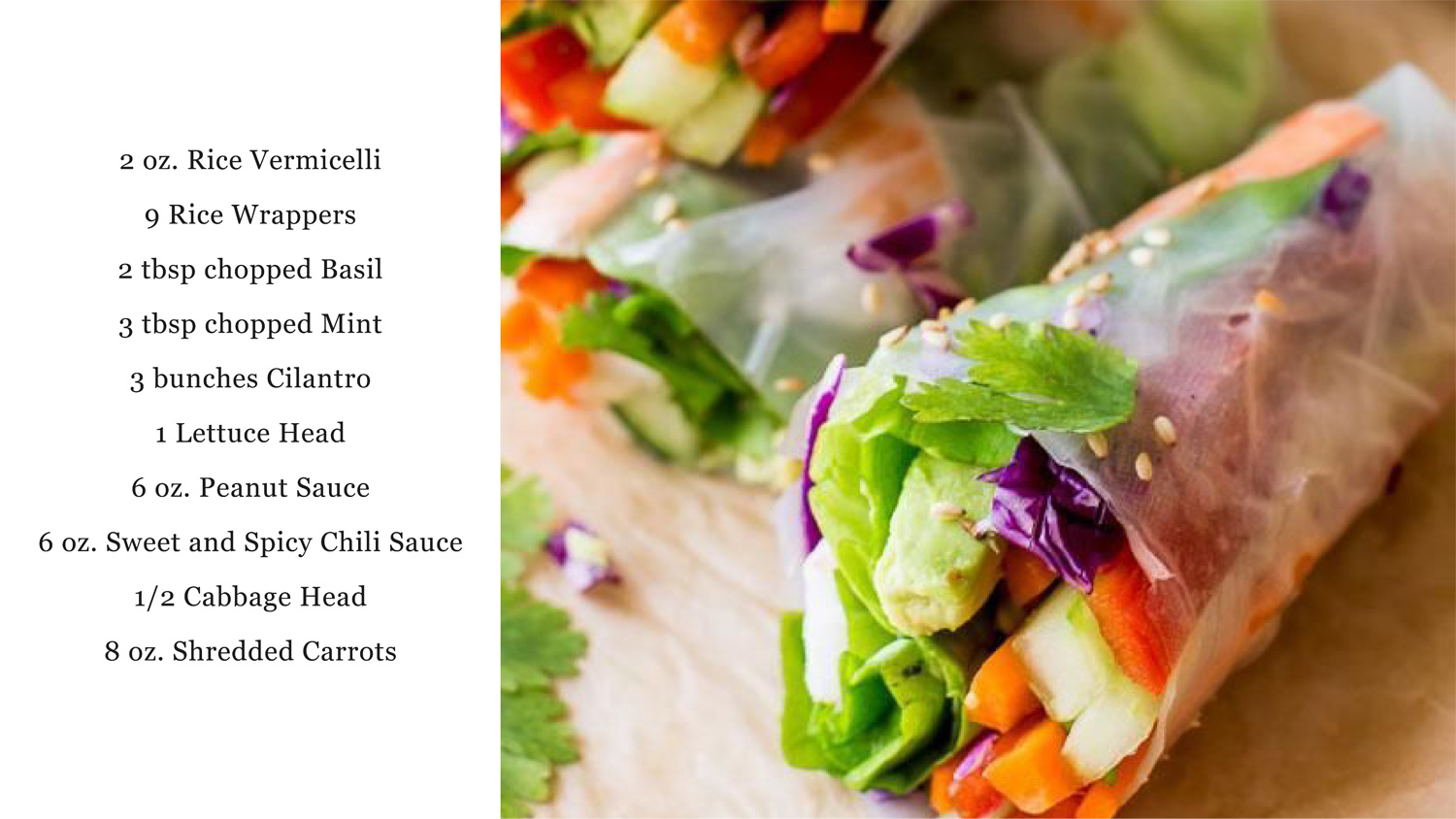 Bring a medium saucepan of water to boil. Boil rice vermicelli 3 to 5 minutes, or until al dente, and drain. Fill a large vowel with warm water. Dip one wrapper into the hot water for 1 second to soften. 
Lay wrapper flat, add in a handful of vermicelli, basil, mint, cilantro, carrots, cabbage and lettuce, leaving about 2 inches uncovered on each side. Fold sides inward and tightly roll the wrapper, beginning at the end with the lettuce. Get peanut and chili sauce ready for dipping! 
Serves 8 
Camping recipes for the Dinner Bell
Dinner when you're camping is all about winding into the evening, now whether that's up or down is the prerogative of your group. Here are a couple scent-sational camping dinners to try.
The Best Dutch Oven Lasagna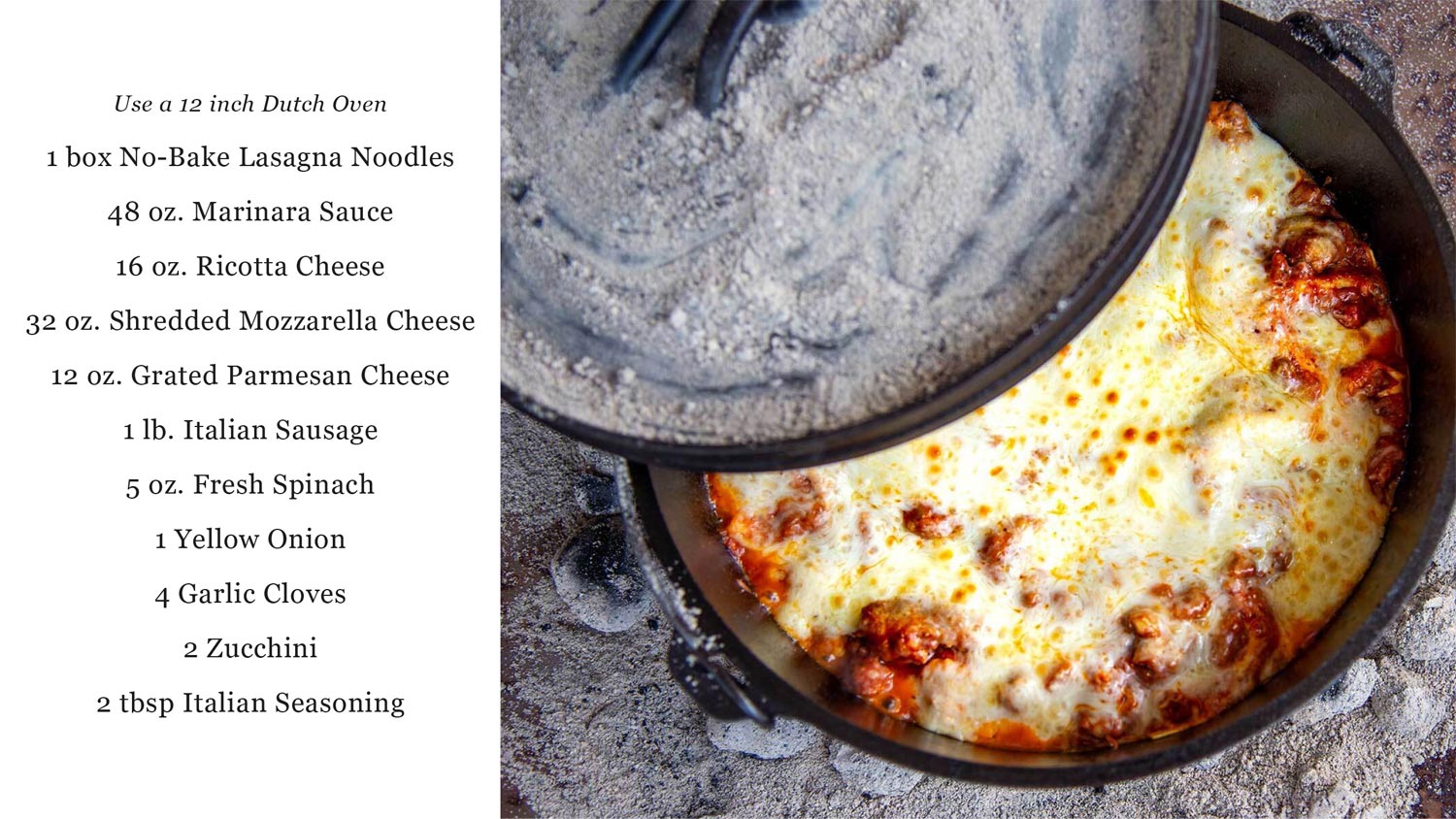 Chop veggies, and brown sausage in a pan separate from the Dutch Oven. Sauté veggies and garlic with sausage with Italian seasonings. Cover the bottom of the Dutch Oven with a layer of marinara sauce, then add a layer of no-bake noodles. Spread a layer of ricotta and cover it with some spinach. Then add a layer of sausage and veggies. Cover with a layer of mozzarella and a little of parmesan. Repeat these layers until the oven is ¾ full. Top with sauce and cheese. 
Then place the Dutch Oven on coals for about an hour until the cheese is browned on top. Allow to cool for 10 or so minutes before serving. Serve a Caesar Salad and Garlic Bread on the side if you so wish! 
Serves 6
Coconut Curry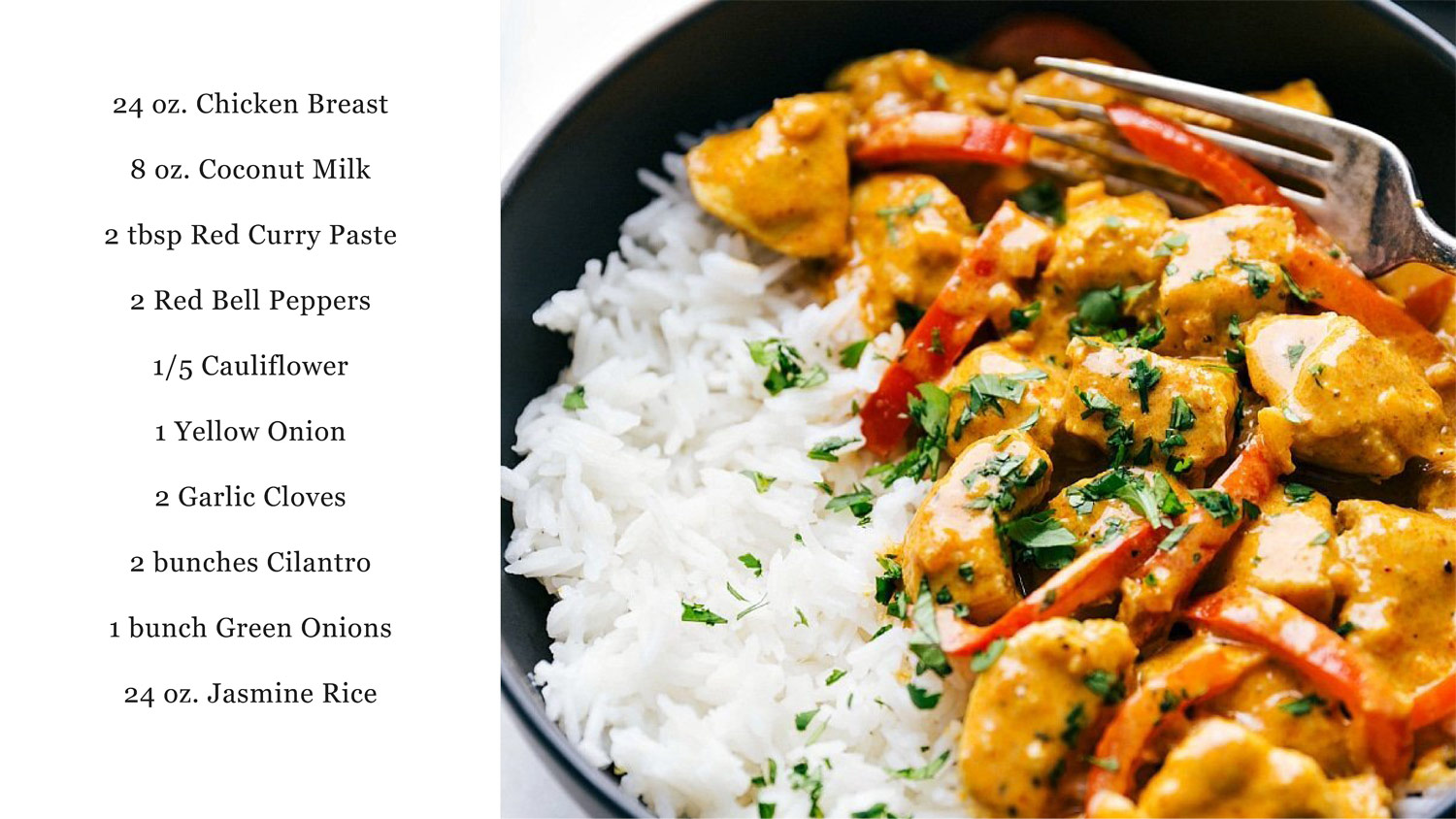 Chop veggies and chicken. Steam rice in 4.5 cups of water in a large pot. Sauté chicken in a pan and season with salt/pepper/garlic. Sauté veggies in a large pan, add coconut milk and curry paste, then add cooked chicken. Chop cilantro and green onion for garnish. Serve over rice. 
Serves 4 
Camping Dessert Recipes that aren't S'mores 
Not that we're ever against gooey chocolatey goodness, but it's okay to turn things up a notch for the sweets. After all, we've earned them after a fantastic day of turning and burning calories on the river! Try out these cakes as the stars come out.
Dutch Oven Pineapple Upside Down Cake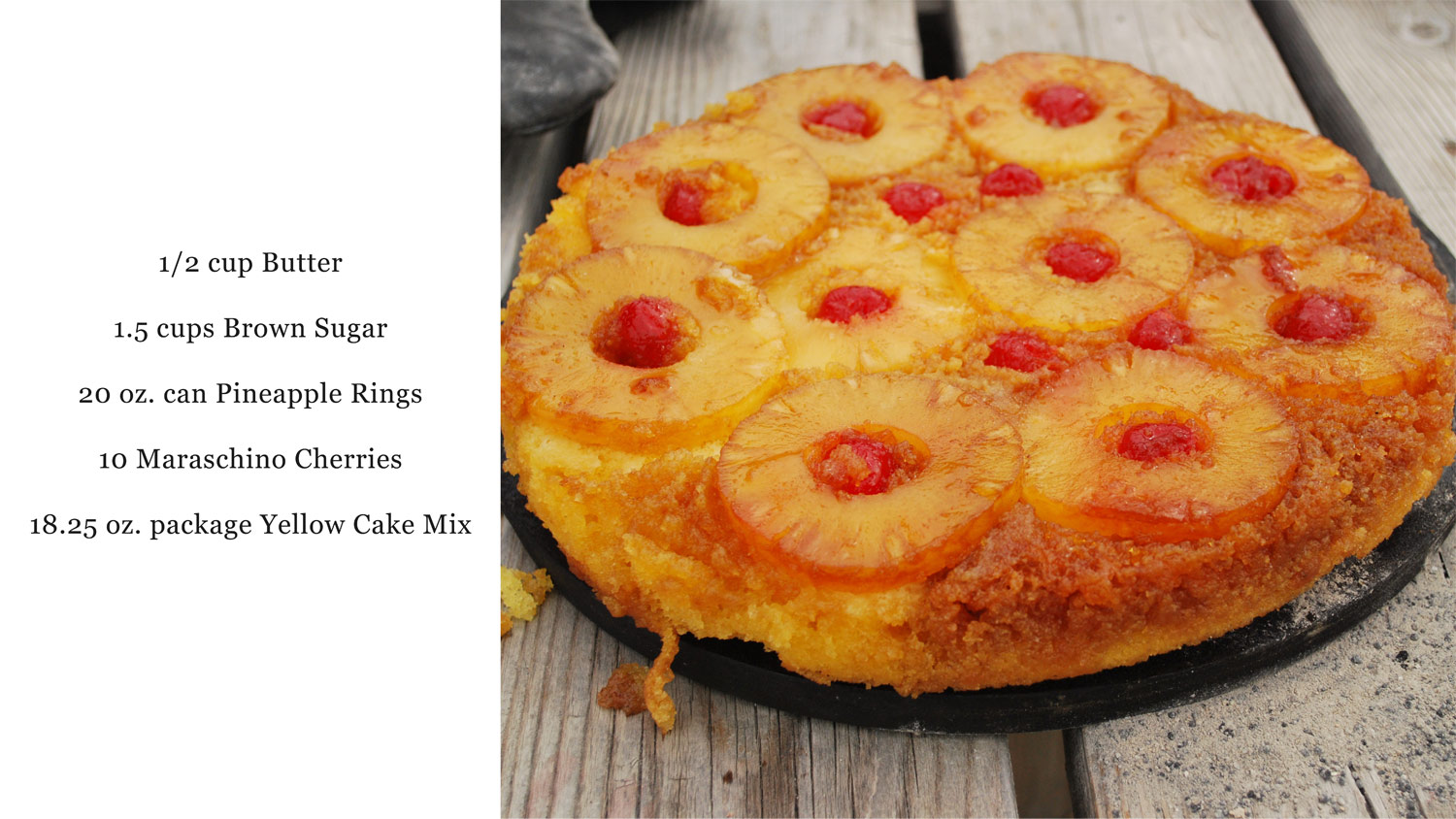 Melt the butter over medium high heat in your Dutch Oven. Remove from the head and sprinkle the brown sugar evenly to cover the butter. Arrange pineapple rings around the bottom of the pan one layer deep. Place a maraschino cherry into the center of each pineapple ring. 
Prepare the cake mix as directed by the box directions, and substitute some of the pineapple juice for some of the liquid in the directions. Pour batter over the pineapple layer. Bake as directed by the cake mix directions. Cool for 10 minutes, then carefully turn out onto a place. Do not let the cake cool too much or it will become stuck to the pan. 
Serves 12
No-Bake Cheesecake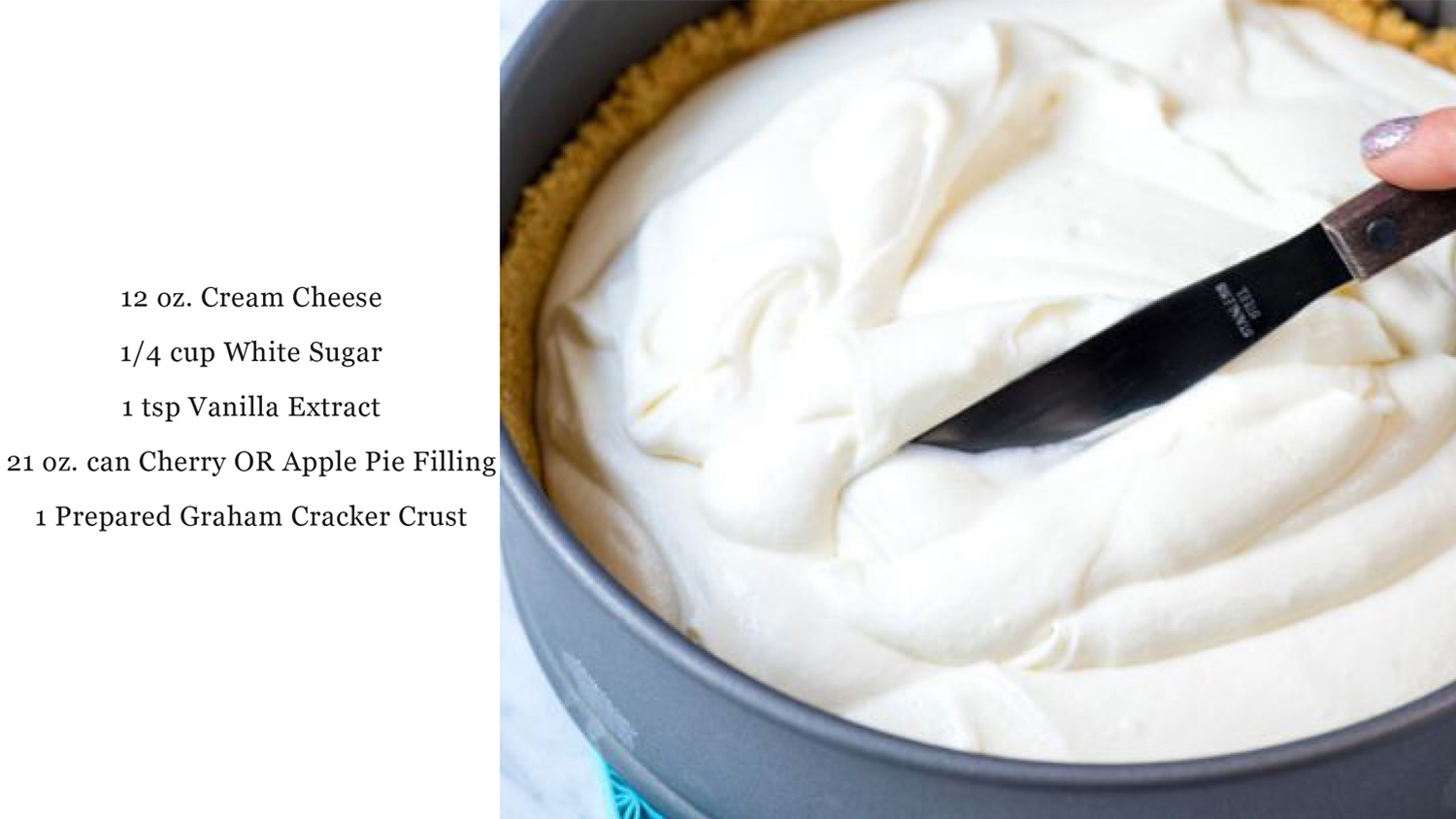 Beat cream cheese, sugar, and vanilla extract until smooth. Fold in cool whip. Fill pie crust and top with pie filling. Chill 1 to 2 hours before serving. 
Serves 12
More Reading
Taking a Multi-Day Rafting Trip when You've Never Camped Before 
5 Cool Places to Camp in the 4 Corners You Probably Haven't Heard of 
Get New Blog Posts in your Inbox