Where to Escape the Crowds in Moab for Spring Break
By Kim Cassels • February 15, 2021
Where to Escape the Crowds in Moab for Spring Break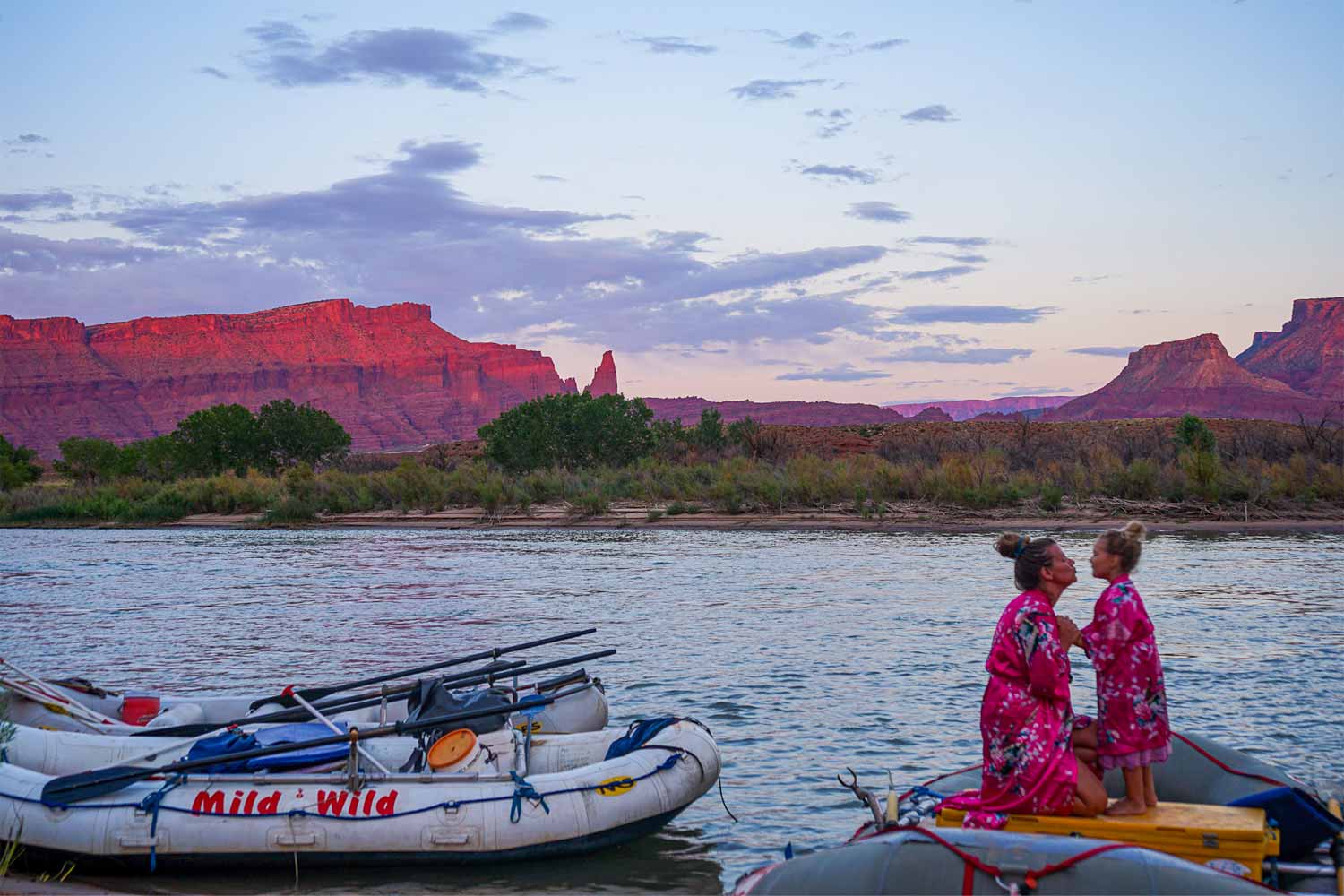 Moab is a mega spring break destination, and for good reason. March and April temperatures let folks actually enjoy their outdoor activities without the prospect of heat exhaustion, or sunburns that match the sandstone. 
Although, one might feel a little short on serenity in Moab since many of its gems often come with hundreds of fellow recreators. A lot of us want to enjoy nature without a bunch of hubbub, that's why we're out there in the first place! Especially these days! Why am I exclaiming so much for some peace and quiet?! 
Anywho… For those who want to escape the crowds in Moab during spring break, browse this list for local insights and lesser known spots to enjoy the desert the way Mama Nature intended.
Off-the-Beaten-Path-Roading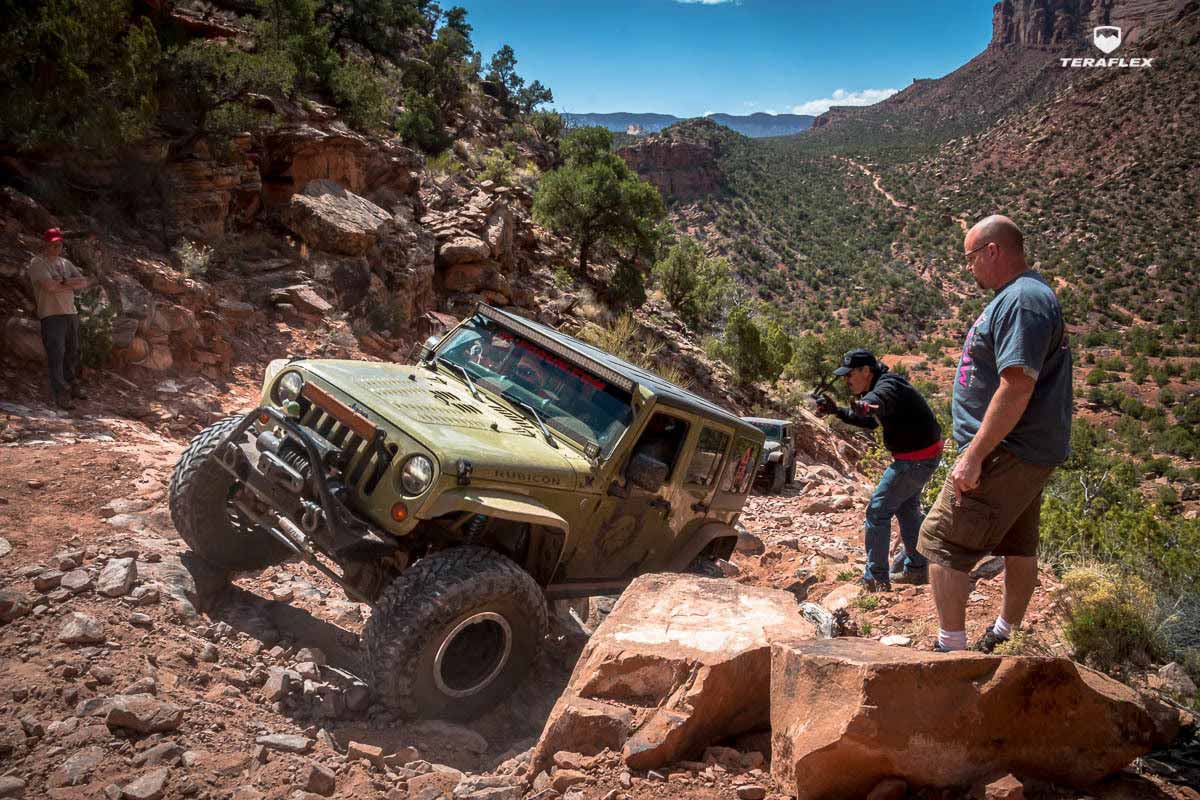 Off-Roading is a huge part of Moab recreation. Trails like Fins n' things, Shafer and Hell's Revenge tend to come with lines of cars and sizable crowds during spring break in Moab. This landscape is a 4×4's destiny though, so let those beloved toys rejoice without the traffic on some less popular routes. 
Easy Trail
The Dellenbaugh Tunnel and Secret Spire is a pretty leisurely off-roading spot less than 45 minutes from Moab. The 30 mile out-and-back trail starts in Hey Joe Canyon, and the spire in question is pretty darn rewarding once you get to it.  Keep in mind, just because this trail is easier, you still need a 4WD and high clearance vehicle to drive on it. 
Moderate Trail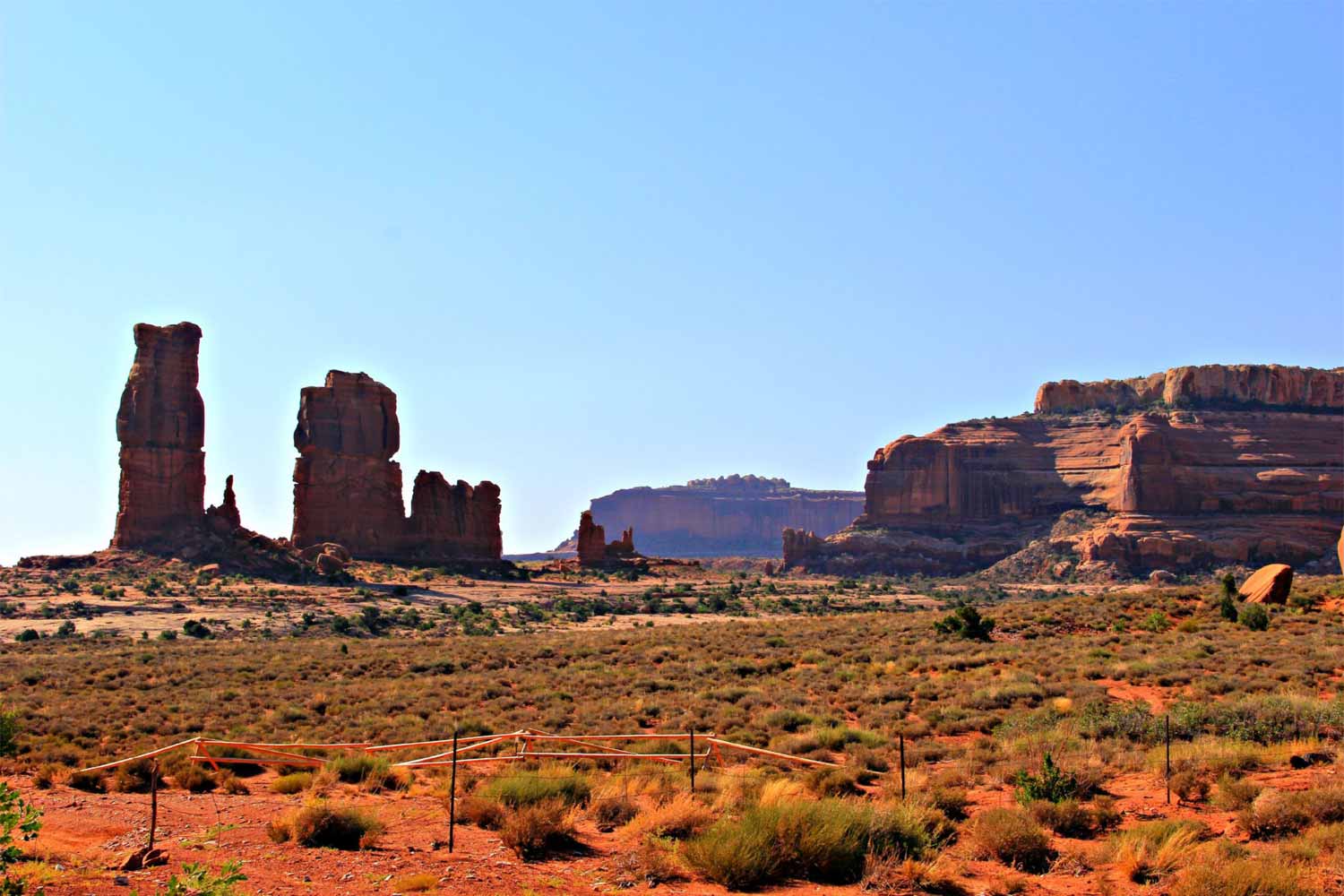 Monitor and Merrimac travels into a gorgeous canyon through loose sand, creeks and slickrock along the way. The loop is 18 miles and passes by Uranium Arch and through countless towers. There are a few obstacles that take some technical maneuvering, which is great for those wanting to dip their toes into more difficult routes. This trail is also popular with mountain bikers, so remember that sharing is caring. 
Difficult Trail
Rose Garden is exclusively for experienced, well-rigged off-roaders. This is a part of the Kokopelli trail, and an extremely rubbled hill is what makes it particularly attractive to extreme rock crawlers.  The 27 mile route is north of Castle Valley. 
Less-Known Climbing and Canyoneering Spots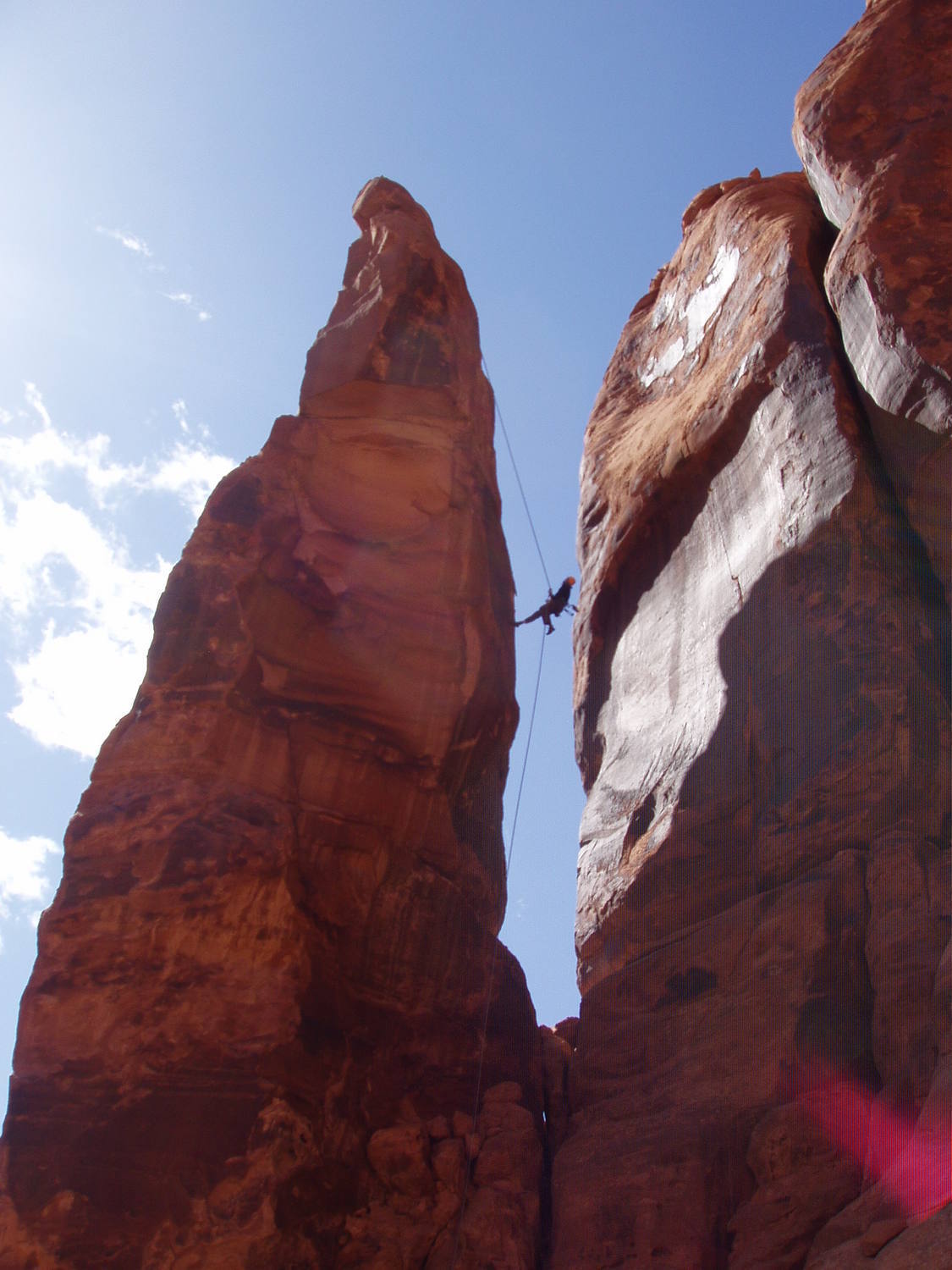 Castle Valley, Ice Cream Parlor and Indian Creek are renowned destinations in the climbing community. But if you'd like to send some lesser-known climbing areas around Moab, Lockhart Basin and Little Valley definitely won't disappoint.   
Lockhart Basin
Lockhart is a remote playground for highly skilled climbers. This exclusive canyon of Wingate towers is about an hour away from Moab depending on how you decide to get down there. Check out the directions and helpful insights from climbers here.  
Little Valley
This climbing area is close-ish to Moab along Gemini Bridges Road. There are plenty of towers and slabs to go around here, and it's a great space for various skill sets. Get your directions and other good-to-know specs on the area here.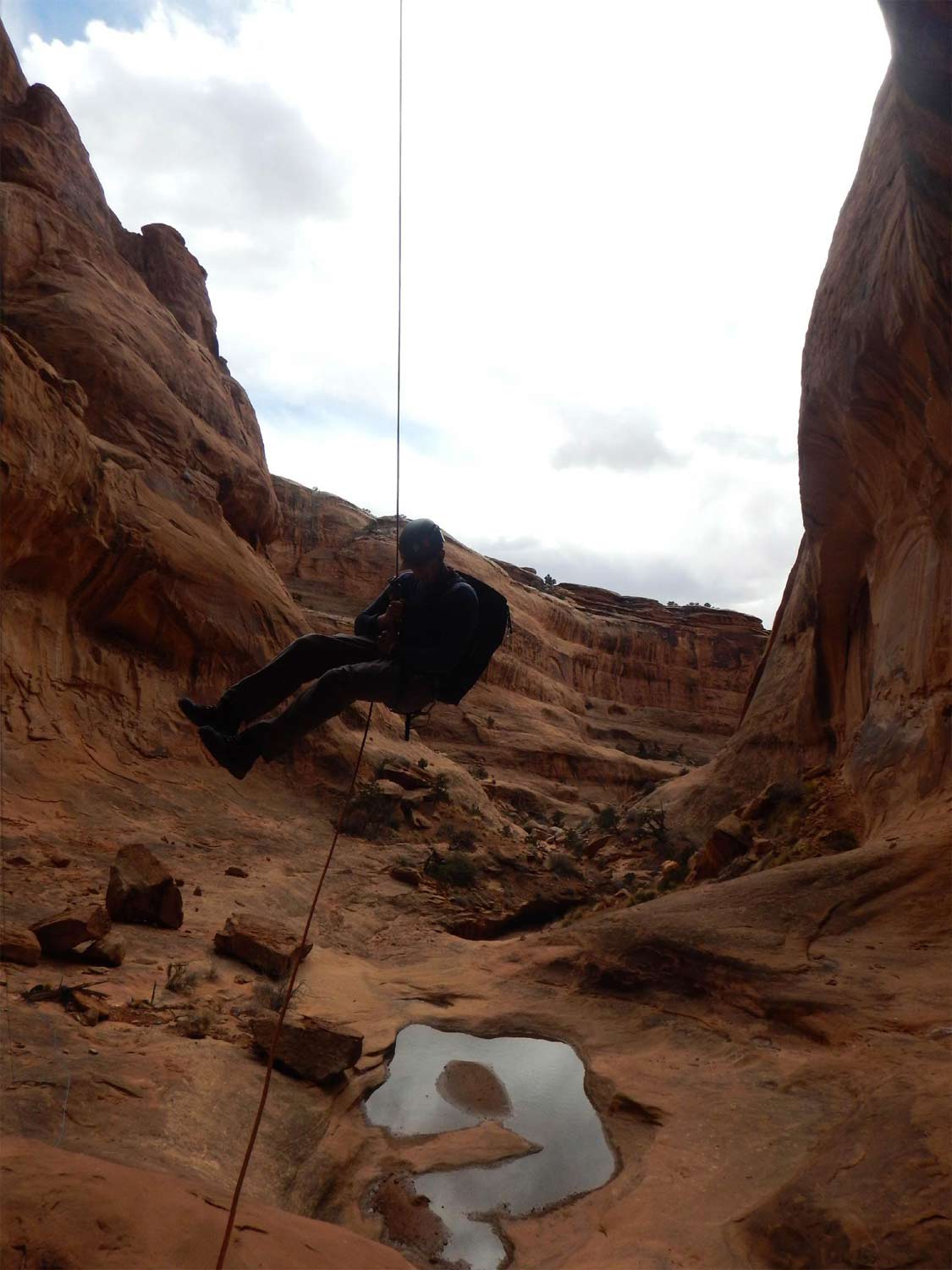 If you want to escape the crowds often found in Medieval Canyon or the Fiery Furnace, Bow and Arrow Canyon and Lockjaw Canyon are great under-the-radar places to canyoneer. Both are open canyons, which is kind of nice during early spring as you can avoid chillier temperatures and ice. 
Bow and Arrow Canyon
This is a short route off Potash Road with a little bit of everything. LongBow Arch greets the approach, and petroglyphs and grand views of Moab's fins decorate the way. This is a good option for any claustrophobes in the group since it doesn't require any slot action. 
Lockjaw Canyon
Lockjaw is a great place for beginners that's also close to Moab. It's more of an amazing hike with a few rappels sprinkled along the way, and the scenery is pretty impressive considering how close it is to town. 
To find how to reach both these canyons, along with other awesome climbing and canyoneering spots, check out the Road Trip Ryan website
Explore Cataract, Ruby Horsethief, or Labyrinth / Stillwater Canyon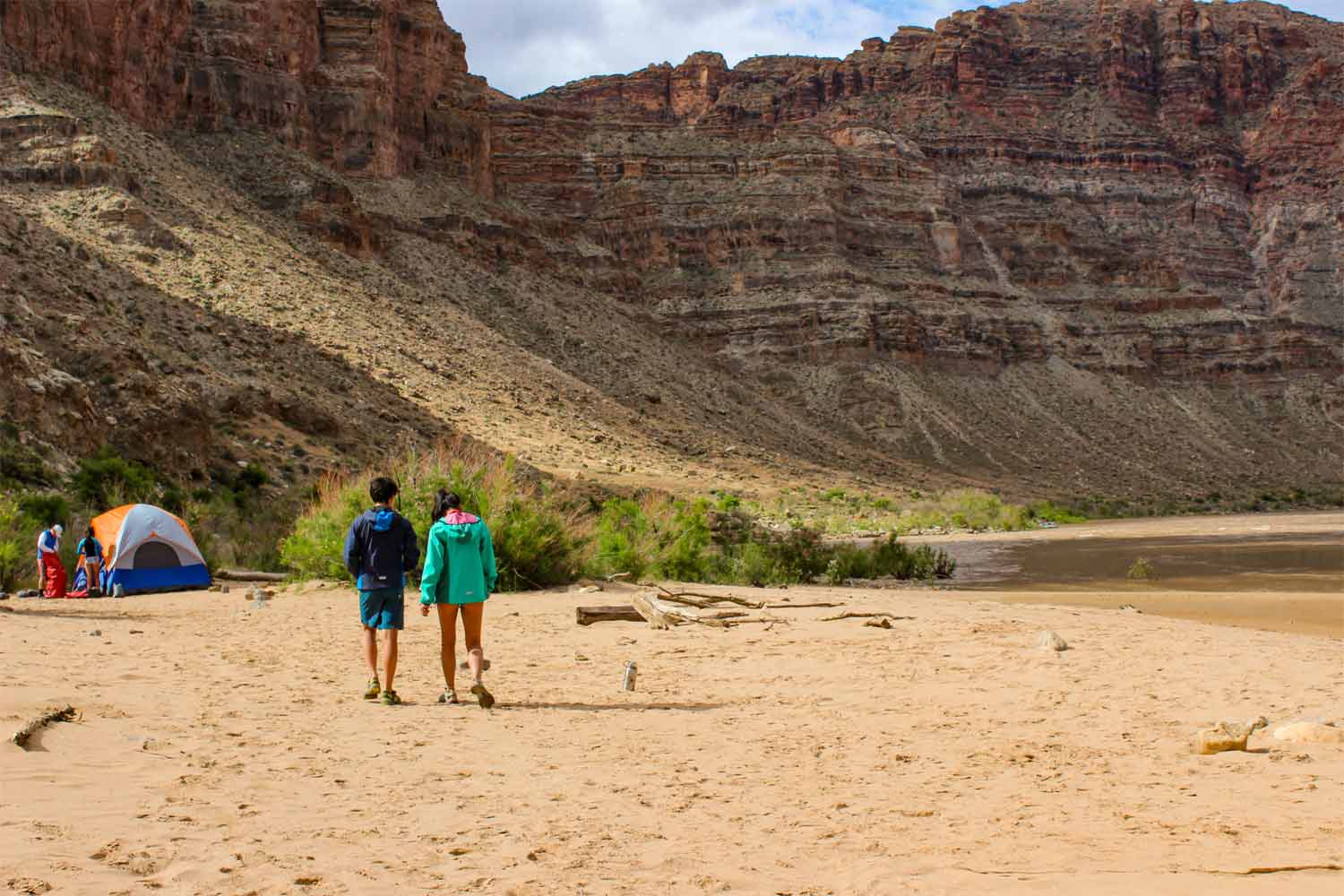 Can you really do spring break right without the beach? March is the start of Moab's rafting season, and while it doesn't really look like it, this area has plenty of river canyons to play in. But to escape the spring break crowds frolicking in Moab's streams, you'll have to take a scenic drive a little ways out of town. 
Cataract Canyon 
If you have your own kayak, it's easy to spend a day exploring the tranquil headwaters of Cataract Canyon. The Potash Boat Ramp is 30 minutes from Moab, and there's no permit needed unless you're trying to camp there. 
But if you really, really want to escape the crowds in Moab during spring break (and civilization altogether), a multi-day rafting trip in Cataract Canyon is the pinnacle way to immerse oneself in Utah's pristine wilderness, and connect with the people you do actually want around you. This is a life-changing, high adventure trip that winds through Canyonlands National Park and some of the biggest whitewater in the country.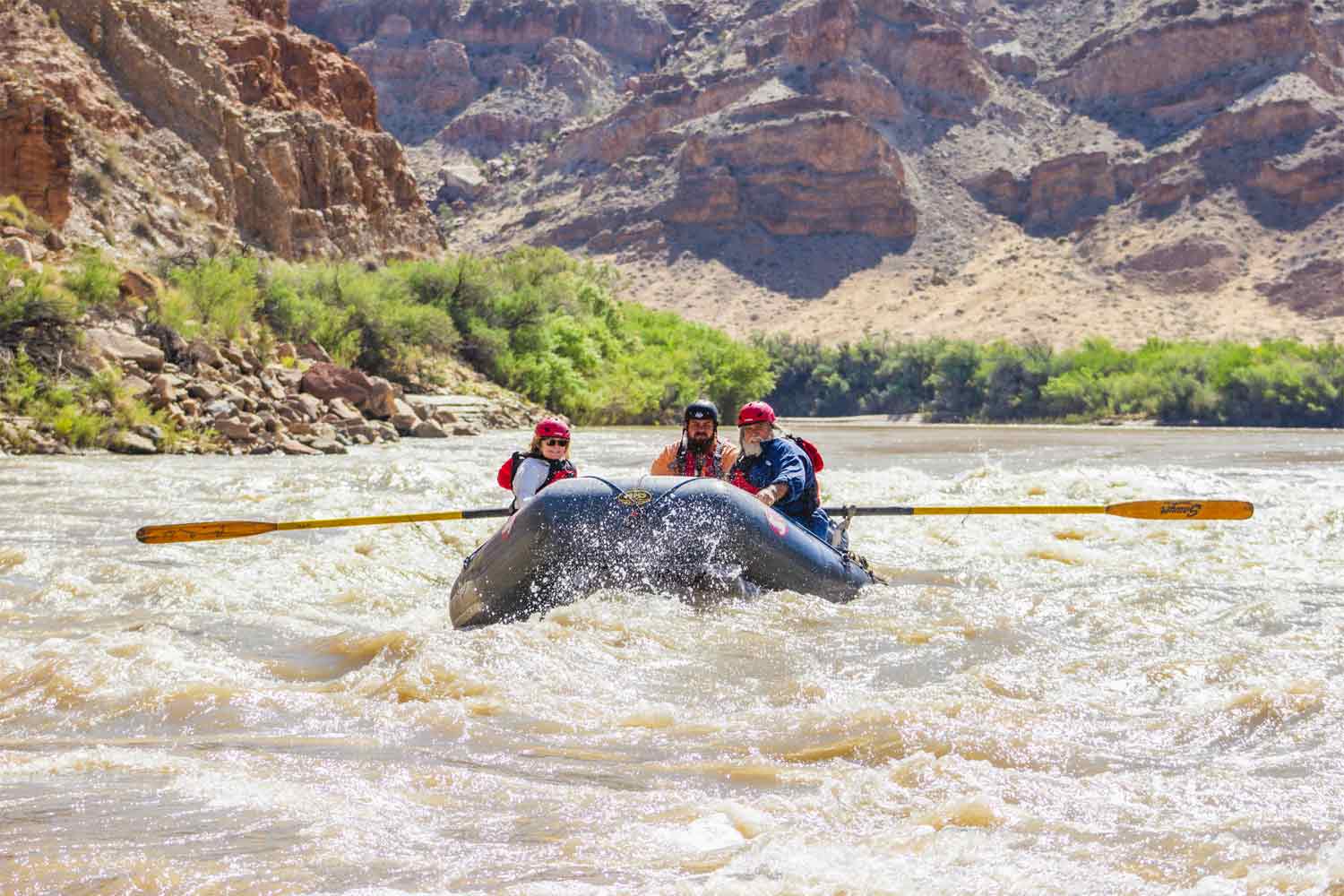 Ruby Horsethief Canyon 
For the spring breakers in April, Ruby Horsethief is a lesser known gem of the Colorado River that's absolutely worth visiting from Moab. It's occasional class II rapids are fun for all levels, and is a great place to kayak and SUP (stand up paddle board).  
There's no permit fee for day use, and the Loma Boat Ramp is an hour and half from Moab. If you're not experienced enough to make the 24 mile stretch from Loma to the Westwater boat ramp, consider a guided rafting trip in Ruby Horsethief!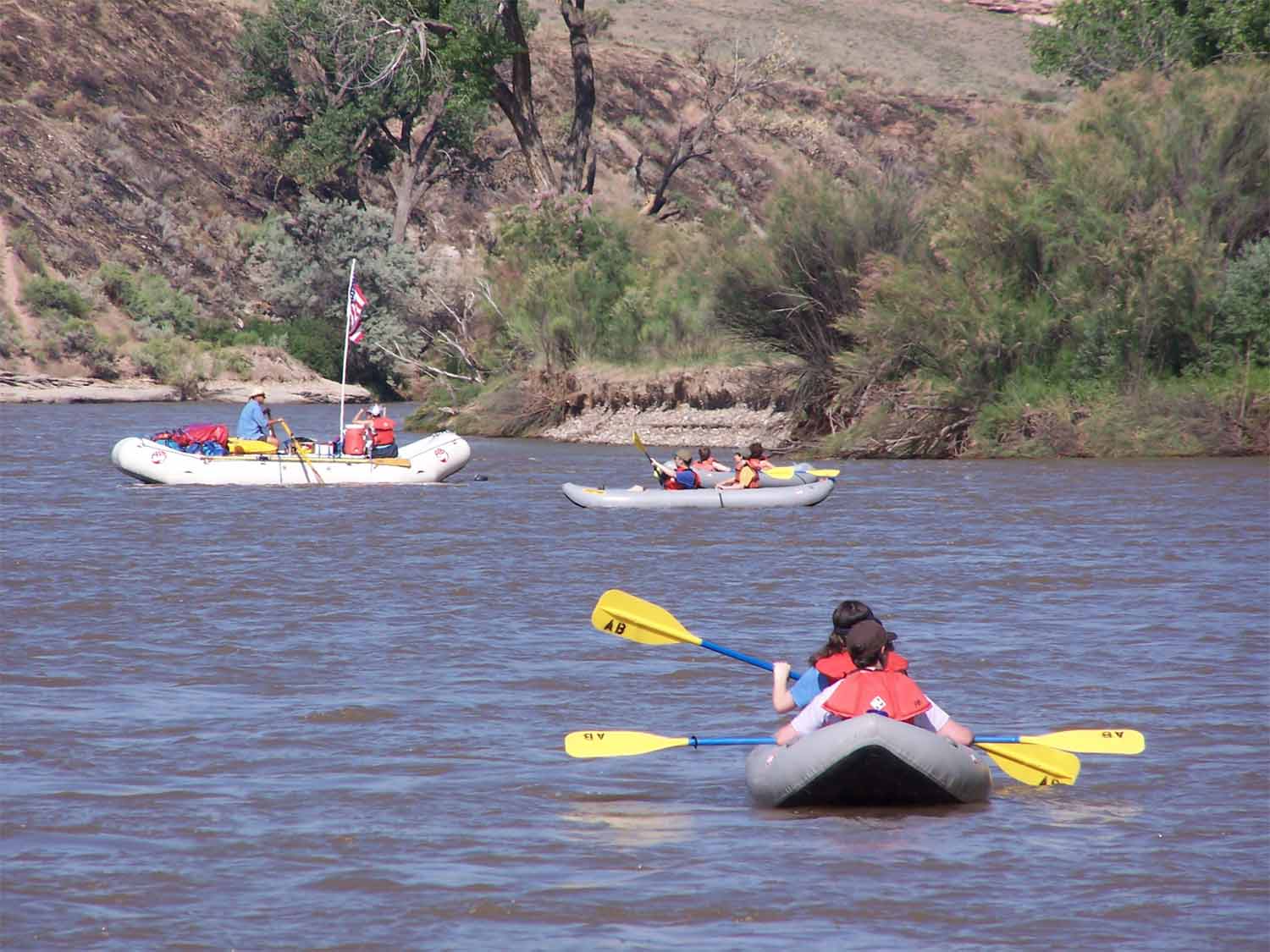 Labyrinth and Stillwater Canyon 
Labyrinth and Stillwater Canyon are serene sections of the Green River before it joins the Colorado in Canyonlands National Park. These multicolored canyons are gorgeously calm and  perfect for those who love multi-day floats packed with history lessons and hiking opportunities.  
Both are about an hour away from Moab for boat ramp access; Ruby Ranch is the preferred put-in for Labyrinth Canyon, and Mineral Bottom (which is the take-out for Labyrinth Canyon) is where to launch for Stillwater Canyon. For those wanting to join a guide through Labyrinth Canyon and/or Stillwater Canyon, check out the Moab Rafting and Canoe Company.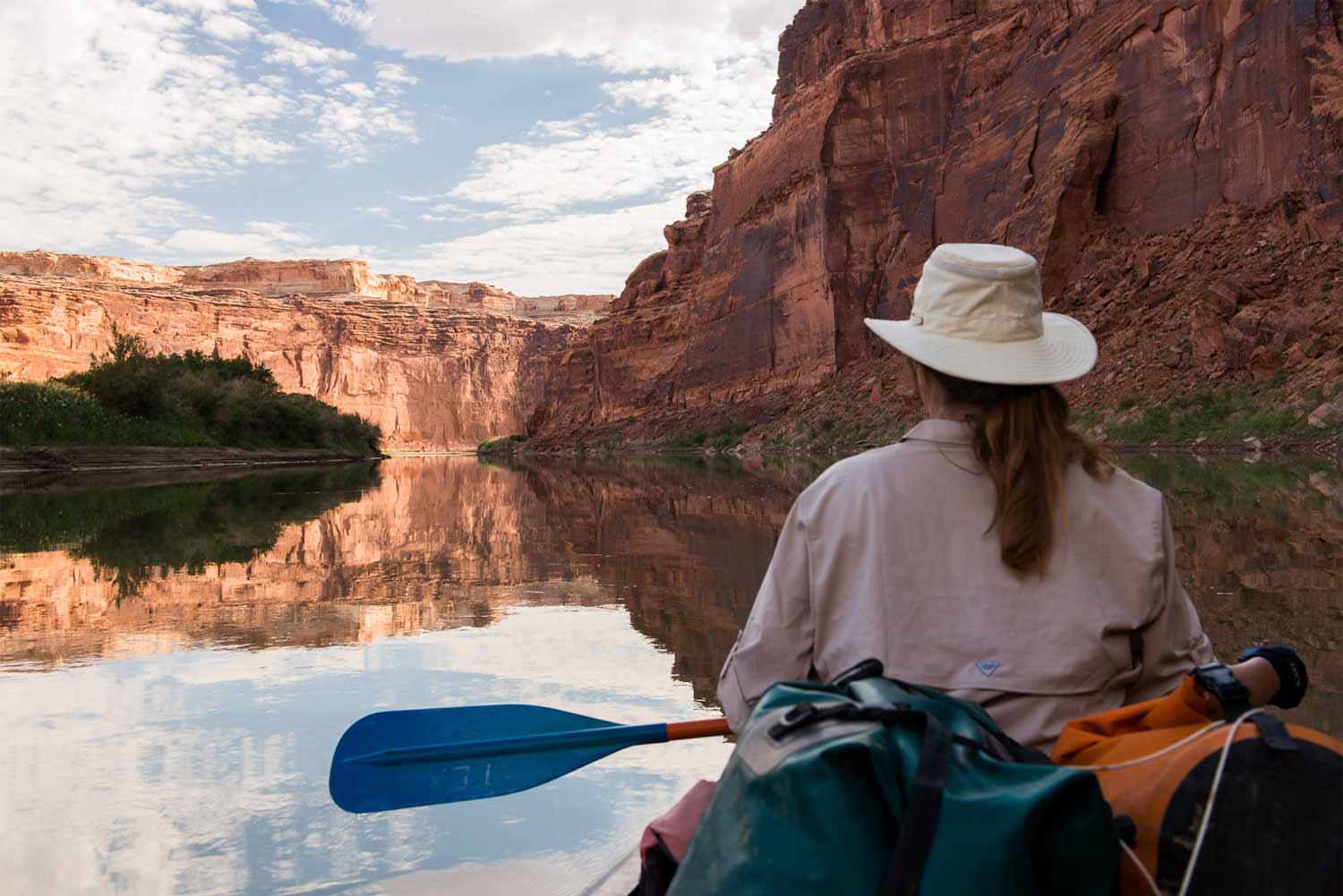 Crowd-less National Parks, The Needles or Maze District of Canyonlands
When in Moab for spring break, it's common to see a line of cars down highway 191 waiting to get into Arches National Park. Nowadays, unless you're visiting Arches during twilight hours, that's just how the cookie crumbles. 
Canyonlands National Park sees a fraction of the visitors of Arches, and is quadruple the size. This park is so humongous, it's separated into multiple districts. To really escape the spring break crowds in Moab's national parks, flee to the Needles and Maze Districts.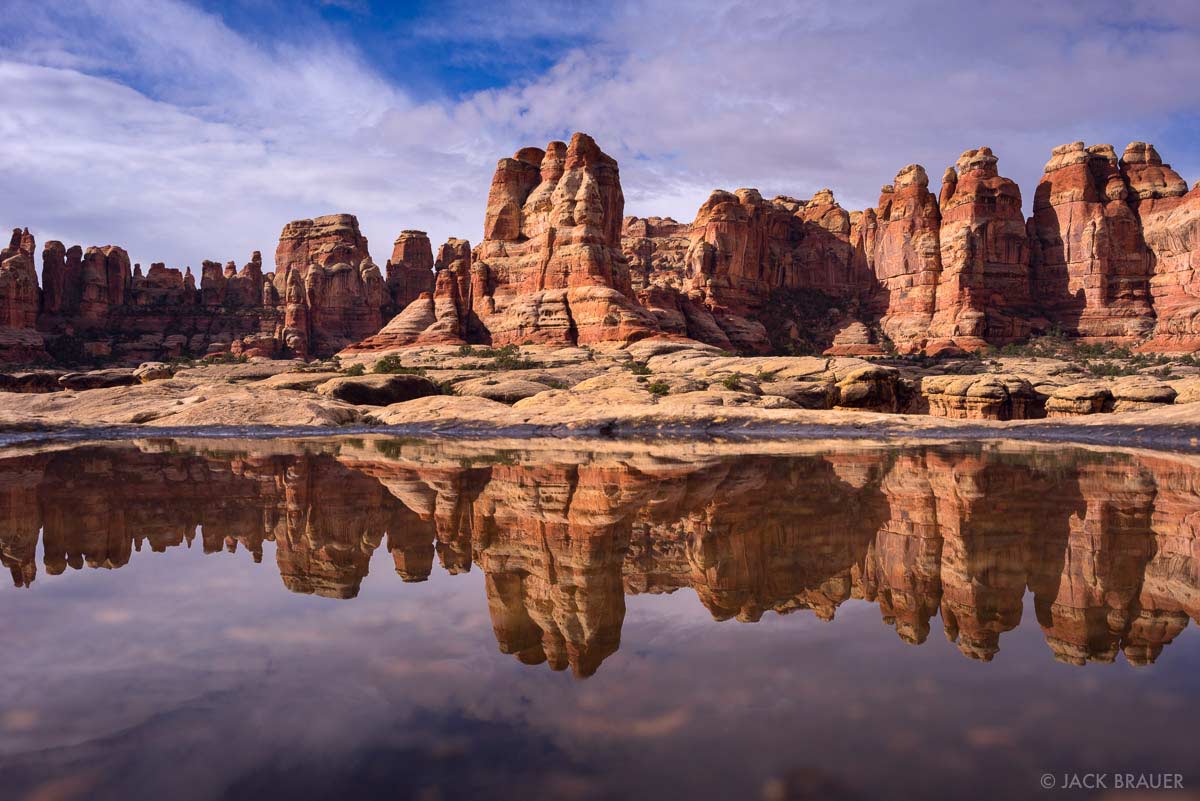 The Needles can be done as a day trip, but that doesn't necessarily mean that it should. This is a truly remote area that deserves enough time to explore and appreciate. Plan a couple of days to camp in the Needles, and be sure to see Druid Arch and Elephant Canyon while you're there. 
If you really want to be alone, retreat to the Maze with plenty of supplies, gasoline, and your favorite posse in tow. This is the most remote area of Canyonlands, where the hoodoo groves of the Dolls House decorate the canyon rim, immaculate slot chasms weave between the bluffs, and ancient ruins remain as if they were left yesterday. Plan to be here for a few days.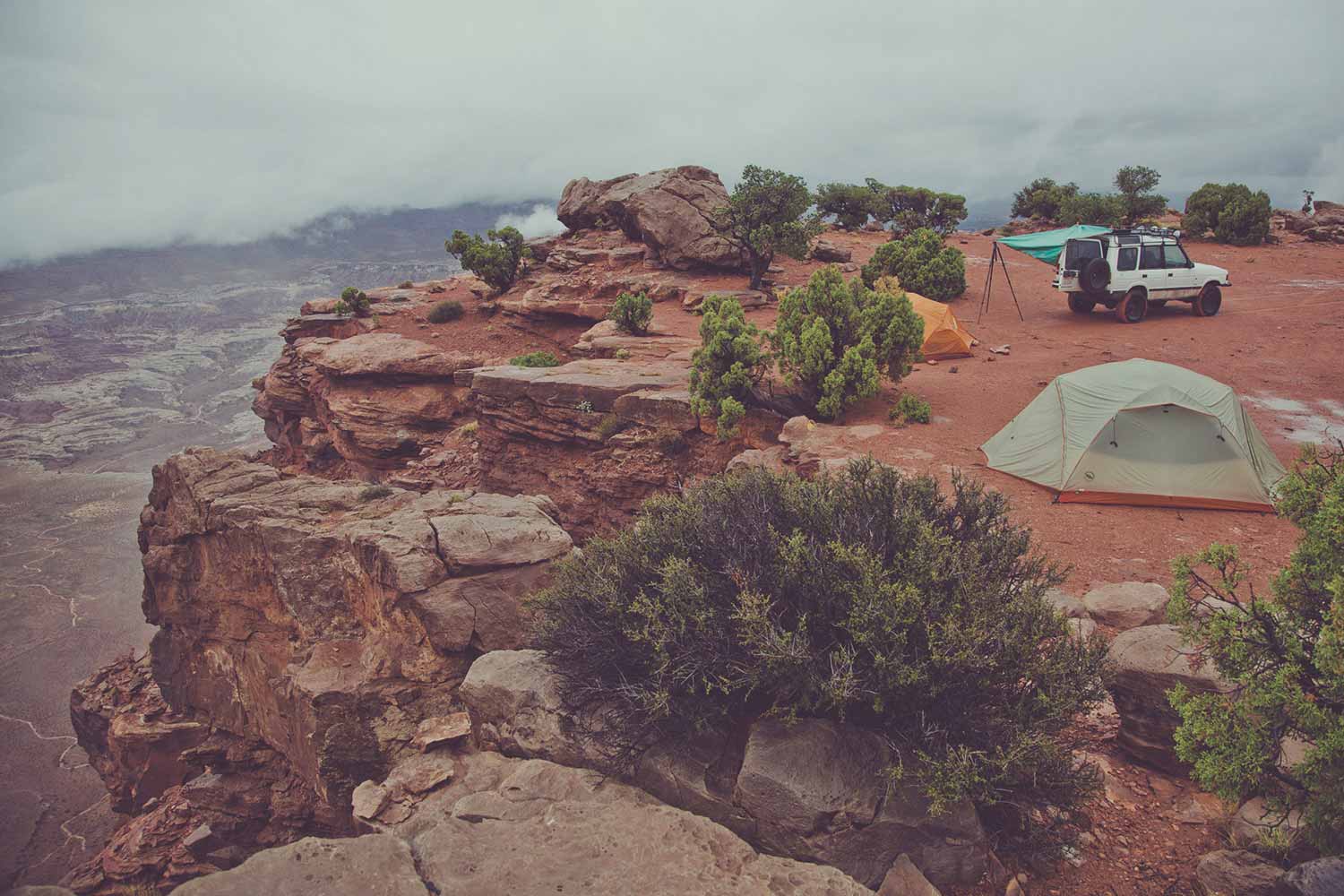 For more details on Canyonlands' secluded havens, check 'em out here.
Hiking & Biking in the La Sal Mountains
The La Sals are a part of what make Moab so dumbfoundingly attractive. But surprisingly, not a lot of people tend to visit these snow-capped beauties less than an hour away. Early springtime means there still might be some snow on the trails and classically capricious alpine weather. However, the absurd view of Castle Valley is definitely worth the driving the La Sal Loop alone, so if it's too frigid for your liking, you still have a way to escape the crowds in Moab and gain completely different perspective of this incredible area.  
Most avid mountain bikers will have heard of the Whole Enchilada trail, which is a famous, 26 mile ride that starts from Burro Pass in the La Sals. This trail is widely popular, but luckily it's such a concentrated spot, it leaves a lot of other trails open and hold-up free on this mountain.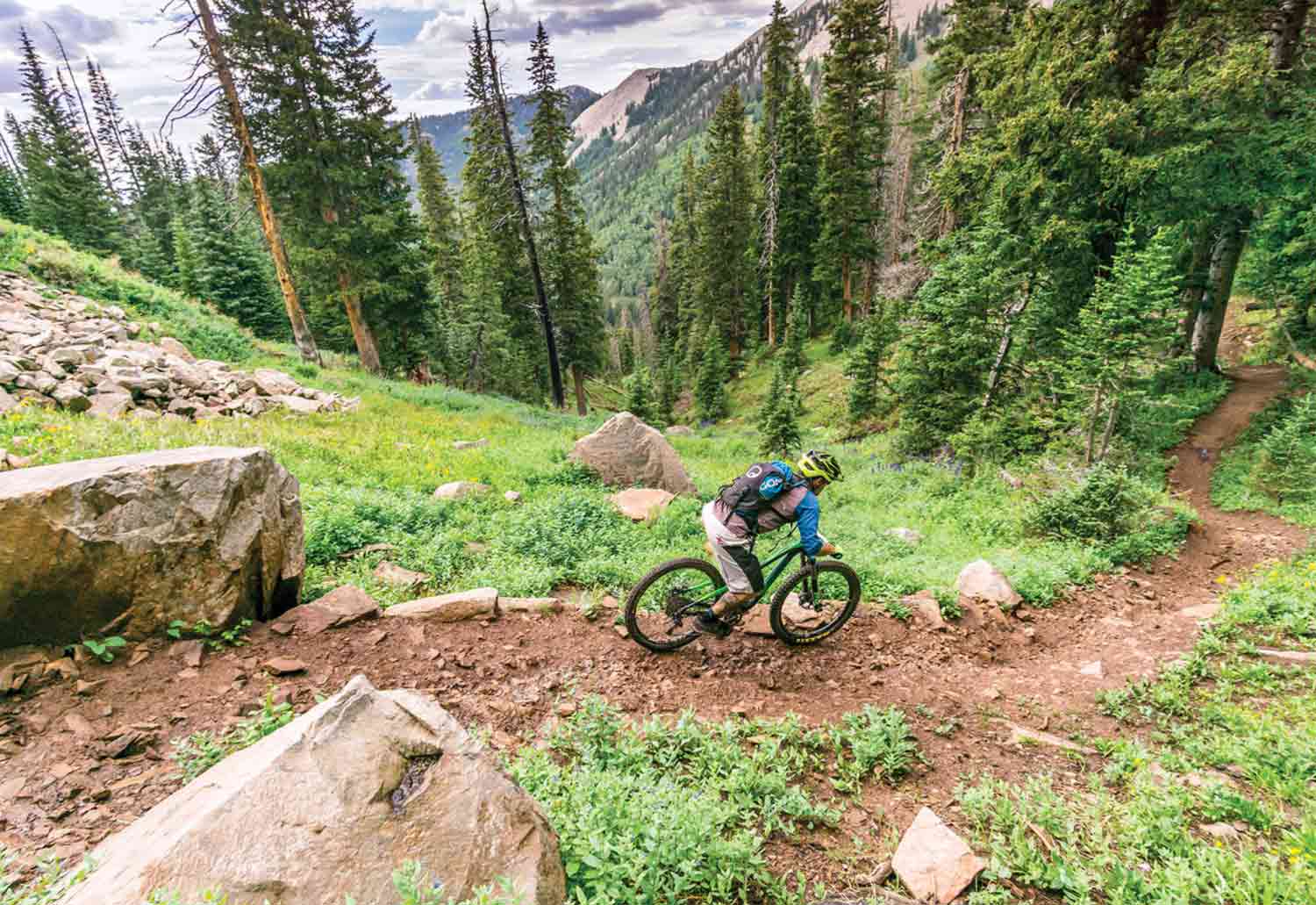 Squaw Spring is a beautiful, intermediate track that zips through aspen groves, old cabins, and past the trail to Brumley Arch. It's 4.3 miles starting from Geyser Pass which ends at a natural spring.
South Mountain Trail is 5 miles of stunningly scenic strolling / cruising. Ponds, meadows, and creeks dot the forested path on this intermediate trek that starts at La Sal Pass road.
Miners Basin-Warner Lake is a delightful, 2 miles long trail and passes through an abandoned mining community that is over 100 years old.
Primitive Camping areas outside of Moab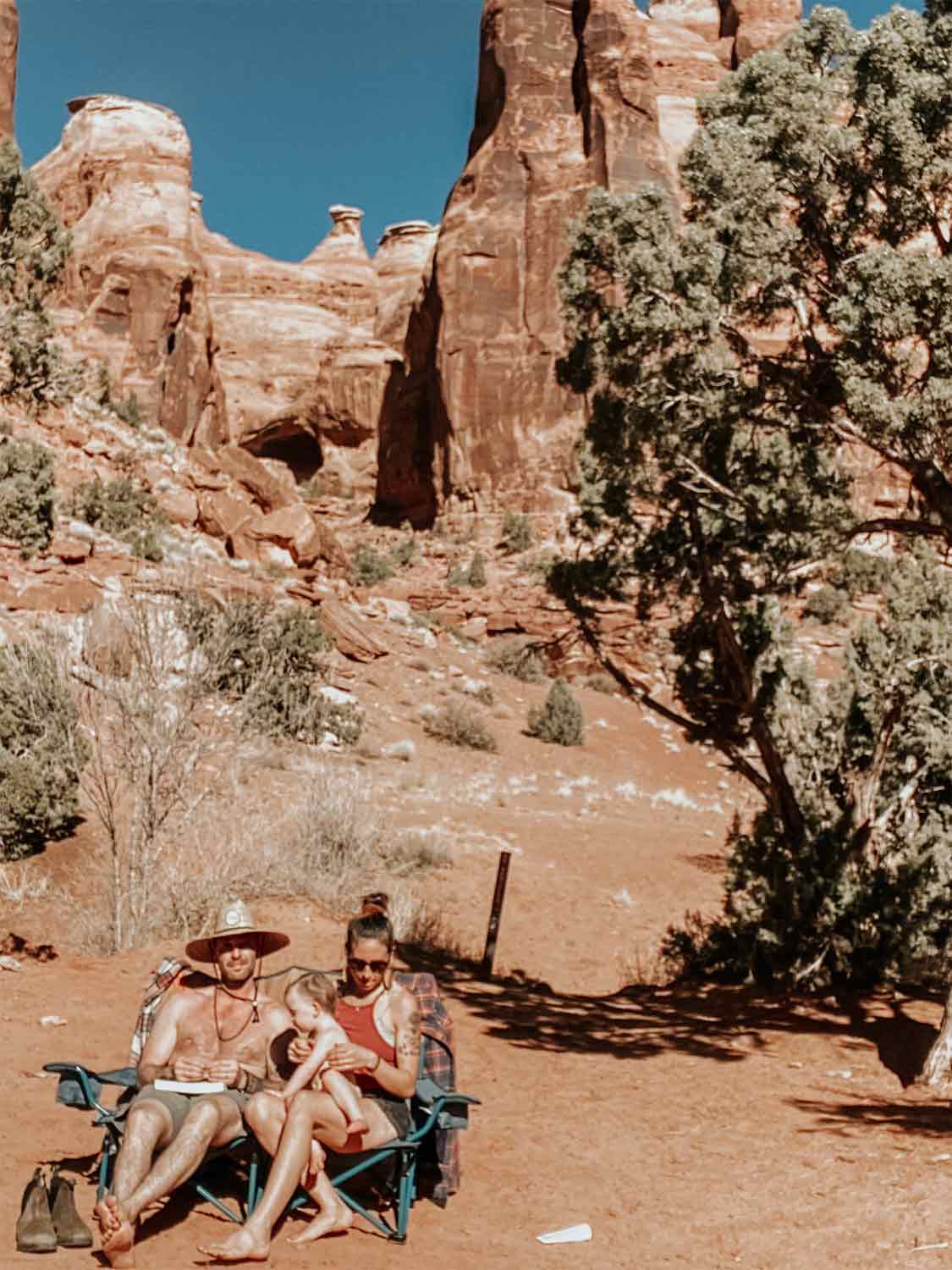 Moab's hotels can be pretty pricey during spring break, and an established campground spot can be hard to nail down if you're not there first thing in the morning. Fortunately, the outskirts of Moab has plenty of beautiful and free camping areas away from the spring break crowds. 
Here's a few of housekeeping rules to know before snapping up a primitive camping spot:
Pack out ALL waste, this means human waste too. Long gone are the days of treating the wilderness like one big litter box. And if you've never had to do that before but you're for sure going to opt for dispersed camping, start shopping for wag bags or portable toilets, and learn how to use them! 

Respect the campfire restrictions. It's the desert, evidently fires can be a real problem out here. So plan alternatives for how to keep warm and toast the mallows on those frost-bound nights during spring break. 

Camp in areas that are already worn from other campers rather than making new spots. This ensures you're making less of an impact on the areas we're all trying to enjoy.  
Gemini Bridges 
Gemini is a popular destination for free camping as it sprawls through a fabulously secluded canyon. It's a pretty rough road getting here, so come prepared to bounce around! This spot is 40 minutes north of Moab.
Willow Springs Road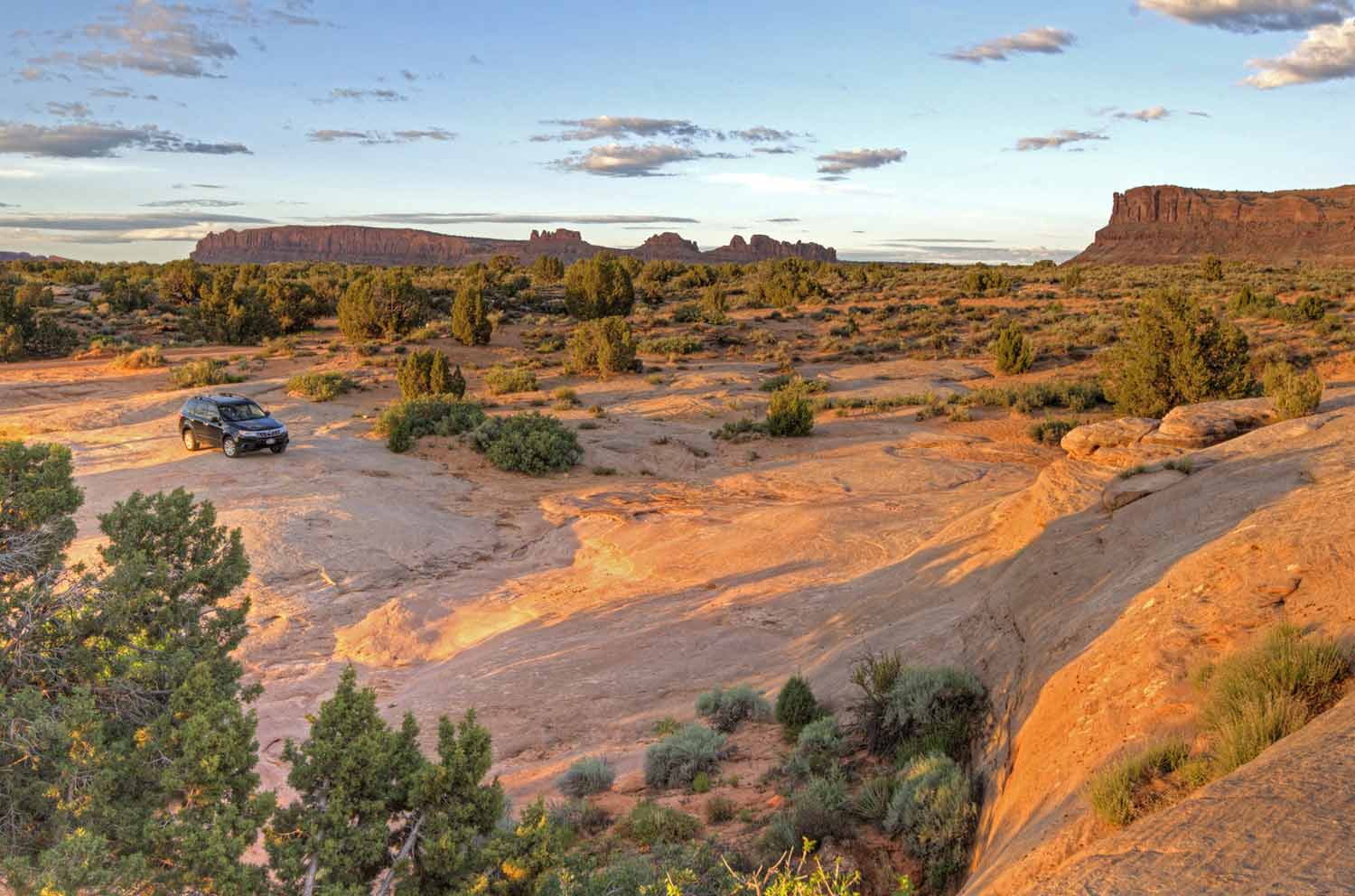 Lil' tidbit about how cool this spot is— if you continue down this road (in a 4×4 preferably) it pops you out into Arches National Park. Willow Springs is about 15 minutes north of Moab.
Yellow Circle Road
This is a lovely field with 360° views. Consider this spot if you're coming with a large group or in an RV.  Yellow Circle is 10 minutes south of Moab.
Mill Canyon 
This is a shady spot beneath the surrounding cliffs. The road is a little rugged getting in, and longer vehicles might have a harder time with some of the dips getting out here. It's also near the Dinosaur Bone Trail! Mill Canyon is 15 minutes north of Moab.
Final Suggestions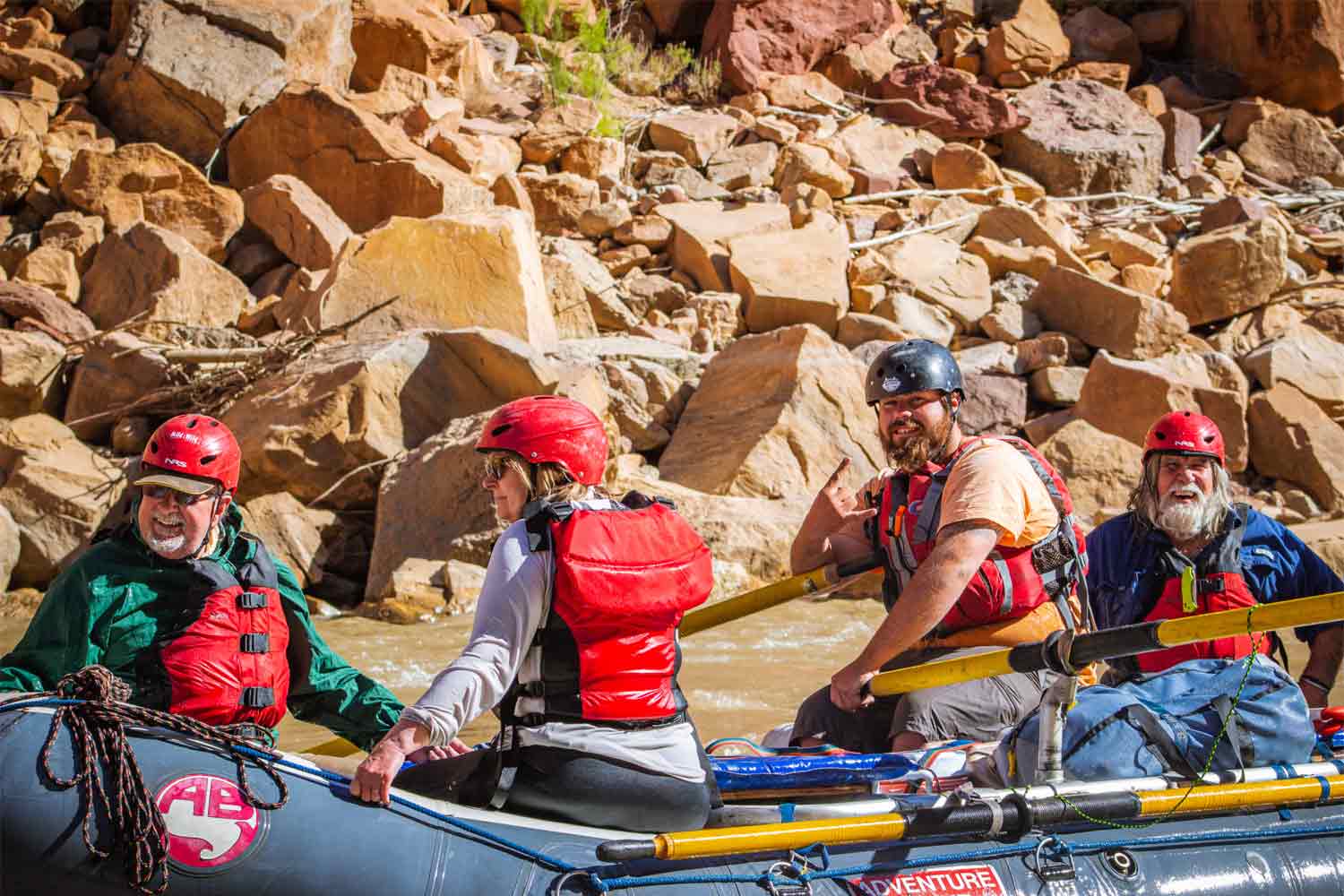 Spring break in Moab can feel like going into recreational battle with other visitors by late morning. Be smart, be the early bird or the evening owl to avoid lines, congestion, and the potential for internalized fits of frustration.
Plenty of these fabulous places are out of the way. So an itinerary paired with a topographical map from the Moab Visitor Center will help you avoid the stress of not being able to find a trail/area on the first couple tries. Trust on this one, it's really easy to get turned around in these canyons.
The Moab Brewery is always full of happy locals. Go to the bar and talk to them! Most are super friendly, and their insight to this area is wayyy better than Google could ever hope to be.
More Reading 
9 Things You Should Know Before Going Off-Roading in Moab
6 Reasons to Consider a Multi-Day Rafting Trip to Escape COVID-19
Get New Blog Posts in your Inbox