Top Spring Rafting Trips in the U.S.
By Kolben • March 5, 2019
Top Spring Rafting Trips in the U.S.
Some wait in anticipation all year for summer rafting to arrive so they can once again experience that freeing feeling on the front of a raft, the wind in their hair and sun on their arms. But, did you know that summer isn't the only time you can board a raft for big splashes? Check out our list of the top spring rafting trips in the continental U.S. Then get out your planner, you're going to want to set a few more weekends aside…
Experience the Earliest Rafting Season in the U.S. on the Salt River
Did you know that the Salt River offers the earliest rafting season in the US? Located just outside Phoenix, Arizona, the Salt River is only raftable every few years since it's completely dependent on snowpack, which also makes it one of the top spring rafting trips. Hit the water early with Mild to Wild Rafting & Jeep Tours on a 1/2 day, 1-Day, or multi-day adventure! Our last Salt River season was in 2017 and after a fantastic winter in the White Mountains, guests began rafting the Salt River on March 1st again this year in 2019.
Salt Highlights:
Earliest season in the US, beginning March 1st.
Experience a splash a minute through the most exciting section!
Easily accessible from Phoenix, Arizona.
Remote, middle-of-nowhere feel even for 1-day adventures.
Often referred to as "Arizona's Other Grand Canyon" as you raft through a 2,000 foot deep box canyon.
More rapids per mile than any other Arizona river.
Spectacular blooming cactus & desert flowers.
Learn More About Salt River Rafting.

Snake River Rafting through Hells Canyon
Venture to Idaho to explore the mighty Snake River through Hells Canyon with OARS. Enjoy splashy and fun class III rapids after a scenic flight over the canyon to transport you to your destination. The Snake River marks the border between Idaho and Oregon and is home to a tremendous gorge and clear water. This trip is perfect for young children and grandchildren – an adventure the whole family can enjoy!
Snake River Highlights:
Deepest gorge in North America.
Make it an all-adults trip and add a premium wine package to enjoy craft tastings along your 5-day trip.
First trip departs in May.
Enjoy side hikes and search for wildlife.
Adventure by raft, dory, inflatable kayak, or SUP.
Learn More About Snake River Rafting.
Explore the Taos Box through the Rio Grande Gorge
A little known hidden gem, the Taos "Box" runs through the Rio Grande Gorge with exciting rapids picking up intensity through the final 5 miles. Load a raft with New Mexico River Adventures for a fun day in the sun for one of the best spring rafting trips around. Due to the larger water, the Taos Box welcomes kids ages 13+. Enjoy a splashy, fun day in the New Mexico sunshine, then make your way into town to enjoy fine art, a rich cultural scene, and a World Heritage Site (Taos Pueblo).
Taos Box Highlights:
Paddle hard as a team through big rapids in a tight canyon.
Spot various wildlife along the shore such as the Rocky Mountain Sheep or a river otter.
Get soaked by up to a class IV rapid.
Enjoy Tao's rich culture post-adventure – don't forget to add green chilis to your dinner!
Learn More About Taos Box Rafting.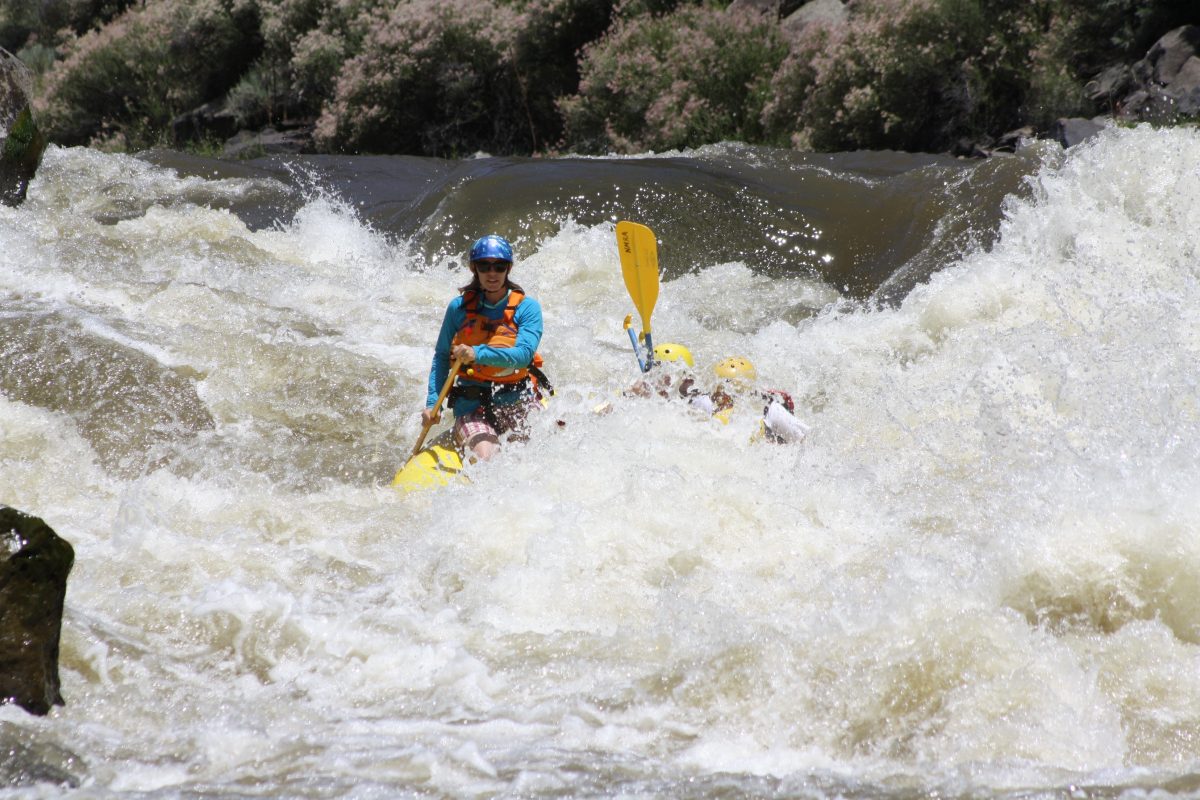 Moab Rafting through Castle Valley or Cataract Canyon
The Colorado river offers multiple adventure levels to match everyone's taste. Go in the spring with Mild to Wild Rafting & Jeep Tours for mild temperatures and cool evenings in order to beat the desert summer heat. Starting in April, guests can float the Colorado River through Castle Valley for a relaxing, family-friendly trip just outside of Moab or seek higher adventure by splashing through Cataract Canyon on a multi-day trip. Choose anywhere from 1 hour with our Splash and Dash trip in Castle Valley to 3 days. In Cataract Canyon, choose from 2 days to 5 days on the river. A destination in itself, Moab also offers mountain biking, hiking, and 2 incredible National Parks; Arches and Canyonlands.
Castle Valley Highlights:
Unbelievable, picturesque scenery of Moab's red rocks.
Fun & splashy class I-II rapids (and warm compared to our mountain rivers!).
Right next door to Canyonlands and Arches National Parks.
Perfect for every member of the family, young to old!
Bucket list views and camping – enjoy big sandy beaches and open, starry night skies.
Learn more About Castle Valley Rafting.
Cataract Canyon Highlights:
Big drops and up to class V rapids at high water
Some of Utah's most famous whitewater, Cataract Canyon near Moab, Utah Carves through on the
U.S.'s most iconic national parks; Canyonlands National Park.
Experience more than just whitewater with plenty of hikes, side-canyons, and waterfalls to explore along the way.
Learn More About Cataract Canyon Rafting.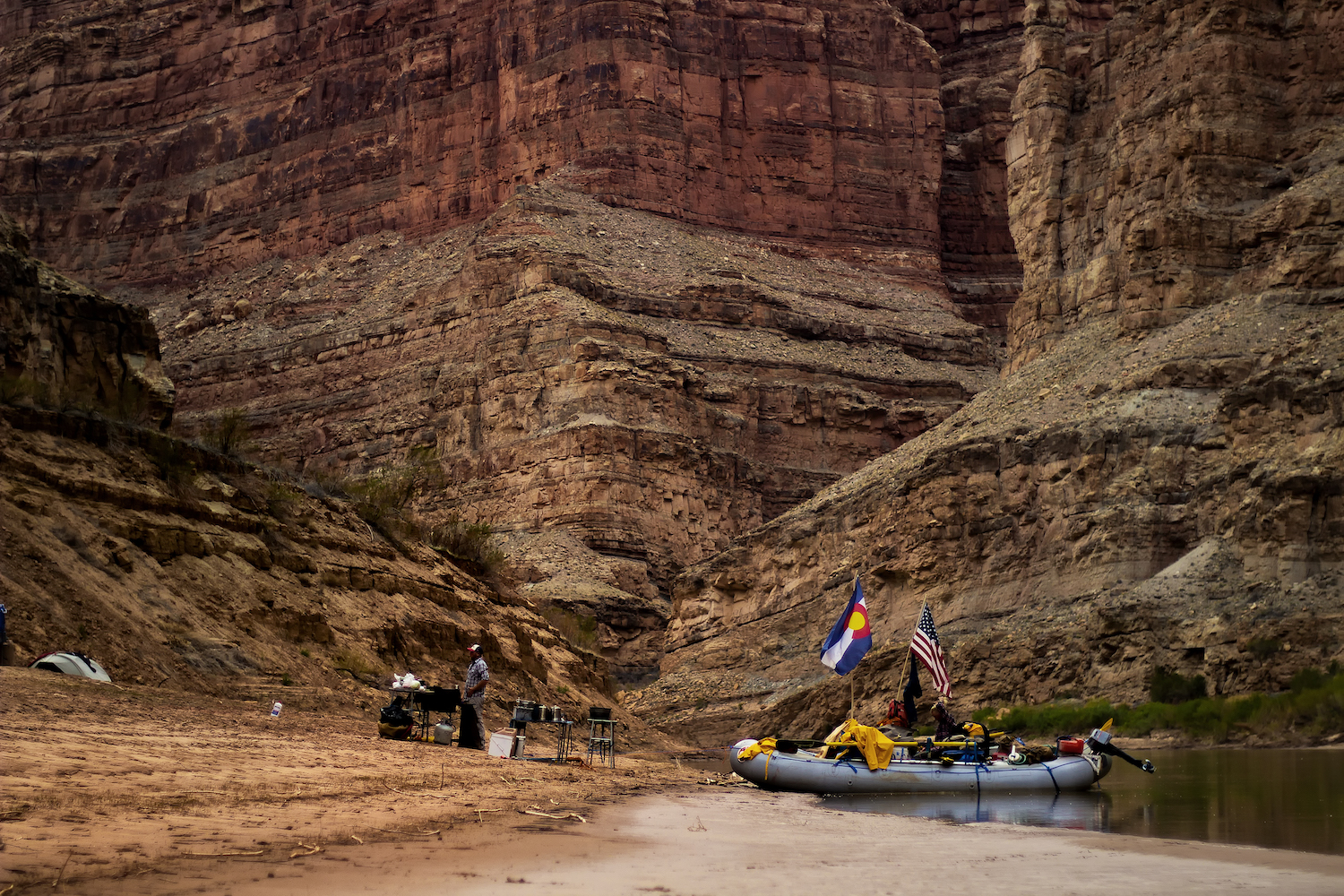 Splash Through Scenic Utah Down the San Juan River
Let Wild Expeditions out of Bluff, Utah take you through what they call "one of the world's greatest outdoor museums." Depending on the length of your trip, float the Upper Canyon on a 1-day trip or the Lower Canyon on a multi-day trip for up to 10 days! Beginning in March, the San Juan offers an adventure for all ages.
San Juan Highlights:
Suitable for all ages
Offers single-day and multi-day trips
The longer the trip the more opportunity there is for hiking to ancient Puebloan sites to view rock art and cliff dwellings much like you'd see in Mesa Verde National Park.
Float to Mexican Hat or Bluff Hills depending on the trip length
Trips are offered from March all the way until October
Learn More About San Juan River Rafting.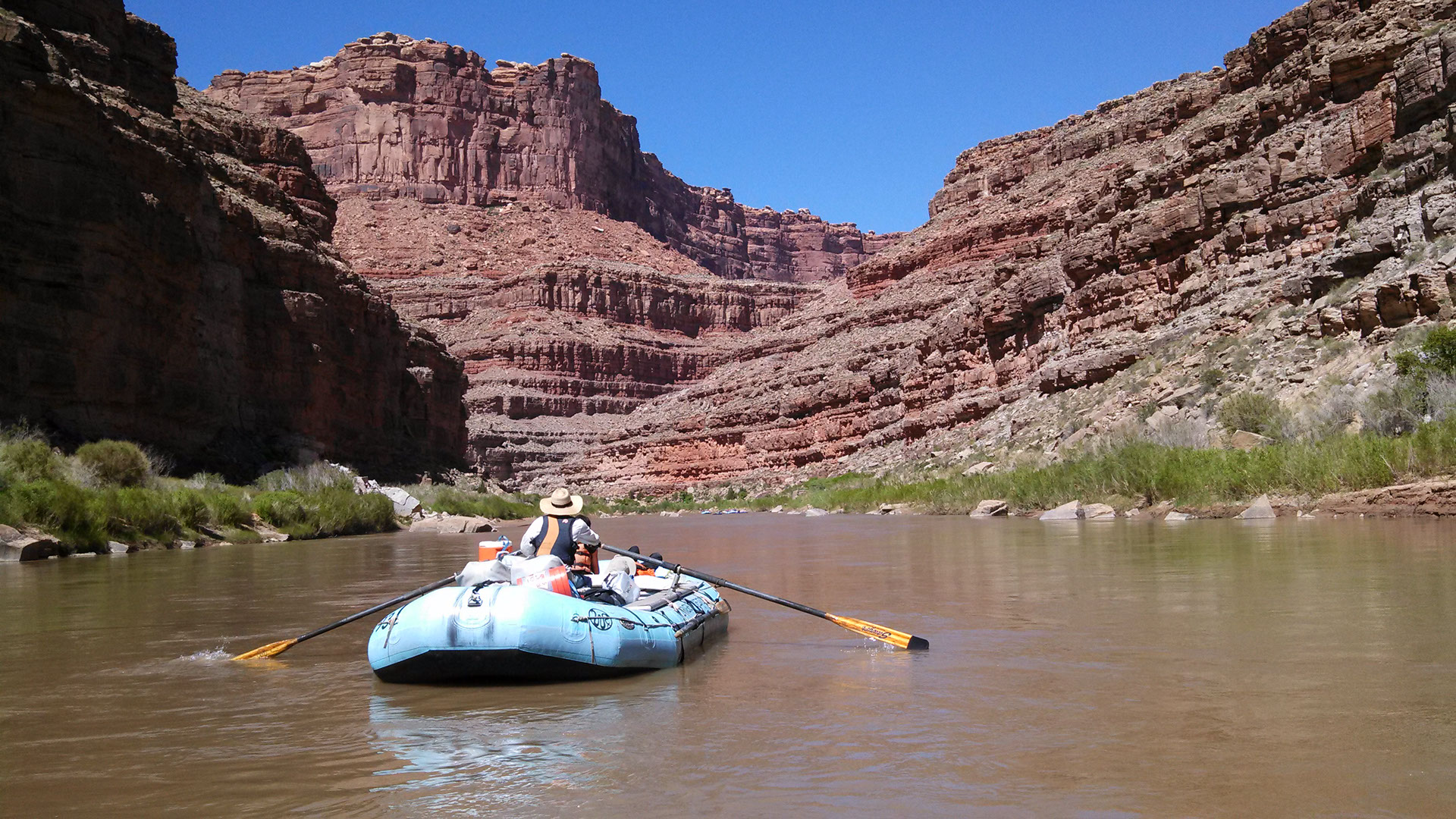 See Colorado's Last Free-Flowing River on the Yampa
Enjoy class III & IV whitewater on a Yampa River rafting trip, the last free-flowing river in Colorado. This trip is incredibly sought after and will present the highest water early during the year, making it one of the top spring trips for rafting. You'll float through Dinosaur National Monument, a huge canyon with plenty of places to stop and explore. As a truly remote experience, you can choose between a 4 or 5 day trip perfect for those who need a long vacation and time to reset.
Yampa River Highlights:
The Yampa is Colorado's only free-flowing river, which makes it the most sought after rafting trip in the US.
Raft through Dinosaur National Monument, located at the border of both Colorado and Utah.
Raft through two states! The Yampa is Colorado & Utah rafting (at the confluence with the Green River)
Because the Yampa River is free-flowing and not dammed, you can expect really big whitewater in the spring during the winter runoff.
You'll see one of the biggest river canyons in the US! With a long history of Native Americans and outlaws using the canyon, you'll find something new and exciting around every corner.
Learn More About Yampa River Rafting.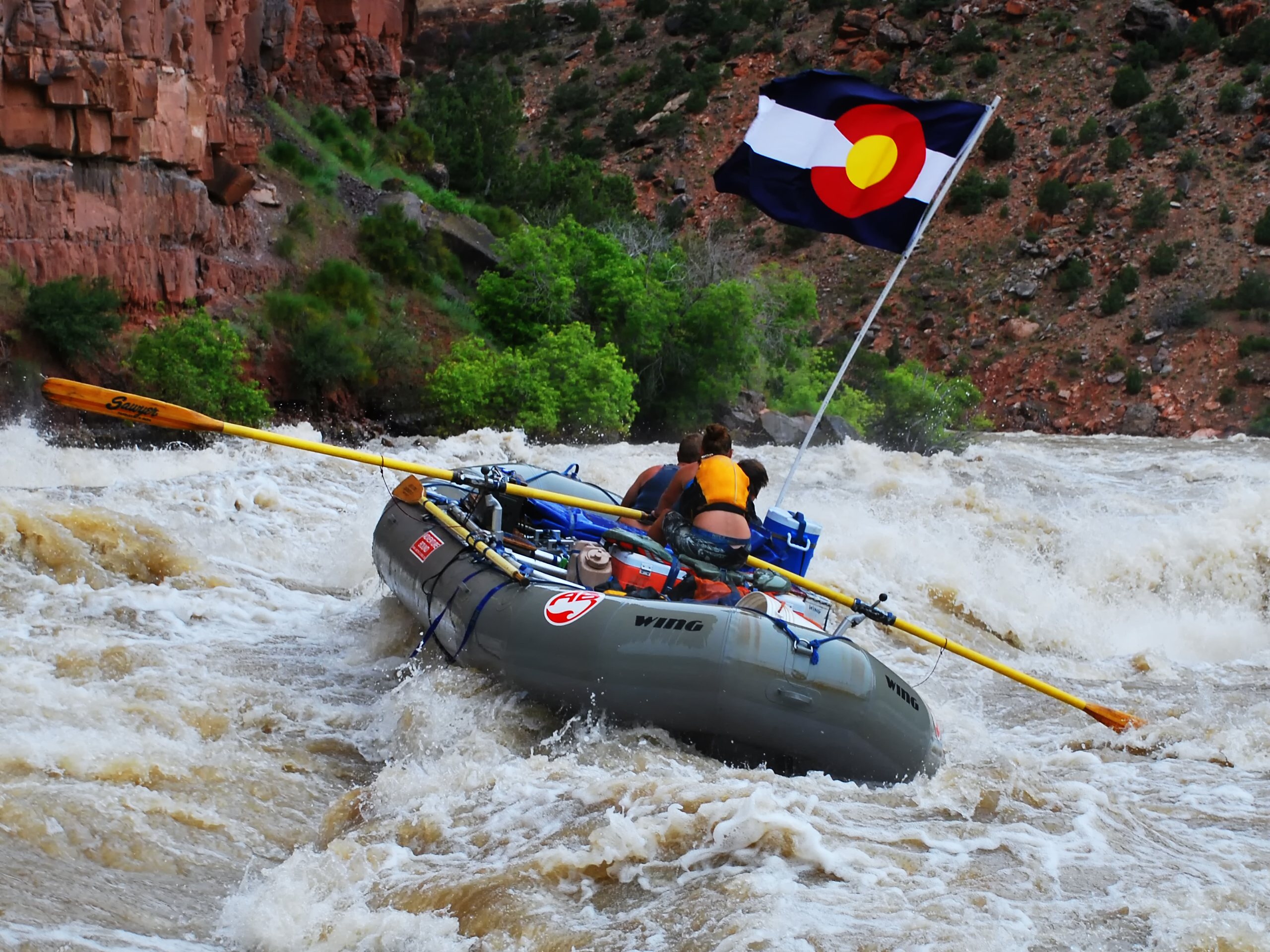 No matter your desired adventure level, there are plenty of opportunities to get on the river in the spring. If you're looking to beat the summer heat and escape for a long weekend, you have plenty of options. Now what are you waiting for? The river is waiting…
More Reading:
What Is CFS and What Does it Mean for My Raft Trip?
Get New Blog Posts in your Inbox