5 Incredible Moab Arches (And Bridges) You Won't Find In Arches National Park
By Ian Murphy • October 19, 2021
5 Incredible Moab Arches (And Bridges) You Won't Find In Arches National Park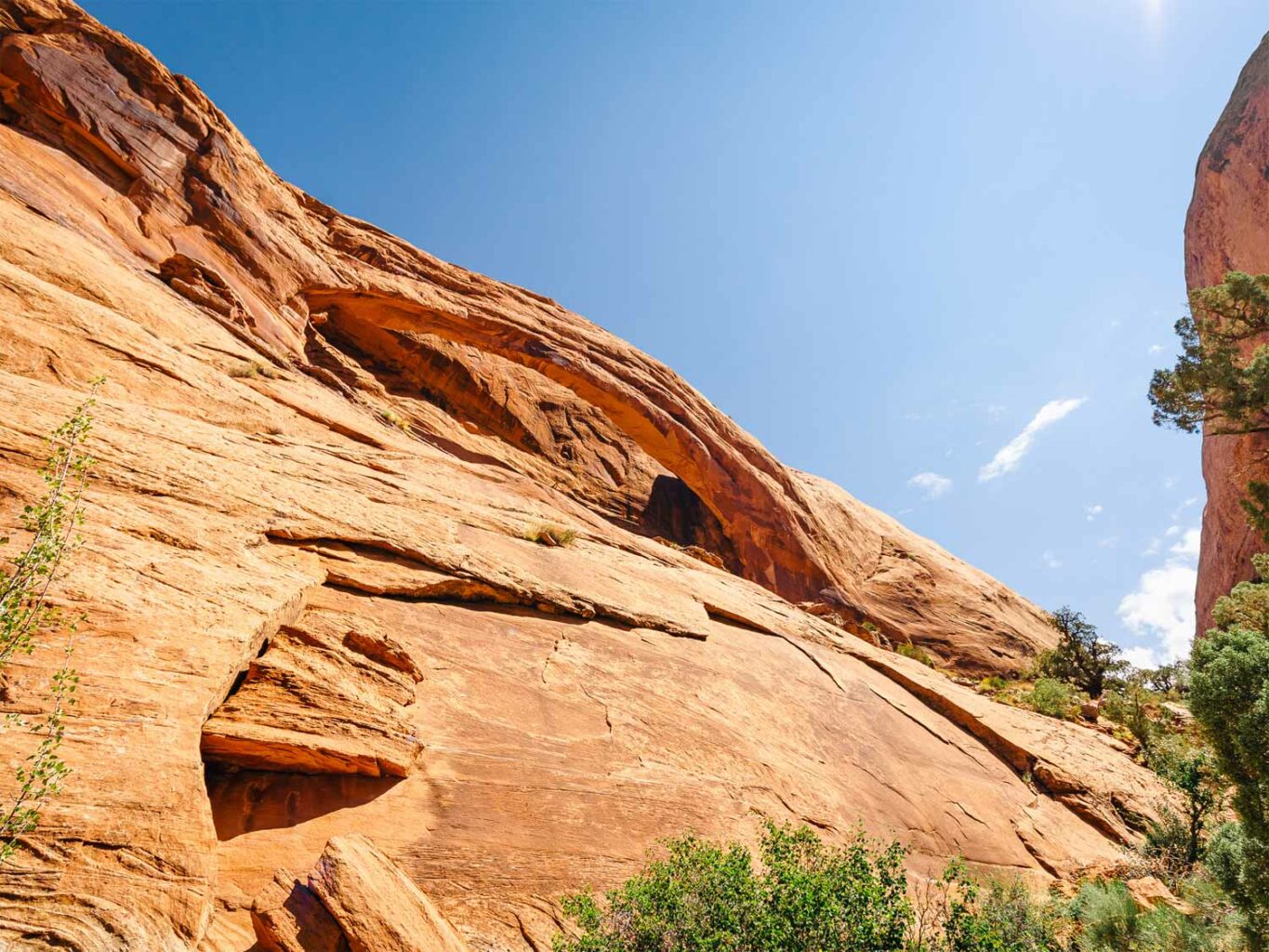 Everyone knows that when you think Moab, you think Arches National Park. Although this world-renowned park does feature some of the most famous arches and bridges in the world, it's certainly not the only place to find them in Moab.
If you know where to look, there are plenty of spots in and around Moab that feature drop-dead-gorgeous arches that are free for you to explore. You may even find some of them to be more stupendous than those in the national park (blasphemous, we know).
So, let's jump right in and check out our five favorite Moab arches outside of Arches National Park.
#1 Jewel Tibbetts Arch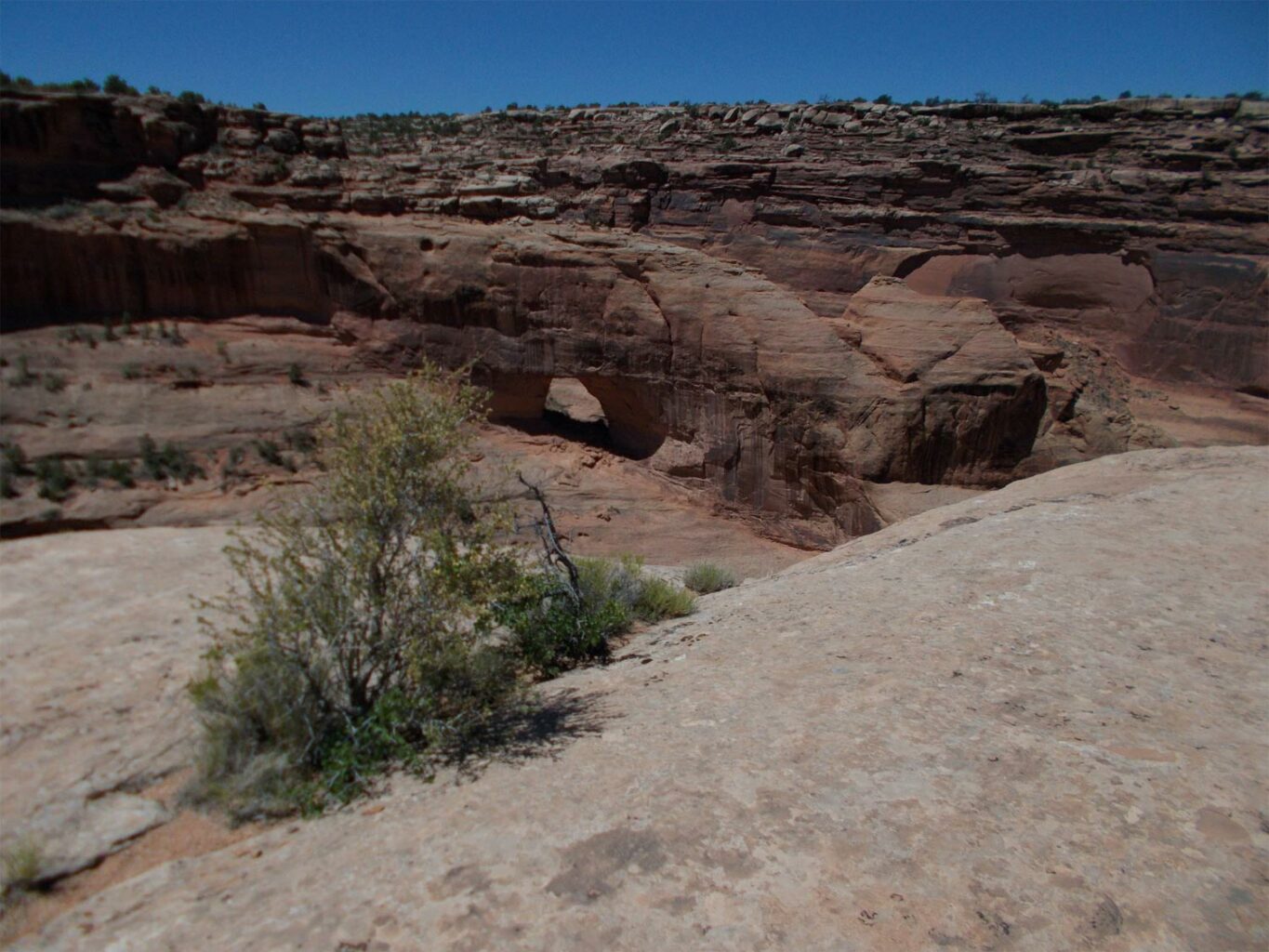 First up we have an easy 1.5-mile out-and-back hike overlooking the Jewel Tibbetts Arch and Hell Roaring Canyon. Although you won't be able to get up close and personal with this arch, its massive size makes it easy to spot from the scenic overlook of this trail.
The arch is named after Jewel Tibbett, a Moab resident who lived at the nearby Horsethief Ranch with her husband during the 1950s and '60s. It's said that they would often take ranch visitors to this overlook to observe the arch from afar. Now that's what we call a great host!
To get to Jewel Tibbetts from Moab, you first head out of town on UT 191-N/N Main St for 11 miles. Then turn left onto UT-313 W for 10.8 miles, after which you'll make a right and then merge onto Hell Roaring Rim Rte for 1.3 miles. Stay on Hell Roaring Rim Rte until you reach the trailhead.
#2 Longbow Arch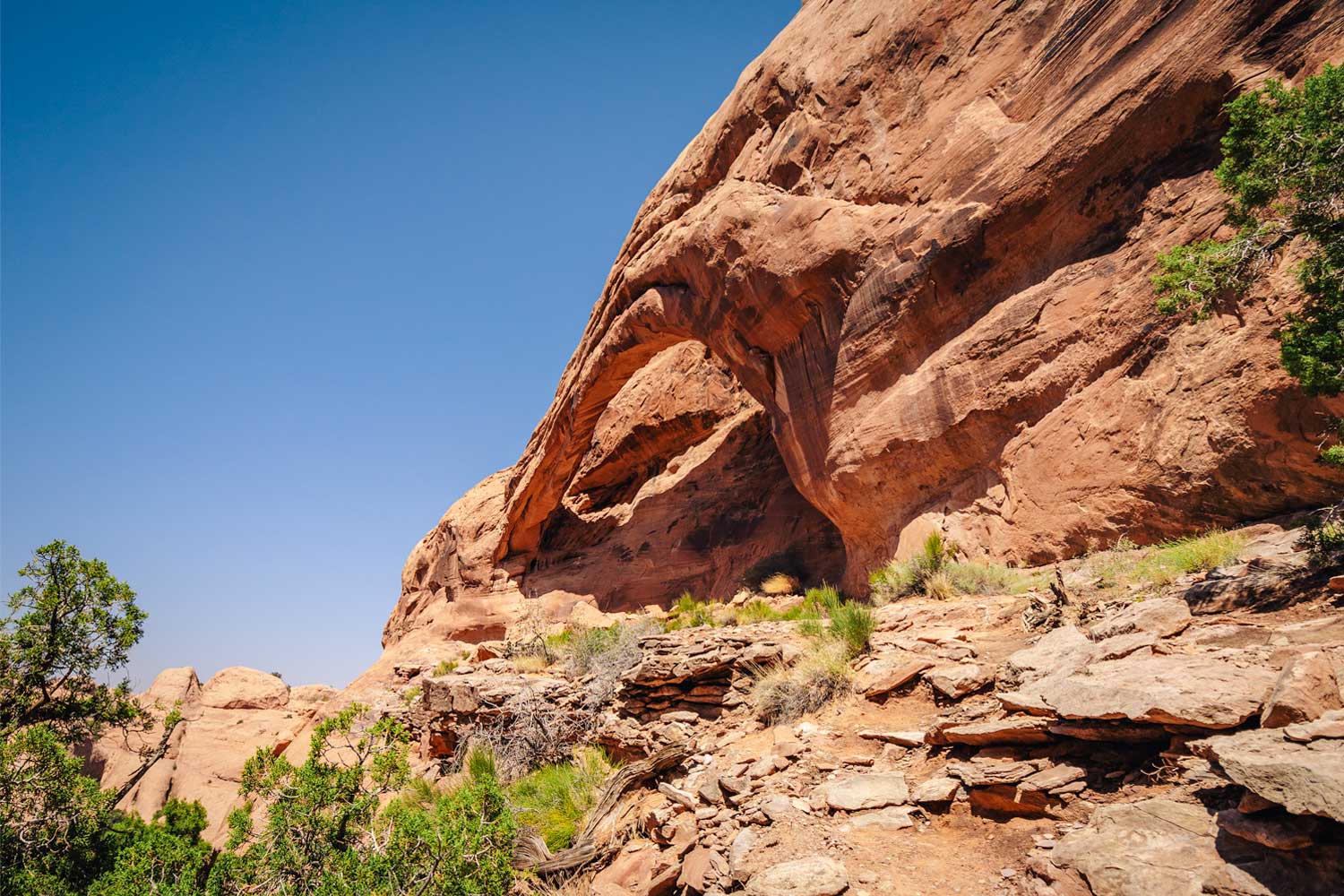 Longbow is a 2.2-mile out and back trail that feature several awesome petroglyphs and fossilized dinosaur tracks in addition to the titular arch. This trail is rated as moderate, although once you get out past the parking lot onto the slickrock top, the trail becomes quite mellow. Just keep a close eye on the green markers dotted across the terrain, as some are faded and it can be easy to momentarily lose the trail.
The Longbow Arch, itself, is tucked away in a little side alley atop the slickrock cliffs. It's an exhilarating feel rounding the corner that leads you to this wonderful hidden arch. Plus, there's a decent chance that you'll have it all to yourself since you run into significantly fewer people after leaving the dino tracks and petroglyphs behind.
To get to Longbow Arch, head out of downtown Moab along UT 191-N/N Main St for 4.1 miles. Then make a left onto UT-279 S for 5.9 miles where you'll eventually take a right into the Poison Spider trailhead. When you enter the lot, the Longbow Arch trailhead will be on the far right.
#3 Corona And Bowtie Arches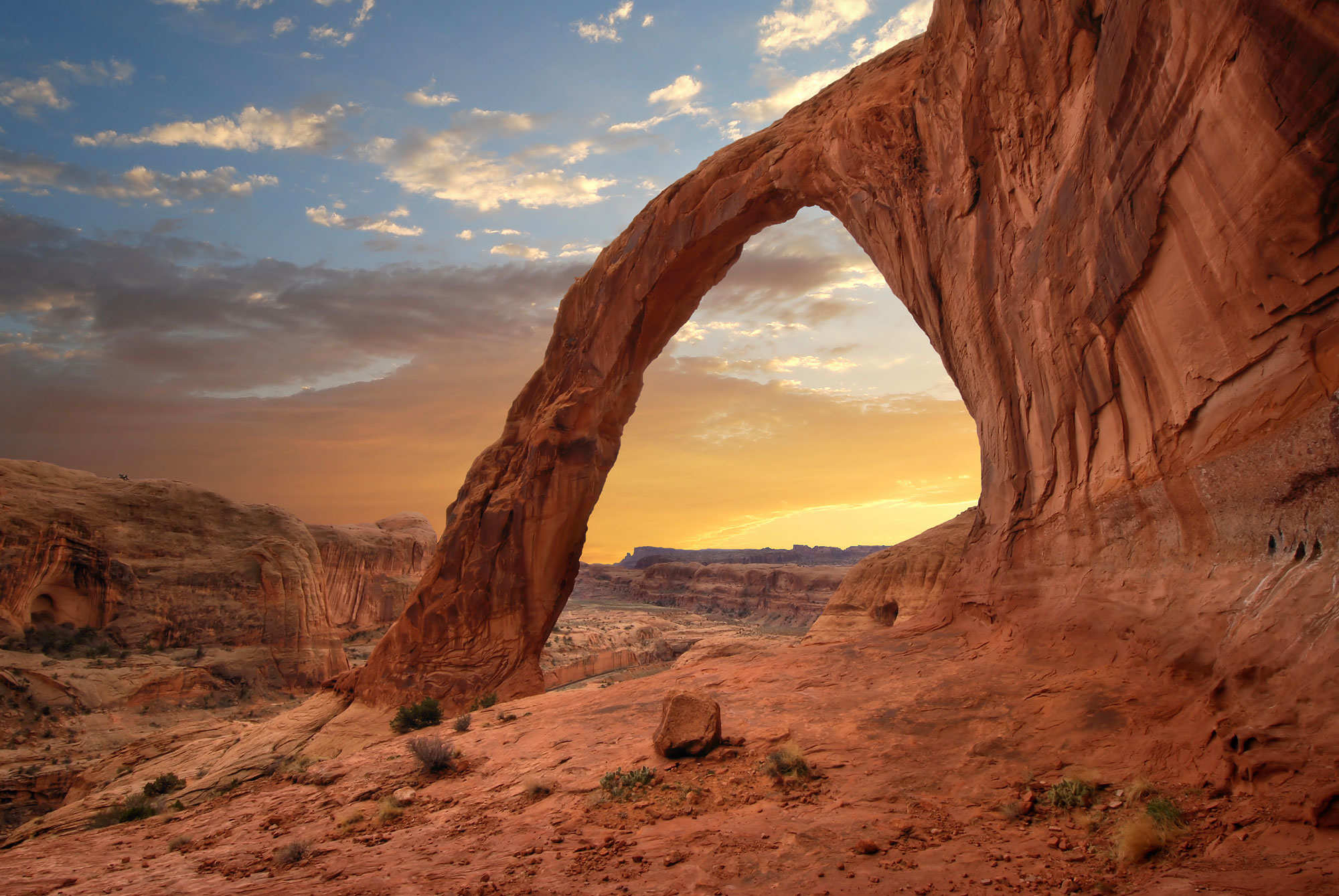 Two arches in one trail? You better believe it! This 2.4-mile out-and-back route is a moderate hike with fantastic payoff views.
Although the Bowtie Arch is a beaut in-and-of itself, the star of the show here is definitely the massive Corona Arch. When you first see it from a vantage point across the way, you'll get a sense of its immense dimensions by comparing it to the seemingly ant-sized people walking around its base. Once you actually rub noses with it, it's all-too common to have one's breath taken away by the arch's powerful presence.
From Moab, you can reach the Corona and Bowtie arches by following the same route as above to Longbow. However, instead of turning right in the Poison Spider parking lot, keep going an additional 4 miles to meet this trailhead on the right.
#4 Morning Glory Bridge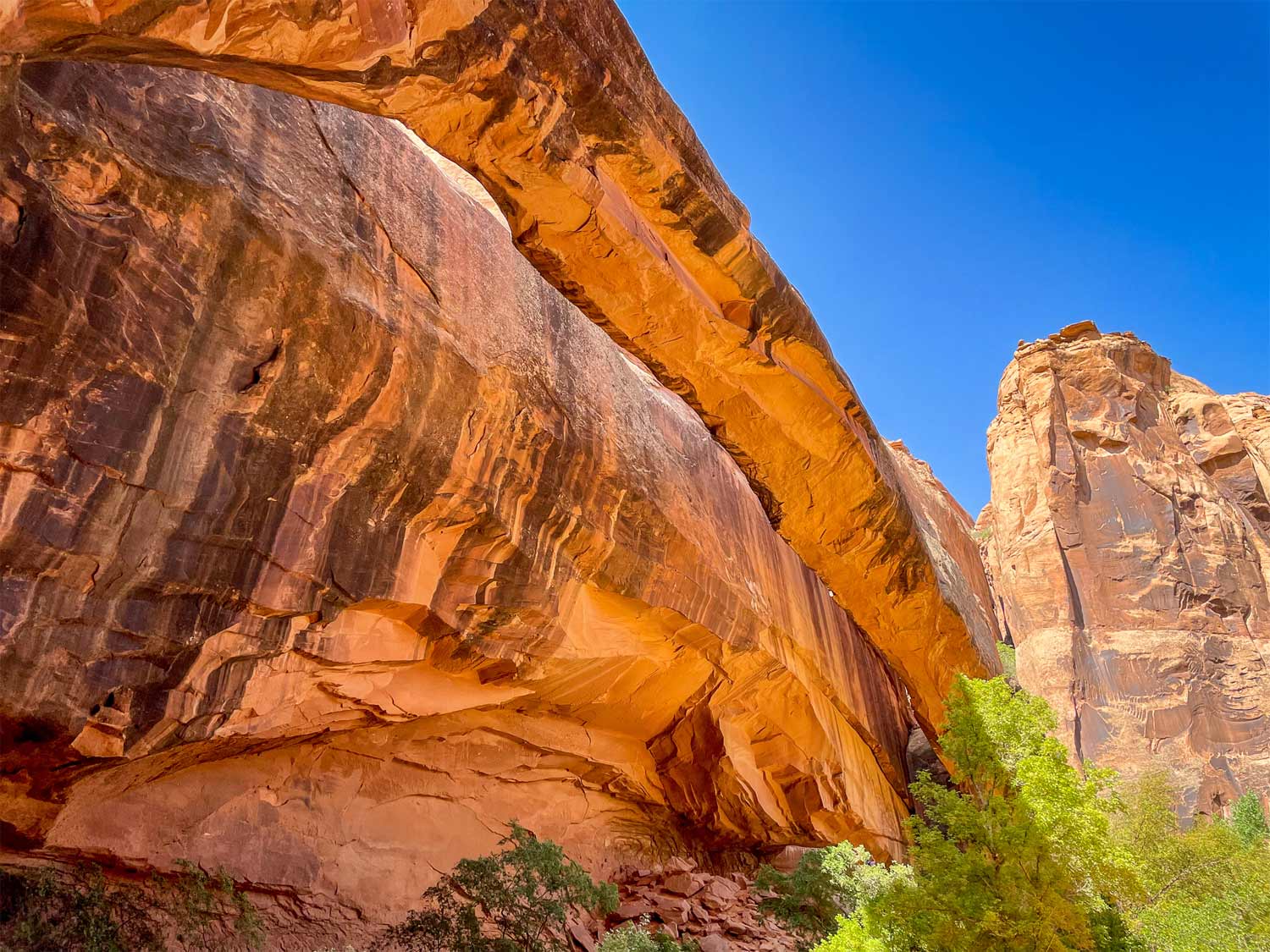 First, the difference between an arch and a bridge is somewhat arbitrary, and most folks won't bat an eye if you accidentally mistake a bridge for an arch. That out the way, let's talk the Morning Glory Arc… I mean Bridge!
You'll find the Morning Glory Bridge at the end of the 5.7-mile out-and-back Grandstaff trail. This is certainly a more technical trail than those mentioned before, but nothing too drastic for anyone who hikes semi-regularly. Along the way to the bridge you'll encounter a couple of rock scrambles depending on the routes you choose through the canyon, along with several stream crossings. Consider wearing hiking sandals for this one! It's a fun addition to the beautiful scenery you'll be trekkin' through!
When you eventually reach the bridge, you'll find it nestled closely to the cliff walls, offering a slight peak through the gap to the bright sky above. Although the somewhat tight space in which it's located isn't always best for photos, the Morning Glory Bridge is its own kind of marvelous feature that'll stick with you long after you hike back out.
You can find the Grandstaff Trailhead by heading out of town on UT 191-N/N Main Street for 2.5 miles. Turn right at the light onto UT-128 E and follow the road along the river for 3.1 miles until you see the trailhead on your right.
#5 Gemini Bridges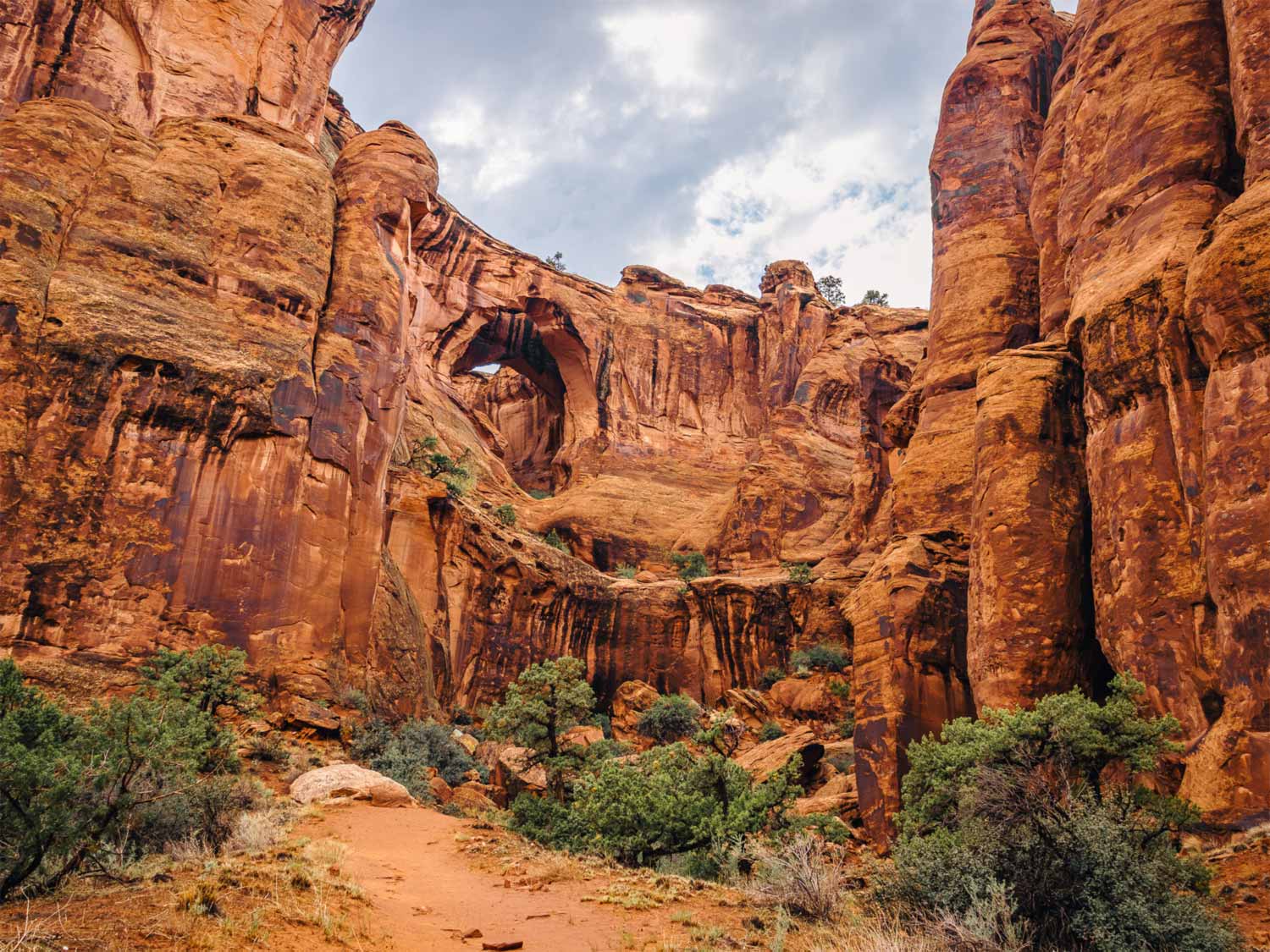 Gemini Bridges is an awesome feature hidden in the vast Moab landscape near Dead Horse State Park. The most popular way to approach it is along the Gemini Bridges OHV Trail, a 13-mile off-road route that starts just about 10 miles north of town. Although this route is certainly scenic, it's probably not the best trail to tackle on your own for your first off-roading experience.
Instead, we recommend going for a guided Moab Jeep Tour. When you book a jeep tour with Mild to Wild, your guide will ask you what type of scenery or features you'd like to see. Although all options offer great and unique views, Gemini Bridges stands out as one of the best for seeing both the natural bridges (from the top and bottom) as well as massive overlooks stretching far into the rocky landscape. Plus, our guides will provide insightful interpretations on the history and geology of Moab's Martian-like environment.
If you would rather see Gemini Bridges on your own, we recommend taking the faster, less vehicle-stressing route to the top of the bridges. To get there, head out of town along UT 191-N/N Main Street again for 11 miles. Then, make a left onto UT-313 W for 13.1 miles. From there, you'll turn left onto Gemini Bridges Rd/Little Canyon Rd for 3.9 miles and then stay right until you reach the trailhead. Gemini Bridges will then be a short walk away.
And that's it for our 5 favorite Moab arches and bridges you won't find in Arches National Park. There's countless options of places to explore and things to do in Moab, but the trails listed above will be a great starting point for anyone new to the area!
More Reading
What To Wear And Bring On A Jeep Tour
Moab As Seen On TV – 8 Famous Movie And TV Locations In Moab To Visit
Get New Blog Posts in your Inbox