Taking A Multi-Day Rafting Trip When You've Never Camped Before
By Kim Cassels • July 14, 2020
Taking a Multi-Day Rafting Trip when You've Never Camped Before
Every summer, I make sure to embark on some sort of adventure. I realize that when I say "embark" and "adventure", it might imply that I'm trying to emulate a new-age, female Mark Twain making blood oaths in caves with fellow vagabonds, and roasting rabbits on the spit after a fine day of raising hell in the wilderness.   
Not even close. By embark I mean renting a car. And by adventure, I mean driving said rental to a place juxtaposed with heated pools and air-conditioned patios. But this summer, for some reason, I was coaxed into a real adventure that required actual embark…ing. 
I decided to go on a multi-day rafting trip even though I'd never camped before. It simmered out of the realization that I've never seen the world for how it actually is, or used to be anyway. At least not before people started filling it up with highways, hotels, restaurants, and all the other things I usually use to "get away from it all."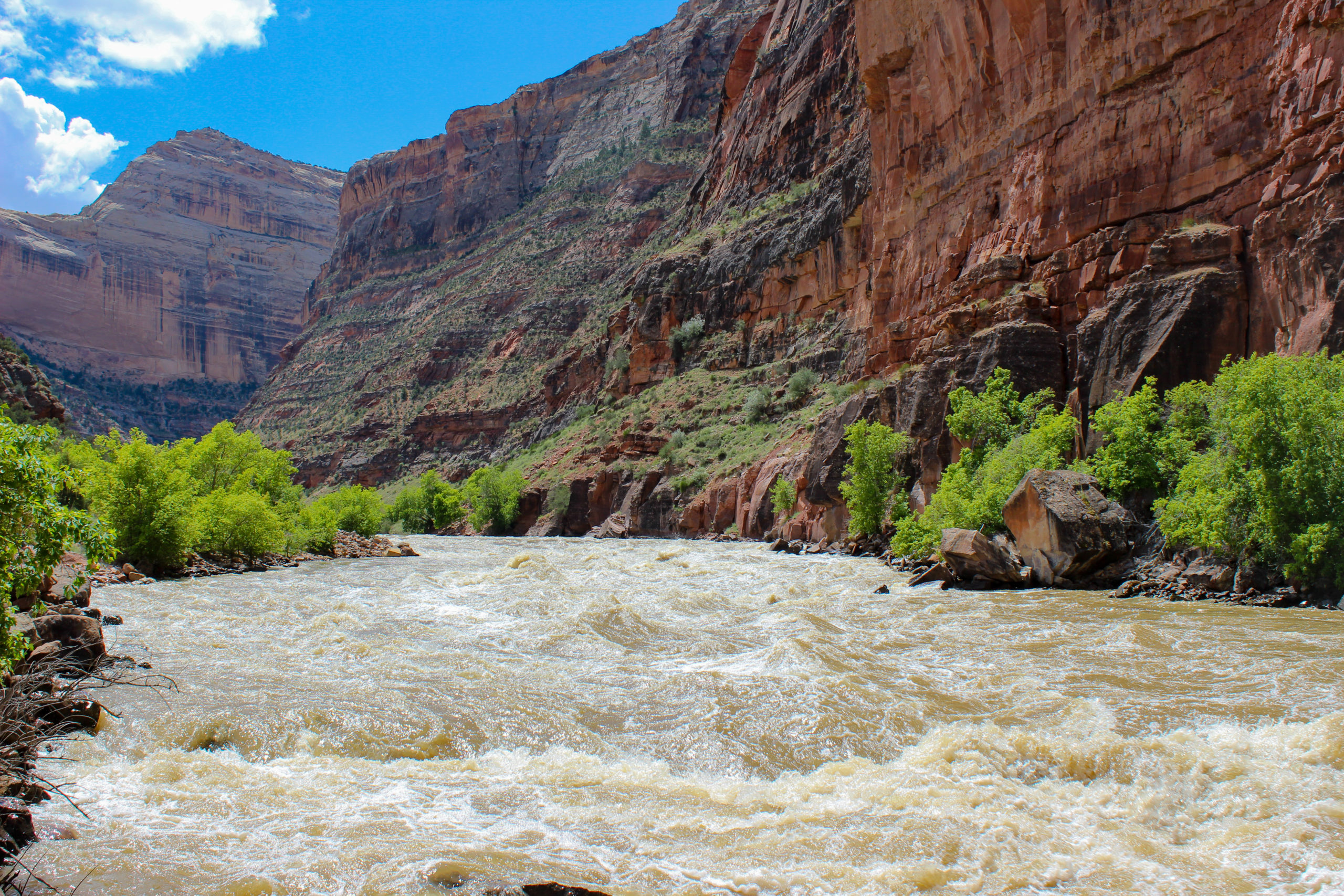 Before I discovered these kinds of excursions, I thought seeing Earth's natural places would require me to be some sort of a survival expert that could catch fish with one hand while manhandling trifling bears with the other. But I was assured that wasn't the case for a rafting trip. Even if the closest I'd ever been to camping was an impromptu nap in my neighborhood park and turning marshmallows into coals in the fireplace as a kid. 
I was told not to worry, and that they would take care of everything. I thought, "what does that even mean?" as I was packing only my clothes, toiletries, camera, pillow and sleeping bag as instructed. What if I break something? What if the sleeping pad I rented sucks? And more importantly, will they have the coffee creamer I like? Will the coffee be cowboy style? And if so, what exactly is cowboy coffee? 
Here's why my worries immediately vanished once I saw what was brought on the trip, what this wilderness experience had in store, and who was taking me on this adventure. And why taking a multi-day rafting trip when you've never camped before ain't so bad, it's actually friggin' splendid. 
A Multi-Day Rafting Trip's Version of Camping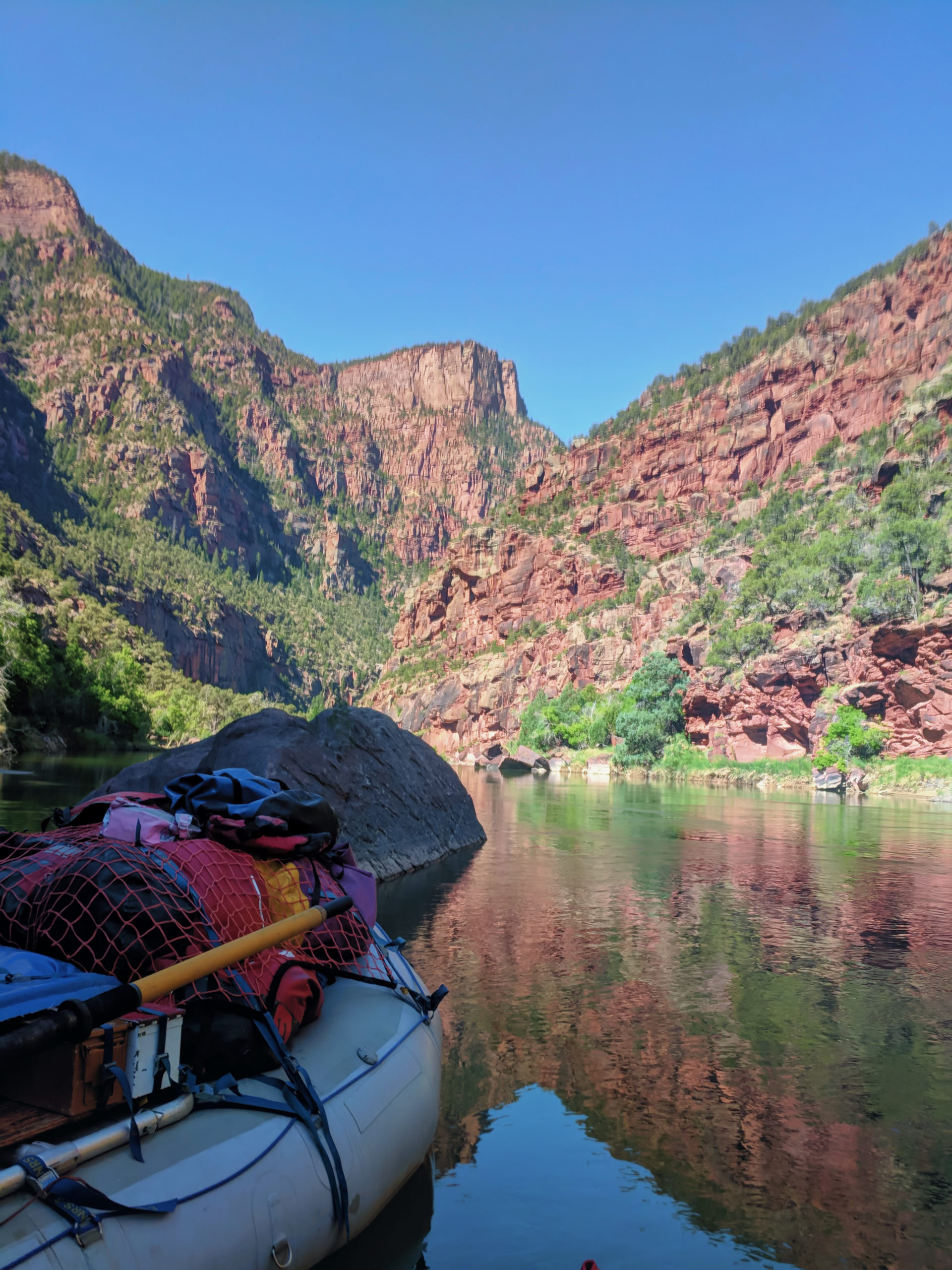 I quickly realized that boats allow for a lot more luxuries than a usual camping trip. I thought the supplies would resemble those of a backpacker with no frills and only the necessities. This was completely inaccurate as we shamelessly toed the line of glamping. They even brought tablecloths, TABLECLOTHS! I don't even use those at home. 
When we arrived in camp each day, usually on a beach beneath sculpted flumes, all I was responsible for was setting up my tent. The sleeping pad that I was skeptical of was thick, insulated, and reminiscent of a standard mattress. I couldn't even manage to take out my sleeping bag before plowing into a cat nap before dinner. I like naps, I consider them a hobby.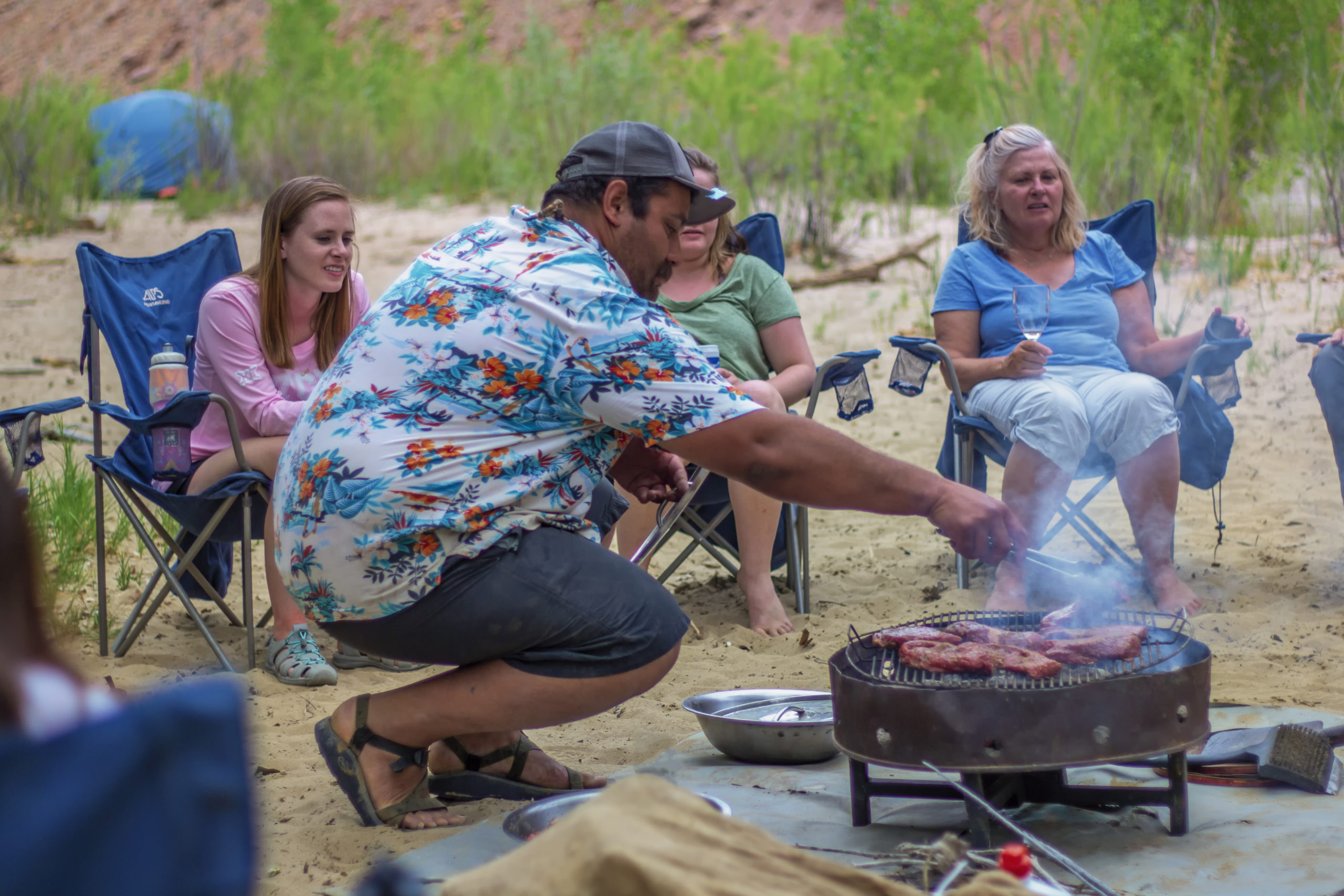 The meals were thoughtfully planned and prepared three times a day. I thought I'd see at least one hotdog or pop tart on the menu, but instead, it was filled exclusively with steaks, curry, salmon and lox, salads, and more deliciousness. Dinner came with appetizers and desserts, lunches laid out huge deli spreads, and breakfast was always filling and fresh. And as for the coffee, it was percolated to perfection, which I doused in my favorite half-n-half that I'd requested in my pre-trip forms. 
Now, I did have another concern around my morning ritual. The bathroom they set up in camp, which is affectionately known as "the groover", is like a tiny porta-potty. This was an astounding relief for someone who is not a great squatter and has never had to aim with, well, you know, the butt. They also place it in the most scenic and secluded spots from camp, a nice touch that's made me surprisingly nostalgic at home.  
The Adventure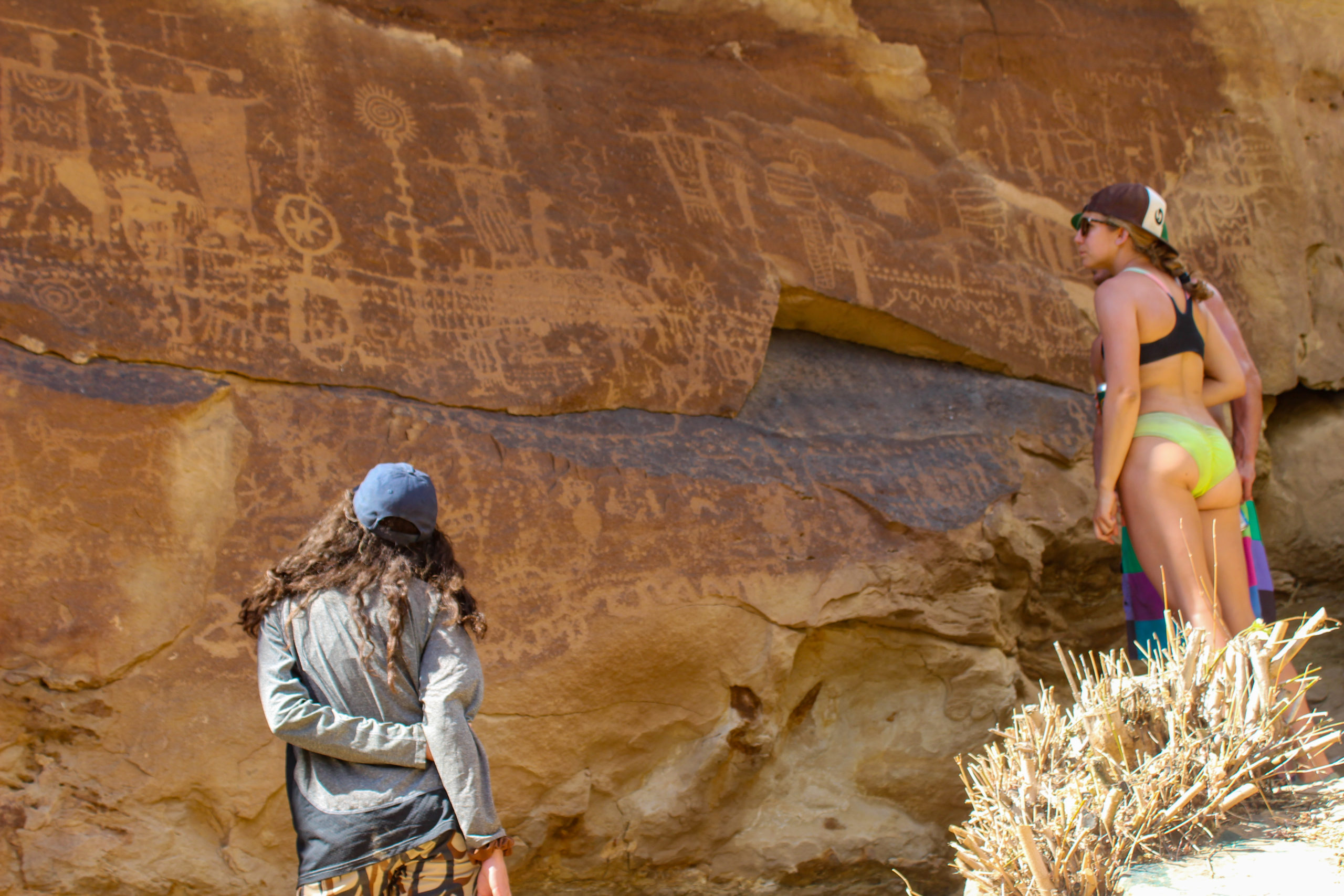 During our days on the water, we occasionally stopped for swims, hikes and lunch. The guides took us through lush side canyons and up to precious sites. Some were from ancient artists who immortalized their livelihood in the sandstone. Others were of views I wish I could fully experience again when browsing through the countless photographs I snapped.   
As for the actual rafting portion, when we came to the first lot of rapids I was undeniably nervous. A little upstream from the roar of the beast, the guides gave the group a comprehensive safety talk and secured each of our PFDs and helmets. While I certainly trusted the guides to keep all of us in the boat, my heart was pounding to the timbre of my favorite expletives as we climbed back in the rafts.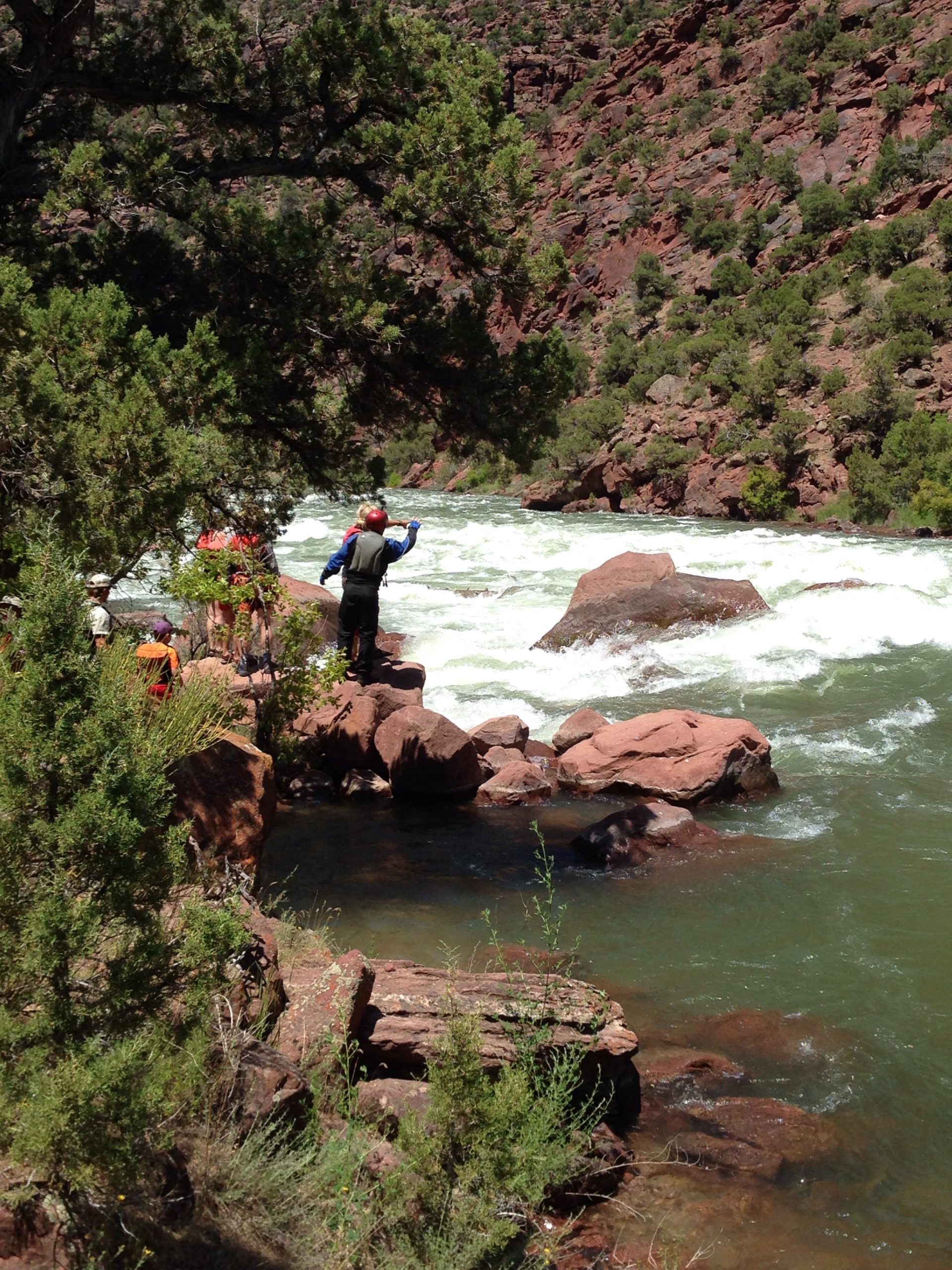 As it turns out, rapids are shape-shifting S.O.B's. When you're scouting them from the banks, you might think, that's not that big. Then when approaching them on the river, the imposition is frothing, spitting, and chomping from its multiple mouths more so than you previously calculated. And once you've hit the tongue's runway, only dropping right into that hydraulic hole reveals the generosity of its power. 
Something simultaneously primordial and spellbinding occurs when watching a wave in the engulf. It stretches in slow motion, glittering like glass in the sun. In the moment before the water surrenders back to gravity, you're suspended in an embrace of something that's more alive than you've ever given it credit for. And as it cascades over the boat pulling you into its rinse, bliss rushes in like it did in your youth. How you could not be instantly hooked?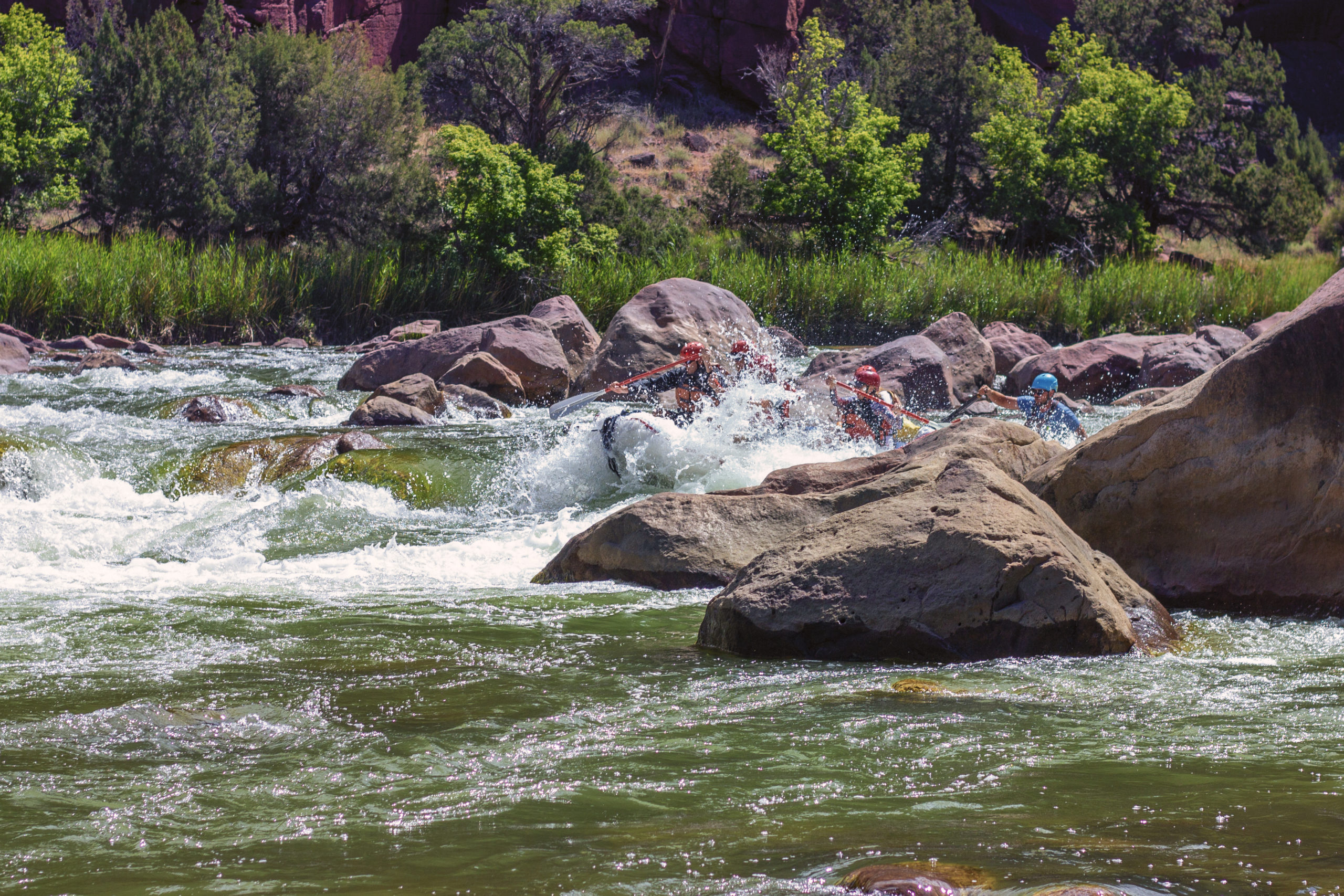 Things I Learned
 These guides know and treat this river as a good friend. As someone who thought that I respected the wilderness for its beauty and grandeur, these experts bow to its authority, rareness, and need for balance. This level of appreciation, along with their interpretations of the canyon's history, geology, and their own wild stories was a huge highlight of the trip for me. They always made me feel comfortable, and my inexperience at this level of ruggedness didn't phase them at all.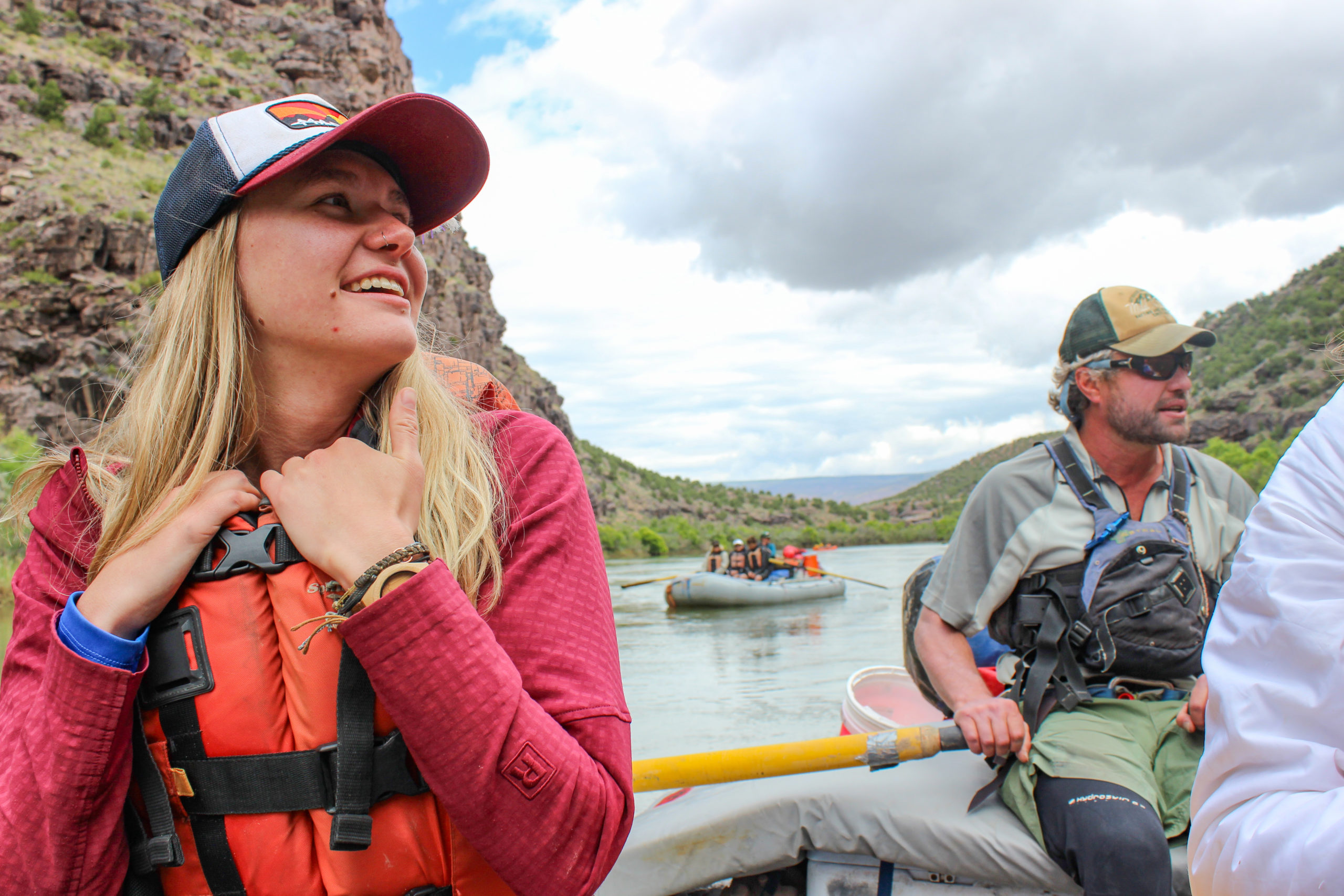 Speaking of that whole respect for authority thing, I at first didn't quite anticipate Mother Nature's range of moods. In fact, I confidently diagnosed her as bipolar on the first day on the river. But when I returned to reality, I learned how canyons create and trap their own weather. They also don't care what you think the middle of June is supposed to feel like, or that you've been prancing around in a swimsuit all afternoon. Thus, I am so glad I went ahead and packed the fleece and rain gear I thought I wouldn't need, 'cause I definitely did.  
Another thing that I cherished about this experience is that we weren't expected to approach the landscape like one big jungle gym. The guides said that most injuries on river trips actually occur off the water, so they urged us not to ruin everyone's time by climbing and falling off cliffs and other shenanigans. However, if someone decided to do so, all of the guides are trained in wilderness emergency care. So while I didn't twist, crack, or dislocate anything, they could have taken care of that and used a satellite phone to remove me from the canyon.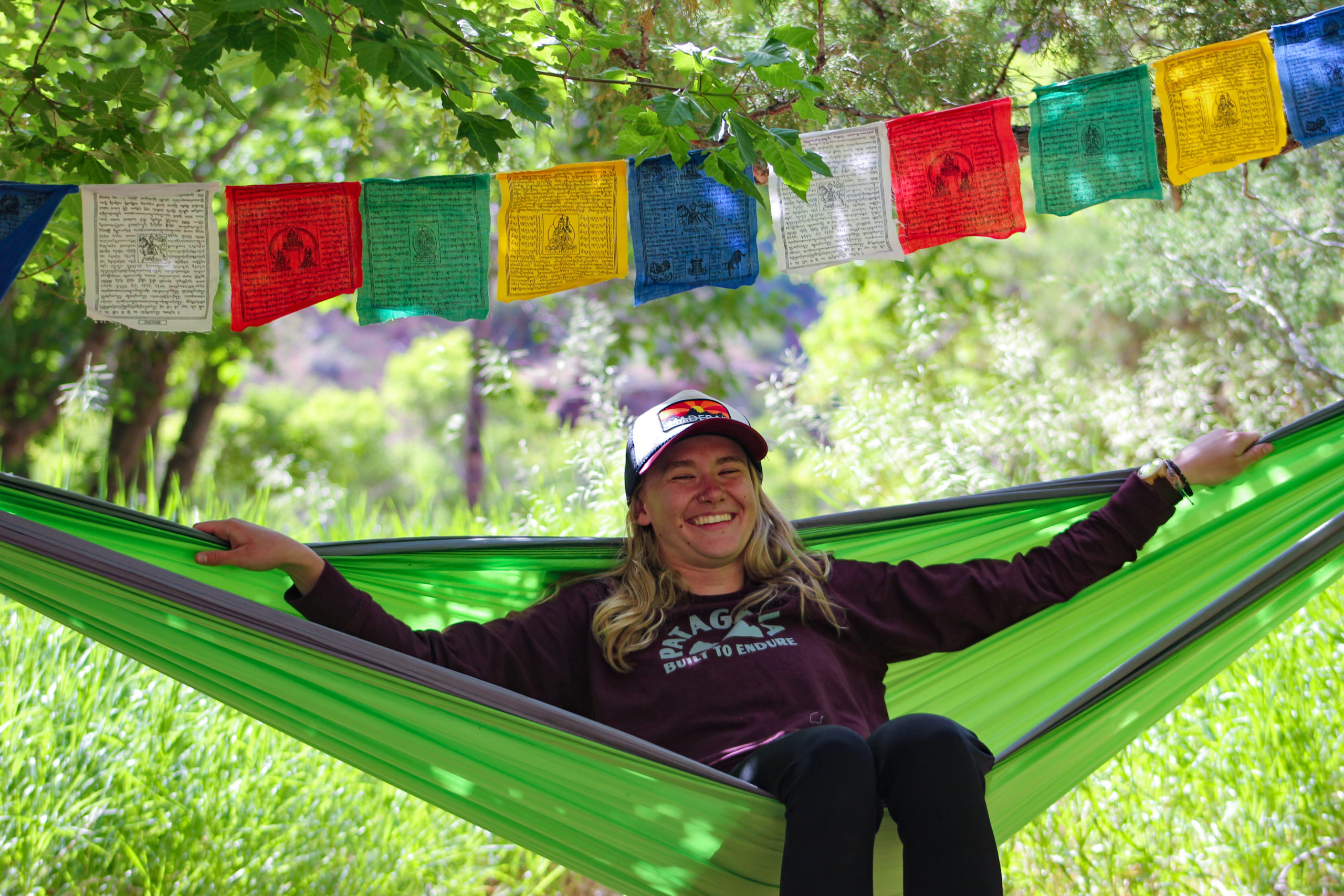 When in camp, I underestimated how lovely it was to do absolutely nothing in the most righteous silence I'd ever witnessed. All of my daily routines I thought I needed to keep up with, like reading a chapter of a book or showering (they don't bring shower stuff anyway, which I quickly realized was justified as it's totally pointless out there), weren't as necessary as giving in to the pure presence in front of me. 
When night cloaked the chasm, the sky turned us over to the galaxy. I tried to truly see each star in between gasps of the ones slinging across the zenith. The campfire danced for us while crickets and frogs sang the songs of their people. When you're out there, you don't need much, because the Earth left to itself is enough.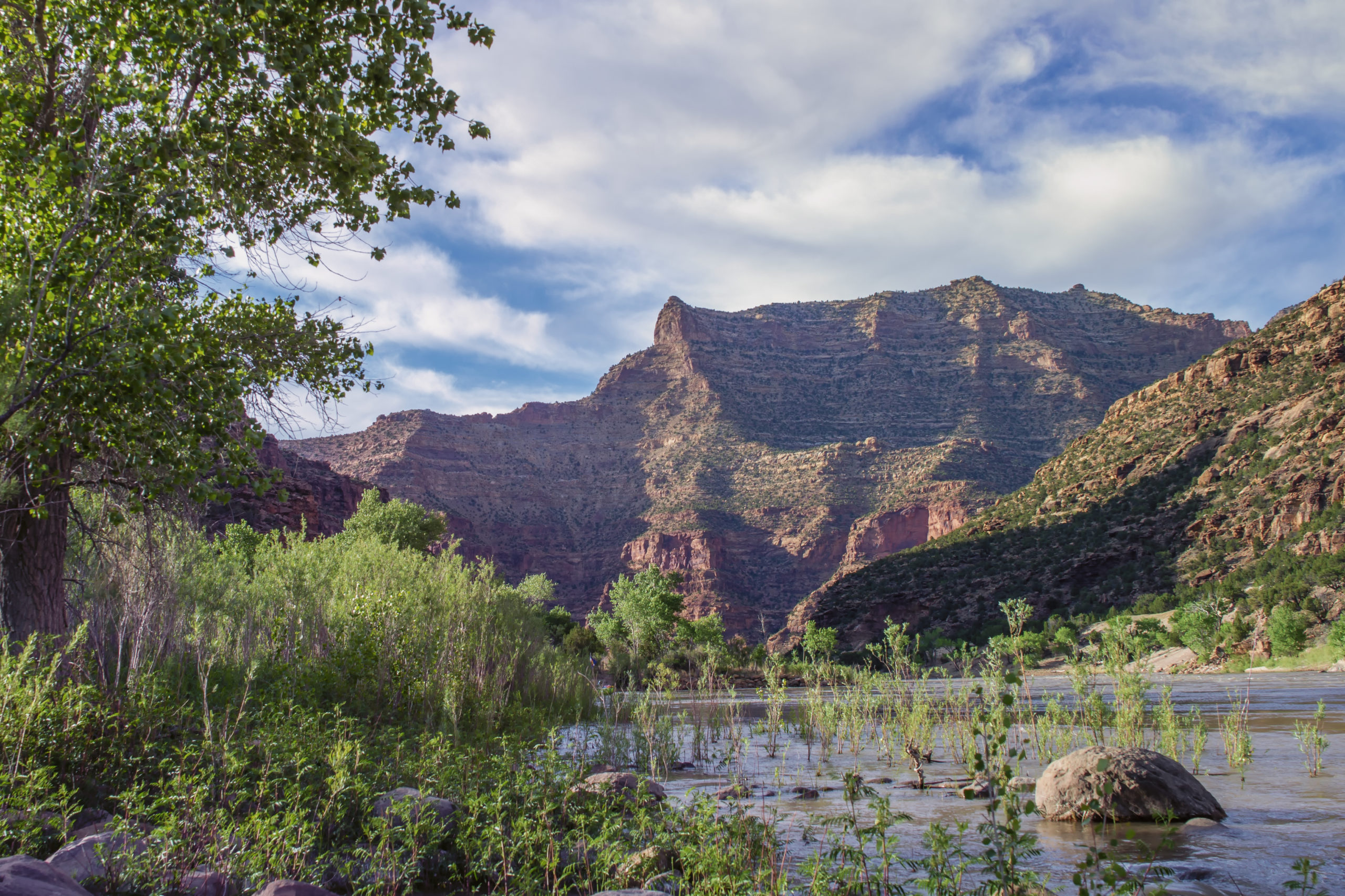 I was as green to camping as the cottonwoods sippin' from the river banks. As someone who had NO IDEA what they were getting themselves into, taking a multi-day rafting trip when I'd never camped before was the perfect way to acquaint myself with the wilderness. It does seem like tossing oneself to a genuinely remote environment is a bit of a jump, especially for someone who loves electricity and discriminates against bugs. But it really is one of the best ways to bring yourself closer to the living world, and unequivocally your inner self. Try it, there's really nothing to lose. Except for your discomfort with the raw resources that make civilization possible.  
More Reading 
12 Things You'll Do On A Multi-Day Raft Trip Besides Rafting 
Get New Blog Posts in your Inbox