8 Adventurous Day Trips Within 3 Hours From Phoenix
By Kim Cassels • November 1, 2021
8 Adventurous Day Trips Within 3 Hours From Phoenix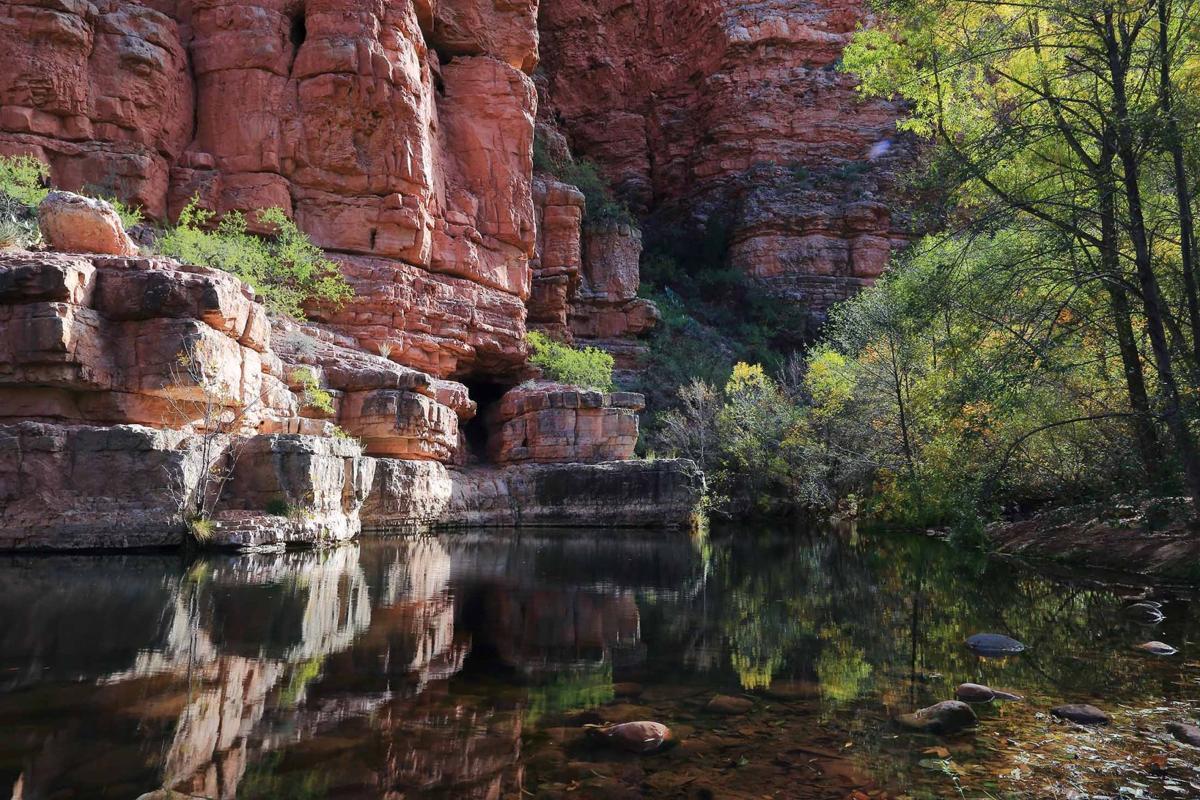 Check out this list of Arizona gems that make for splendid day trips from Phoenix!
Rising from the ashes of a Sonoran Desert's sunburnt is the 5th largest city in the U.S. It's a golfer's paradise and a snow cone's nightmare. Those familiar with Phoenix know that the metro itself can easily run up an itinerary with it's enormous parks, various sporting arenas, 5-star resorts, goat yoga, and a lot more— goat yoga taking priority. But just beyond the capital reveals a buffet of wilderness exploration that even adventure gluttons couldn't completely experience in a lifetime.
It's understandable that when we think of rural Arizona, most immediately envision Forrest Gump's beard fluttering to a stop in Monument Valley. But as the sixth largest state in the U.S, Arizona has a lot more to offer than some crazy big canyon and a massive gallery of rock sculptures. Not that the Grand Canyon isn't super grand and all. We're just saying, there's plenty of epic, life-changing things to do even within 3 hours from Phoenix.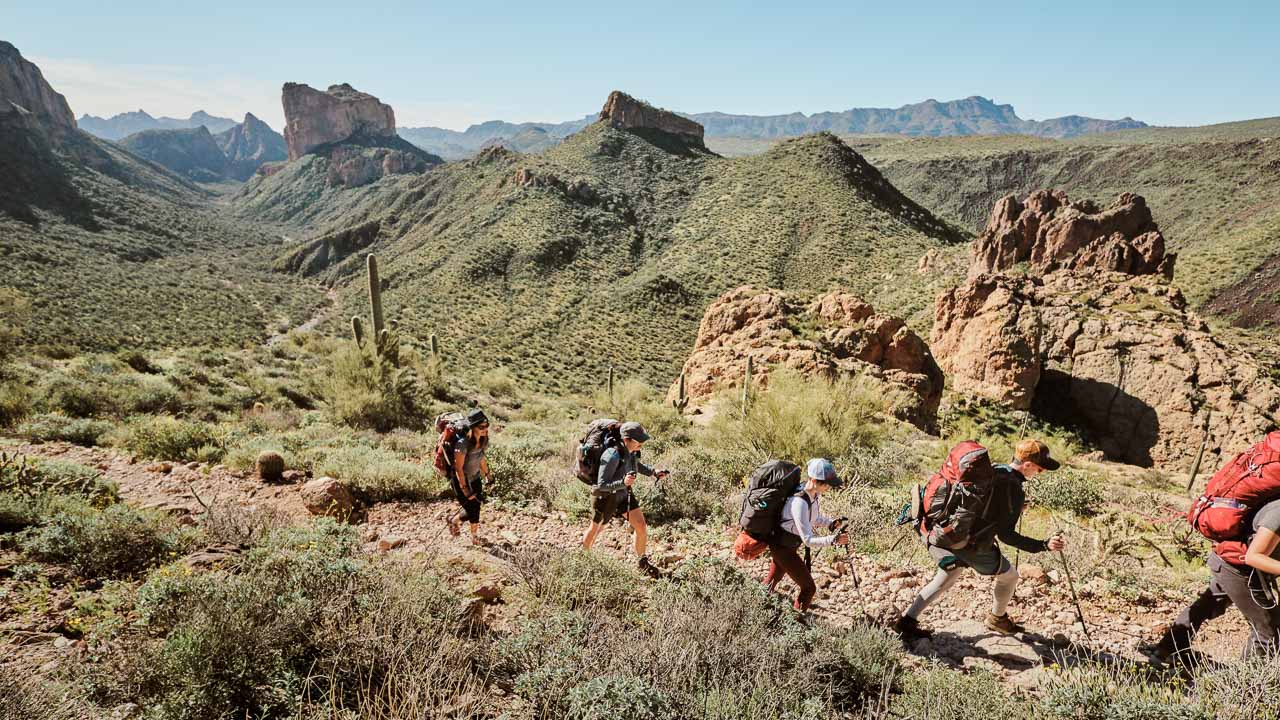 These volcanic peaks rising from the splay of Phoenix proper are coated in goosebump-inducing legends. The Pima people spoke of lethal floods sent here from the Earth-maker, while the Apache warned of its portals to the underworld. The Dutchman Mine is another prominent superstition of the peaks. It was ignited by the 19th-century German explorer who claimed to have struck gold in these hills. Since then, it's resulted in numerous deaths and disappearances of treasure hunters who ventured into this no-joke breed of ruggedness. 
Still interested? The Superstition Wilderness offers a slice of raw desert beauty that reminds us that Mother Nature is always in the driver's seat. Base jumpers are beckoned by flamboyant exposures, climbers coaxed by lava fortresses, hikers, and backpackers summoned by supernatural scenery. 
With 170 miles of trails to tromp ranging from painless to mutilating, Bluff Spring and the Treasure Loop are lovely and suitable for everyone. For ancient cliff dwellings, check out Roger's Canyon. If you're here during spring or winter, you might be able to catch a rare waterfall at the end of the Massacre Grounds Trail. 
Career thru-hikers, "GET" ready because this is where the Grand Enchantment Trail begins! A 770-mile frolic that arrives in Albuquerque's Sandia Mountains and was named the Southwest's most stunning hike by National Geographic. 
Remember to stop and smell the saguaro every once and awhile! You think we got that wrong, but their flowers actually smell like melons. If fact, there's a lot to sniff around this huge plant sanctuary and much that won't come with the possibility of getting stabbed. 
This is a favorite spot of locals where one can wander the deserts of Africa, Australia, Mexico, Argentina, China and more. The gardens cover 400 acres with diverse ecology that are easy to wander an entire day or for an hour or two. Bring $15 for admission, water, a hat, possibly a picnic to make passerbys jealous, and your affinity for horny toads.   
Bartlett Lake – Just over 1 Hour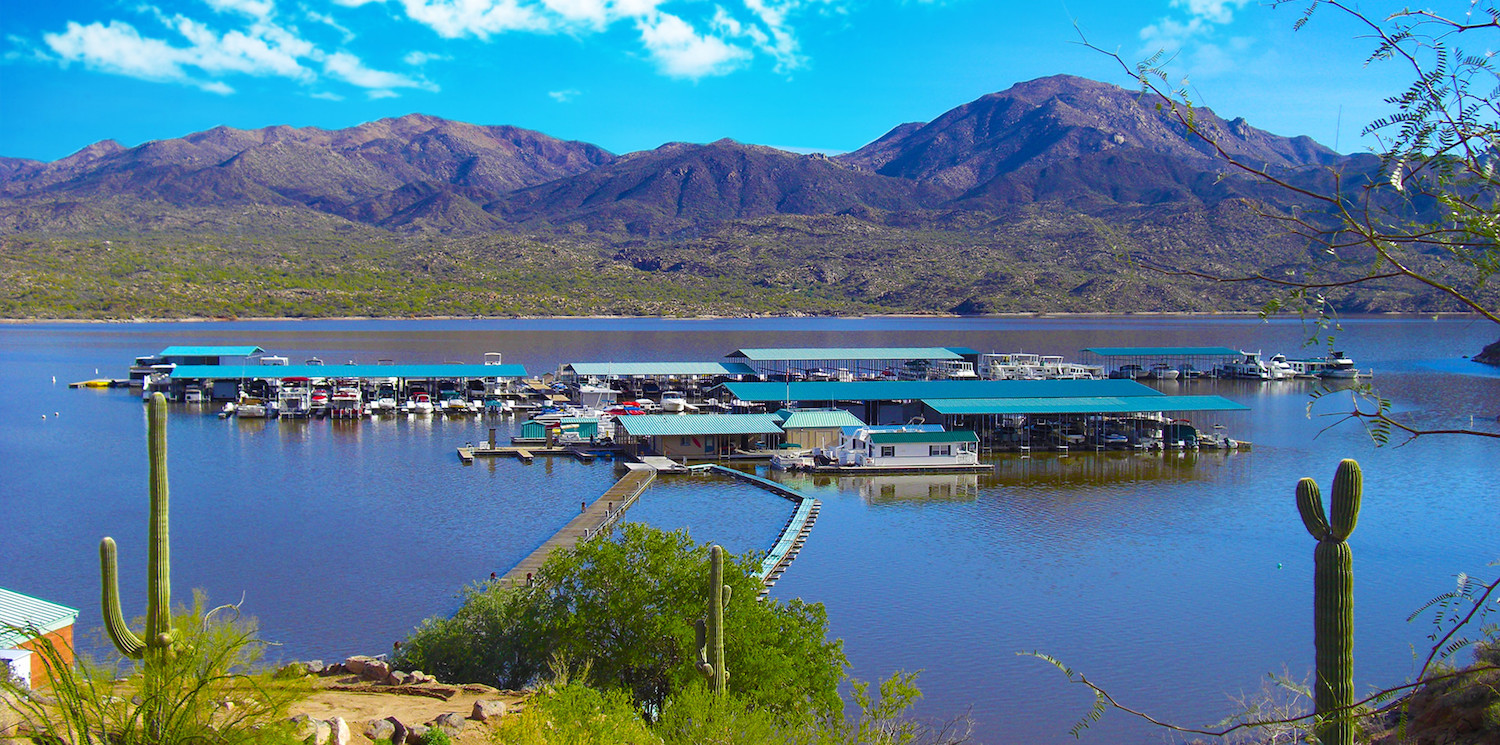 Self-proclaimed as Arizona's best kept secret! Well, so long secret, Bartlett's made the list! Just be aware, the long beaches promise for sand in places you'll never get out, and the water is so warm you'll risk having your identity stolen by a prune. The residents aren't that polite either as the fish bite and the trails are overrun with wildflowers.
Bartlett is a fishing heaven as its multiple coves make bass cozy and flathead catfish fat. This lake also hosts black crappie and other panfish that make casting less agonizing for newbs. No boat? Rent one! Fishing boats have the best price here, but keep in mind they only come with 3 seats. 
And even if you're not on the lake, there's still plenty of fun to be had around the thing. Head out on the Bartlett Reservoir trail for an 8-mile journey through saguaro cacti groves, multicolored meadows, jaw dropping views, and private beaches. 
Home to over one million prickly giants, the "Sa-Wah-Ro" is the over achiever of desert flora. They live up to 175 years, grow up to 60 feet tall, and hoard around 200 gallons of water. In a landscape where rain tends to say, "Nah, fam" these stoic sentinels are pretty darn impressive.
The park is uniquely split into two separate districts around Tucson. The east side, the Rincon Mountain District, is larger and offers more trails, plant diversity, and camping. Cruisers will enjoy the 8-mile scenic loop on Cactus Forest Drive where cyclists are also welcome to wind through the scenery. 
In the west Tucson Mountain District, visitors can find ancient artwork from over 800 years ago. These carvings were made by the Hohokam people whose petroglyphs can be found on the Signal Hill Trail. This district also boasts a higher density of saguaros and praise for the visitor center.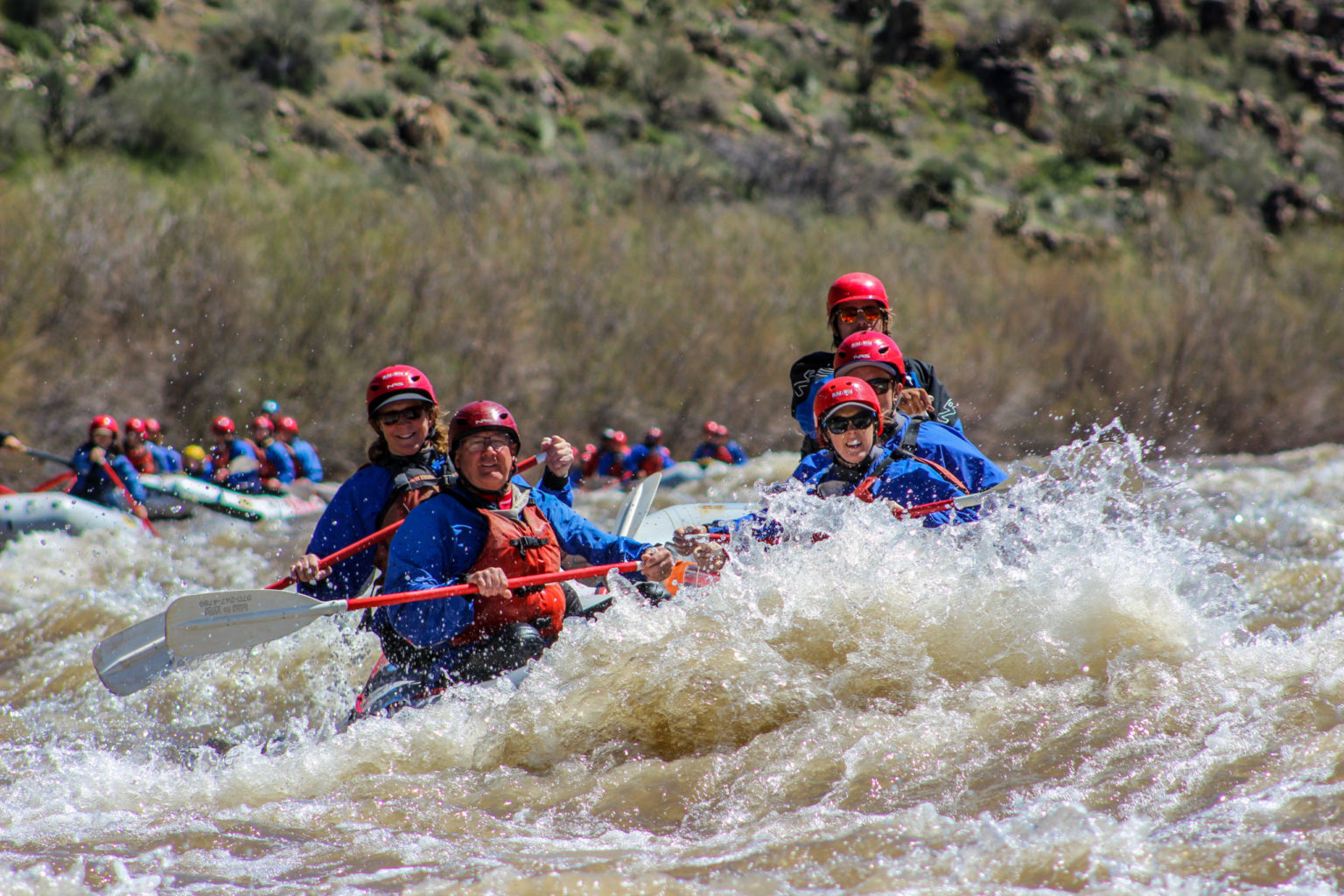 The Salt River Canyon is the boss when it comes to remote ruggedness, dramatic beauty, and capricious nature. It also makes for a pretty sweet ride, and its constant Class III waves are as exhilarating and they are refreshing. This river doesn't always have the flows to raft it every year, so this is an extra special and extra exclusive experience on this list. 
The Salt is fed by the White Mountains and maniacal spring showers. Now, if you weren't already aware, Arizona is hot. Melt your sweat into steam hot. Fry your breakfast on the sidewalk hot. Melt your brains right through your nose hot. Okay not the last one, but the others are totally calibrated! This means the spring run-off comes hot and heavy, which makes the rafting season righteous and rapid— teehee, rapid… But really, it's a short window as it starts in March and ends early May. 
You can paddle this Salt River from 5 hours to 5 days. Rafting the "little Grand Canyon" is highly sought-after, so be ready to plan this adventure during the winter as it commonly books up before the season starts. Check out Salt Rafting trips here! 
Coconino National Forest – Around 2.5  Hours Depending on the Destination
This forest is 1.8 million acres humongous, so we've broken these woods into a few sections of the sweet tourist towns nestled within these big beautiful boonies. You'll notice most of the wilderness areas involve some swimmin', which is pretty necessary most of the year considering Arizona's special recipe for swelter. 
Clarkdale and Jerome – 2 Hours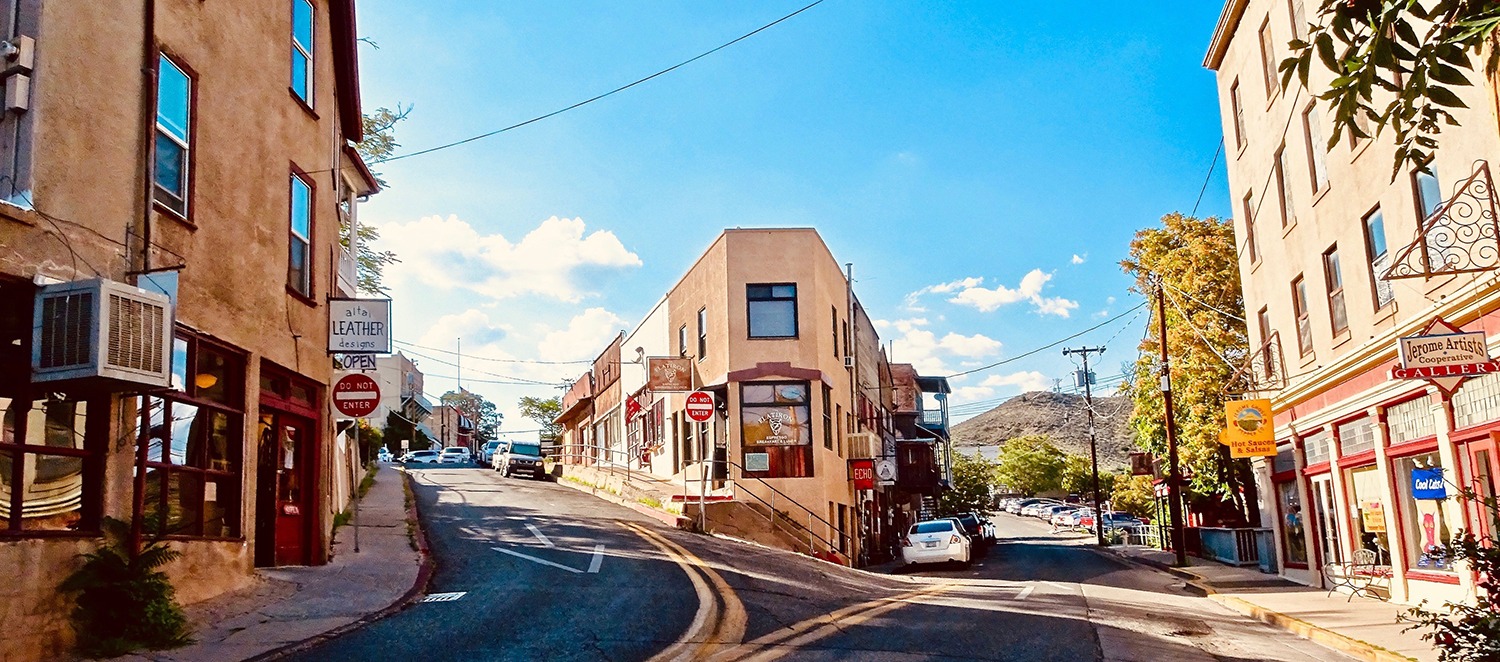 These neighboring copper towns have kept their early 20th century charm by maintaining plenty of 100-year-old structures. It's easy to enjoy both of them as a day trip since they're less than 15 minutes a part. Jerome is a photoshoot just waiting to happen as it scampers a unique hillside filled with vintage cars, antique shops and bustling restaurants.
Clarkdale is similar in vibes and views, but sits along the Verde River. Folks here love to kayak as well as ride the Verde Canyon Railroad. For a look into this area's even older history, pay the Tuzigoot National Monument a visit for awesomely preserved ruins from 1000 C.E. 
Half an hour north of Clarkdale where Sycamore Creek joins the Verde River, Sycamore Canyon makes for a B.E.A.U-tiful day trip into desert woods. For aquamarine swimming holes, head out on the 7.3 mile Parson's Trail. For a 12 mile trek through ancient ruins and killer views, take the Packard Trail.
Sedona – 2.5 Hours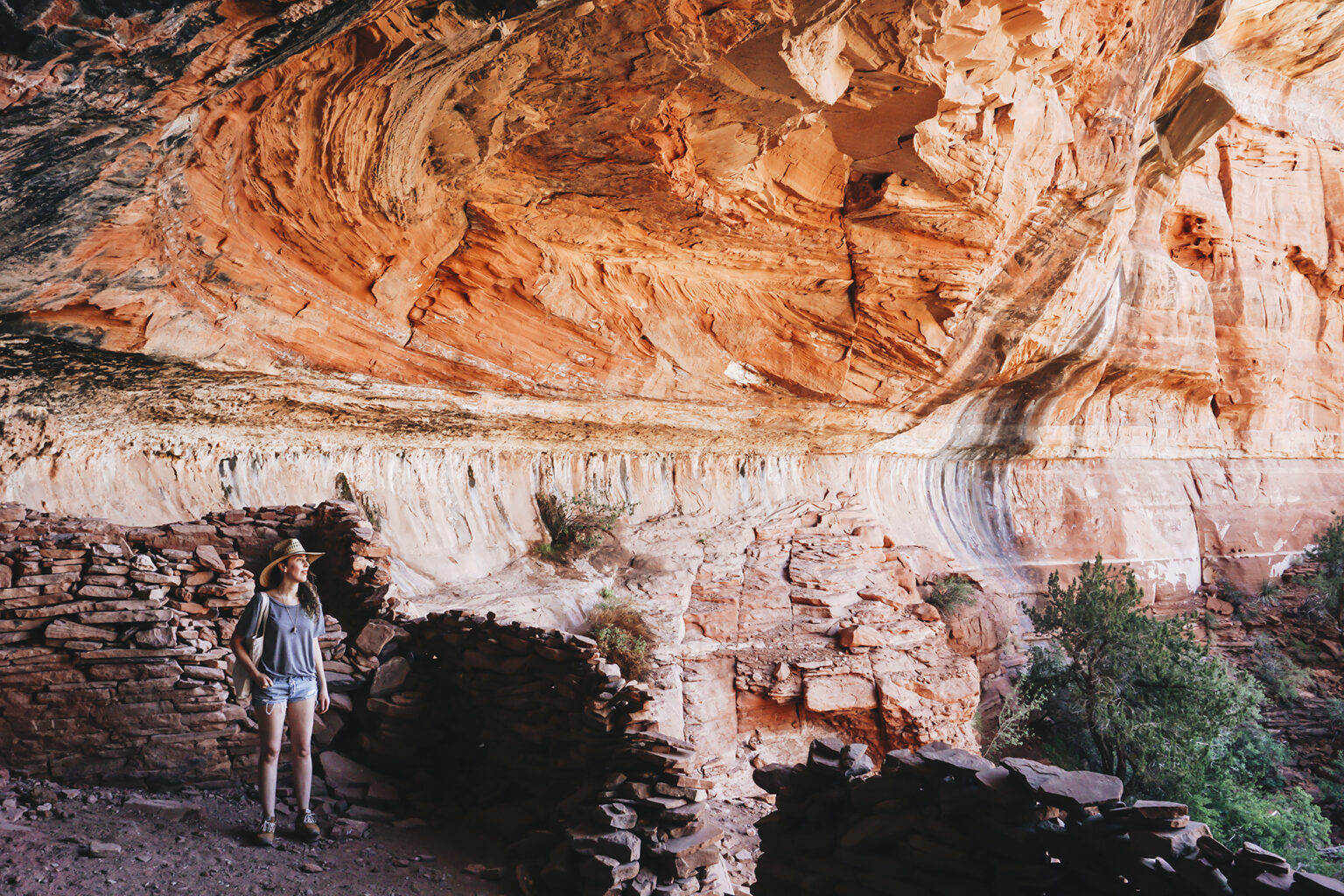 For millennia, people have been saying the crimson monoliths of Sedona pulsate with something sublimely enigmatic from unseen dimensions. These supposed vortexes tend to attract just about anyone from around the world in hopes to jive with its phenomena. Even if you're not actively searching for a vibration induced euphoria… Ahem, the scenery will undeniably capture you completely. Wanna get in on those good vibes with less people around? Hike the Boyton Canyon Trail. 
To cool off, Slide Rock State Park is an incredibly popular spot for its natural slickrock slip and slides. If you're not into crowds, Buddha Beach is an amazingly chill spot to swim in peace beneath Cathedral Rock. You can hike to it starting from the Red Rock Crossing Trail or Cathedral Rock Trail.  
After plenty of shopping, hiking and biking has been had, the ancient dwellings and petroglyphs at the Honanki and Palatki Heritage Sites are definitely a worthwhile visit from Sedona. A Red Rock pass at Honanki and reservations at Palatki are required at these pristine sites.
In between these established historical areas is the Loy Canyon Trail, where hikers can discover ancient ruins for free. It's not as well known as other hikes around Sedona, and leads to other many hidden gems around Secret Mountain. 
Waterhole Realness near Camp Verde — 2 Hours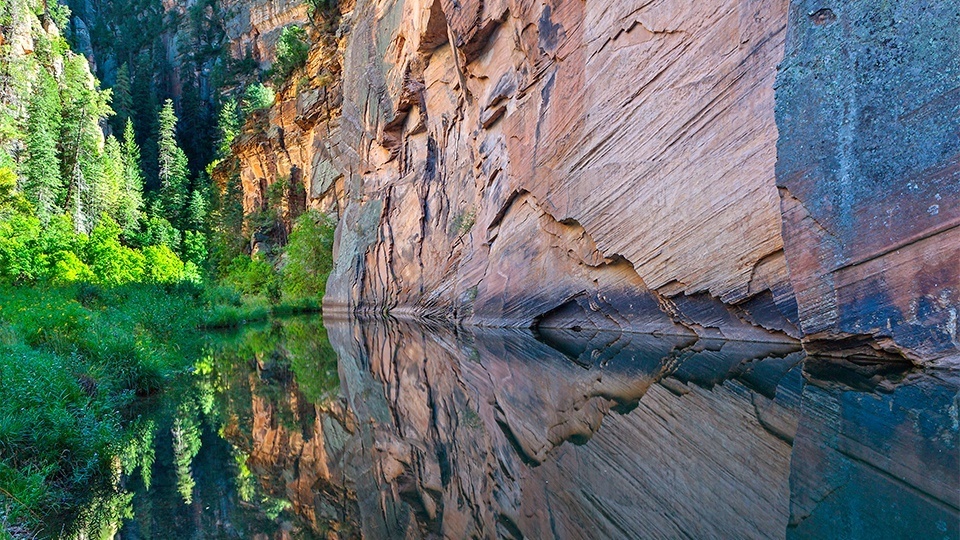 Some locals contend that the Fossil Springs Wilderness has the best swimming holes in the state. We're not going to challenge that, as this isolated ecosystem will make you forget you're surrounded by a completely parched landscape with its crystal clear blue waters, leopard frogs, and vibrant flowers. Permits are required in this delicate ecosystem from spring to fall, so get directions and your permit here.  
Wet Beaver Wilderness is another fabulous spot to cool off from the Arizona bake. Fishing for trout along the creek and swimming at The Crack along the Bell Trail are popular amongst the few who venture into this slice of desert paradise. No permit is needed here, for now, so enjoy it by respecting it with Leave No Trace principles. 
West Clear Creek is one of the most divine natural places in Arizona, or perhaps evah! In the slim depths of the Mogollon Rim, soaring walls and thriving wildlife bow the translucent waters. For hearty hikers, do the entire West Clear Creek Trail. It's about 8 miles and promises for a life changing experience no doubt.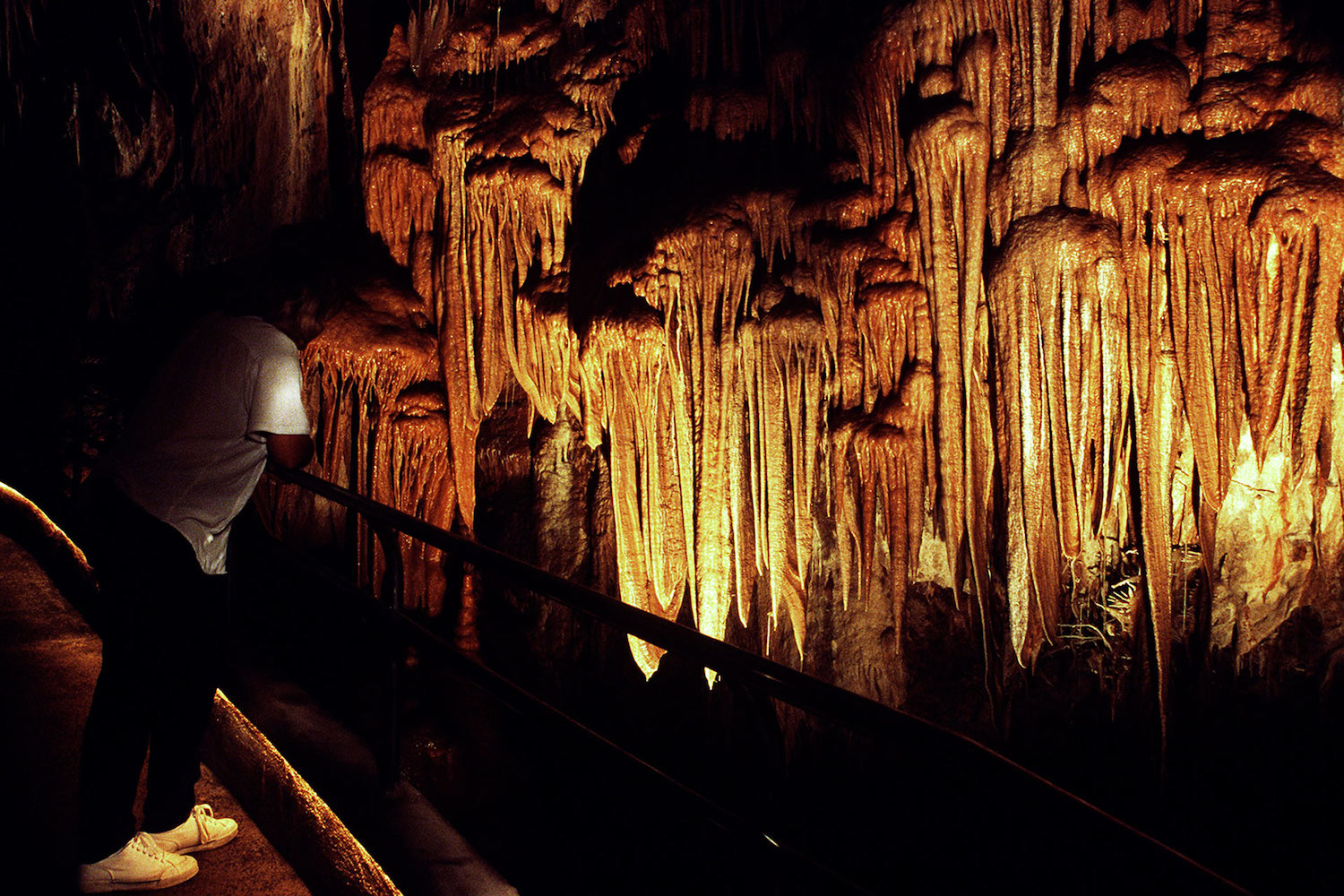 Limestone arguably at its best. These serpentined passages reveal a slew of formations that are completely unique to this cave only. And because these decorations are so incredibly rare and delicate, visitors must join a tour to explore them. This wild basement has remained in mostly original form, so there are some squeezes and tight spots. Keep your beloved claustrophobs at home, or in the Hummingbird Garden by the Discovery Center.
Here are some things to keep in mind in addition to the occasionally cuddly spots; This is a living cave, meaning there will be bats and 90% humidity. No photography is allowed except on special tours. And if you want to explore these hallways the way the first spelunkers did, take the Helmet and Headlamp tour on a Saturday. 
The Hollywood famed town of Tombstone is just half an hour away and does provide an amusing evening after a day trip in the caverns. Go ahead and participate in the classics here by becoming a bystander at the O.K Corral or take a ghost tour at the Bird Cage Theatre. Trust us in that you will be entertained, regardless of the acting chops onset that day. And while it might seem odd, the Boothill Cemetery offers a quite enjoyable stroll amongst the 19th century's infamous gunslingers, miners and not-tough-enough cowboys.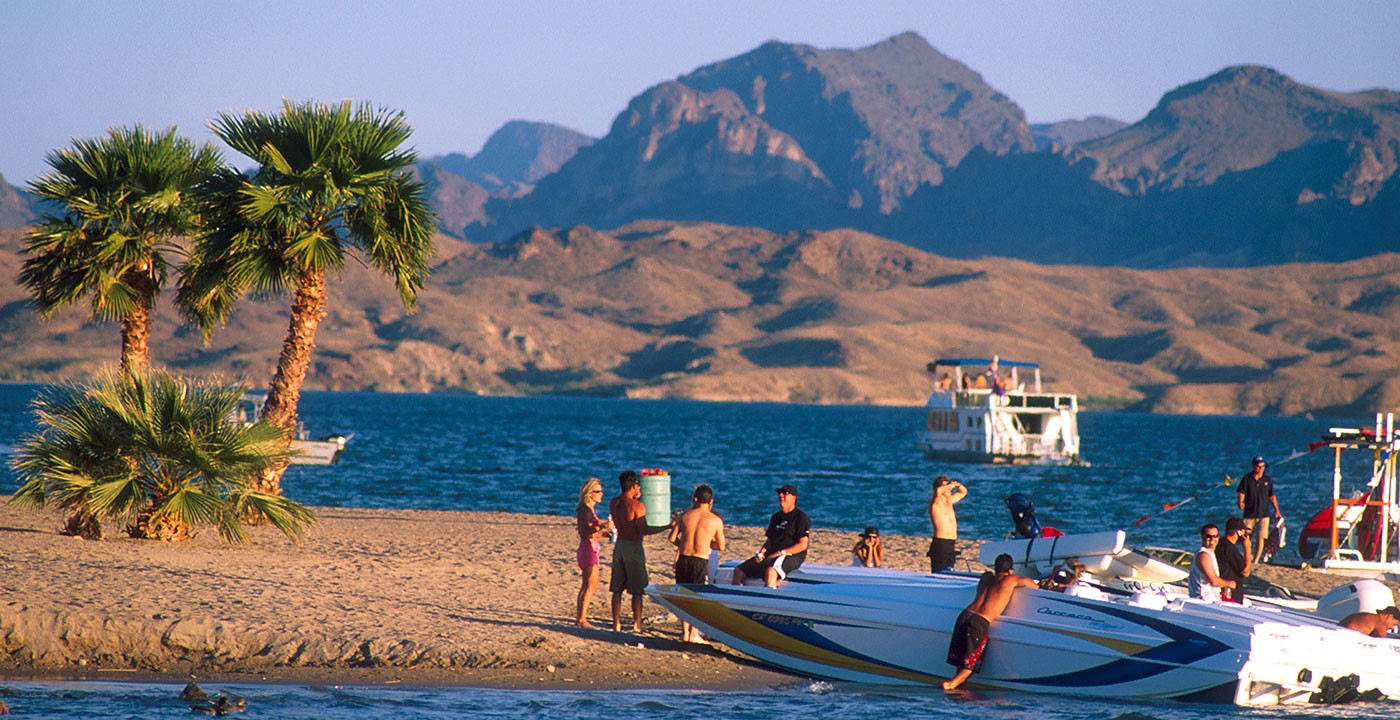 If you want to get down like desert dwellers do, you will at Lake Havasu. And if you want to enjoy the lake without making a ton of new friends, avoid spring break, memorial day, 4th of July, Labor day and basically any other summer holiday weekend. Otherwise, enjoy the party!   
To get the most out of your visit, do the following: Get on a boat and cruise it through Havasu City under the London Bridge. Side note— it is the actual London Bridge, but not the one that was decorated with human trophies during the Crusades, thank heavens. 
Then head out onto thoroughly chartered yet crazy refreshing waters. For the party spots, go to the Sandbar and Steamboat Cove. For more serenity and fishing, find it in Red Rock Cove and Copper Canyon. For beaches that just won't stop, Friendly Island is a great place to bbq. 
Arizona is still the Wild West, maybe not in terms of life-threatening bar fights, but certainly for all its swaths of wilderness. While you're here, just remember the sun in this state should be simultaneously treated as close friend and also your arch nemesis. So, maybe consider some fall and winter excursions, and lather up with sunscreen no matter when you're here. And we know we don't have to say this, but… Drink water like your life depends on it, 'cause it totally does! And leave enough time in the day to catch the sorbet sunsets this amazing state always whips together at the end of a memorable day. The vortexes, canyons and creeks are waiting, all less than three hours from Phoenix! So get out there! 
More Reading 
11 Desert Camping Hacks to Help You Keep Cool During Your Desert Adventure 
Get New Blog Posts in your Inbox