Cataract Canyon River Rafting
Canyonlands National Park Utah
Cataract Canyon Rafting
Trip Highlights
This section of the Colorado River carves through the most remote areas of Canyonlands National Park.
The trip offers plenty of incredible hikes through side canyons, rock formations, and archeological sites along the way.
It's the opportunity of a lifetime to run Utah's most famous whitewater.
Thrilling big drops and rapids will definitely ensure memories to last a lifetime. Big water in Cat is from May to June, and not-as-big water is from July to September.
The desert chasm is full of big beautiful beaches, wildlife and crystal clear night skies.
Cataract Canyon resides in a Dark Sky Park, promising for incredible views of the cosmos.

Location/Season
Moab, UT
Mid-March – September

Adventure Level

Class of Rapids
IV – V High Water
III – IV Low Water

Restrictions
Lower Water: Ages 10+
High Water: Ages 14+
About This Trip
Cataract Canyon Rafting on the Colorado River through Canyonlands National Park, Utah
When we hear the words, Cataract Canyon, we think of a chasm where all things become colossal. In a crevice that drops 2,000 ft. into the Earth, desert galleries one could never experience without drifting miles down the Colorado River become immediately accessible. Here, artifacts from ancient peoples encase the sandstone, while 30-million-year-old sculptures delicately balance along the cliffs, and rip roaring rapids reverberate the channel like a storming sea. This is just the start of what you'll find in the most remote section of Canyonlands National Park. 
Now about that roaring beast we just so poetically mentioned. Cataract Canyon is, in fact, Utah's premier whitewater experience. This section of the Colorado River is vivaciously pronounced due to some big old rock slides, which are responsible for the rolling class III and IV rapids all season long. When the Rocky Mountains begin to melt off their winter coats from May to early July, Cataract's waves become some of the biggest and baddest in the country as they churn out wall after wall of class IV and class V rapids. 
Whatever season you choose, your 96-mile Cataract Canyon rafting trip won't start with a fat splash to the face. The journey begins on calm glassy waters, passing below the spectacular Dead Horse Point State Park. The float (with motor assist) comes with stops at grottos, groves of petrified wood, and archaeological sites depending on the day's schedule. The sign to prepare for the whitewater breathing beast ahead comes once we reach the confluence of the Green and Colorado Rivers. Your heart will undoubtedly be pounding right into your PFD for the ride of a lifetime!
Usually after the first day of Cat's toughest rapids, you'll wash up on the silky sands of a wide beach. Promptly, camp will begin with cracking some cold ones and retelling every juicy detail of the massive drops, holes and splatter your group just conquered. Other parts of the trip are dressed in fabulous hikes, and any else you'd like to do really. This rafting trip promises for plenty of time to play, laze, bond, and make memories you'll look back on with immediate nostalgia. 
This landscape of Cataract Canyon so inspired Mild to Wild's founders and owners that they married there in 1996. This soul-stirring canyon will get your heart pumping with its whitewater (and maybe romance as well!), impact your soul and take you on a journey you'll never forget. 
Our Cataract Canyon trips continue on the legacy of Adventure Bound River Expeditions, combined with the legendary customer service and expertise of Mild to Wild Rafting & Jeep tours.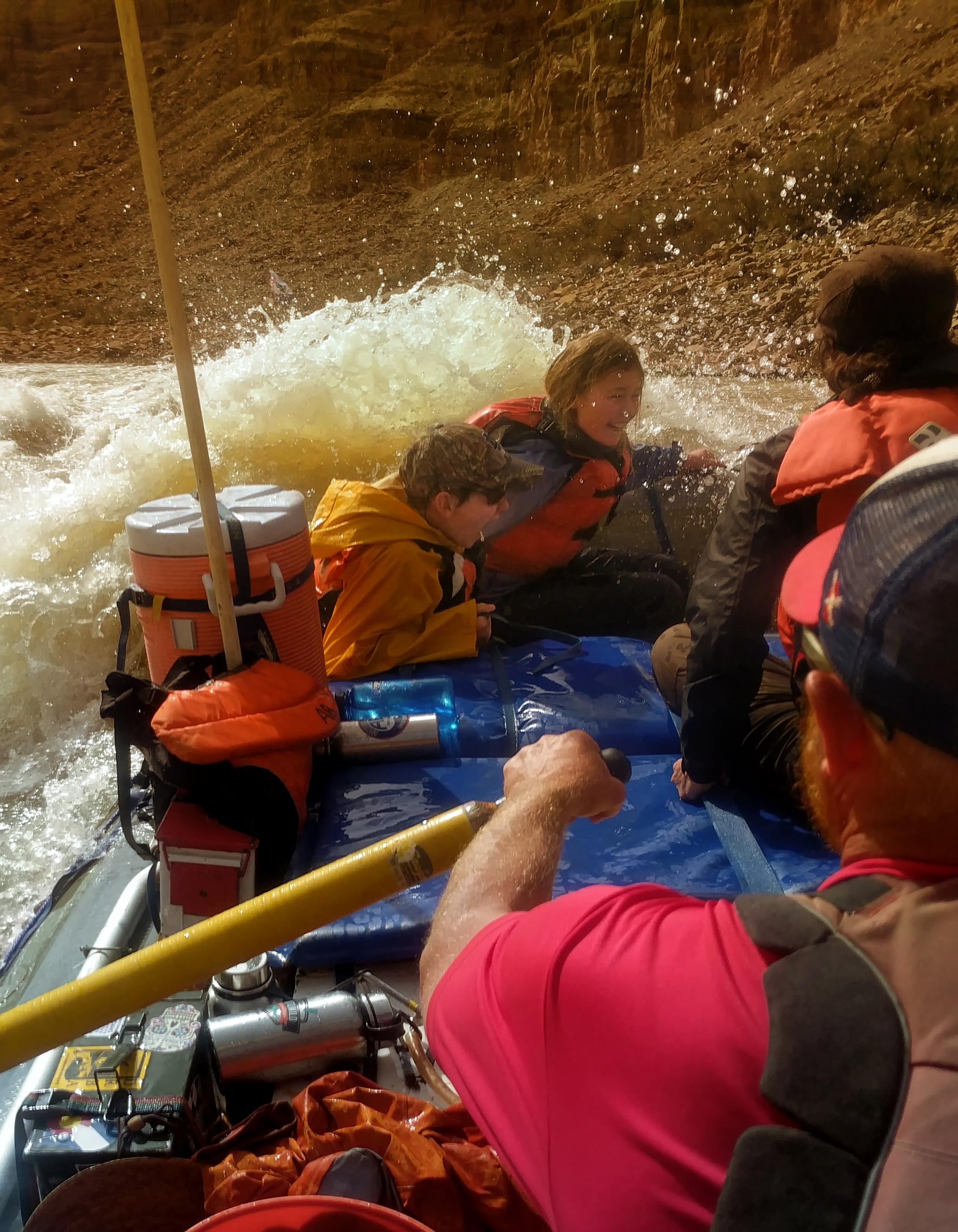 New Flexible Payment & Cancellations
Payment Options
1/2 down, 1/2 charged 60 days prior to trip.
1/3 down with remaining balance charged in thirds by 60 days prior.
Call for other arrangements!
Free Courtesy Hold
We don't want you to miss out on this trip so we'll hold your spots, payment-free, for 24hrs while you make your final arrangements & prepare for payment.
Cancellation Policy
60+ days: Receive a full refund minus $100 per person unrecoverable fees.
59 – 45 days: Receive a full refund minus $200 per person unrecoverable fees.
44 days – 30 days: Receive full credit towards any Mild to Wild trip within the next three years less $200 per person.
Less than 30 days: Unfortunately there will be no refund.
Fees
In addition to the listed trip cost, we collect an additional 9% for River and Land Access Fees (ie. Forest Service, BLM, NPS, City, Private Land Use).
SPECIAL WAYS WE CARE FOR YOU ON THE RIVER:
Various boat sizes to accommodate your needs
Professional, highly trained guides with trip leaders averaging over 2,000 river miles of experience
Multi-talented guides cook delicious camp cuisine and provide camp entertainment
Highly maintained boating equipment
Comfortable camp chairs, tables, and fun beach games
Water resistant gear bags for overnight trips
Click here for important considerations on the Colorado River.
Reasons To Chose Mild to Wild for Your Multi-Day Raft Trip
Rated #1 on Tripadvisor
1.
Trip Leaders Have 2,000 River Miles of Experience, Exceeding State Requirements
2.
Satellite Communication Devices On All Trips
3.
Family Owned & Operated
4.
Safety is our #1 Priority
5.
If You're not 100% satisfied with the guides & equipment then the trip is free!
6.
Self Bailing Rafts
7.
Healthy & Delicious Meals
8.
Kid Conscious
9.
Free Paddleboards & Duckies When Conditions Allow
10.
Reviews

Mild to Wild Rafting is proud to be an authorized concessioner of Canyonlands National Park.