So You've Rafted Moab, Now What? 
By Kim Cassels • September 6, 2019
So You've Rafted Moab, Now What?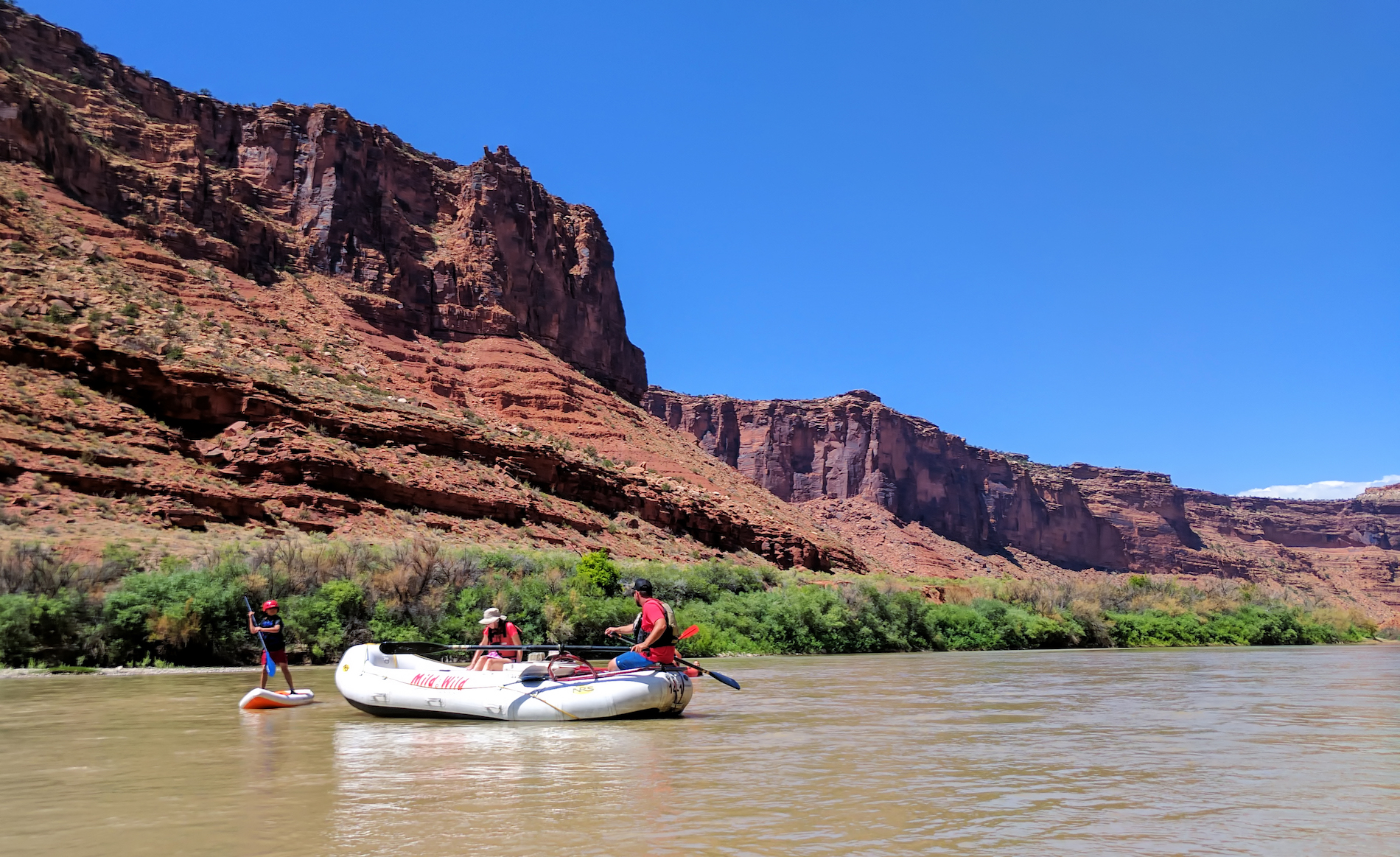 Talk about a great first impression if you've rafted Moab! If you've found yourself drifting into memories of sunshine doused chortles with a phantom paddle, it might be time to schedule that thought bubble into your next river adventure.
Now that you've rafted Moab on a nice calm river, let's turn up the dial. Take another expedition in Utah if you're looking for the ultimate vacation that allows you to be completely immersed in nature. But if you've only got the day, we suggest trying out a totally different rafting experience on one of Colorado's fast-moving streams.    
If you're looking for bigger rapids, or maybe just some new scenery, we've got plenty of destinations perfectly suited for your next rafting trip. Browse through this list for day trips in the mountains, and longer getaways in the desert. 
Live for the Day Trip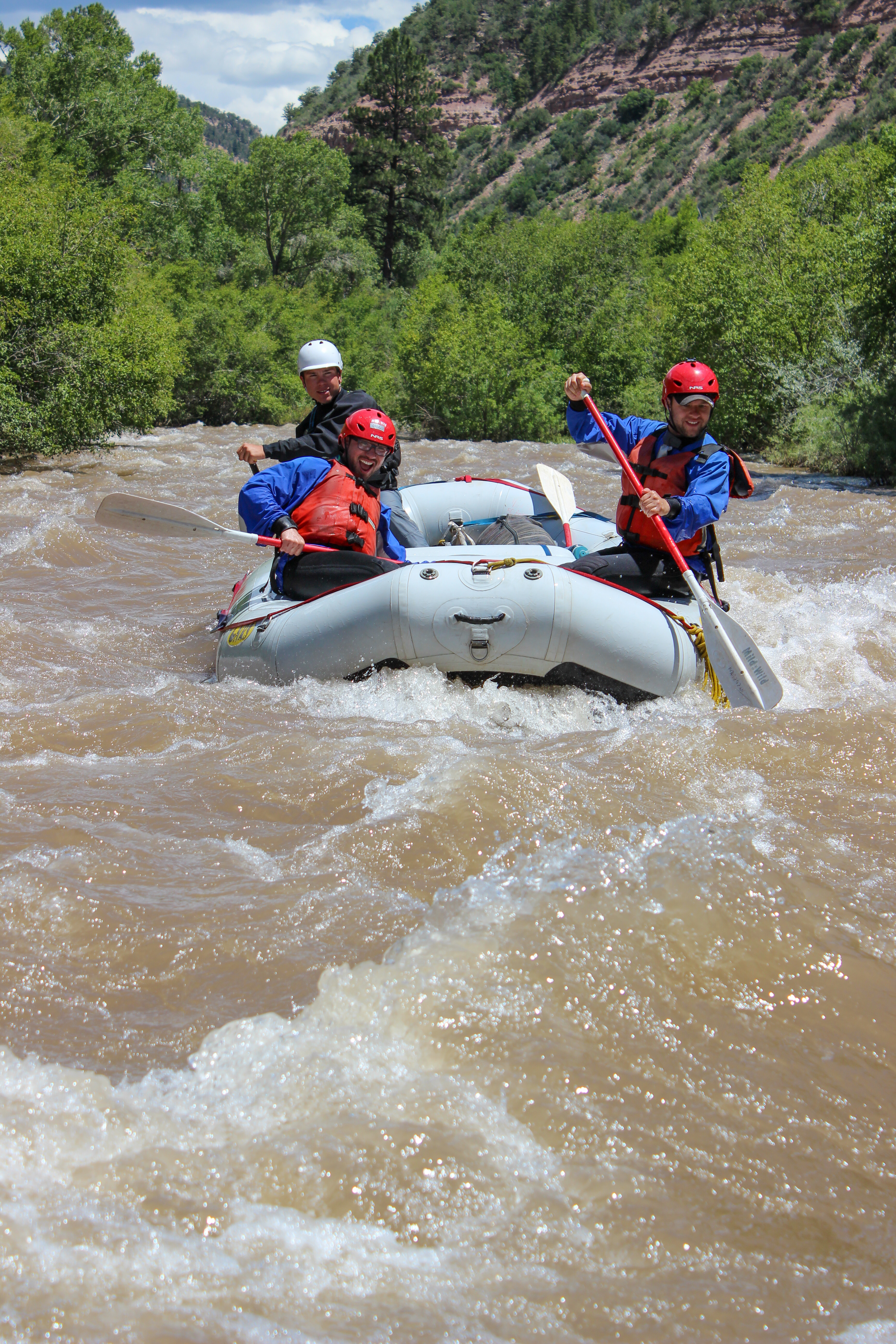 Day trips are a fabulous way to test the waters—hah!—of rural rivers. Admire 14,000 ft peaks without the trek, and breathe squeaky clean, naturally pine-scented air in the depths of a pristine wilderness. Check out these quick trips on Colorado's flowing beauties. 
Telluride – Easy Rapids in a Tight Canyon
The San Miguel is a drop-dead gorgeous river that runs just outside of Colorado's historic and luxurious Telluride. This river is uniquely lined with glowing aspens and blue spruces as it snakes through a skinny, carmine-colored waterway. The San Miguel's merriment comes from the non-stop class II rapids that promise a bumpy and technical paddling experience.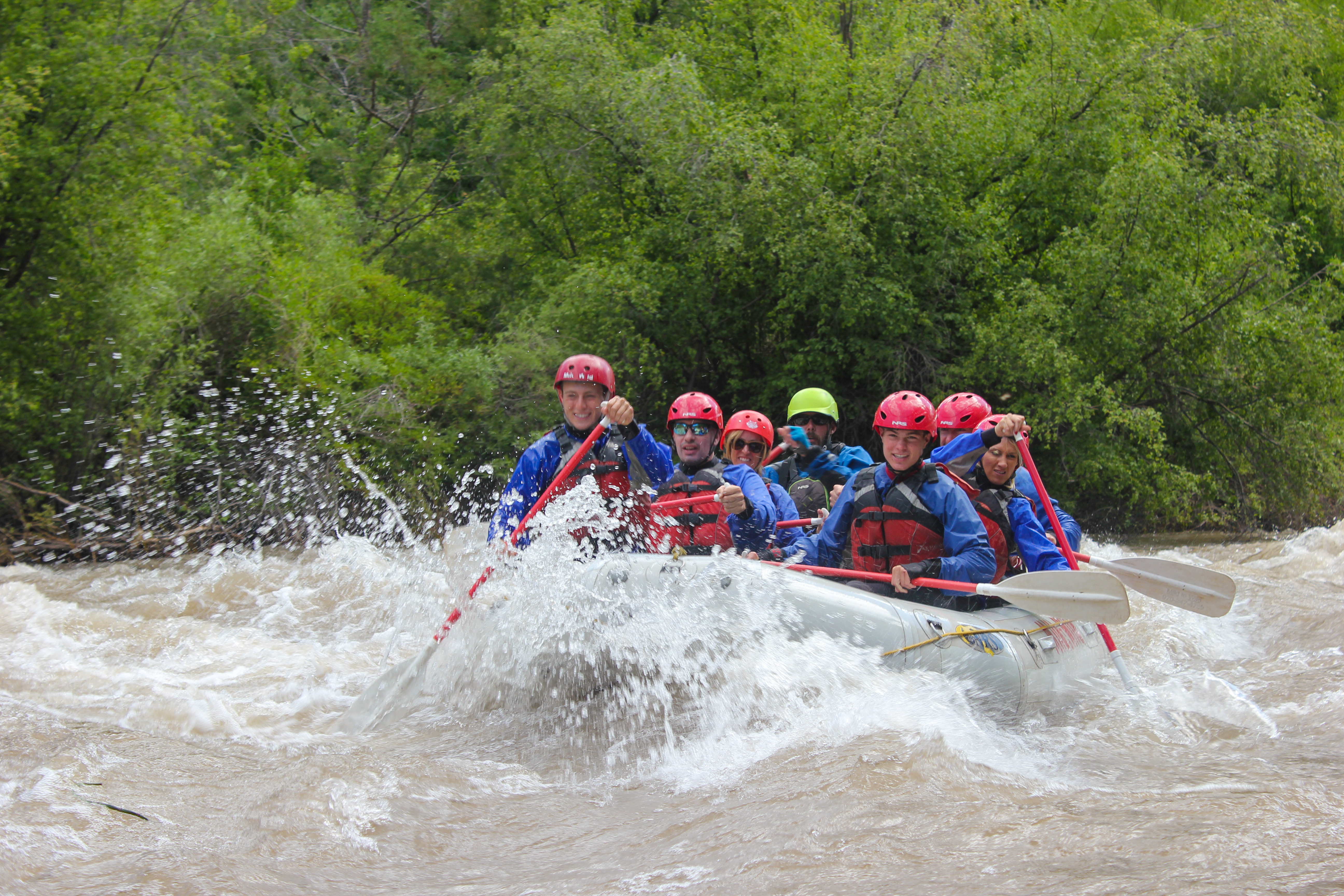 It's an awesome intermediate trip for those who enjoyed the adventure level of Moab. The San Miguel River is the perfect choice if you're looking to boat one of the most beautiful mountain rivers with similar splashes. Come raft this incredible river in Telluride from May to August for full and half day trips!
The Piedra River's upper section will make you fall in love with rafting as a sport. You'll paddle through class II-IV whitewater in exciting chutes and pool drops. This intermediate trip comes with a little more adventure; the splashes are bigger and paddling is more technical between the Piedra's jagged granite cliffs.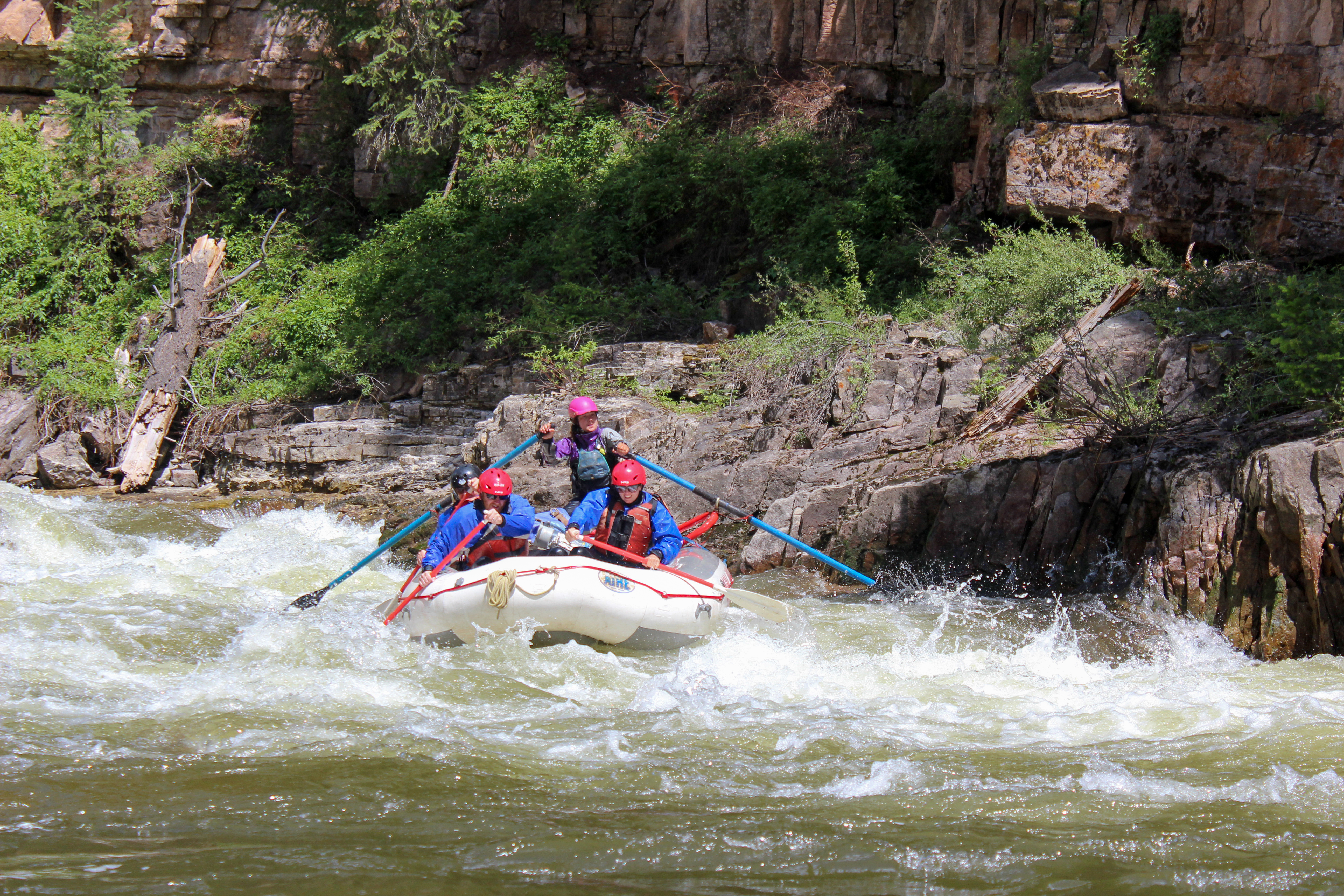 The surroundings will rejuvenate anyone who is in need of a healthy dose of Colorado's flawless forests. This alpine river runs outside of Pagosa Springs, where locals and tourists alike come to soak in one of the world's best hot springs. Pay the Piedra River a visit from mid-May to early July. Kids 12 and up are welcome to paddle along this serene stretch of dense woodlands. 
Silverton – As Big as it Gets 
Trying to go full throttle? Then Silverton, Colorado is the place to visit for the ultimate whitewater experience. The Upper Animas river drops 85 feet per mile making for non-stop rapids the whole journey. You'll put your paddle to work as you conquer class III-V rapids in Colorado's largest wilderness area.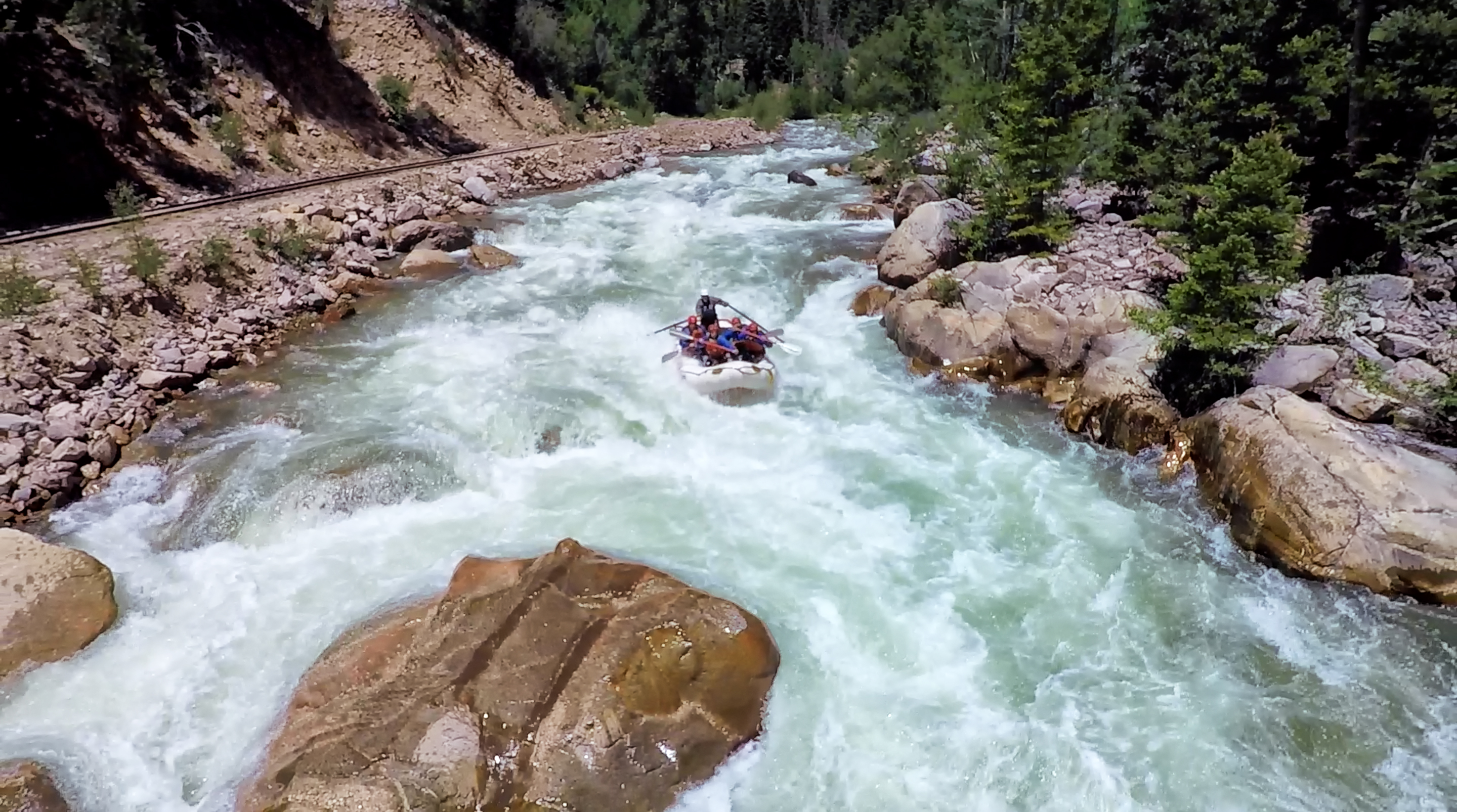 The Durango and Silverton Narrow Gauge Railroad brings whitewater enthusiasts in and out of the Weminuche Wilderness to run this raging stream. From May to August, tenacity and fitness are imperative on the free flowing Upper Animas River. Ages 16 and older can join in on this hidden treasure.  
Get Comfortable and Stay Awhile – Multi-Day Trips
The only beef we can find after having rafted Moab is that it only lasts a couple of hours. Multi-day rafting trips come packed with pristine beach camping, freshly prepared meals, stunning hikes, lofty views, and buoyant shenanigans. Whether you're looking for new scenery or bigger waves, we highly recommend letting a canyon become your home for a few days.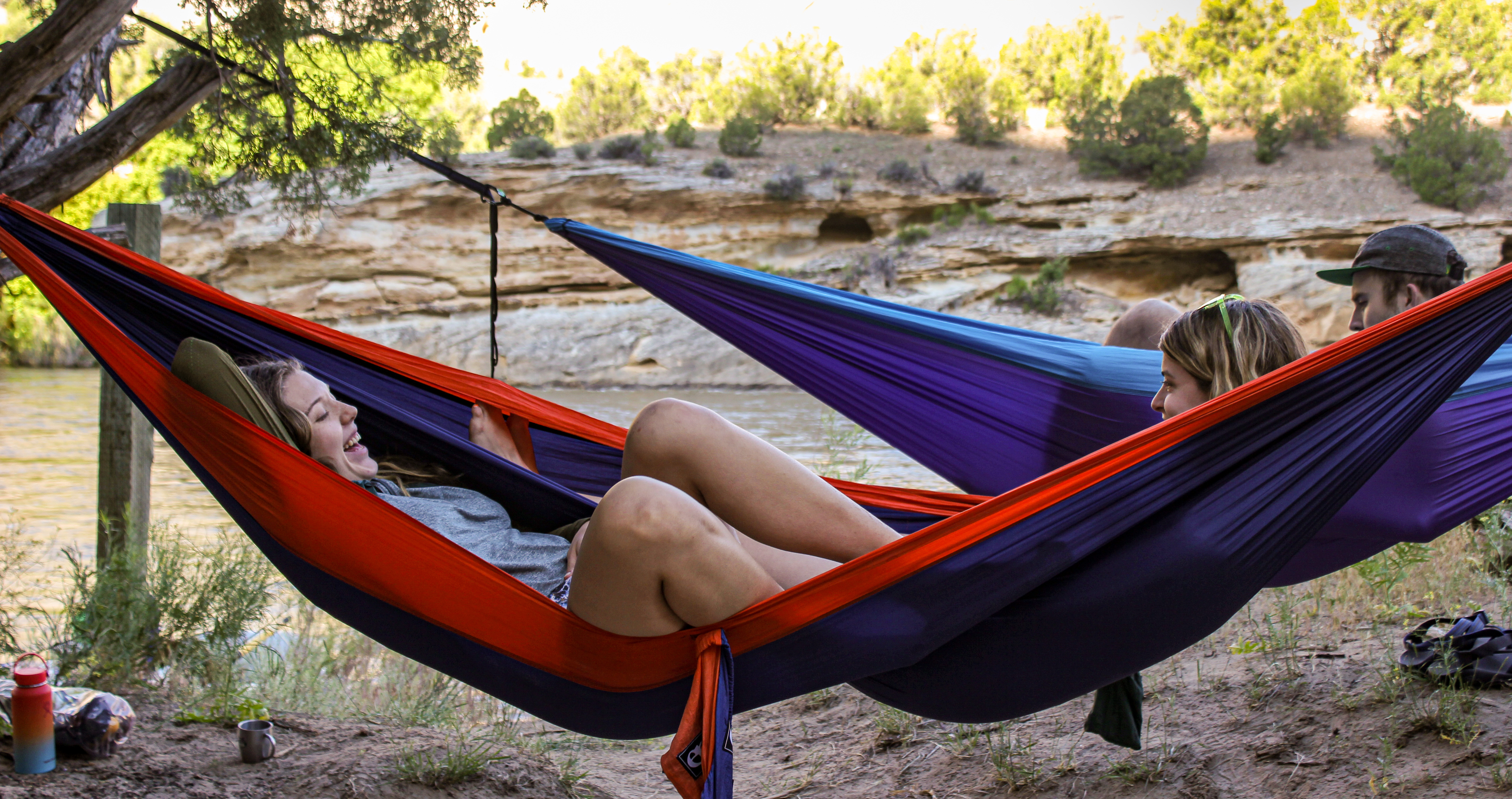 Desolation Canyon – Class III's and Cliffs are Far as the Eye can See 
The start of every Desolation Canyon rafting trip comes with an exclusive view of the Green River. You'll board a special flight out of Grand Junction or Moab that takes you into the largest contiguous wilderness in the United States. There's nothing quite like stepping onto a rural tarmac smack dab in the middle of a tremendous Utah desert. If you wholeheartedly need an escape from civilization, this is the way to do it.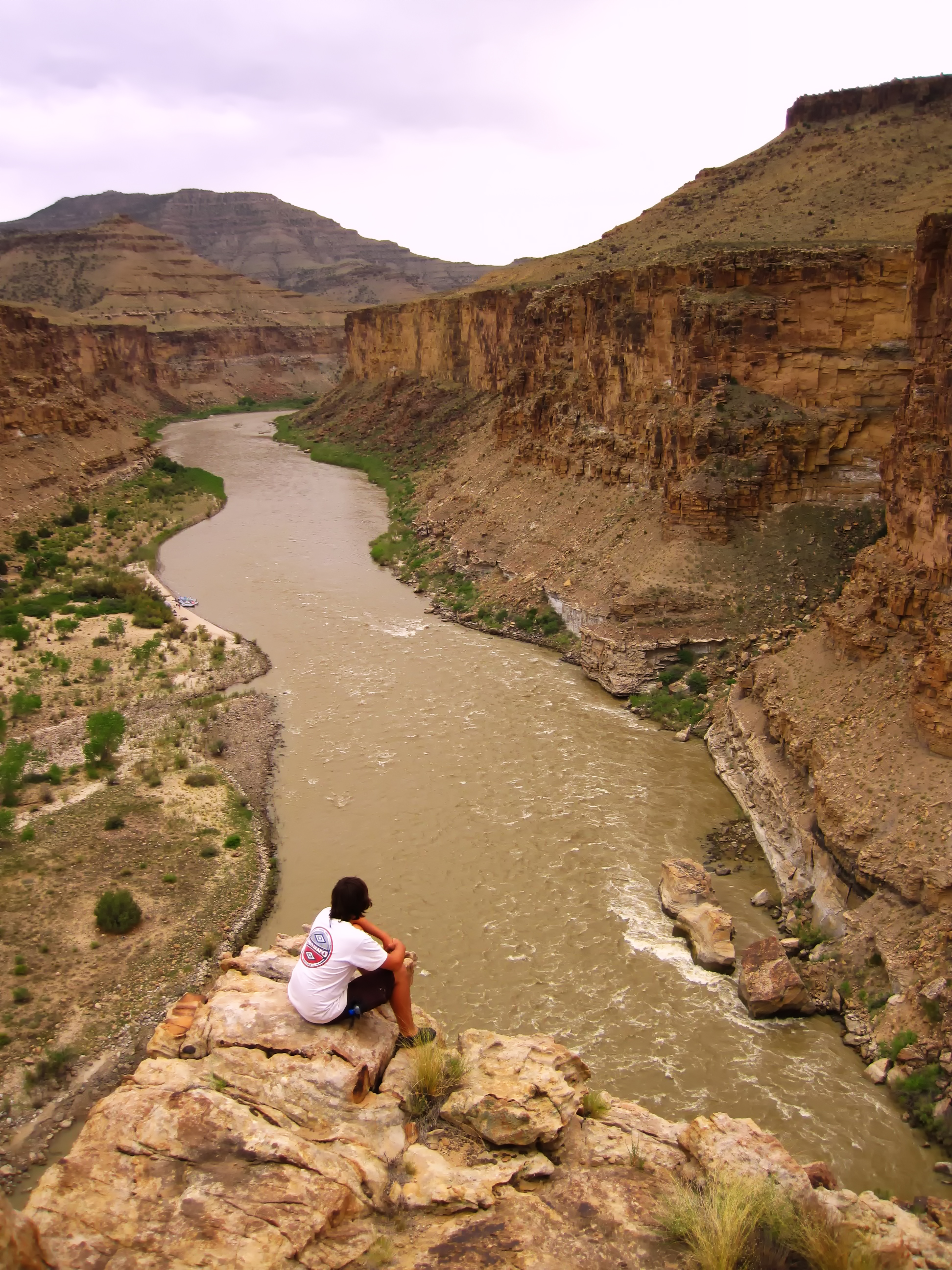 Desolation Canyon will gladly make your jaw drop one meander after the other. This canyon offers more than 60 class II and III rapids with plenty of time to kayak, swim, and stare politely at the gargantuan terrain in between. Desolation Canyon is deeper than the Grand Canyon in some stretches, and wild horses can still be found galloping the river banks.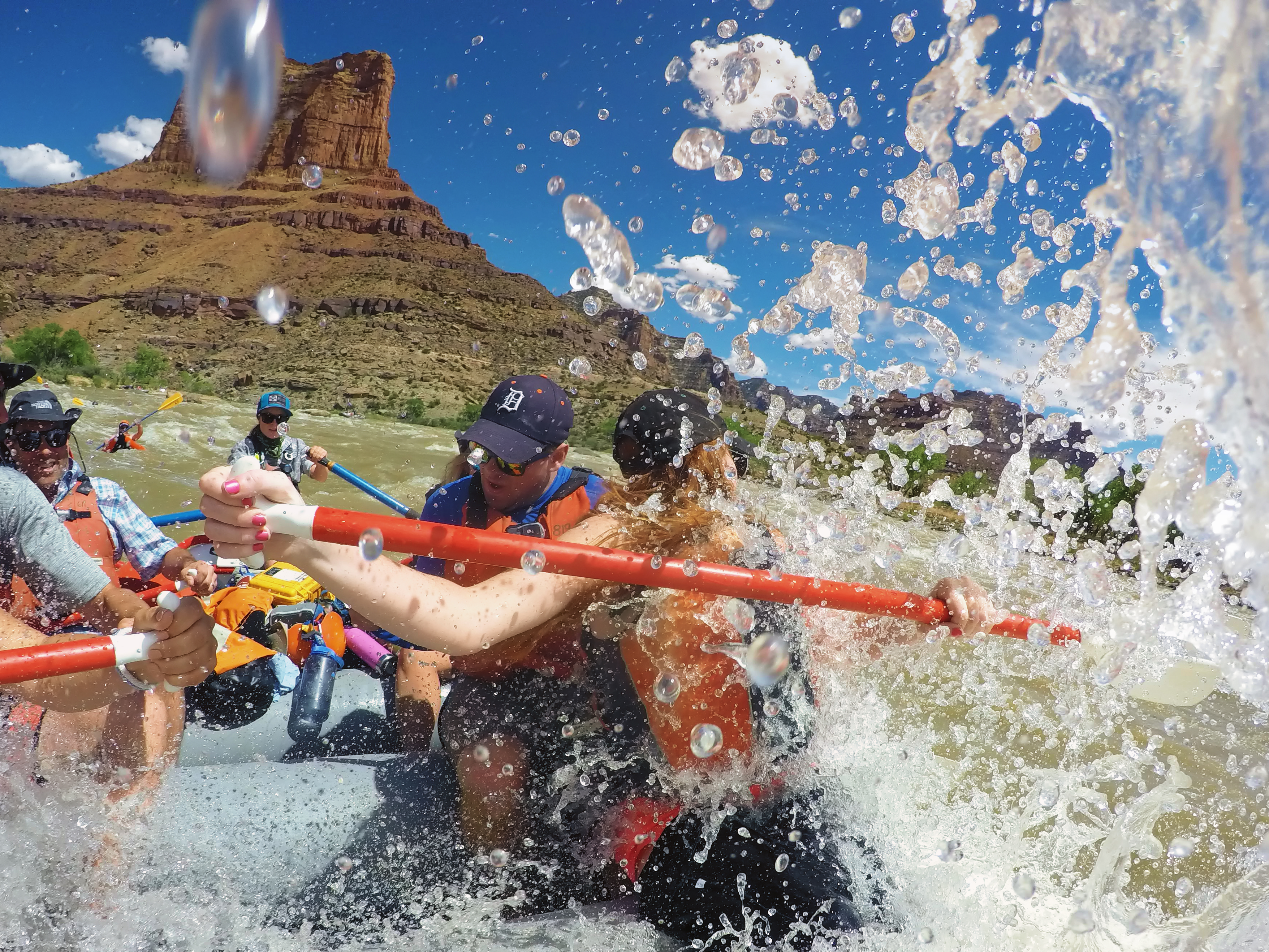 It's a perfect getaway for families with kids ages six and up, and groups of friends who want to kick it in an enchanting desert. From May to September, you can disappear to the world in Desolation Canyon from four to six days at a time. 
Gates of Lodore – Prehistoric Splashes Aplenty
Have you ever gone to a National Monument and thought, "man I wish I had more time to see all of this." Then you should take a rafting trip through the Gates of Lodore where you can see Dinosaur National Monument up close and personal. You'll discover fossils lodged in stone and cliffs that curve like the spine of a Stegosaurus.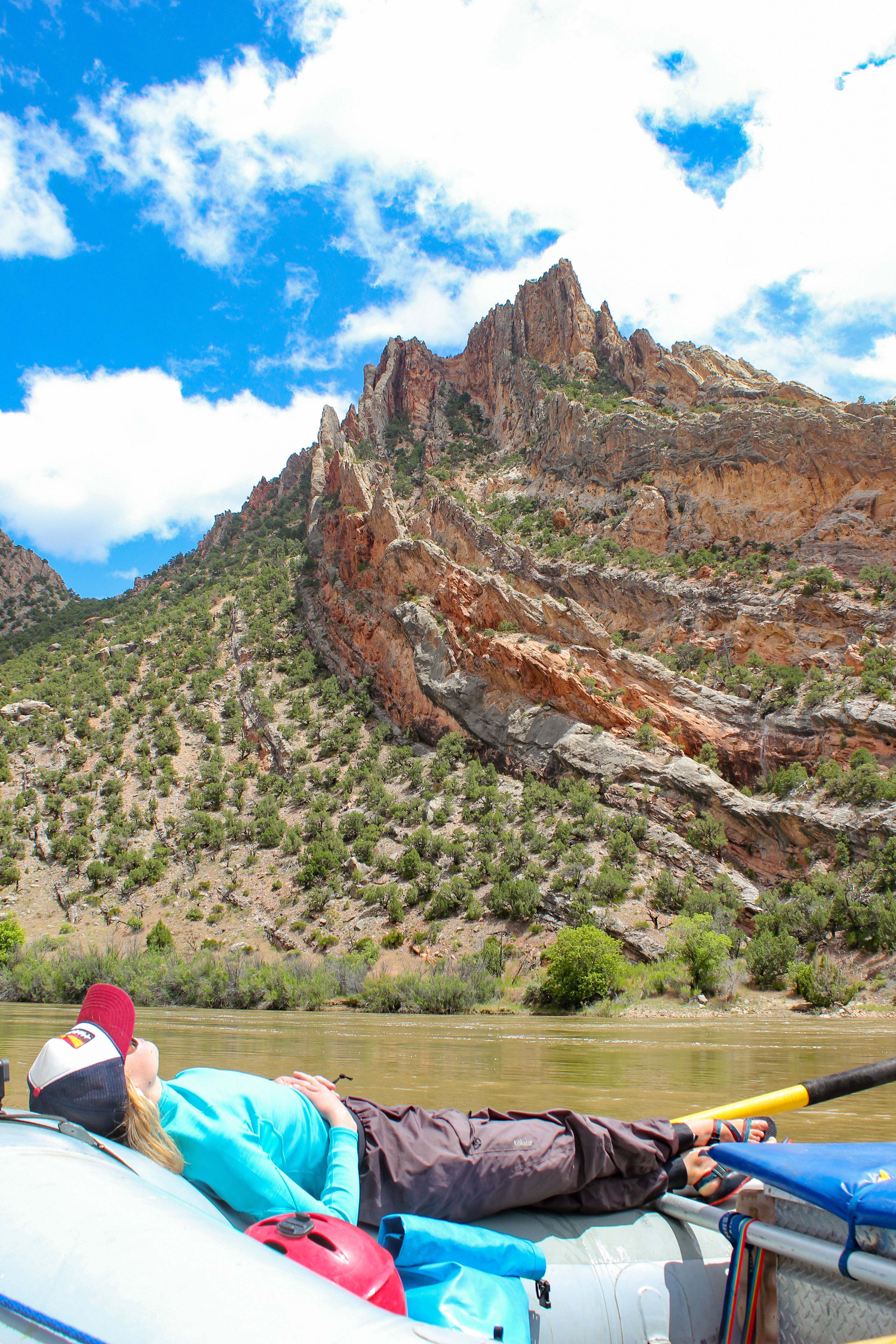 The rapid sections in Lodore are stunning and wild, delivering far more splashes than any ol' water park. Lodore's class III rapids come with car-sized boulders to steer around met by exhilarating drops that soak the entire boat. While you dry off, your guide will share awesome historic tidbits about century old expeditions and the puzzling geology curling above.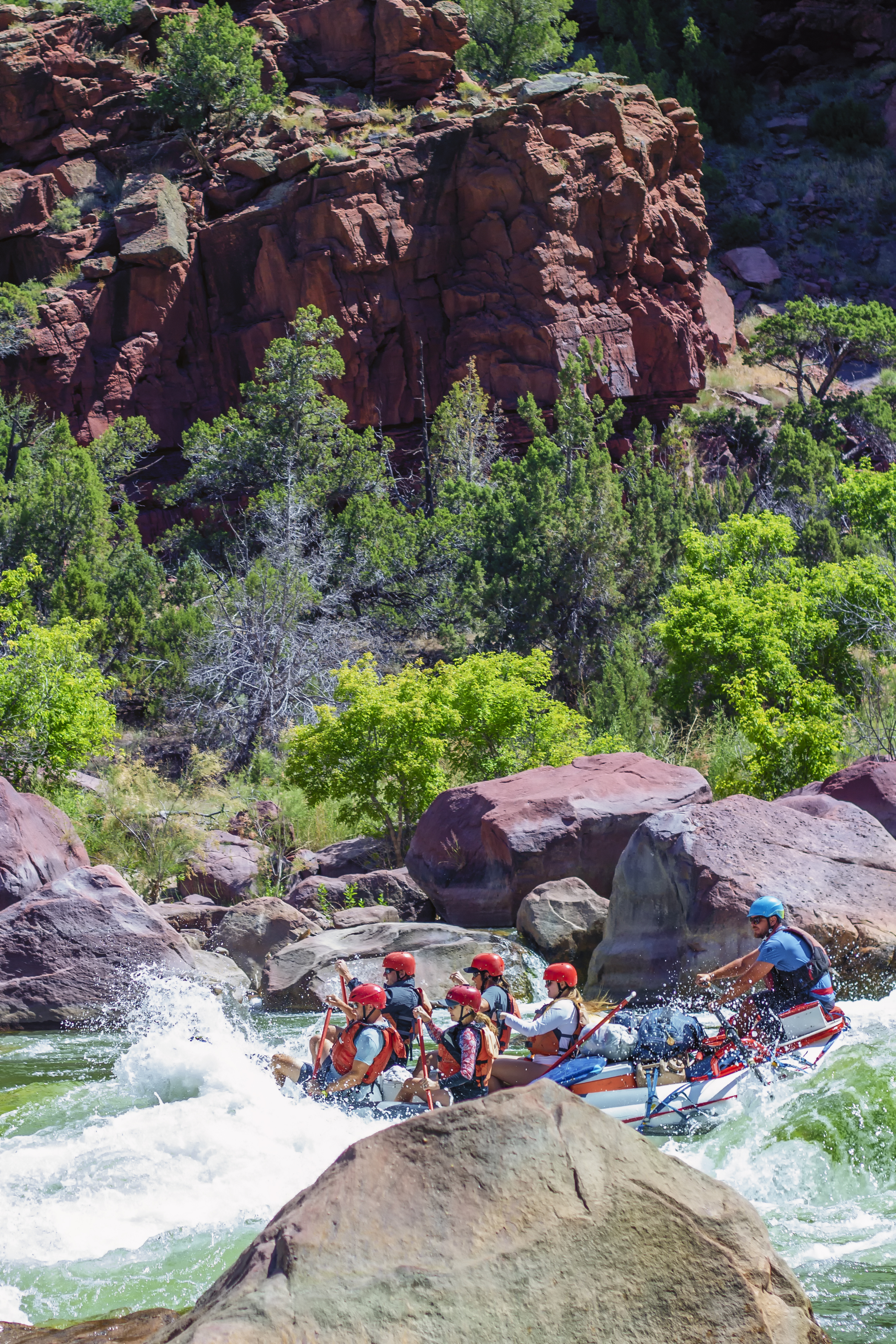 The Gates of Lodore offers a perfect balance between tranquility and excitement. This trip is great for kids from 7 to 12 years old and up depending on the water level. Come see this real-life Jurassic Park from May to September on a three or four-day trip. 
If you're looking to step up the rapids after you've rafted Moab, Cataract Canyon is like taking an elevator from the lobby straight to the top floor. This impressive trip through Canyonlands National Park is a desirable journey for all whitewater fanatics. If you're new to the world of rafting, but courageous and titillated by a roar that reverberates between archaic canyon walls, hold on tight as the class V's will flood your memories for a lifetime. 

The start of a Cataract trip gives no inclination of the swell waiting downstream. In fact, you have an entire day to absorb the colossal carvings of the Colorado River and  lingering hoodoos gossiping on the cliffs. You'll enjoy hikes to precious ancient artwork, arches, and looming river views.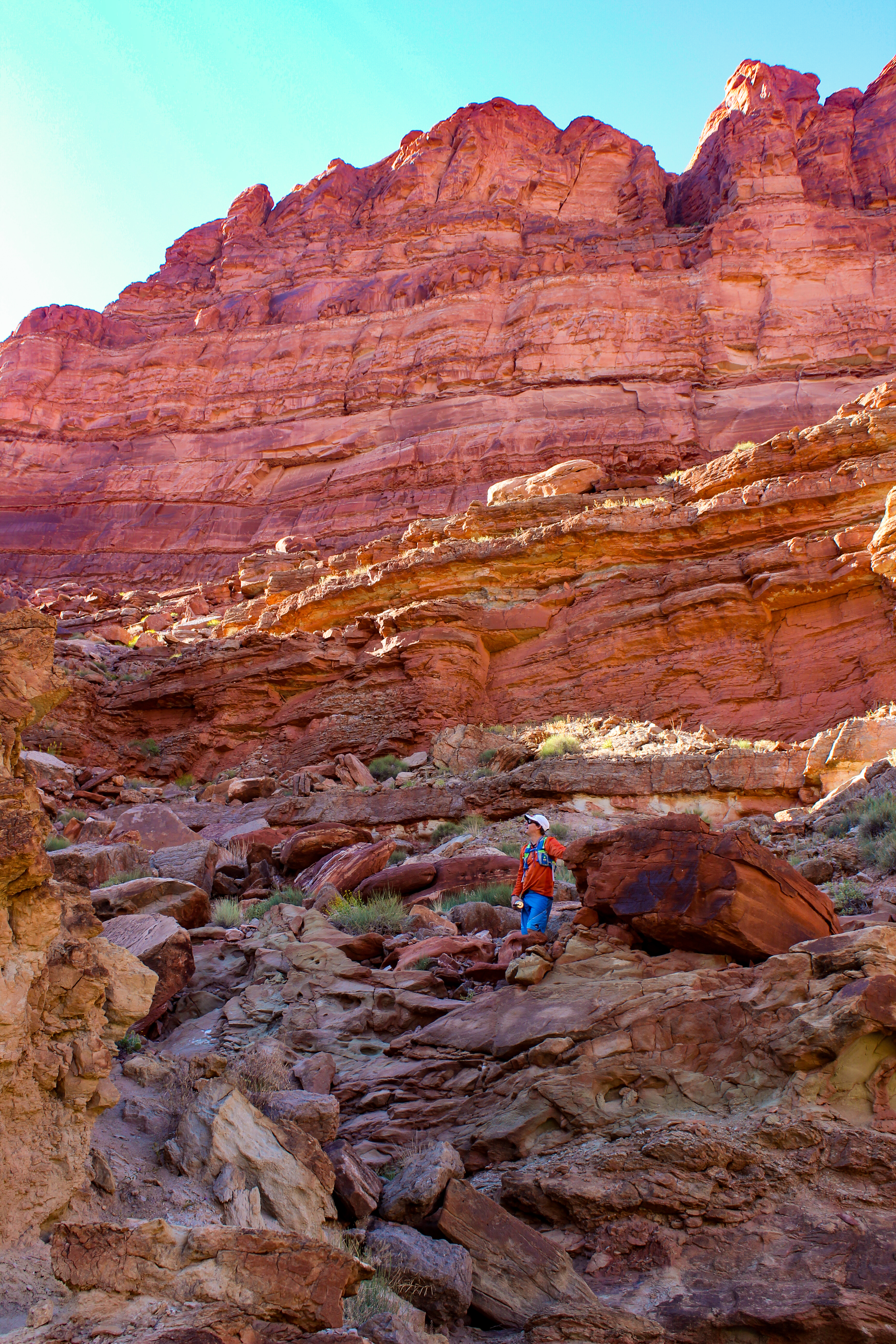 A Cataract Canyon trip packs a punch but offers plenty of time to relax from April to September. This notorious adventure welcomes kids between 10 to 14 depending on water levels, and can last from three to five days.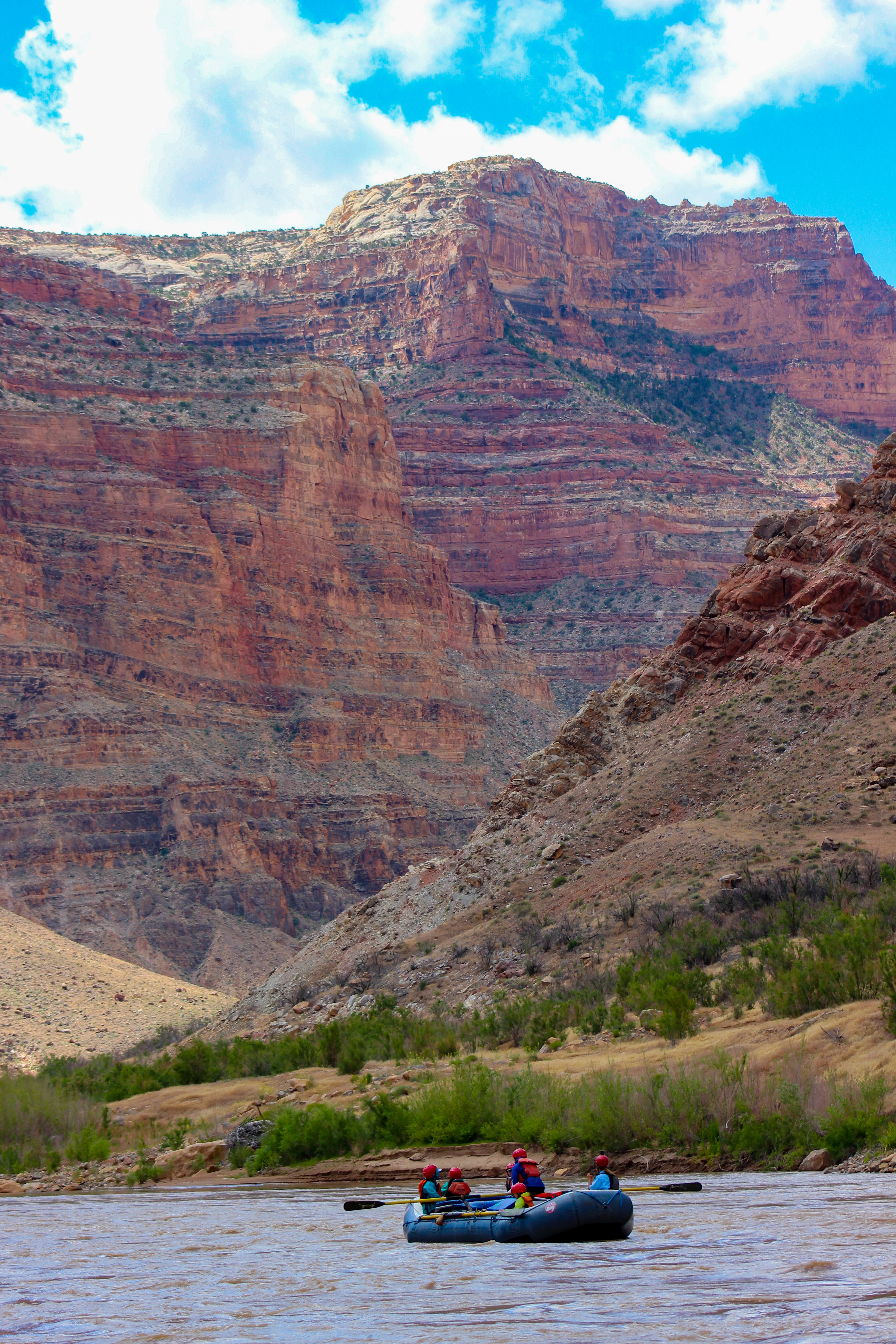 We understand the sinking feeling of leaving a raft after a nature-induced euphoria. Luckily there are plenty of rivers out there waiting to overwhelm you with excitement and serenity. Whether you've only got a few hours, or you're ready to camp in the canyons, we'd be thrilled to take you through the mountains or deserts. See you downstream and around the riverbend!
Get New Blog Posts in your Inbox