River Rafting: When is the Best Time to Go?
By Molly • April 28, 2015
Are you wondering the best time to go on your whitewater river rafting trip?  If so, there are several factors to take into consideration during your planning process.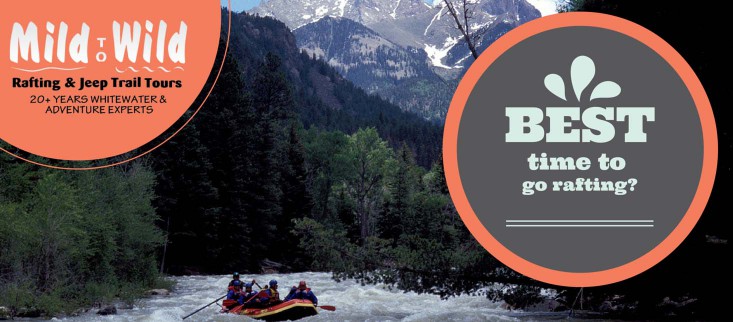 Do you like high water or low water?

Do you want big rapids or small rapids?

Do you like warm water or cold water?

Do you want warm air temperature or cooler air temperature?
Each river offers a "best time" to go river rafting, but that time will vary from person to person based on your preferences.  If you are planning on rafting on a snowmelt river such as the Salt River in Arizona, the Lower Animas, the Piedra, the Upper Animas, the San Miguel, or the Colorado River in Utah, the water levels will be higher and the rapids will be bigger in the early season.
Snowmelt river water temperatures can vary depending on the distance that the snow has to travel.  For example, the Lower Animas River in Durango, will have a colder water temperature than the Colorado River in Utah. This is because the snowmelt water has traveled from the mountains near Vail and Breckenridge, so it has had a lot of time to melt.
Another thing to keep in mind is that there is a monsoon season in Durango, which can affect water and air temperature.  If you are wanting warmer weather, you can plan your trip according to local forecasts and temperature averages.  If you are rafting on a river that uses a dam, you can predict water conditions more easily, as the water levels will be regulated. There are several rivers like this in the eastern part of the country. The water levels on snowmelt rivers, like the rivers that we run here in the Southwest, can vary from day to day.
There are some other things to consider as well.  Will you be doing an overnight rafting trip, including a night or more of camping?  If so, you will want to consider air temperature and weather conditions.  Are you also interested in a wilderness trip? With wilderness trips, regardless of the time of year, you will not see a lot of river or land traffic.
The more you can specify your preferences, the easier it will be to select the best time to go river rafting for you and your group.  At the end of this blog is a small survey that you can complete and print out to help you decide which river you should visit and at what time.  If you know the general area that you will be visiting, it is a great idea to call some of the local outfitters so their trip consultants can provide some more detailed information on predicted river conditions and can help you to plan the best trip possible.
River Rafting Trip Preferences:
Do you like high water levels or low water levels?__________________________
Do you want big rapids or small rapids?__________________________
Do you like warm water or cold water?__________________________
Do you want warm air temperature or cooler air temperature?__________________________
Would you prefer rafting through the wilderness or through an inhabited area?____________________
Are you planning on camping?  YES      NO
What is your adventure level?   MILD      INTERMEDIATE      WILD
Get New Blog Posts in your Inbox