Colorado River Rafting and Pampered Camping
By Molly • June 8, 2015
A camp – a place, usually away from urban areas, where tents are erected for shelter or for temporary residence. If this brings back memories of family trips from your childhood, you're thinking of the right kind of camping.  Some of those memories might be of dad struggling with the tent poles or the cooler being pillaged by raccoons.   Maybe those are fond memories.  Maybe those are memories that have kept you out of the woods since then.  Either way, let us help you get back out there, this time, in luxury. Let Mild to Wild take you on a Colorado River rafting and camping trip!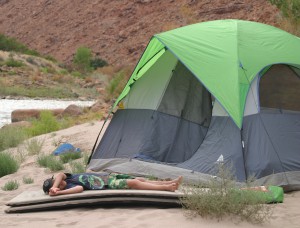 Mild to Wild Rafting and Jeep Tours offers 5-star camping.  You won't need to worry about shopping for provisions, setting up, or cleaning up on this trip.  Our guides not only help you navigate whichever Colorado River rafting adventure you have chosen, but they also serve as the chefs.
To start, enjoy a quick appetizer to take the gnawing sensation out of your stomach.  For the main course you will enjoy a mixed grill of chicken and steak, a fresh salad, fire warmed bread, and some kind of side (pasta salad, potato salad, or rice).  Follow this hearty meal with a Dutch oven dessert, which envelops the campsite with wonderful smells.  Lastly, a campsite wouldn't be complete without s'mores around the campfire.
After such a filling meal, you may wish to sit back and enjoy the company of your fellow travelers.  This is a great chance to share ghost stories of your youth with a younger generation, or simply sit under the stars and enjoy the peaceful evening.
Camping gear is available for rent in case you don't have it.  However, if you are camping savvy, feel free to bring your own.  All gear is put on a gear boat in dry bags so it stays dry.  Our raft guides are more than happy to assist with setting up tents, especially if you are reenacting the battle your father used to have with the tent poles!
After a good night's sleep listening to the sounds of nature, wake up to the smell breakfast wafting through camp.  Enjoy a "cowboy breakfast," complete with a variety of hot and cold options.  Depending on the guides' specialty, eggs or pancakes will be served, along with fruit, yogurt, bagels with cream cheese, and granola.  This is just what you need to get your energy pumping for another full day of Colorado River rafting.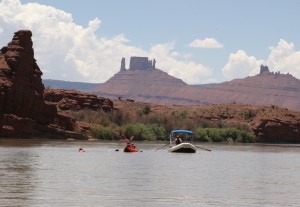 We offer this experience on many of our trips, but our most popular is on the Colorado River in Moab, Utah.  Enjoy the warm water as you go by red rock walls, sandy beaches, and other beautiful sights.  Filled with three different rapid classes (ranging from a float to rapids that will get you soaking wet), Moab rafting is a great trip for people of all ages.  This Colorado River rafting trip would be ideal for a family reunion with your grand kids!
Besides rafting, Moab is home to Canyonlands and Arches National Park, as well as mountain biking, Jeeping, hiking, and climbing.  The town itself has shops and restaurants, so when your done camping, you can find some place to stay and eat.
If you're lucky enough, you'll choose to camp with us another night, once again enjoying good food, great company, and the beauty of nature.  Being the whole family on this amazing Colorado River rafting adventure.  Let us bring you back to the days of your youth and create new memories.
Get New Blog Posts in your Inbox