5 Amazing Multi-Day Rafting Trips in Colorado
By Kim Cassels • May 17, 2019
5 Amazing Multi-Day Rafting Trips in Colorado
Trying to organize a summer trip that offers unlimited adventure, spectacular scenery, and little to no planning on your part? A multi-day rafting trip will check those boxes and then some. Colorado rafting trips offer a variety of experience levels and activities to enjoy during a week on the water. Every trip listed includes equipment, meals, site transportation, and some gear in the packages. Once your trip is booked, just pack a bag and show up! Here are a few multi-day rafting trips Colorado has to offer on its many gorgeous rivers.
Upper Animas – High Adventure
This high adventure multi-day raft trip is located in Silverton and takes you through the majestic Weminuche Wilderness. The season runs from May until August, and thrill-seekers chasing class IV and V rapids can find high water usually in June. For those looking for a slightly less intense trip and more class III whitewater, you can usually catch the Upper Animas before and after the high runoff  in May and July.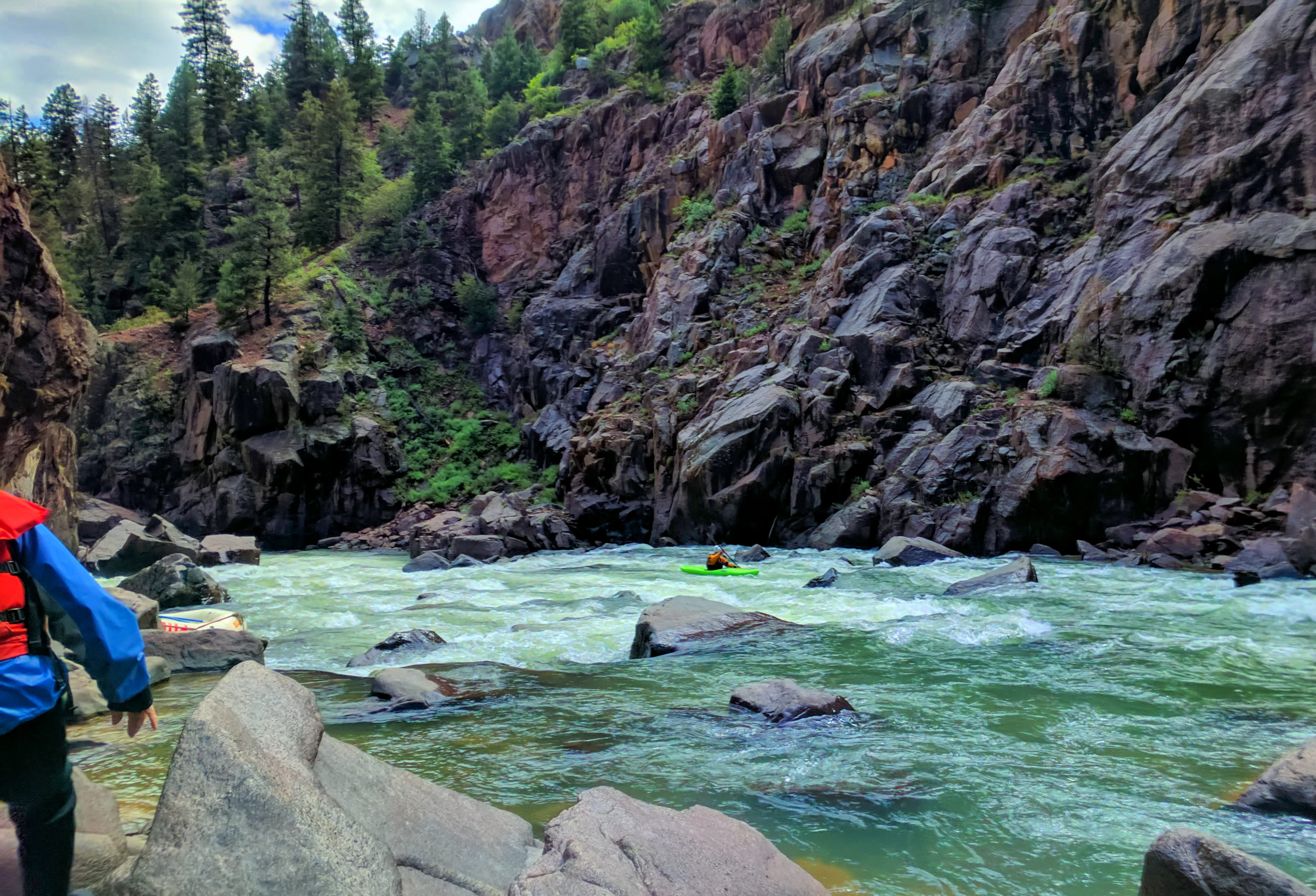 There are restrictions for this trip as the Upper Animas is the most difficult commercially run river in the U.S. This river requires a swim test, safety orientation, and ages 14 and up depending on the section.
Upper Colorado River – Just Chillin'
Hey, sometimes you just need to float. Ava Rafting provides a relaxing 3-day rafting trip on the Upper Colorado River from May to October. It's class II and III rapids let kiddos 5-years and older come along, and are great for paddle boarding, kayaking, and fishing. You'll start in Kremmling floating 30 miles downstream through Red Gorge, Yarmony Mountain, Basalt and Gypsum canyons, and end in Catamount.
This trip offers the opportunity to explore historic cabins and see the train pass by periodically. The Upper Colorado is a treat for wildlife lovers as folks can often spot a Colorado river otter, bald eagle, or black bear.
Dolores – Once in Lifetime
Running the Dolores River is a once in a lifetime opportunity as it rarely overfills the McPhee reservoir and flows into the historic Dolores Canyon. The glory of a wet winter has granted the Dolores to flow this year, but only for a short time. Its rafting season in 2019 runs May 22nd to June 12th. 
Multi-day trips are broken into sections on the Dolores. Ponderosa Gorge offers 2-day trips through class II – IV rapids and Slick Rock Canyon offers 3-day trips through class II – III rapids. You can also combine both sections for 5 – 6-day rafting trips.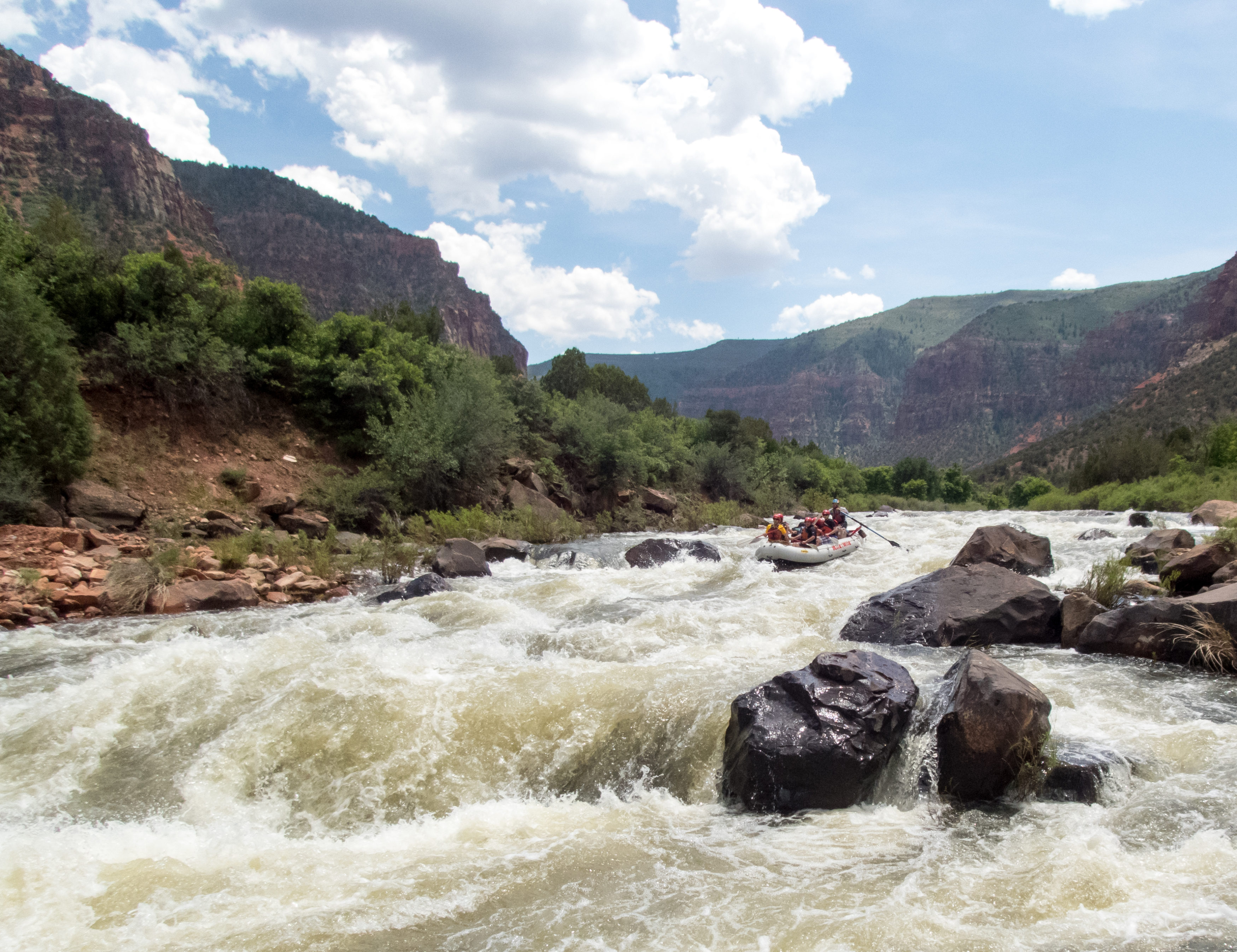 This flowing river canyon is the longest in the U.S next to the Grand Canyon. It reveals ancient Anasazi ruins, soaring ponderosa pines, and yellow-hued walls. It could be years before getting the chance to run this river again.  
Yampa River- Free-Flowing
Rafting trips on the Yampa are 4 – 5 days, taking you from Steamboat Springs to Dinosaur National Monument near the Utah border. The Yampa offers an intermediate to high adventure experience with class III and IV rapids through mid May to early July. At high-flow, age restrictions are 12 and up.
This trip offers an amazing trek through tight canyons on Rocky Mountain snowmelt and breathtaking scenery. The Yampa is unique for so many reasons, and a multi-day trip offers an insight into its fascinating geology, jurassic and cultural history, and precious wildlife. Anytime on this river is a new experience, even for our seasoned guides!  
Arkansas River – Beyond Glamping
Looking for a multi-day rafting experience of luxury and no camping whatsoever? Wilderness Aware has got you covered with a rafting trip on the Arkansas River that includes lodging every night, cocktail hour, and dinner at local restaurants.
From May 15 to Labor Day you can choose a rafting trip up to 4 days. The trip starts in Buena Vista and goes through world-class whitewater in Browns Canyon National Monument, continuous wave trains in the Narrows, the rocky technical Numbers, and Royal Gorge. This trip is primarily intermediate with rapids ranging from class III to IV, and the option to take on class V.  
If you're looking for more outdoor activities in one package, you can start the trip with a half day of horseback riding or mountain biking before hopping in the raft. Depending on the length of your trip, you can see 30 – 70 miles of 1,000 ft. steep canyons, boulder mazes, and granite spires. This trip is great for experts to adventurous beginners that are at least 10-years-old.
If you love camping or not, there's something for everyone itching to splash across the colorful Centennial state. These trips give you an interconnected experience with remote wildernesses, allowing for days to be completely carefree. It's an optimal vacation for those in need of unmatched Southwestern sunshine and an imperative break from the daily hustle.
More Reading:
The Unexpected Things You'll Get From a Multi-Day Raft Trip
Why is the Yampa River such a Big Deal?
Get New Blog Posts in your Inbox