How to Kayak, SUP or Tube the Lower Animas like a Champ
By Kim Cassels • July 21, 2022
How to Kayak, SUP, or Tube the Lower Animas like a Champ — Low Water Edition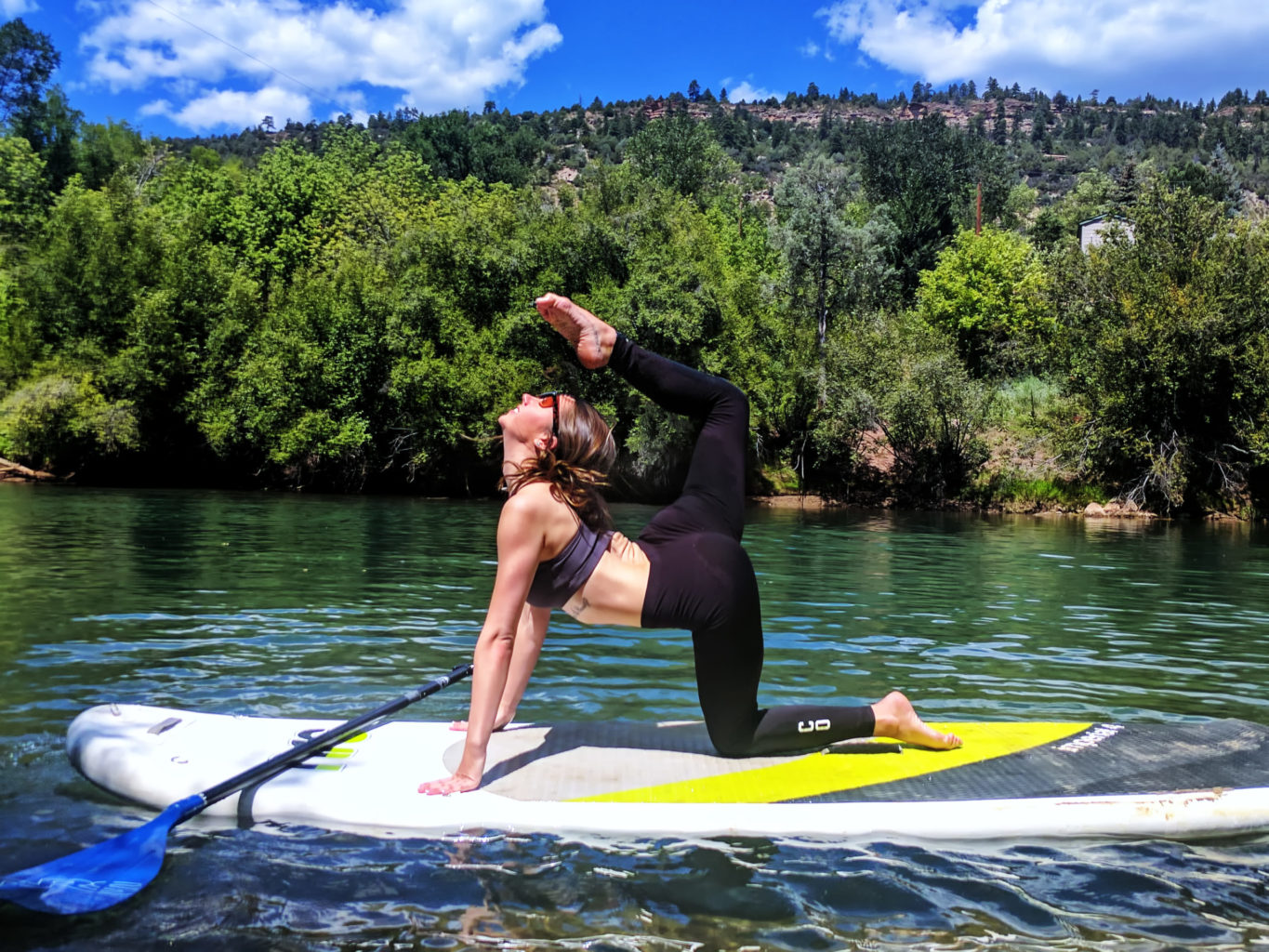 When low water season falls upon the Animas River in Durango, we all know what time it is… TUBING TIME! Or KAYAK, or SUP time if you're not a donut lover!
Low water on the Animas River is usually considered below 700 Cubic Feet per Second. This is when the rocks start to emerge, and some sections become so shallow you can stroll down the riverbed. And Smelter Whitewater Park, while still an exciting series of drops, becomes quite manageable to run successfully even by wide-eyed tubers who hold on tight.
For those looking the tube the Lower Animas, 500 CFS and lower is the safest option. Not sure what that even means? One Cubic Foot is the same volume as a basketball. On small-ish rivers like the Animas, 500 basketballs makes for a very calm flow.
If it's your first time taking on the Lower Animas with a tube, kayak or SUP, here's the down low on how to have the best time evah!
Planning Your Shuttle on the Lower Animas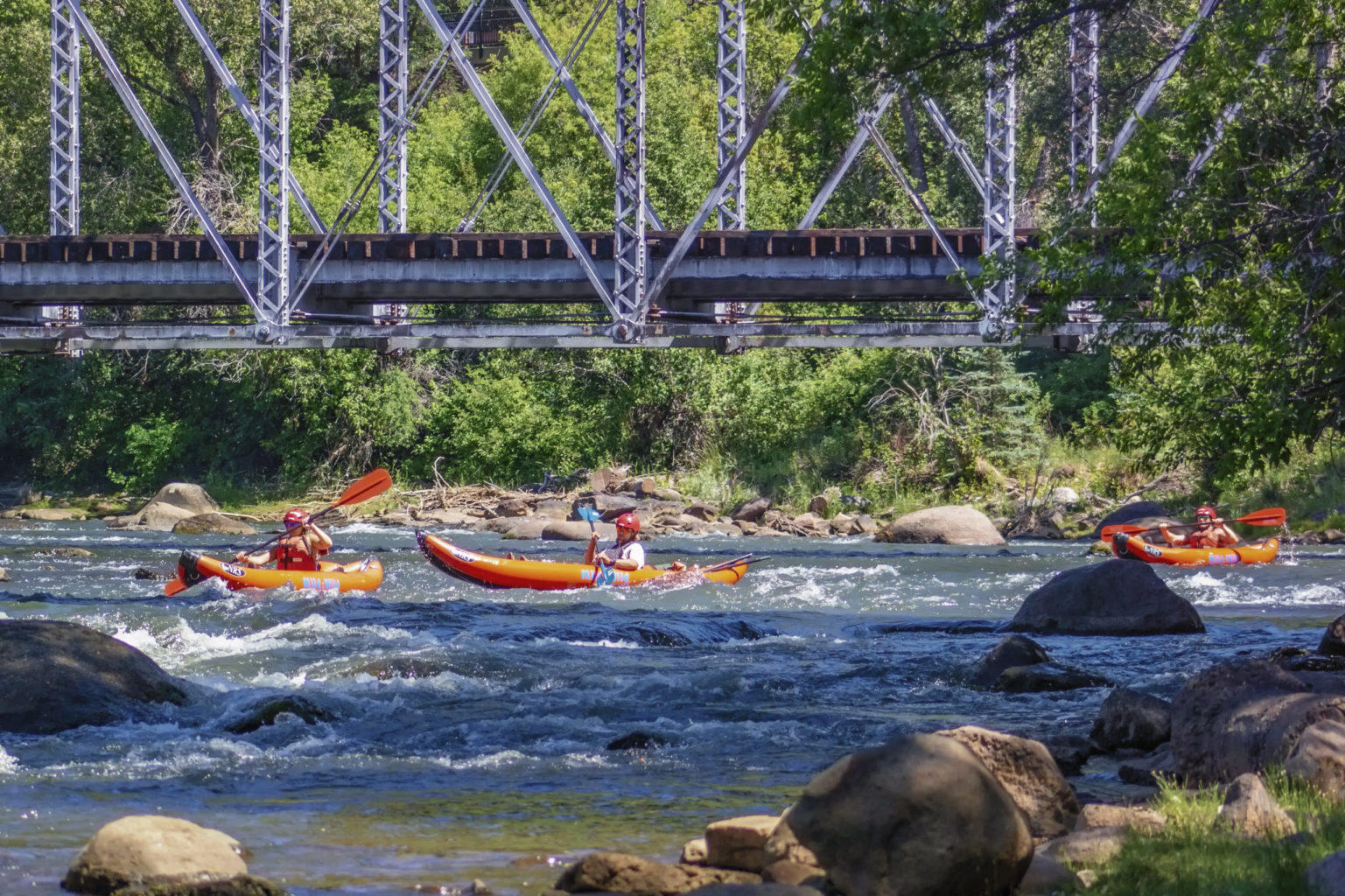 When you rent or use your own river equipment, you're in charge of getting yourself back to where you put-in on the river. If you have at least two vehicles to work with, you're covered! Just keep in mind that not all put-in / take-out spots along the Animas River have ample parking, particularly 33rd and 29th Street.  
If you're running the Lower Animas with only one set of wheels, or none, you'll need to rely on the Durango Trolley, a bike, taking out at a spot that's walking distance from where you want to be, or good old fashioned hitch hiking! 
For the Durango Trolley, here are its stops near popular Put-in / Take-out Locations along the Lower Animas: 
| | |
| --- | --- |
| Put In / Take Out Spot   | Bus Stop  |
| Oxbow Park —–> | Redwood Lodge  |
| 9th Street Bridge —–> | Main Ave. & 9th Street  |
| Schneider Park —–> | Main Ave. Auto Zone  |
| Durango Rec Center—–>  | Durango Rec Center |
| 33rd Street —–> | North City Market on Main Ave  |
| Santa Rita —–> | 2nd St. & 6th Ave.  |
| High Bridge —–> | Walmart  |
| Dallabetta Park —–> | Escalante Dr. "Rocket Point"   |
If the locations above have farther walks to the bus than you'd like, keep in mind that there are multiple bus stops near less "official" take out locations. Like the spot right behind Serious Texas BBQ where there's a bus stop! We recommend hopping on Google Maps, searching for bus stops, and finding easy take out spot that way if you feel so compelled! 
Check out the Durango Trolley Bus Schedule 
Suggested Put-in and Take-Out Spots on the Lower Animas River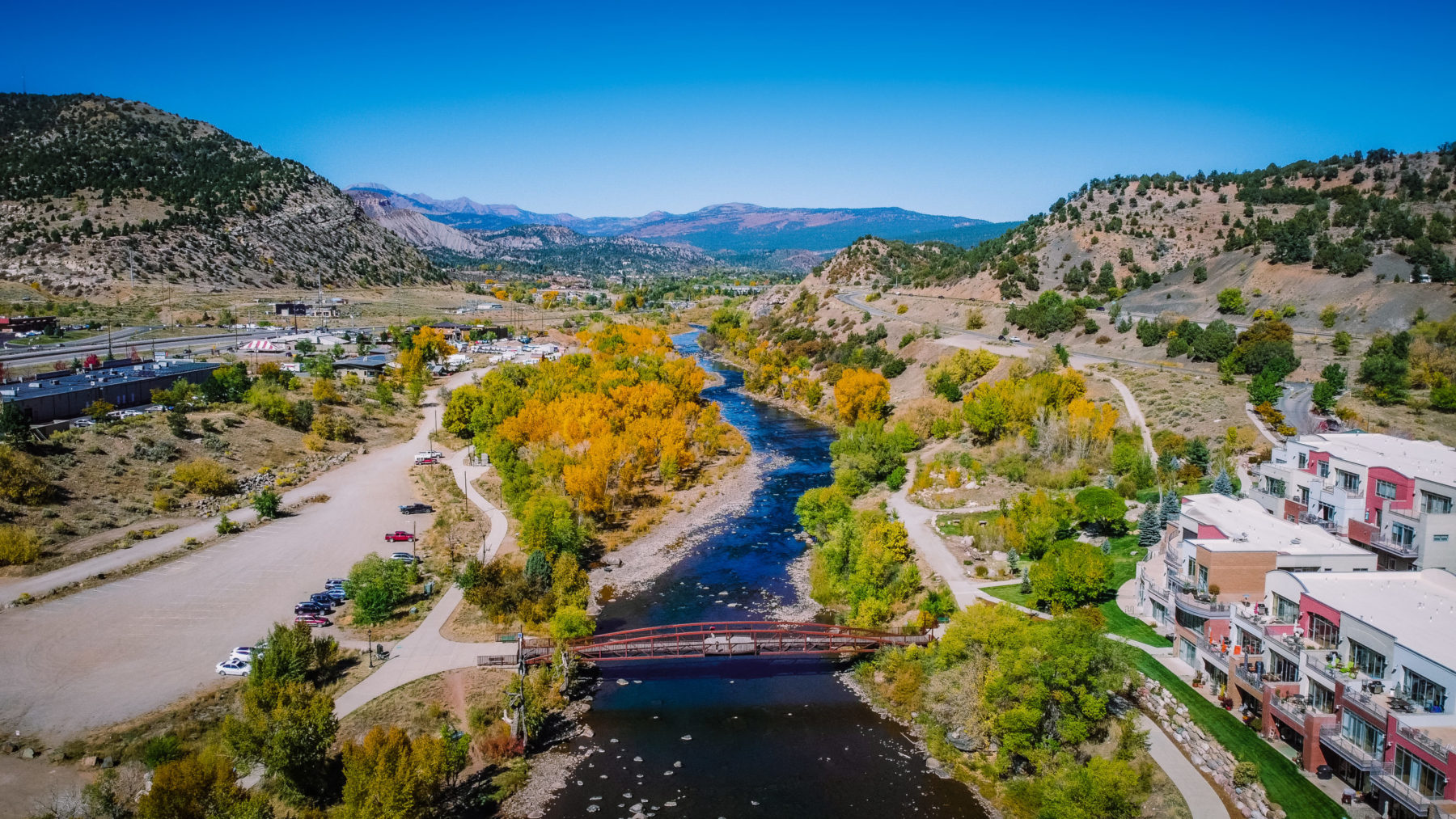 Here are a few suggestions for where to put-in and take-out on the Animas River based on the amount of time you want to spend. Keep in mind, low water levels mean you'll be moving slower than usual, so there's a little extra time added onto what the normal river-run in these sections might be. 
You can also check out the Durango River Access Map.
Oxbow Park to Recreation Center (2.1 miles)
A calm and scenic stretch with a few ripples towards the end, great for beginners and quick dips! This is a highly recommended route since you'll be able to avoid the rockier sections that emerge at low water levels further downriver. Want an even shorter stint? Take out at 32nd Street to shave off a mile. 
Kayaks: 1+ hour
SUPs: 1+ hours 
Tubes: Be aware tubers— This section is MELLOW! You will mimic the sitting ducks here as there isn't much of a current. If you aren't renting, be sure to bring a paddle with you. If you run this section, be prepared for it to take 3+ hours. 
32nd Street to Santa Rita Park (3.7 miles)
This run is all about Durango's hubbub as it starts right next to Main Avenue and ends at Smelter Whitewater Park. It has a great mix of flat and choppy water with a finale of rapids at the end. Be prepared to mingle with lots of locals on this section! And remember that parking can be limited at 33rd street as it's one of the most popular put-ins in town. 
Kayaks: 2+ hours 
SUPs: 3+ hours 
Tubes: 4+ hours (Or! To avoid Smelter Whitewater Park, take out at 9th street instead! It's about a mile upstream)  
9th Street to Dallabetta Park (4.6 miles) 
This run starts fairly mellow before arriving at Smelter Whitewater Park. After the rapids you'll come to a few more friendly ripples as the river gets wider. The journey ends with a beautiful flat water section as you drift into the scenic outskirts of town. 
Kayaks: 3+ hours 
SUPs: 4+ hours 
Tubes: Way too long of a day for tubin'. 
Oxbow Park to 4Corners Riversports / Cundiff Park  (5.8 miles) 
A solid town run of Durango, which starts with a long stretch of calm flat water at Oxbow Park and ends with a friendly section of ripples after Smelter Whitewater Park. Along the way are beaches to stop at, such as the "Lake," and multiple takeouts if you need to cut the trip short. 
Kayaks: 4+ hours 
SUPs: 5+ hours 
Tubes: Way too long of a day for tubin'. 
Kayaking the Lower Animas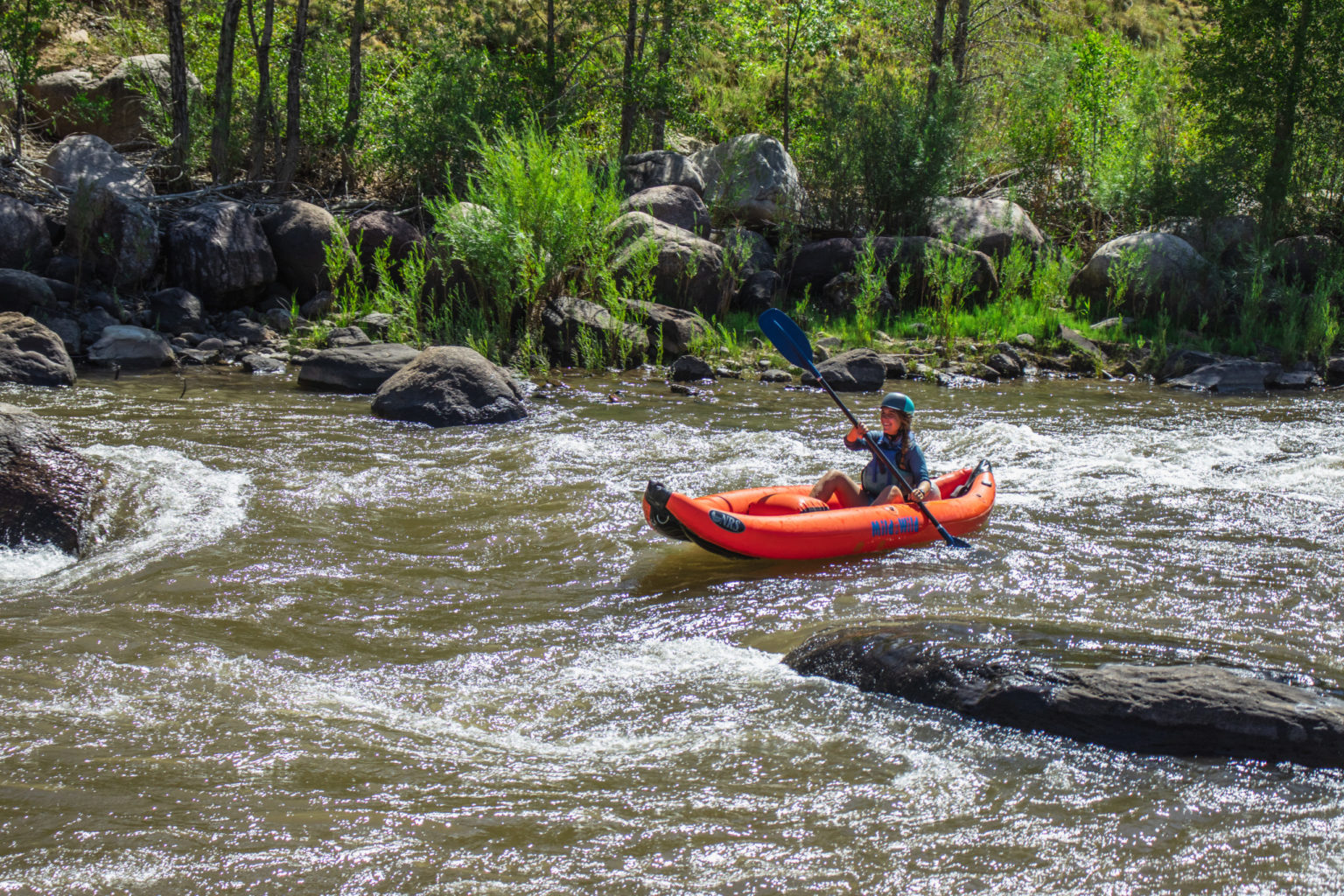 Kayaks are a great option on the Lower Animas as they're easy to maneuver and the fastest vessels on the river. They also allow you to take more stuff along on longer trips. Also, if you want to run Smelter Whitewater Park like a pro, these are the way to go. 
During low water season on the Lower Animas, a hard shell kayak will protect your tush from the rocky sections while an inflatable kayak won't get stuck as easily. Some folks are privy to the inflatable kayak since they're also easier to transport. 
If you rent a kayak, you'll have the option to pick it up already inflated or to blow it up yourself once you get to your put-in location. Kayak rentals include paddles, a PFD, pump and patch kit. 
Check Out Kayak Rentals
Stand Up Paddle Boarding (SUP) on the Lower Animas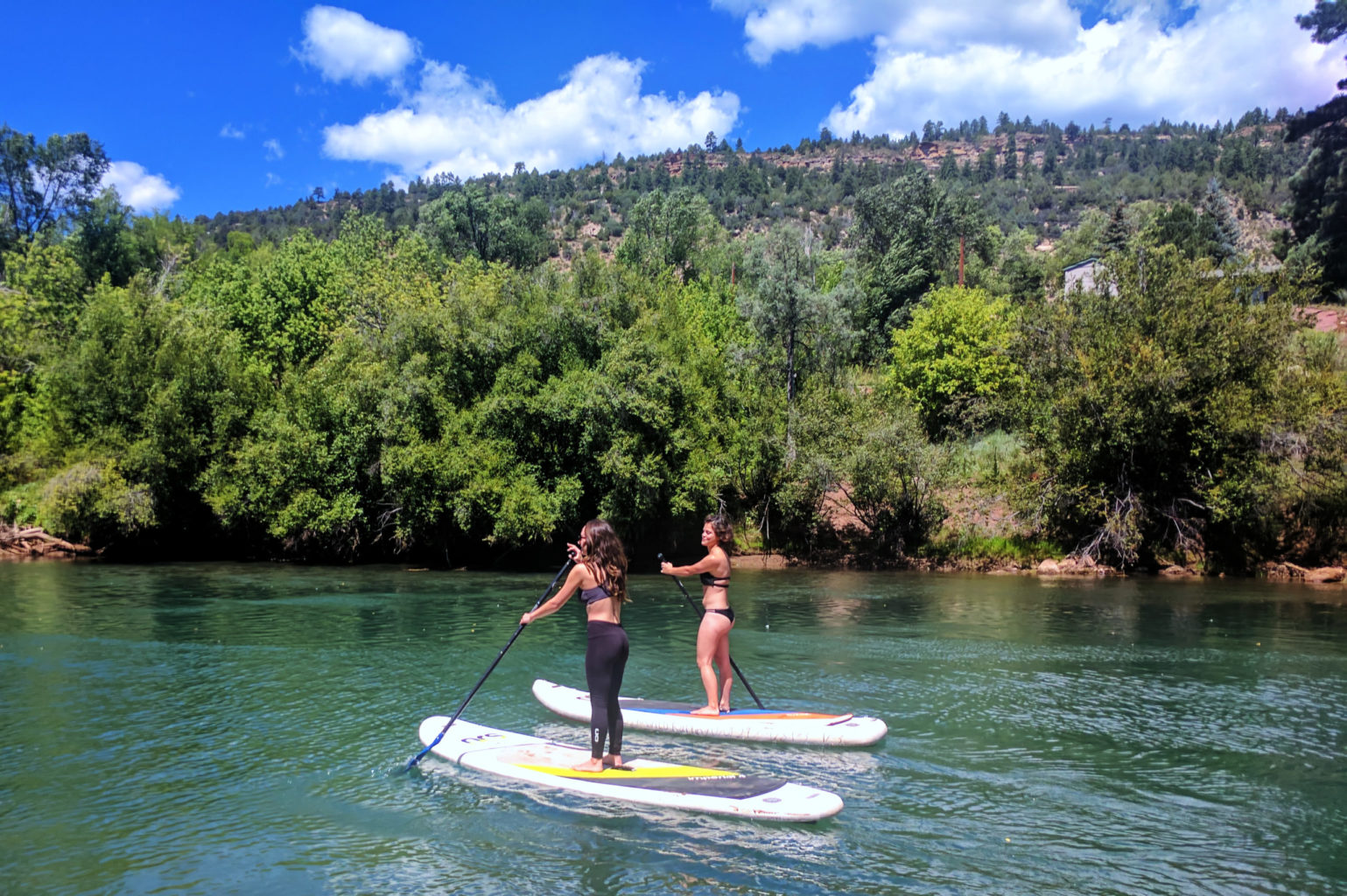 Stand Up Paddleboards are definitely the most adventurous option for taking on the Lower Animas since they require balance and stamina to use them. There is definitely a learning curve, but you can always sit down or kneel to paddle them when you're still getting in the swing of it, (especially through rapids!)  
During low water season, SUPs are a great option since they glide over the most shallow sections in the river better than anything else. You probably won't have to stop and walk as often as kayaks or tubes, but things will definitely be more interesting when going through rapids! 
If you rent a Stand Up Paddleboard, you'll have the option to pick it up already inflated or to blow it up yourself once you get to your put-in location. SUP rentals include paddles, a PFD, fins, and pump.  
Check Out SUP Rentals
Tubing the Lower Animas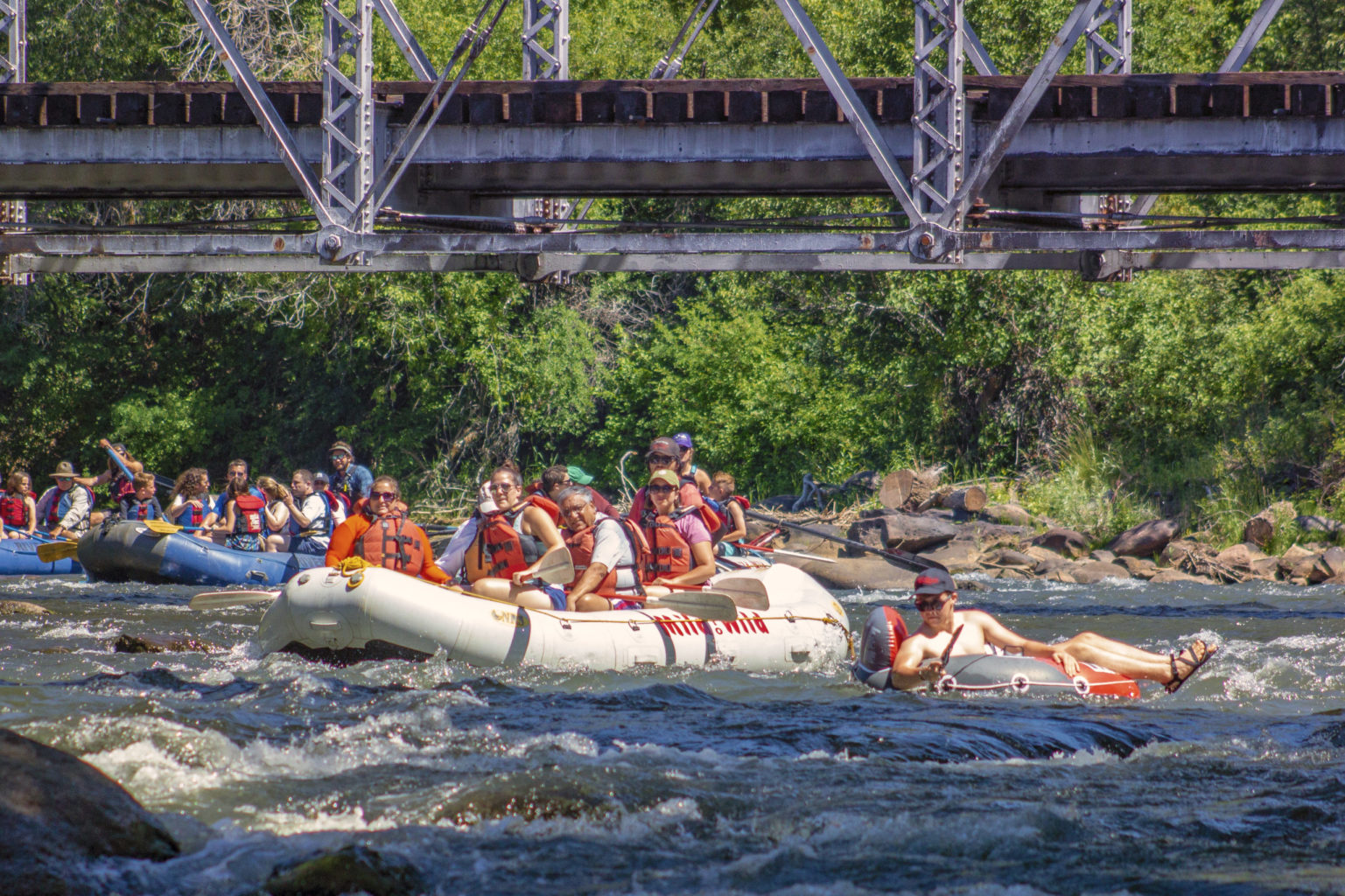 Tubes are hands down the most popular option for floating the Animas River during low water season. Who doesn't love kicking back and letting the river do all the work? And with they're oh-so leisurely pace, tubing is great for either long or short days on the water. 
Newbs to tubes should know that in the shallow sections of the Lower Animas, there could be some scooching, walking, and involuntary swims involved before plopping down again to resume your refreshing float. So, wear some sandals with straps and be prepared for some bumps!  
If you rent a Tube, you can choose to have it inflated or not when you pick it up, and it comes with a paddle and PFD. 
Check Out Tube Rentals
What to Wear & Bring
Swimsuit/Quick drying clothing
Wetsuit / Insulating layers (water temps can still be cold during low water season!)
Water shoes or secure sandals with heel straps
Hat
Sunscreen
Sunglasses with a strap
Water bottle with a handle you can clip to something
Camera with waterproof case
Snacks
Dry bag or other waterproof bag to keep your goodies in.
Strap and carabiners to secure your bag to your Kayak or SUP
General Do's and Don'ts 
Don't bring open containers of alcohol or glass containers on the river. 

Pack out all trash and dispose of it in the proper receptacle.

Dogs should be on a leash when you're onshore and pick up their poop!

In general, follow Leave No Trace practices. 

Don't blast music, it will annoy everyone around you.  

Respect private property and do not trespass.

Be polite and courteous to others on and near the river.

When approaching anglers, move away to the opposite side of the river to pass.

Yield to boats coming downstream when necessary.

Return your rentals on time! 
Other Waters to Explore Besides the Animas River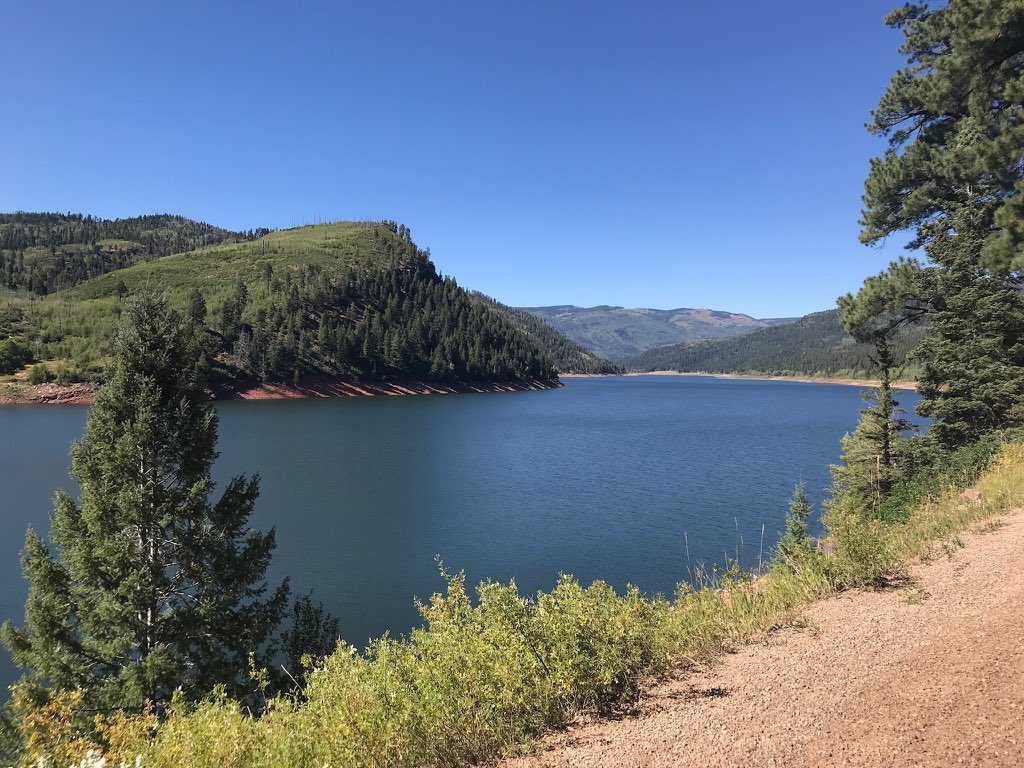 Vallecito is a charming lakeside town 30 minutes from Durango. The area has plenty of hiking trails, campgrounds, and a couple restaurants. It's a great place to spend the day on and off the water! 
Lemon is a small lake that's more of an under the radar spot from Durango. It's about 30 minutes from Durango and is a great place to practice Stand Up Paddle Boarding.  
This lake is only 15 minutes from Durango and is a popular place for boaters, kayakers, and SUPs. It also comes with a great beach and an obstacle course— cha-ching! 
Molas Lake is outside of Silverton, Colorado along the Million Dollar Highway. The scenery here is absolutely unmatched with a backdrop of 14,000 ft. peaks. It's about an hour's drive from Durango. 
More Reading 
Top 13 Tours Your Need to Check Out in Durango, Colorado
Tops Reasons Why You Should Take a Jeep Tour in Southwest Colorado 
Get New Blog Posts in your Inbox