Durango Activities to Enjoy During Festival Season
By Molly • May 12, 2015
Durango is home to many events and festivals.  Ask any local, and they can likely name three Durango activities without missing a beat.  These events take place year round, not just when the sun is shining and the air is warm.  Here's an insider look at some of the festivals Durango is known for hosting during the summer months.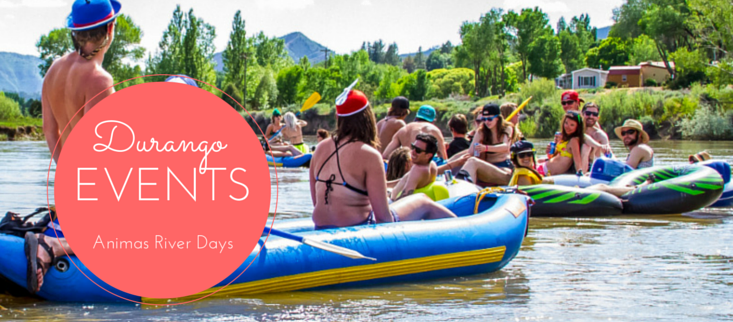 Taste of Durango
Taste of Durango will be taking place Sunday, May 17 from 11am- 2pm.  Many local restaurants, bars, and businesses take part in this event so it's a great sampling of the many establishments in Durango.  Proceeds for token purchases will benefit Manna Soup Kitchen, which average about $20,000 each time Taste of Durango has taken place.
Iron Horse Bicycle Classic
The man vs. machine binary is alive and thriving during the Iron Horse Bicycle Classic weekend. Starting Friday, May 22 and going through Sunday, May 25, bikers of all ages and skill levels partake in this fun filled weekend.  The main event is the race against the Durango & Silverton Narrow Gauge Railroad.  Racers climb to 10,000 feet as the try to beat the train to Silverton, CO.  Due to the mass scale of the event, road closures do take place.
Animas River Days
To celebrate our river, Durango hosts Animas River Days This year the event takes place May 28- May 30.  Come join the fun, or simply come and watch at Santa Rita Park.  There will be various kayak competitions, boat races, and more.  For our land loving friends, bring your dog out for some of the events.  If you want to watch some fun raft battles before this event, be sure to watch The Battle of the Animas on May 27, where local businesses race down the Animas to win the coveted Battle Paddle.
Mac and Cheese Festival
If the name doesn't clue you into this cheesy event, then we don't know what will! Enjoy a fun filled day of cheesy macaroni from various restaurants and brews from the different breweries in the area.  Music, good food, fun people, and memories are all booked and ready for you to join in.  This is one of the Durango activities that will be held at Fort Lewis College on June 13.  Tickets are required and sell out quickly, but keep an eye open for local giveaways.  All attendees must be 21 or older.
Durango Activities: Fourth of July
Like every good American town, Durango goes all out during their Fourth of July celebrations.  A 5K will take place that morning, as well as a breakfast and various readings.  A parade will take place on Main Avenue around 6pm.  A street dance and fireworks will conclude the 4th of July Durango activities for the evening.
Fiesta Days
From July 22 to July 26, Durango will be hosting Fiesta Days at the fairgrounds and downtown.  This event has a parade, various rodeos and similar events, as well as other happenings.  A lesser-known event, this is one you won't want to miss.
Music in the Mountains
A music festival held at Purgatory, the local ski resort, this event brings many musicians to the area.  This is one of the Durango activities that classical music fans, or music fans in general, will not want to miss.  There's something happening every night from July 12- August 2, so don't miss out!
La Plata County Fair
If you have never been to a fair, August 6-August 9 is the time to catch these fun Durango activities.  Styled after the fairs of older times, visitors get to interact with animals, talk with agricultural farmers, enjoy fair food, and crafts.  A demolition derby usually draws a large crowd of excited spectators.  Of course, the fair will be taking place at the fairgrounds, with plenty of parking in the surrounding areas if the parking lot is full.
True West Railfest
Trains are an important feature to the Southwestern United States, and Durango is no exception.  With the Durango Silverton Narrow Gauge Railroad's train depot located downtown, along with the rich mining history in the area, train enthusiasts love this event.  See what Durango activities are happening beginning August 14 and running through August 17.
Get New Blog Posts in your Inbox