Lower Animas River: Battle of the Animas Recap 2015
By Molly • May 29, 2015
Sunny skies and fast river water welcomed participants of the 15th Annual Battle of the Animas on the Lower Animas River. Fifteen teams competed in the event, representing various tourism related businesses in the Durango area.
During the event, participants are provided a raft and a guide by Mild to Wild Rafting and Jeep Tours.  The goal is to race down the Lower Animas River, while attempting to work as a team, in order to win the coveted Golden Paddle.
After arriving at 29th Street where the rafts were put into the Lower Animas River, rafters were given a safety speech by a guide, as well as rules of the Battle.  They were then allowed to board their rafts and wait for the waving of the flag for the race to begin.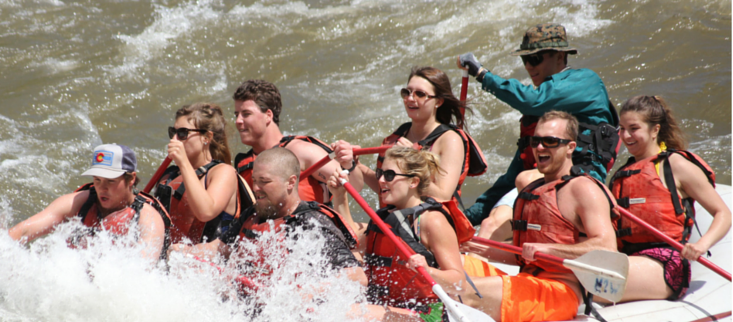 A mad dash down the Lower Animas River kicked off the event.  Teams bumped and jostled each other for the best positioning, forcing some rafts to get hung up on rocks.  This is where the biggest separation in the field occurred.  Teams were allowed to splash each other with paddles and bump, but dismantling a raft resulted in immediate disqualification.  If teams picked up swimmers from other rafts, they advanced one place.  If a team did not help a swimmer in an area that was safe to do so, they were disqualified.
Ska Brewing, guided by Kyle, took the Golden Paddle while in the last stretch of the Battle.  This was Kyle's second first place finish.  Durango Downtown Inn, guided by Phil, took second place while Durango Coffee Company, guided by Zach, took third. 
Battle of the Animas 2016 will take place sometime in May of 2016.  This year's event happened to fall just before the Lower Animas River Days.  For more information about how your business can compete next year, follow Mild to Wild on Facebook or check out our website.  A quick call into the office can also get you the information you are looking for.
Not a local business, but want to experience a Lower Animas River rafting trip?  Join us any day during the summer!  Although we won't race down the river as fast as we can, you will still enjoy yourself.  How can you not?  You're outside, enjoying Durango, and spending time with other adventurers!
Get New Blog Posts in your Inbox