Whitewater Rafting Trips & Jeep Tours
Colorado, Arizona & Utah
20+ years the Adventure and Whitewater Experts of the Southwest!
We are thrilled to be celebrating our 21st year of Connecting Families & Friends via Nature & Adventure. We are a family ourselves and safety is our #1 priority. As the Southwest's Adventure Experts, we offer the biggest selection of
Colorado
,
Utah
and
Arizona
river rafting
and
jeep tours
. Our interpretive
Mesa Verde tours
and adventure packages with
Durango's Train
complete your Southwest Adventure. Escape. Experience. Explore. And, Always Live with Adventure!
Alex & Molly Mickel
Value Adventure Packages & Specials
Experience the Mild To Wild Difference
Ages 4-84 — No experience necessary
Rafting, 4×4, Train and Mesa Packages
Safety is our #1 priority

Safety orientation & instruction included
Desert to mountain adventures
We are a family! We treat you like family!
Service guarantee!
Safety is our #1 Priority
We serve over 16,000 absolutely delighted guests annually!
We use the best equipment available. Our food is fresh, healthy and prepared by our multi-talented guides! Camping with us is deluxe and comfortable! Our guides are professionals who share their knowledge and love of the outdoors with you. Whether you are an individual, family, tour group, non-profit organization or corporate client – we aim to provide you with an extraordinary outdoor trip. If you are not absolutely delighted with our guides and river equipment, THE TRIP IS FREE! This confidence in our service is unparalleled in the industry. We serve over 16,000 "absolutely delighted" customers annually.
Featured Trips
Salt River Express Trip
A Quick Arizona Rafting Trip! Enjoy the same adventure as the 1 day trip in a fraction of the time. Speed through thrilling rapids (every 5 to 10 minutes) in a raft or premium boat. Cost: $99* Adult; $89* • Meets: 11:45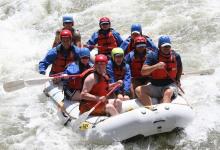 Book Now
Learn More
Trails & Rails
True Durango, Colorado family fun! Enjoy stunning mountains, a real ghost town and a Durango train trip! Venture on a fun Ghost Town Jeep Trail Tour, through the gorgeous San Juan mountains, then take a ride on the Historic Durango-Silverton Railroad and take in the majestic Million Dollar Highway along the way.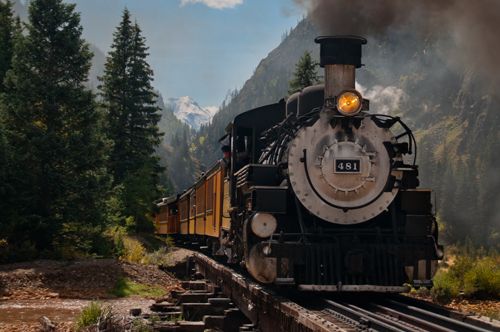 Book Now
Learn More
Upper Animas One Day Silverton Section
The Best Class V White Water Rafting in Colorado Conquer continuous whitewater on the most challenging section of the Upper Animas. Discover continuous Class III, with Class IV "big drops" & 2 Class V "violent" rapids. Cost: $255* • Ages: 16+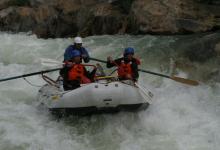 Book Now
Learn More
Upper Piedra One Day Trip
Rarely seen pristine wilderness area Raft in the wilderness through the Upper Box of the Piedra River Canyon on an intermediate white water river rafting tour! Cost: $145* • Departs: 9:00 • Ages: 12+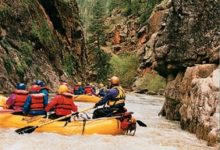 Book Now
Learn More
Rivers n' Trails
Get all the best views Enjoy a 1/2 day rafting the Lower Animas then spend 1/2 day jeeping through the beautiful San Juan Mountain's trails. $126.73* Adults • $98.98 Youth
Book Now
Learn More
Whitewater Rafting Trips
Colorado River Rafting – Trips and Tours
Our trip options in Southwest Colorado are conveniently located out of our base in Durango, Colorado. Our Colorado river 
rafting trips
range from mild to wild, 2 hours to 4 days and for ages 4-84. We operate our raft trips on 5 beautiful, distinct rivers which contrast from desert to mountain scenery; remote, wilderness trips to more accessible rivers; and beginner to the most difficult commercially run guided raft trip at high water!
View more about Colorado river rafting.
White Water Rafting Arizona – Trips and Tours
Discover Arizona's best kept secret: The Upper Salt River Canyon! Whitewater rafting is available just 2 hours from East Phoenix and North Tucson. Known as the mini-grand canyon, with an early spring season, the Upper Salt River Canyon should not be missed by river enthusiasts or first timers alike. Likewise, Arizona's only Federally designated "Wild and Scenic" river, the Verde River, with its variable spring season, is a trip to experience when it runs. Located in close proximity to Sedona, Arizona this whitewater rafting trip is conveniently located.
View more about AZ river rafting.
White Water Rafting Utah – Trips and Tours
Set in some of the most magnificent scenery adjacent to Arches National Park and near Canyonlands National Park, the infamous Colorado River carves an unbelievable waterway of fun floating and splashy rapids. The Colorado River at
Moab
, Utah offers perfect sampler and overnight rafting trips for families, seniors, first-timers and raft enthusiasts looking for the most spectacular river setting.
View more about UT river rafting.
Jeep Tours
Colorado Jeep Tour Trips
Travel back in time and over 2 miles above sea level as you explore historic ghost/mining towns, majestic peaks, cascading rivers, tumbling waterfalls and Colorado's spectacular wildflowers on this beautiful jeep tour. You'll be glad you are not driving as neck-jerking views and fascinating scenery unfold outside your custom, open-air tour vehicle. Explore, in comfort, Colorado's mountaintops and panoramic views and discover why our custom, open-air 4×4 tour vehicles are becoming the industry standard for high quality!
View more about our Colorado Jeep Tours.
Our Commitment to You!
Rejuvenate, relax and enjoy while we take care of you and all the details, on and off our rafts and tour vehicles. Space is limited! Contact our trip consultants today for information and reservations, so we can help plan the highlight of your vacation! You'll discover why Mild to Wild Rafting & Jeep Trail Tours, Inc. has the highest number of repeat and referral customers in the Southwest.