7 Glowing Trails You Should Hike ASAP During Fall in Durango
By Kim Cassels • September 14, 2021
7 Glowing Trails You Should Hike ASAP During Fall in Durango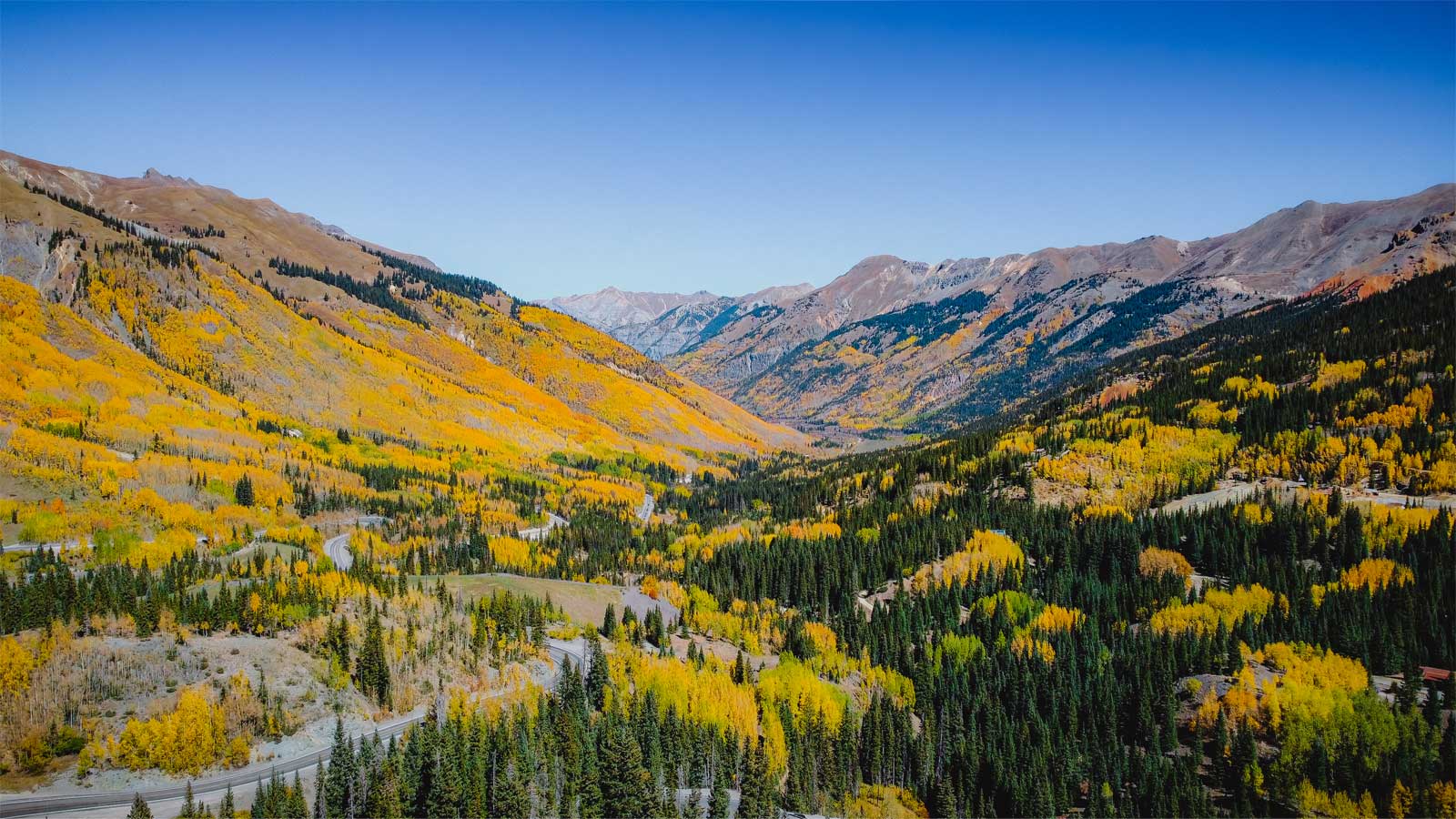 Looking for some trails to get your fall festivities on near Durango? Good on ya! This area is a leaf peeper's paradise by late September to mid-October. If you catch the aspens of the San Juan Mountains in their prime, you're in for some unbelievably golden hikes. Pack up the hot cocoa and hot buttered rum, and let's get trekkin' on these 7 trails near Durango that are as good as it gets for fall colors.
#1 Vallecito Creek 
🍁 19.5 miles (Not that you need to hike it all the way to the Continental Divide Trail to be satisfied with this one.)
🚶🏽‍♀️Easy – Moderate
Vallecito Creek is undeniably picturesque as it takes you into the Weminuche Wilderness— the largest wilderness area in Colorado. The trail is pretty easy for the most part, however there is a section that becomes rocky as you traverse the valley walls until dropping back down to the creek. 
Feel free to hike this thickly forested route for as long as you wish before heading back to civilization, or do it as a backpacking trip to Continental Divide Trail! If you've got a fishing license and a pole to go with it, bring 'em as this creek is primed with pools! 
Trailhead: The trailhead for Vallecito Creek is next to the Vallecito Campground about 30 miles from Durango. To get there, hop on County Road 240, take a left on County Road 501, then another left onto County Road 500. Continue on it until the second to last turn off on the left. 
#2 Engineer Mountain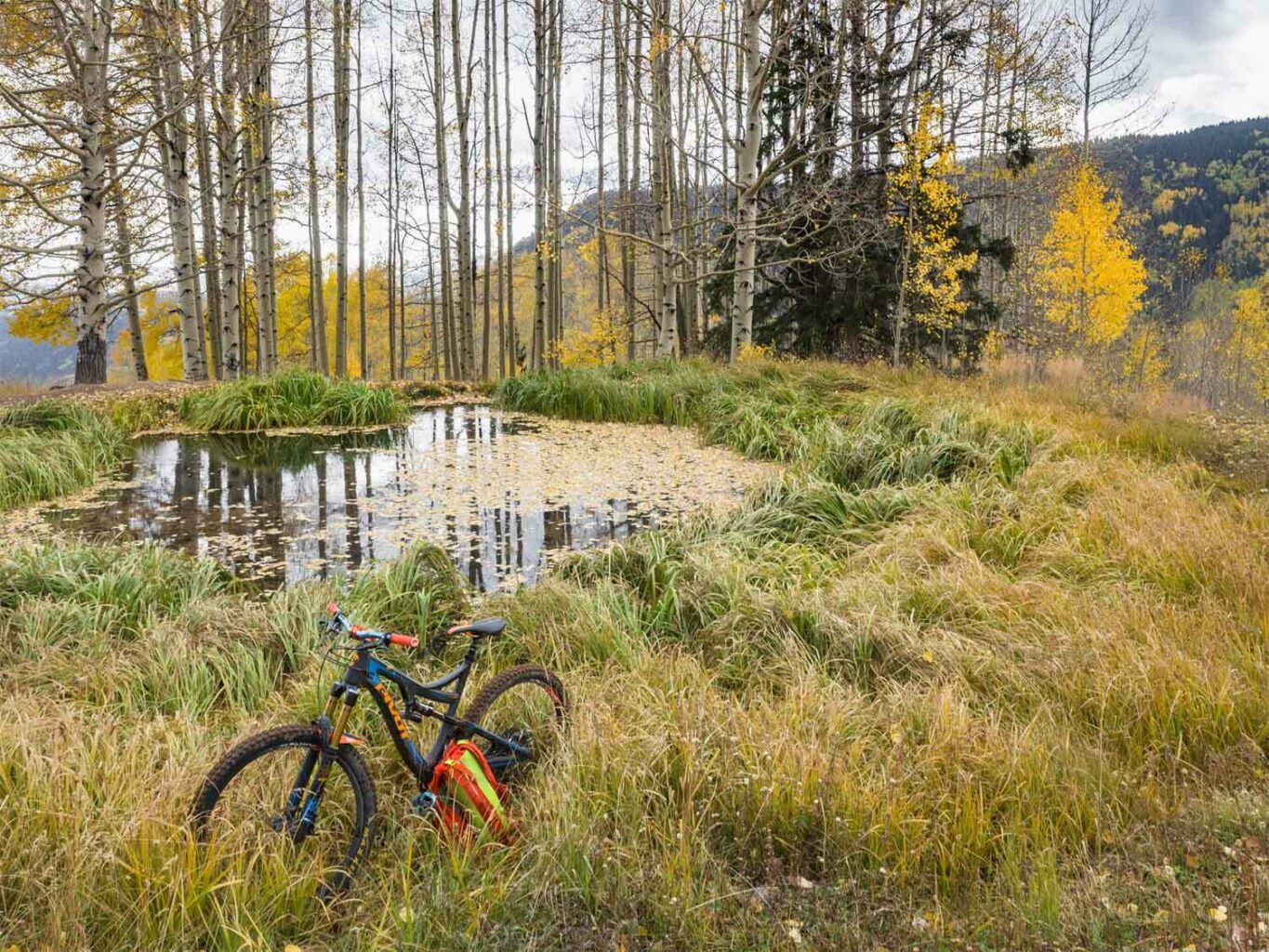 🍁 11 miles 
🚶🏽‍♀️Moderate – Difficult as the altitude climbs to 12,200 feet.
Want a little bit of everything grand and golden during your Durango fall frolics? This stroll is loaded with glimmering aspen tunnels, panoramic views, and a peak you can summit at just under 13,000 feet. 
This is a very popular trail for locals and visitors alike, and many of them prefer to do it on a mountain bike. The route ends at the meeting of the Colorado Trail, or you can take the social trail up to the summit. It can be a bit precarious cresting Engineer if you're not hot on heights, rubbled talus slopes or exposure—  but the scenery is definitely worth it for those who make to the mountain top. 
Trailhead: The trailhead for Engineer Mountain is located at the Mtn. Guard Station 31 miles from Durango. Head north on U.S 550 and turn left on FDR 817. Look for the turn off to the trailhead near the cattle guard. 
#3 Cascade Creek 
🍁 8 miles 
🚶🏽‍♀️Easy – Moderate 
If you can only manage to do one trail near Durango during the fall season, Cascade Creek is calling your name through its sweepings groves of quaking aspens and roaring waterfalls. 
This trail traces the western base of Engineer Mountain, and it stays fairly wooded with a few large meadows sprinkled throughout. The west fork of the trail follows the creek closely as you make your way to the footbridge over Engineer Creek. 
Trailhead: The trailhead for Cascade Creek is off U.S 550 about 29 miles from Durango. Head north on U.S 550 until you come to the first steep switchback that marks the beginning of Coal Bank Pass. Turn left onto Forest Service Road 783. You'll come to a parking area for the trailhead.  
#4 Molas Trail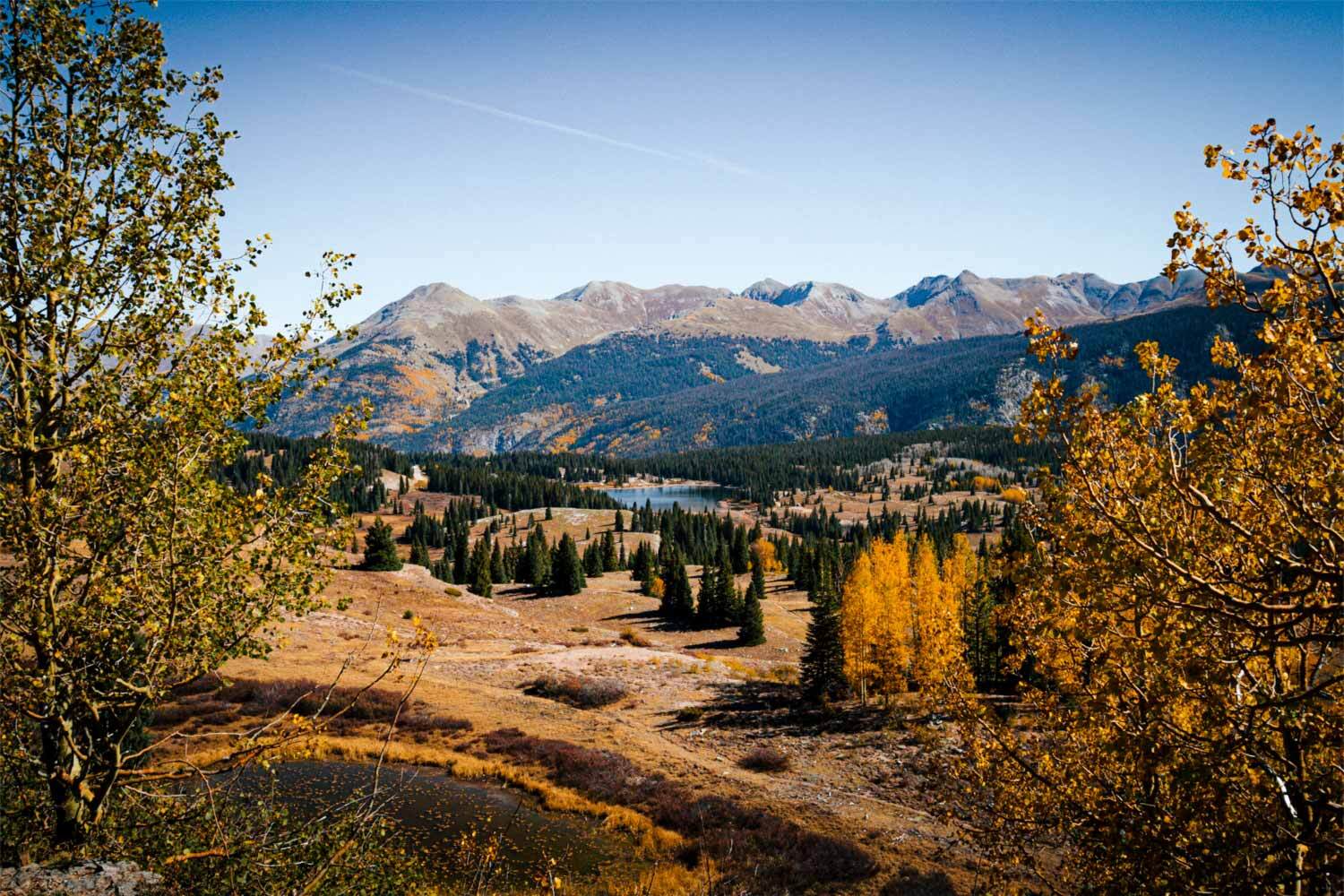 🍁 8 miles
🚶🏽‍♀️Difficult with a steep descent to the Animas River. 
Holy Molas is this trail a kicker for fall colors near Durango, or Silverton more so. This ribbon of dirt from Molas Lake to the Animas River sports fabulous foliage the entire way along with views so vast, we dare you not to gasp at the glory looming before you. Actually, you might have to, at least on the back up since it's quite the climb. 
Once you reach the Animas, you'll find the railroad tracks of the Silverton Durango Narrow Gauge nearby, and possibly the train itself if your timing's right! This trail is also extra special since it's a part of the Colorado Trail from Denver to Durango. 
Trailhead: The trailhead for Molas is near the Molas Lake Campground about 42 miles from Durango. Head north of U.S 550 and relish in the views of Coal Bank and Molas Pass. You'll be able to see Silverton peeking through the trees as you make a right onto Forest Road 584. Continue right down to the trailhead. 
#5 Goulding Creek 
🍁 6 miles 
🚶🏽‍♀️Moderate with a breathtaking climb for the first 1.5 miles.
This might be getting redundant, but, this trail also comes with tear-jerking views, and, you guessed it, gleaming aspen realness. Goulding Creek is also a little less traveled, possibly because it makes you work for it as soon as your boots hit the dirt. 
Luckily it does mellow out, and the switchbacks turn to a meandering route through big meadows and an old cabin near the trail's end. Goulding Creek is so romantic during fall, the surrounding area becomes an arena for elk bugling. Enjoy it if you happen to happen upon some flirtatious bulls, but good heavens do keep your distance. 
Trailhead: The trailhead for Goulding Creek is near Hermosa 35 miles from Durango. Head north on U.S 550, then turn left onto Hermosa Park Road and follow it for a little more than 4 miles where the road ends at the trailhead. 
#6 Elbert Creek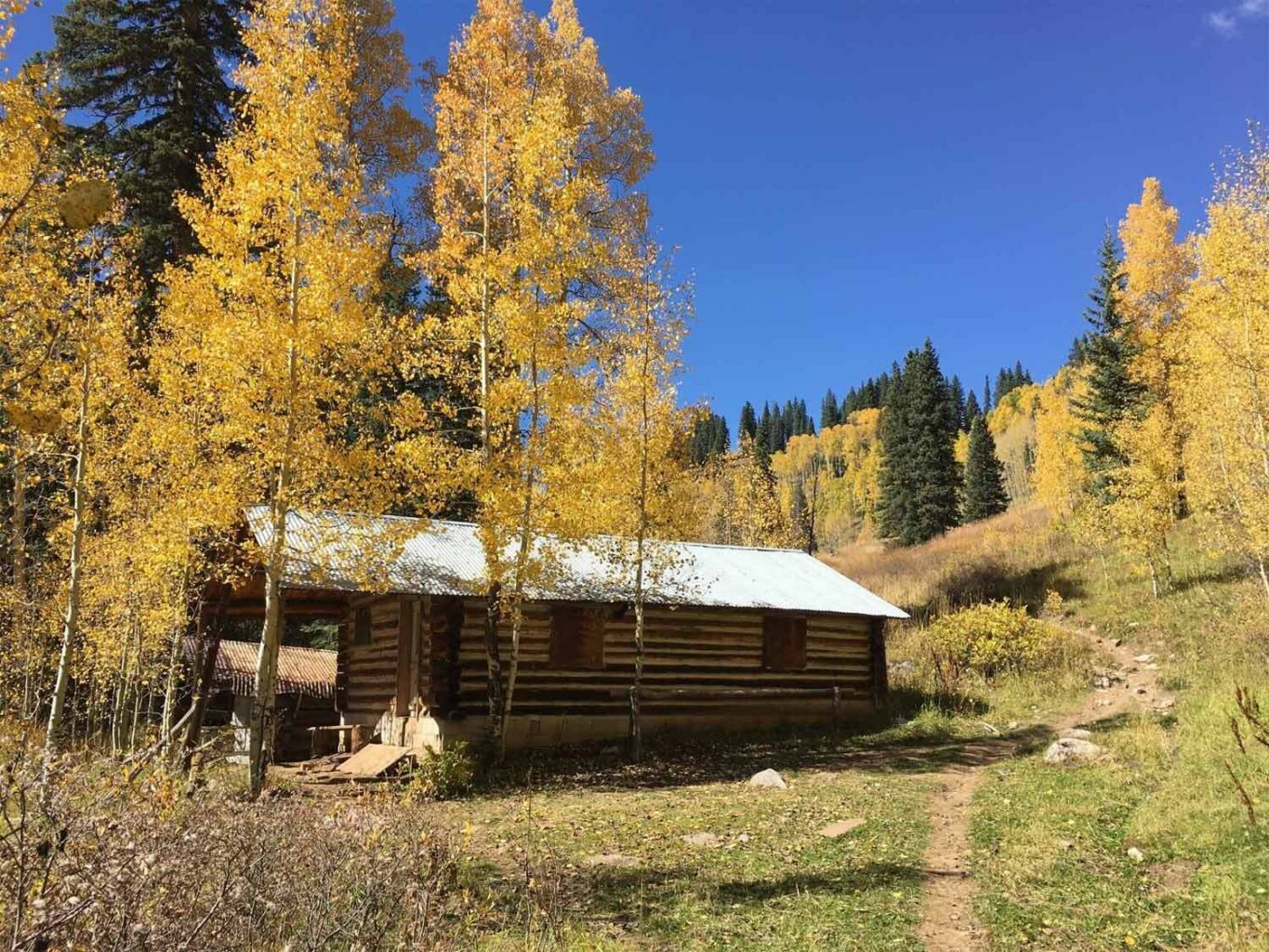 🍁 9.9 Miles
🚶🏽‍♀️Difficult due to the 2,000 feet of elevation gain.  
If you're someone who gets a sick pleasure out of laboriously earning a jaw dropping view, consider the glute-busting-aspen-loaded switchbacks of the Elbert Creek Trail. For your reward at the end, you'll be delivered to the monolith of Castle Rock, a noticeable sentinel of Electra Lake and the Animas River Valley. 
If you're decidedly uninterested in climbing to Castle Rock from the valley floor, no judgment will be had if you drive closer to it via Elbert Creek Road from Purgatory Resort. From there, the trail is only about 3 miles long with views ready for autumn ogles. 
Trailhead: The trailhead for Elbert Creek is near the Needles Country Store 27 miles from Durango. Cruise north on U.S 550 until you see the Needles Country Store on the left. Park near the gas station by the cattle fences, you'll go through the gate to start the trail.   
#7 Lake Eileen
🍁 4.2 miles 
🚶🏽‍♀️Moderate with some steep switchbacks. 
This is a great trail for fall colors near Durango, especially if you don't have all day to hike. The lake is small, filled with lily pads and backdropped by a looming grove of aspens. It also provides fabulous views of Vallecito Reservoir on the way up. 
Trailhead: The trailhead for Eileen Lake is north of Vallecito Lake 26 miles from Durango. Head out on Florida Road, then turn left onto Co Rd 501. Keep your eyes peeled for the Forest Service Work Center where you'll see the trailhead sign. Parking is on the other side of the road. 
More Reading
3 Awesome Historic Detours off the Million Dollar Highway
Top Reasons Why You Need to Take a Jeep Tour in Southwest Colorado
Get New Blog Posts in your Inbox