4 Elusive Colorado Whitewater Rafting Trips
By Kim Cassels • May 9, 2023
4 Elusive Colorado Whitewater Rafting Trips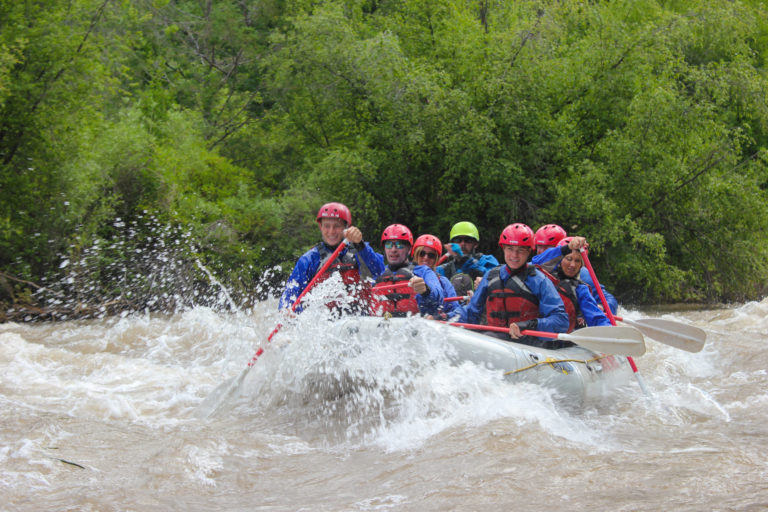 If there's one thing to know about Colorado whitewater rafting trips, it's that they're a dime a dozen. Anyone and their dog is privy to the deliciously frothy drops of the Arkansas, the spit and spat of the Colorado through Glenwood, and especially to the rolling suds Denver folks love churn at Clear Creek. 
But what about the whitewater of Colorado that flows a little more, dare we say, under the radar? 
… What about it?
Oh yeah, we're supposed to answer that— It's out there and it's marvelous and we know where to find it! 
The biggest reasons why some Colorado rivers are lesser-known is because 1; They're not close to metro areas, and 2; Their short and sweet rafting seasons. Colorado snowmelt is a highly sought-after ride in the West. Much of it roars all at once in the spring, then mumbles into a trickle by July. 
Read on to learn about these incredible and elusive Colorado whitewater rafting trips, and consider getting on one of 'em before the water's rushed away!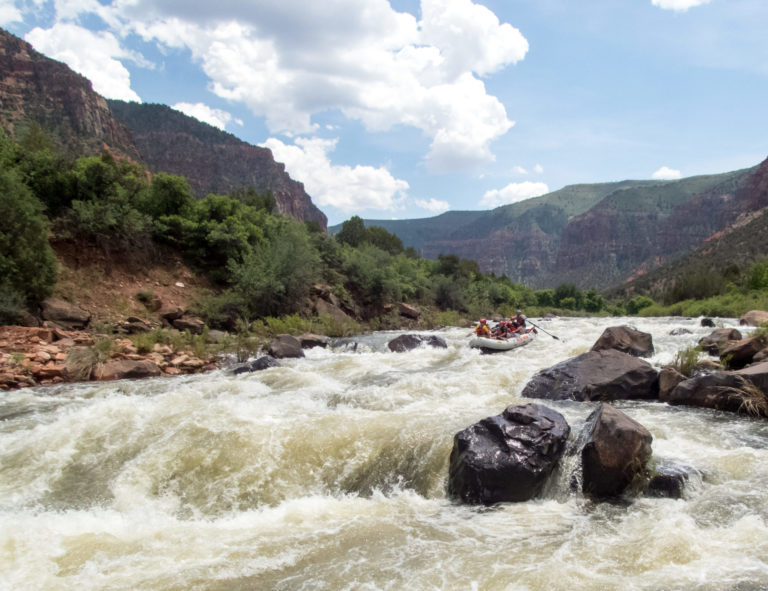 📍Where: The Dolores River rafting section is fairly isolated, ribboning between the wildernesses outside of Cortez and Dolores, Colorado. 
The Dolores River is arguably THE most elusive whitewater rafting trip not only in Colorado, but in the entire American West. The Dolores River only receives enough water to run rafting trips every few years due to the strict release regulations of the McPhee Dam. 
Most people who know about the Dolores are either in or around Southwest Colorado, or are devout river runners. In a way it's somewhat surprising, given that the Dolores River is the second longest canyon in the United States. It also travels north, which is pretty uncommon for a river. 

Rapids: 
Class II, III & IV
The most exciting whitewater sections on the Dolores River include infamous Class IV's named Snaggletooth, Little Snag, and The Wall. 
Season:
Mid May – Mid June 
Attributes Besides the Suds: 
Dramatic canyons, scenery that blends desert with the alpine, and numerous archaeological sites. 
Trips: 
1 Day Ponderosa Canyon
2 Day Ponderosa Canyon
3 Day Ponderosa Canyon
3 Day Slickrock Canyon 
6 Day Ponderosa and Slickrock Canyon
Click here to explore them all!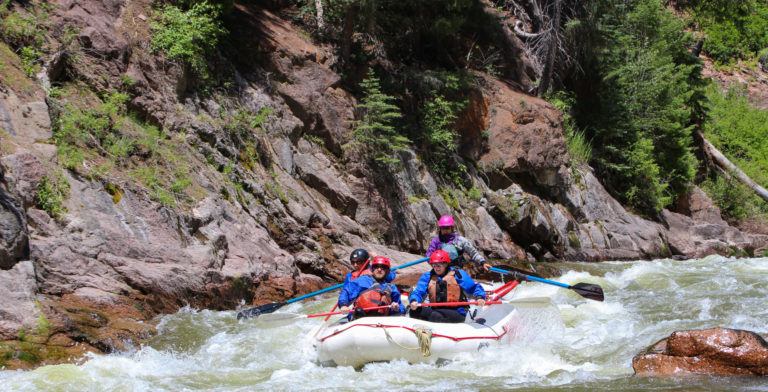 📍Where: The rafting stretch of the Upper Piedra River is located up a narrow canyon about 40 miles West of Pagosa Springs, Colorado. 
Those looking for the MOST elusive whitewater rafting trip in Colorado, the Piedra River is it. Luckily and ironically, the #1 hot springs resort in the world steams just up the road in Pagosa, which is the perfect way to unwind after these adventurous trips. 
The Piedra offers a truly exhilarating ride on Rocky Mountain snowmelt. Its pool drop rapids, narrow passageways, and technical runs make it perfect for adventure crazed, paddle hungry vagabonds.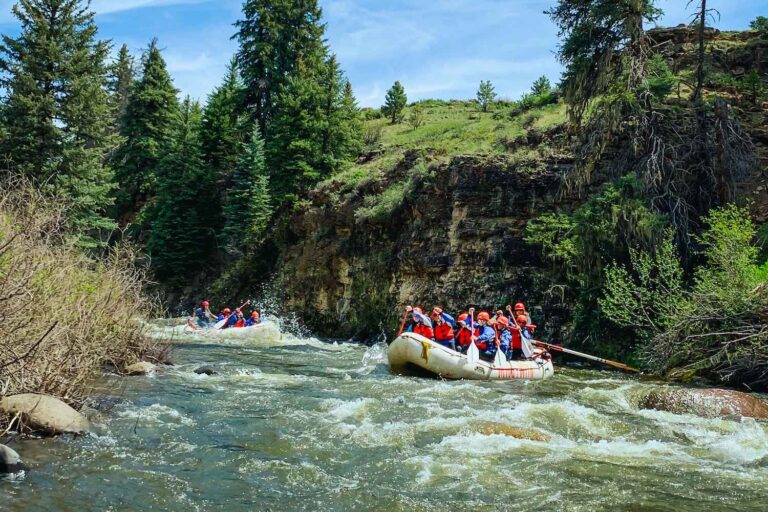 Rapids: 
Class II, III & IV 
The most notable rapids on the Upper Piedra are two class IV pool drop rapids known as Lone Pine and Limestone. 
Season:
Mid May – Late June  
Attributes Besides the Suds: 
Dense forests that make for quintessential Colorado rafting scenery, granite cliffs, and a lot of wildlife. 
Trips:

📍Where: The rafting section for the San Miguel River is about 18 miles south of Telluride, Colorado. 
Somehow, someway, the San Miguel River is one of the least familiar rafting trips in Colorado despite being THE best water activity in Telluride. It's probably because the San Miguel's season is usually when Telluride's festival season is in full swing. 
The San Miguel is a favorite for those who know it, particularly for its narrow canyon and constant rapids. Expect some bouncing between rocks and plenty of splashes to the face. Don't let the smaller rapid size fool you, this is a hands-on paddling trip that doesn't give you a lot of time to sit back and gab with your guide.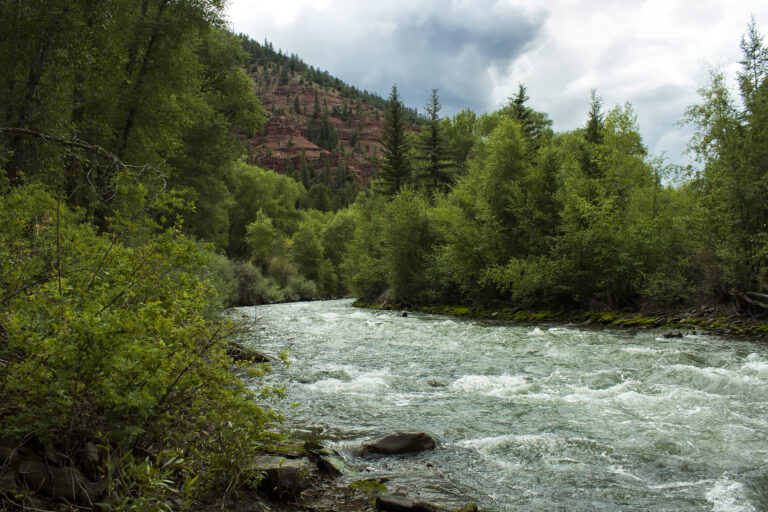 Rapids:
Class II and III 
Season:
June – early July 
Attributes Besides the Suds:
Unique scenery in a red sandstone canyon coated in alpine. 
Trips: 

📍Where: The best rafting section of the Yampa River is located in Dinosaur National Monument, sprawling between Eastern Utah and Western Colorado. 
The Yampa River may be the most well-known whitewater rafting trip out of the 4 on this list. But what makes the Yampa elusive is not necessarily its lacking reputation, but for how few make it onto this river before it's too low to float a boat. 
The Yampa River is free flowing, and the last of its kind for a tributary of its size in the Colorado River Basin. Since this river is completely dependent on snowmelt and not regulated by dams, this often means the Yampa's rafting season is over by early July. This only gives river runners around 5 weeks to raft its most scenic sections, like its stretch through Dinosaur National Monument.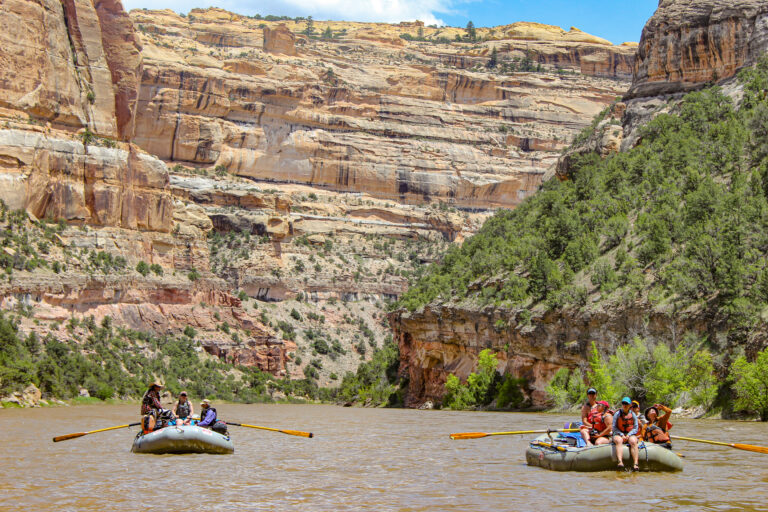 Rapids:
Class II, III and IV 
The wildest rapid on the Yampa River is a class IV drop called Warm Springs. Other exciting class III rapids include Teepee, Big Joe, and a long ripply stretch through Split Mountain. 
Season:
May – early July 
Attributes Besides the Suds:
Slick rock canyons made from some of the oldest sandstone on Earth, historic caves and alcoves, beautiful forested beaches, and so much more. 
Trips: 

More Reading
Rafting Season forecast for 2023
Get New Blog Posts in your Inbox