3 Awesome Alternative Rafting Trips to the Grand Canyon 
By Kim Cassels • February 15, 2023
3 Awesome Alternative Rafting Trips to the Grand Canyon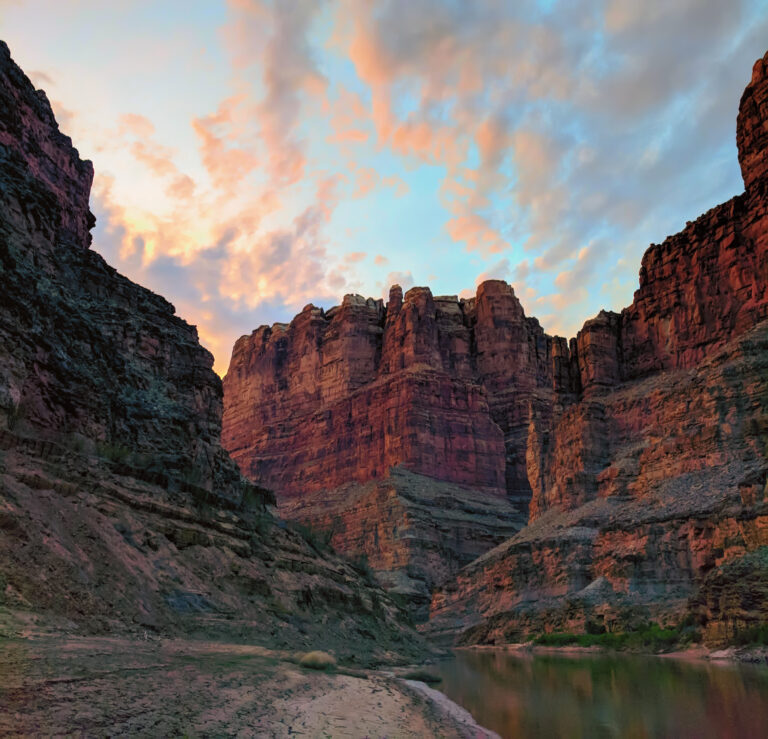 It's no secret that the Grand Canyon is an A-lister of multi-day rafting excursions, but it's not the only one on the proverbial list of river celebrities— there's plenty of alternative trips to the Grand Canyon. The great waterways of the Southwest have cut a rugged network of canyons that any wilderness fiend should see at least once in a lifetime. 
If you've been kicking around some ideas about taking an iconic trip down North America's biggest dip, but aren't sure about the timing, price or other logistics you'll need to work out, check out this list of alternative rafting trips to the Grand Canyon to get a good look at what amazing water is waiting for you out.
At a glance logistics comparison to Grand Canyon 
Trip Lengths 
Multi-day Grand Canyon trips start at 6 days to take out at Pipe Creek or Whitmore Wash, or other nearby trails. Any trips shorter than 12 days will require a hike in or hike out, or ride in the chopper. Full canyon trips cover 225 miles from Lee's Ferry to Diamond Creek, and take at least a couple weeks to complete. 
The alternative rafting trips to the Grand Canyon below, like Cataract Canyon and Lodore can be as short as 3 days.
Cost 
Since Grand Canyon permits are the most coveted in the country, a seat in a raft comes with a few very pretty pennies. MultiDay Grand Canyon trips start at a minimum of $3,300 (1 Week) and quickly increase from there. A full length Grand Canyon trip starts around $6,500. 
Other rafting trips come at a much lower cost while still offering all the amenities of a fully catered camping experience, starting at $999.
Availability
Most Multi-day Grand Canyon trips book up well before the season even starts, which often requires folks to plan at least a year in advance. Luckily, there's plenty of other incredible river canyons to run in the West, many of them having availability for the very-last-minute planners out there (like up to a week before last minute!)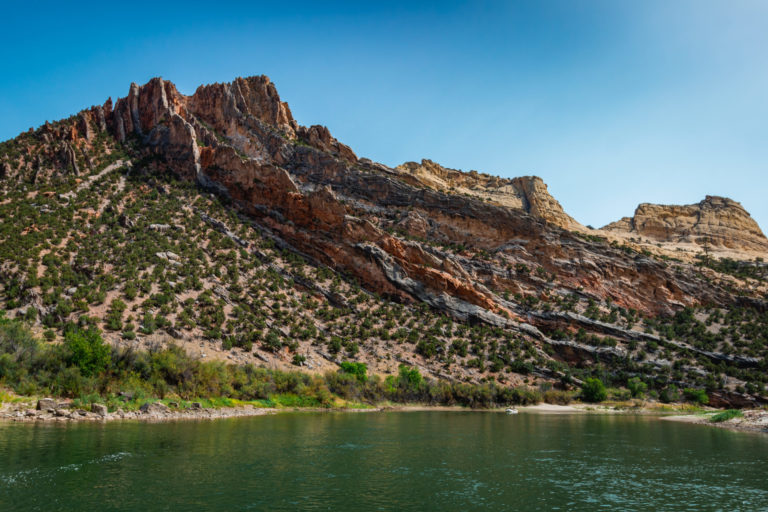 The trips below will offer many of the same attributes as the Grand Canyon, as well as more flexibility on the trip length and availability at a lower cost. Here's some of the things the following rivers canyons have in common with the Grand. 
Spectacular Dark Skies, Sunrises, and Sunsets  

Big Horned Sheep, Bald Eagles, and other desert riparian wildlife 

Dramatic canyon walls and scenery 

Exhilarating whitewater (Class III-V)

Big, beautiful beaches 

Native American ruins and rock art 

Side canyon excursions and looming hikes 
Most Similar Rafting trip to the Grand Canyon: Cataract Canyon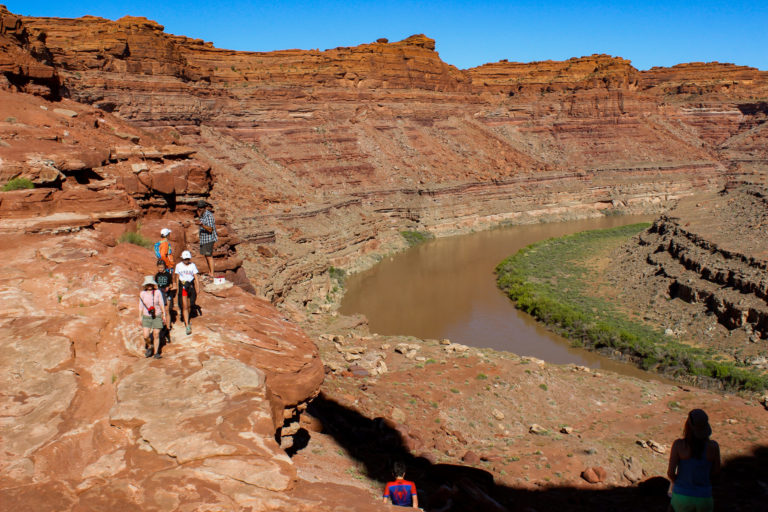 Trip Lengths (96 miles): 2 – 6 Days 
Availability: Most dates stay open to book up till 3 days before trip departure. 
Cost: $999 – $1699 
Location: Canyonlands National Park, Utah 
Notable Similarities to GC: 
Optional flight back to Moab at the end of the trip to see the canyon from above. 

Red rock landscape, enormous rapids, archaeology, and plenty more. 
Cataract Canyon is just upstream of the Grand Canyon on the other side of Glen Canyon Dam. This isolated section of the Colorado River is fairly reminiscent of the Grand Canyon both in terms of the landscape and whitewater thrills. 
In fact, Cataract Canyon hosts the largest rapids on the Colorado River during the spring runoff. The rapid section lasts for 15 miles, churning up more than 25 massive waves trains, holes, drops and curlers. This undeniably heart-pounding stretch requires expert boaters, heavy rafts, and an adventurous spirit to conquer it.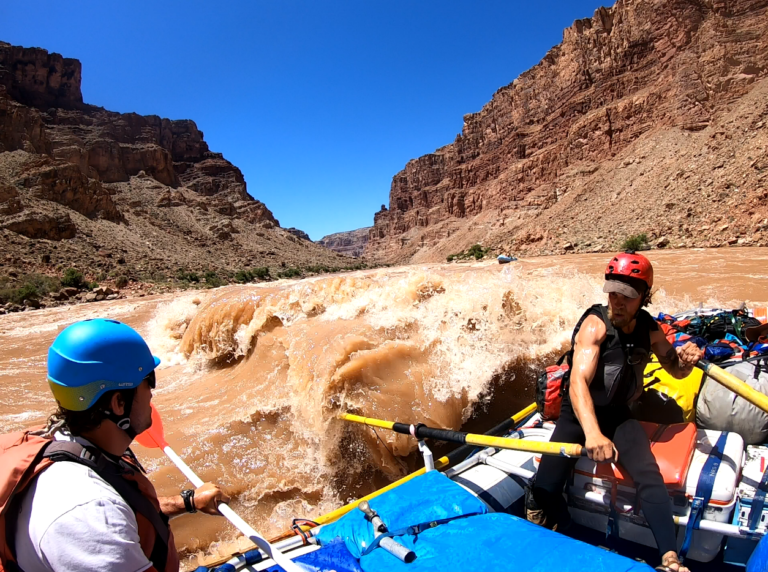 Cataract Canyon's rapids are formed a bit differently from Grand Canyon. While the Grand's major whitewater sections form from the debri fans of its numerous contributing streams, Cat's are caused by steep descents and uncontrolled flows.
The latter is an important factor, since the Grand Canyon isn't affected by spring runoff like Cataract Canyon on account of the Glen Canyon Dam. Before the making of Lake Powell, the Grand Canyon used to see bus-sized rapids like those rumbling in Cataract Canyon. 
For more insight on this canyon's impressive waves, read more about Why Cataract Canyon's Rapids Are So Big. 
Of course, there's plenty of other excitement to be discovered off the boat. A looming horseshoe hike offers amazing panoramic views of Cataract's red rock wonderland, while others reveal precious archeological sites over 700 years old. On longer trips, hikes to the hoodoo mazes of the Doll House, Indian Creek, and other gorgeous side canyons are a must. 
Rafting Trip with Wild Geology like the Grand Canyon – Gates of Lodore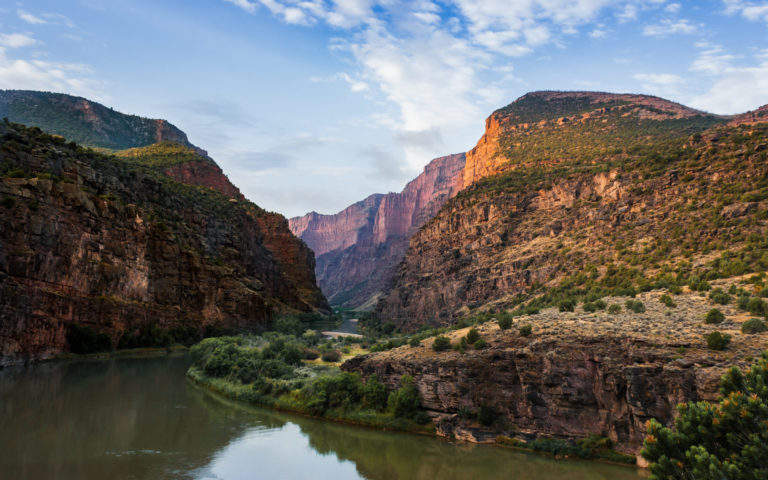 Trip Lengths (45 miles): 3 – 4 Days 
Availability: Can book up 3 months out from trip departure. 
Cost: $959 – $1159 
Location: Dinosaur National Monument, Colorado/Utah 
Notable Similarities to GC: 
An impressive quarry featuring major dinosaur fossils at the end of the trip.  

Lush side canyon waterfalls and swimming holes to explore. 
It's no question that the Grand Canyon is one of the most impressive geologic phenomena in North America. However, it's not alone in the "grand" scheme of the West's many ancient waterways. Lodore Canyon in Dinosaur National Monument is undoubtedly one of the most geologically interesting and bizarre river canyons in North America. 
While the Grand Canyon was formed through a very straightforward process of erosion, where first came the rocks and then came the river, the creation of Lodore Canyon is still a mystery. This is due to how the older Green River cuts through a newer mountain range, leading scientists to believe that the water flowed first, and the peaks arrived later.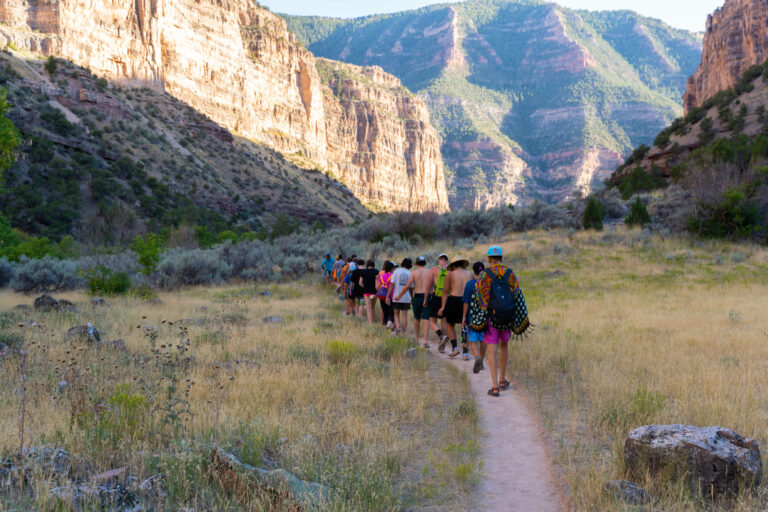 Not only does this astoundingly beautiful stretch of the Green River slice right down the middle of a mountain range, it's exposed one of the most significant combinations of faults and uplifts on the continent. The rock layers exposed in Lodore Canyon are also similar in age to the Grand Canyon, where the put-in features 1.1 billion year old quartzite cliffs that make the "Gates" of Lodore. 
On top of Lodore's miraculous geology, its thriving ecosystem makes it one of the most lush river canyons in the Southwest. On the line where Colorado mountains meld to Utah desert, gorgeous cottonwoods, fragrant juniper, and looming ponderosas make the already jaw dropping scenery all the more decorated.    
Rafting Trip Alternative to the Grand Canyon for Younger Ages: Desolation Canyon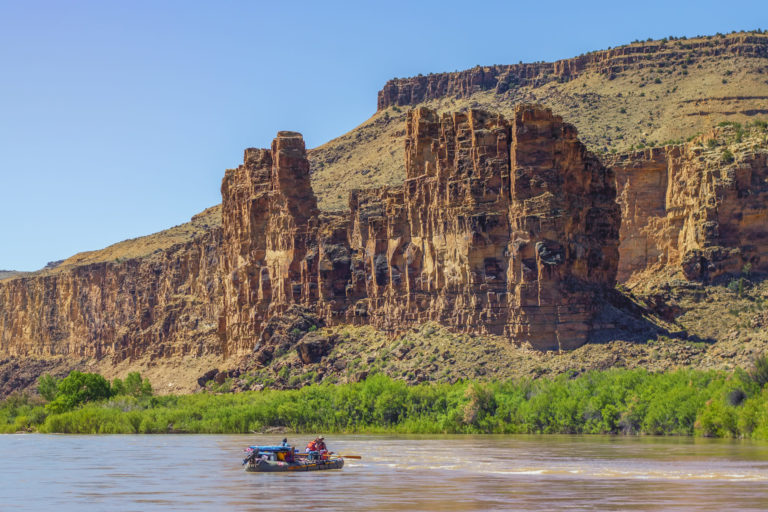 Trip Lengths (84 miles): 4-6 Days
Availability: Usually available up until one week before trip departure. 
Cost: $1049 – $1549
Location: Desolation Canyon Wilderness Study Area, Utah
Notable Similarities to GC: 
Fly into the canyon at the start of your trip with a short hike down to the boats. 

Super tall, super steep walls with amazing escarpments. 

 
Most Grand Canyon rafting companies have a minimum age requirement of 8 years old. Desolation Canyon allows kids as young as 5 years old along for the float. This is on account of Deso's friendly whitewater sections, where over 60 stretches of rapids can be run in an inflatable kayak.  
Desolation Canyon is the steepest canyon in Utah, and similar in depth to the Grand Canyon's average at 5,000 feet deep. Its put-in location is so remote, that guests fly into the canyon and hike down to the Green River.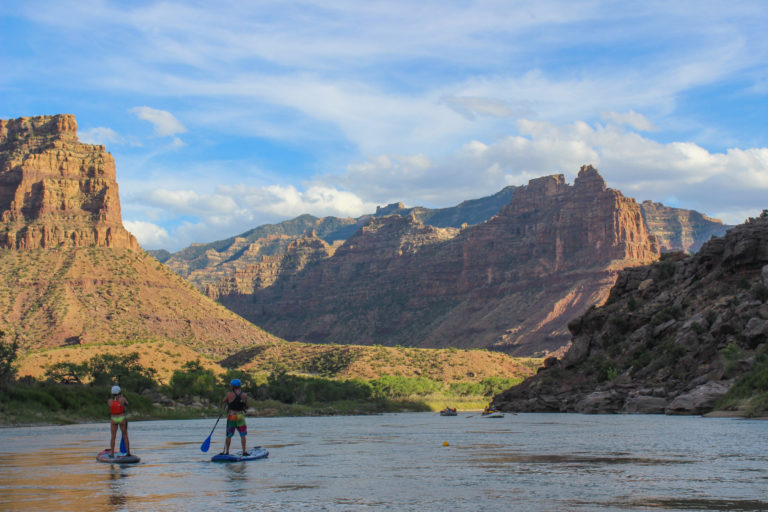 Despite the name, Desolation Canyon's scenery is quite grand itself, and it boasts some of the most wildlife out of any river canyon in the Southwest. Wild mustangs, bison, big horned sheep, eagles, bears, and beavers are just a few of the residents that call this remote and protected canyon home. 
This stretch of the Green River is protected under the Wild and Scenic Rivers Act while meandering through a Wilderness Research Area managed by the BLM. The solitude makes it easy for animals to congregate here, along with the amazing beaches and yawning escarpments up the looming walls. 
Deso also offers numerous and unique historical sites. Everyday comes with the opportunity to explore ancient petroglyph panels, century old homesteads, and remnants left behind from early explorers in the 1800s. 
Desolation Canyon is not only a great alternative rafting trip to the Grand Canyon for younger children, but also for those looking for a widely beloved river trip through a majestic swath of desert. 
More Reading
9 Overnight Rafting Trips in the Southwest that will Change Your Life
Get New Blog Posts in your Inbox