Yampa River Raft Trip Itinerary
By Kolben • February 5, 2018
Yampa River Raft Trip Itinerary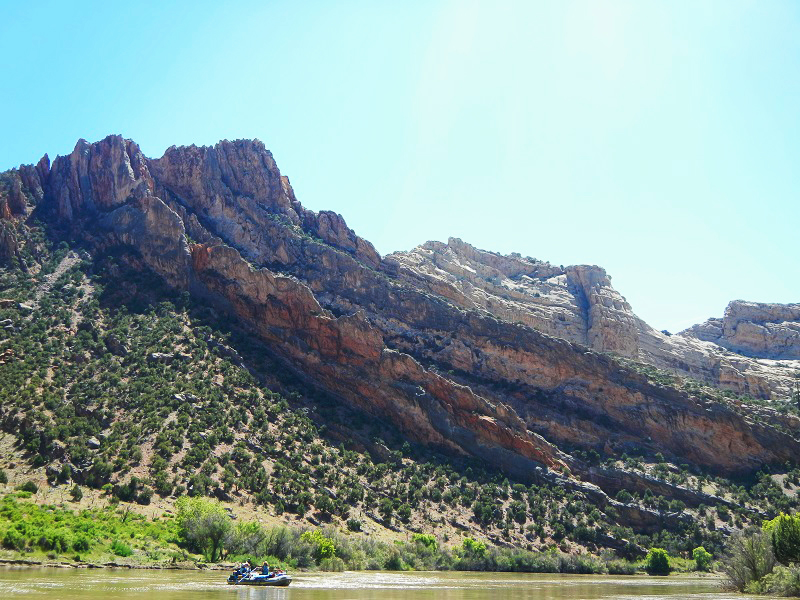 Evening prior to your trip:
Verify you have all that is suggested on the packing list.
Day One
Meet at 7:00 am Grand Vista Hotel, Grand Junction, Colorado. Enjoy the scenic 3-hour drive from Grand Junction to our put-in at Deerlodge Park.
We will start our adventure with a thorough safety orientation and then we will hit the river!
Our first day on the Yampa generally consists of a few hours on the water in the morning as the river is calm and meanders us through the beautiful desert scenery. We can stop for a swim or short side hike before lunch.
Our picnic lunch is on one of the many sandy beaches, and can be mid afternoon, so be sure to pack some granola bars or snacks to hold over the kids. We recommend a fanny pack to keep these essentials nearby on the rafts. As we raft into the afternoon we will enter the Yampa River canyon with rock walls extending all around us, rising to heights of 1000 ft. The river will start to pick up pace and we will run through a few class II-III rapids.
After 4-5 hours on river, including our lunch, we will stop for the evening on another fan- tastic sandy beach for camp. While your guides will tie down the boats, set up camp (kitch- en, camp chairs, groover (the portable toilet), we welcome your help in setting up your bedroom (tent) and getting yourself settled. Camp allows plenty of time to relax, explore hikes, play on the beach, soak in some rays, beach games, read a book or nap.
Then come the pre-dinner hors d'oeuvres while the guides prepare a delicious gourmet steak dinner, scrumptious salad, warm bread, and guide specialty of potato, pasta or rice. As you savor dinner, you will relish in the smell of the dutch oven dessert as the whole camp will smell of a sweet aroma.
As the sun drops and the stars shine, we enjoy fun, games and stories around the campfire. Surely, this will be one of your best nights sleep in a long time, under the stars!
Day Two On…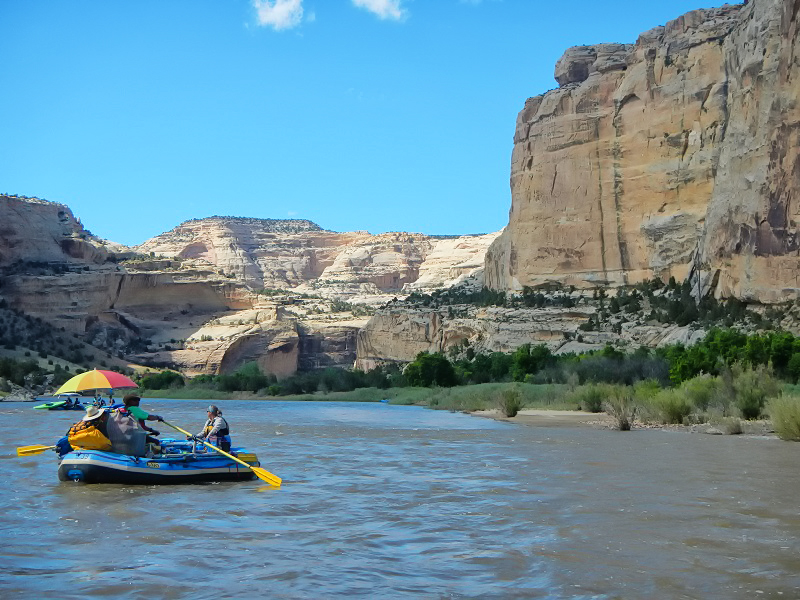 Wake to the smell of brewing coffee and a crackling fire. The early bird catches the worm as the sunrise can be the most breathtaking part of the day in the canyon, with vibrant, instagram-worthy hues.
Fill yourself on a delicious guide-prepared breakfast, and as they clean up and pack up the kitchen. Your help packing up your gear and tent will be appreciated. Your guides will rig the boats and secure gear. Then, it is time to launch on the river for another day of adventure and memories to last a lifetime!
On the river, your upcoming days in the canyon bring numerous rapids, 40 million years of history, archeology, geology, and sites such as Grand Overhang, Cleopatra's Couch, and Tiger Wall. The rapids increase in intensity and bring us to the Yampa's biggest whitewater, Warm Springs Rapid.
Just like previous evenings, we will settle ourselves in a beautiful sandy camp for the night. As guides prepare a delicious meal, you can get your "bedroom" settled and find yourself a spot to relax or take a self-guided walk exploring your surroundings. Many side hikes rise from the camp.
We will reach the confluence with the Green River and enter a new world of beauty as we continue down the Green. Following a bit of flat water we will enter Split Mountain Canyon where the river steepens and brings us to 4 fun rapids that will round out the end of our adventure. As we reach our take-out at Split Mountain we prepare to say goodbye to our new friends, cement in our minds this magnificent scenery and prepare to adjust back to the hustle and bustle of life.
Important Note:
As the river is different every time it is run, so is each trip! Depending on water flows, number of participants, and other circumstances Mother Nature imposes, our itineraries are just estimate!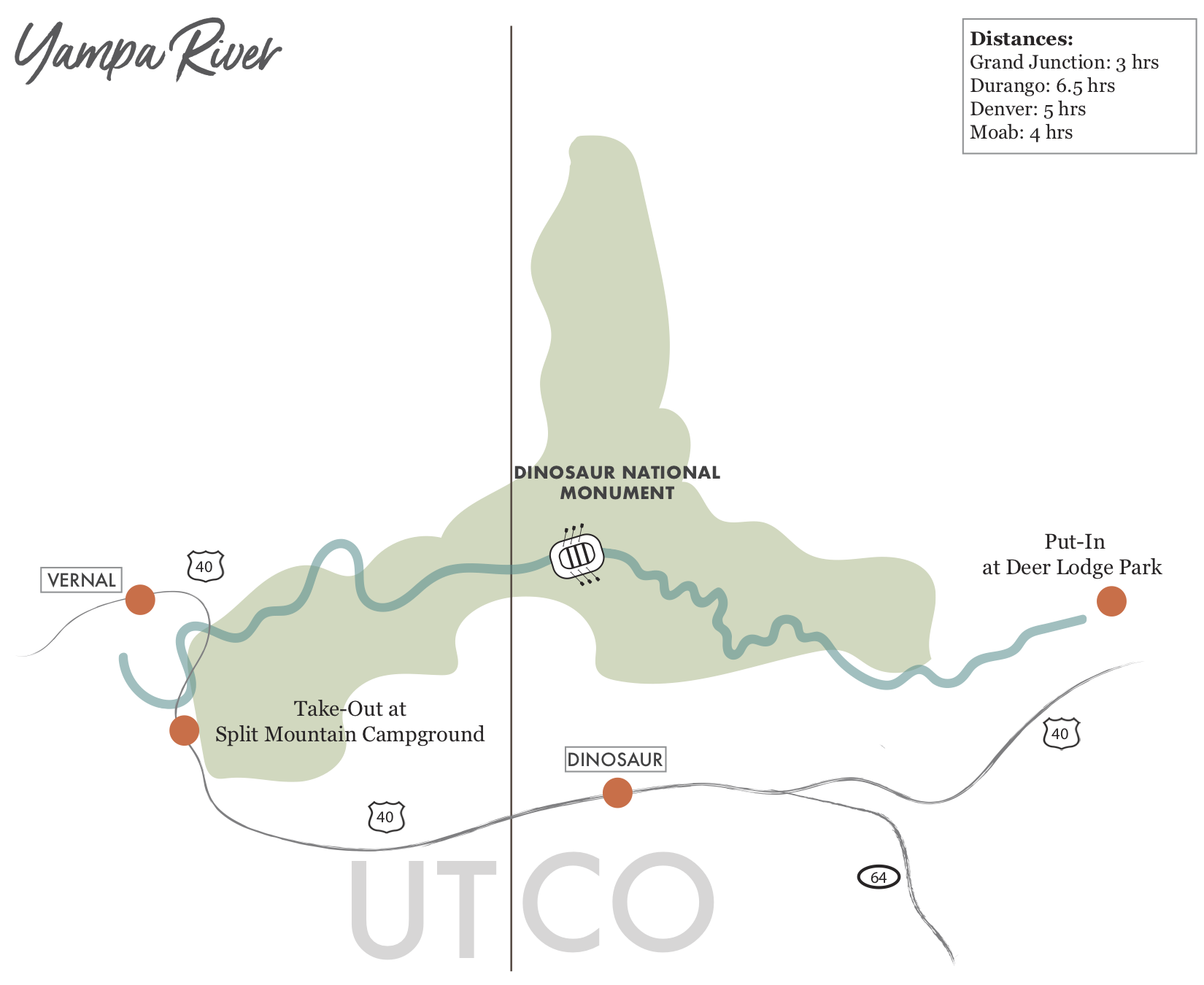 Find your soul, connect deeper with family and friends, live history, experience exciting rapids, and rejuvenate on Colorado's amazing Yampa River Rafting trip through Dinosaur National Monument.
Get New Blog Posts in your Inbox