Whitewater Rafting Is Better Than A Theme Park
By Molly • June 23, 2012
Believe it or not, there are people out there who will try to convince you to spend your hard-earned vacation time doing something other than a life-changing, soul-satisfying whitewater rafting trip…
Here's why you should choose a rafting trip instead: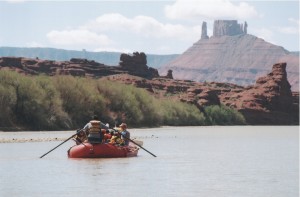 1. Our scenery is better than the scenery waiting in line for the next ride.
2. Serenity – you can find it on the river, not at an crowded amusement park.
3. Wildlife is not a person in a costume. It is real.
4. We take people of all heights!
5. Our food is delicious and healthy! No corn dogs here!
6. Our desserts are better too….ever tried a dutch oven dessert? You won't believe it is cooked with campfire coals!
7. You get nature…not just more pavement.
8. We are not on a track! We flow with the river and can change up our route.
9. You don't just hang on, you can participate and paddle along if you like! We'll teach you if you don't know how.
10. Our guides are better looking than the amusement park staff!
11. We cater to you with 77 adventure options. It is not just the same old ride for all!
If someone is trying to convince you to go to an amusement park for your summer vacation, think twice about giving up quality time, in nature, on a whitewater rafting trip!
Get New Blog Posts in your Inbox