What to Pack for a Durango Colorado Summer Adventure
By Molly • June 2, 2014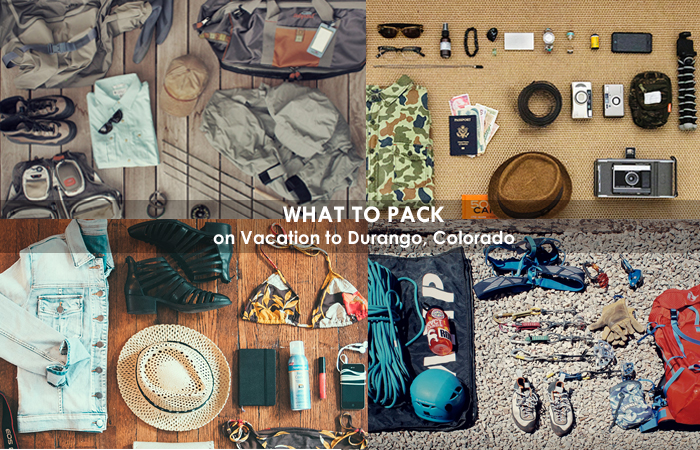 Headed to Durango this summer and wondering what to pack for your trip? Southwest Colorado's environment is extremely diverse. A versatile packing list is ideal for getting the most out of your vacation in Durango. Here's our tips for what to pack when visiting our section of Colorado.
Outdoors Toys: Durango is a mecca for the outdoor enthusiast. From mountain biking and whitewater rafting to fly fishing and hiking, make sure you have your favorite toys for enjoying the outdoors at your fingertips while you're vacationing in Durango – fly fishing gear, trekking poles, climbing gear, guidebooks.
Dress in Layers: With spectacular scenery, Durango sits on the edge of a desert and the foot of the mountains, thus the weather is always unpredictable. Daily temperatures reach the 80s and 90s, while evenings can easily drop 20 degrees or more.  Afternoon monsoons roll through in July and August, which can bring an unexpected chill. Bring shorts, t-shirts, tank tops, a sundress and a swimsuit for hot sunny days on the riverfront and a dip in the Lower Animas River running through town and a raincoat, long sleeves and comfy cotton-poly-blended pants for unpredictable weather while hiking in the high country. Wick-away clothes are best!
Sun Protection: At 6,512 feet and nestled just south of countless 13,000 and 14,000 foot peaks, the sun always shines a little brighter in Durango – and we like it that way! Pack good sunglasses, your best sunscreen and your favorite ball cap or hat.
Hydrate: With all the beautiful sun we receive here, it gets pretty dry! Keep moisturized by having lip balm, lotion and a full water-bottle on hand while you're busy seeing the sights.
Good Footwear:  With a diverse landscape in a short distance, from juniper covered red rock hillsides to miles and miles of mountaintop meadows and rocky ridgelines, sturdy hiking shoes and nice, wicking wool socks are essential when exploring beautiful Durango!
Electronics: Of course, pack your camera. There's so much to see in Durango, the photo opportunities are endless! Walk down Main Street and snap photos of the countless historic brick buildings, enjoy a mountain Jeep trail tour through ghost towns above Silverton, or visit the ancient wonders of Mesa Verde National Park. Bring extra memory cards or film and batteries/charger, as you'll be using it a lot! Don't forget the phone charger too!
Get New Blog Posts in your Inbox