What I Learned from My First Durango Summer
By Molly • September 4, 2013
Moving to Durango has been one of the most exciting changes I have made thus far. The town is beautiful, the people are friendly and there's always something going on and something to do! And coming from Florida, there were a lot of differences I encountered…here are some of the things I've learned from my first summer living in the amazing Durango, Colorado!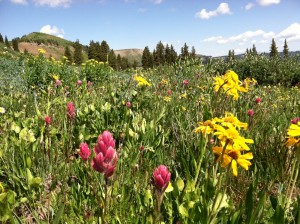 Never leave your trash out at night! You'll give a bear a 5-course meal (and have to clean up the scraps!)
Get out on the river as much as possible! During high water, take off work because it'll be worth it! (especially on the Piedra River – this river is awesome!)
Wear your summer clothes as much as possible! (I haven't experienced it yet, but I hear the snow is coming…)
Take advantage of the hiking right around town! It's so easy, you don't have any excuses!
Plan your schedule around the events in town! Durango likes to hold events for any reason – Taste of Durango, Animas River Days, San Juan Brewfest, Iron Horse Classic, Fiesta Days, Music in the Mountains…to name a few!
Get out and go camping!
Check out the wildflowers in full bloom! Those famous Colorado wildflowers are just around the corner, don't miss them!
Take a guided jeep tour to get familiar with the mountains. (Then, if you have your own vehicle with the clearance, you'll know where to go and how to get there on your own next time!)
Drink a lot of water! All of the time, wherever you are!
Wear whatever you want! A dress to work, sweat pants to a restaurant…sure go ahead! (Durango was voted the worst dressed town in the nation at one point….and we're proud of that!)
If you have a bike, travel with it! Once you get where you're going, it's nice to have a quick ride around town/mountains – the Durango River Trail is a great way to see town and to get to work!
Erica Munz
Trip Consultant
Get New Blog Posts in your Inbox