Urban Farming in a Rafting Town
By Molly • August 10, 2011
A Green Thumb!?
With over 300 days of sunshine annually, it's no wonder Durango is popular among local farmers and urban green thumbs. Late spring, I decided to start a little garden of my own in the front yard of my apartment. At the first Durango Farmer's Market of the season, I was amazed by what people had grown in yards as small as my own. I immediately headed to the hardware store and bought seed packets of every cute plant I found and a large bag of potting soil. My excitement vanished when I got home and realized what I had just signed up for!
A previous tenant had decided the grass was, in fact, not greener on the other side and put down wood chips over the entire yard. Since then, a variety of death-defying weeds have grown up through the wood chips and completely taken over any other sign of life. I had my work cut out for me. After hours hunched over in the hot sun, and a quick trip to cool off in the river, I had cleared the yard of most of the weeds and plotted out space for my garden. With absolutely no idea about sun exposure or watering, I planted butternut squash, pumpkins, basil, cilantro and tomatoes. Here are the current results: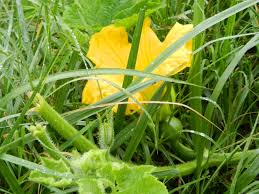 The cilantro sprouted quickly and died just as fast.
Two month in my basil looks the healthiest though has not produced as much usable leaf as I had hoped.
The squash and pumpkin vines have taken over most of my yard and some of my neighbors. The vines flowered a ton and haven't produced one small little nugget of a vegetable.
 Last, but not least, came my tall, bush like tomato plants. So far I have one medium sized green tomato growing and little sign of much more.
After weeding almost daily, I wash my hands in the sink and stare at my thumbs, neither green. Hope is not gone though – I'm still hoping for a great fall harvest, whatever that may mean for my plants. I've also started planning for next season! I'll be searching for some inspiration at the fifth annual Durango Tour de Farms that features a bike tour celebrating Durango's agricultural and gardening communities. Get more information on where to eat local, buy local and grow your own on Four Corners Farm to Fork Forum.
With vegetation tweaking my interest this summer, I decided to reward my curiosity with a tour in the mountains to explore there. Wow….what an experience on Mild to Wild's Jeep Trail Tour. Check it out for yourself!
Get New Blog Posts in your Inbox