Top Reasons to Visit Durango this August!
By Molly • July 23, 2011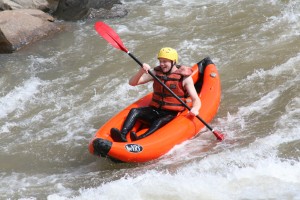 August is just around the corner and there is no better way to spend the last weeks of summer than in Durango.
It is a great time for our inflatable kayaks! As we start to experience lower water conditions, these single person mini-rafts are perfect to navigate the technical challenges of the Lower Animas River.
With our late spring snow fall finally clearing, the wildflowers are in bloom! Explore stunning panoramic vista and Colorado wildflowers on a Jeep Trail Tour in Durango and Silverton, Colorado"
Other Fun Local Events:
August 6-14 – La Plata County Fair – Enjoy an authentic and family-friendly county fair!
August 18-21 – Durango Railfest – Celebrate all things that go by rail!
August 27 – San Juan Brewfest (noon to 6 p.m., downtown Durango on Main Ave. between 12th and 13th Streets) – The event is sponsored by Durango Mountain Resort, planned by CookManFood.com, and benefits United Way of Southwest Colorado.
August 27 – Tour de Farm – A Bike Tour celebrating healthy eating, active living and all that is unique and homegrown in Durango.
Get New Blog Posts in your Inbox