Top Four Ways to Have Fun on the Lower Animas River this Season
By Molly • July 17, 2012
Even though we're not at high water anymore, there are still multiple ways to experience and enjoy our local river!
As stated by our fearless leader, Big Al:
It is a huge benefit on a lower snow pack year for us to have the opportunity to offer a larger variety of trip options that we maybe wouldn't be able to at higher water levels. Whether on a raft, kayak, paddle board or tube, people are out on the river having a great time and we want to be able to share this with them.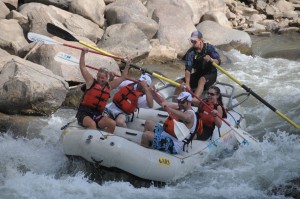 Ways to Get Down the River:
1. Guided Lower Animas Raft Trip: On our guided raft trips, you'll splash through the fun of one sampler Class III "wet & fun" rapid while the guide entertains you on the history of Durango and gives you an ecological tour of the area. The river offers the best opportunity for splashing and cooling off. Great for ages 4 to 84!
2. Guided Inflatable Kayak Trip: Looking to step up the adventure level on the Lower Animas River? Inflatable kayaks offer the best of both worlds: the stability of a raft and maneuverability of a kayak. Paddle, spin and surf your way down the Animas River in your own craft, under the leadership of an instructional guide. No prior experience is necessary.
3. Stand Up Paddle Board Instruction: One of the newest and fastest growing paddle sports in the world! Come enjoy Durango's waterways on a stand up paddle board during Mild to Wild's sampler trip and see for yourself how much fun it is! Experienced instructors will teach participants proper board and paddle positions, techniques and progressions.
4. Tubing: The most economical way to experience the river at lower water levels! For those looking for a little local flavor, tubing down the Lower Animas River can be a fun summer time activity. Participants must use precautions when tubing the river and are recommended to wear a Coast Guard Approved personal floatation device and avoid dangerous sections of the river.
Get New Blog Posts in your Inbox