Top 5 Colorado Whitewater Rafting Trips!
By Molly • November 23, 2012
San Miguel River – Telluride – Class II & III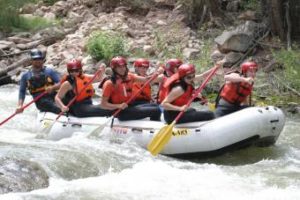 This narrow twisting waterway outside of Telluride makes for a super fun-filled splashy day! The San Miguel Rivertrip runs through red rock walls forested in green pines for spectacular views and consistent Class II and intermittent Class III rapids. Guide Zach says the San Miguel is one of his favorite rivers to run," I love being able to share the thrill of white water rafting with all ages and skill levels – It's fun to see people get hooked!" And with the recommended age limits of 8 and up for the tamer sections and 10 and up for the rougher patches, this river makes for a great family day trip or multi-day adventure!
Get New Blog Posts in your Inbox